Discover more from The Charlotte Ledger
Delivering smart and essential news to Charlotte, one email at a time.
Over 19,000 subscribers
Want to hit the pool? Make an appointment
Plus: Tim Newman calls from jail to respond to Ledger article; Peaceful protest in Ballantyne; What did Charlotte read during quarantine?; New data shows widespread job disparities
Good morning! Today is Saturday, June 6, 2020. You're reading The Charlotte Ledger, an e-newsletter with local business-y news and insights for Charlotte, N.C.
Need to subscribe? Sign up for free here (charlotteledger.substack.com). A paid subscription, starting at $9/month, gives you access to all articles and helps build smarter original, local news in Charlotte. Details here.
---
Pools make swimmers sign up in advance, but the new rules don't suit everybody. 'It's like getting concert tickets'
At Providence Plantation Racquet and Swim Club (shown here before the opening whistle Friday), board members abandoned an advance-registration policy for the pool after members complained.
By Cristina Bolling
Talk about a sign of the Covid-19 times: At swimming pools across Charlotte, you need more than a towel and sunscreen to take a dip this summer. You need a reservation.
And the system is sinking in some communities.
Many neighborhood associations and swim clubs, in an effort to promote social distancing and adhere to pool capacity limits, are requiring their members to sign up for a limited number of spots at any given time. Members now check their calendars, get online and schedule swim sessions, usually days in advance.
At clubs like Cameron Wood Swim & Racquet Club in south Charlotte, organizers release an online sign-up form every Friday that allows each family to pick two 2-hour time slots — one on a weekday and one on a weekend.
At Ballantyne Country Club, members register for 2-hour time slots on the club's app and are charged $10 per person if they don't show up.
For homeowners associations and management companies, the need for advance reservations is clear: requiring families to reserve a time slot means that moms and dads don't haul their sunscreened kids to the pool, only to be turned away if the pool is at capacity. And having lines of people waiting to get into a pool would be dangerous, they say, because people would potentially be congregating near each other.
But some neighborhoods are torpedoing the idea.
At Providence Plantation Swim & Racquet Club, the board instituted a SignUpGenius when it opened May 30. It got so many complaints that it eliminated the sign-up system on Friday.
Self-regulation: In a letter to members, the volunteer board announced that "we are going to put the capacity of the pool back in your hands" and said it will require signed waivers from those who come to swim, acknowledging that they're aware of the risk of catching Covid-19 at the pool.
Swimmers will have to police the numbers themselves, the letter said. The pool capacity is 27, and the deck capacity is 179. "Keeping the pool under capacity is now up to you, as members of the club," the letter stated.
Providence Plantation member Jason Gudzunas, a dad of two, logged onto the SignUpGenius on Tuesday and got the last slot for Thursday. There was only one slot left, so he couldn't bring his two teens.
That didn't bother him, though. He said the two-hour time limit made him savor every minute, and the process — which the next day was eliminated — seemed fair.
"It's not a raffle, it's not random. It's like the National Park system, where you sign up a year in advance," he said. "It's like getting concert tickets."
State rules: Transmitting Covid-19 through pool water isn't a worry, according to the Centers for Disease Control and Prevention. The concern is people congregating on pool decks and being close together while in the water.
In North Carolina, pools are allowed to be at 50% maximum occupancy as determined by the fire code, or 33 people per 1,000 square feet in deck areas, wading pools and splash pads. In the water, crowds need to be kept to 10 people per 1,000 square feet, and families must be kept 6 feet from each other on pool decks.
In South Carolina, rules don't limit attendance at pools, but state guidance encourages pool management to remind people to keep a 6-foot separation between families by spacing out chairs on pool decks, posting signs and removing things like kickboards and floats.
Tough reopening in Baxter: At Baxter Village, it's been one headache after another in opening the Fort Mill community's two pools this spring.
First, the South Carolina health department announced that pools would be open at only 20% capacity.
Then, the company that provides lifeguards said it lacked lifeguards to fill all of Baxter's shifts. The two pools opened last week with an online sign-up tool and 6-hour-per-day schedules at each pool. Only 130 pool slots were open at any given time for a community with more than 5,000 residents.
"We definitely have a contingent of people who are not happy about this at all," said Mike Tulacz, the on-site community manager.
South Carolina no longer limits how many people can be at the pool at once, so Baxter's seven-member homeowner board decided to allow the pool to be at 30% capacity starting this weekend. Residents still need to bring their own chairs, because all furniture has been removed from the pool deck, Tulacz said.
If pool users appear to be social distancing, Baxter will likely keep raising the number of swimmers allowed at each session. Tulacz said he hopes to be able to retire the online signup before the summer is over. More lifeguards are starting this weekend and pool hours are expanding, so there's good news there, too.
"People are just itching to do something, and the pool date was something that was circled on the calendar," Tulacz said.
"Normally, you might have 100 or 200 people show up to the pool. But this year, with everything going on, we potentially could have had 500 or 600 packed in there," he said. "And then it would be a news story."
Cristina Bolling is managing editor of The Ledger: cristina@cltledger.com.
---
Today's supporting sponsor is Soni Brendle:

---
From jail, Newman responds to Ledger article
Tim Newman, the former head of Charlotte Center City Partners and the Charlotte Regional Visitors Authority who was the subject of a Ledger article this week, called from jail on Friday to react to the piece.
He said he spoke with a relative who read him the article word for word after it was published online on Wednesday. The article — entitled "The unraveling of Tim Newman" — described Newman's mounting legal troubles and his path from being one of Charlotte's most influential uptown insiders to a South Carolina jail inmate charged with threatening to blow up a dam and three other felonies.
"I think we have generated quite a few new readers for The Charlotte Ledger, based on the phone calls and other responses," Newman said. "I appreciate the integrity with which you treated what we talked about."
He said he still cannot address the specifics of the charges against him because of an exclusivity agreement with a national media company that he has declined to name.
The one clarification he wanted to make regarding the article, he said, was a line that said the national media company is donating to his autism organization. Instead, he said, it is a third-party foundation that works with the media company that is making the donation, not the media company itself.
He then ended the three-minute conversation and said he had to go: "Thank you. If you can make that clarification about the gift, I'd appreciate it. I'll talk to you when I'm out of here, OK? Have a good day." —TM
---
Peaceful demonstration for racial justice in Ballantyne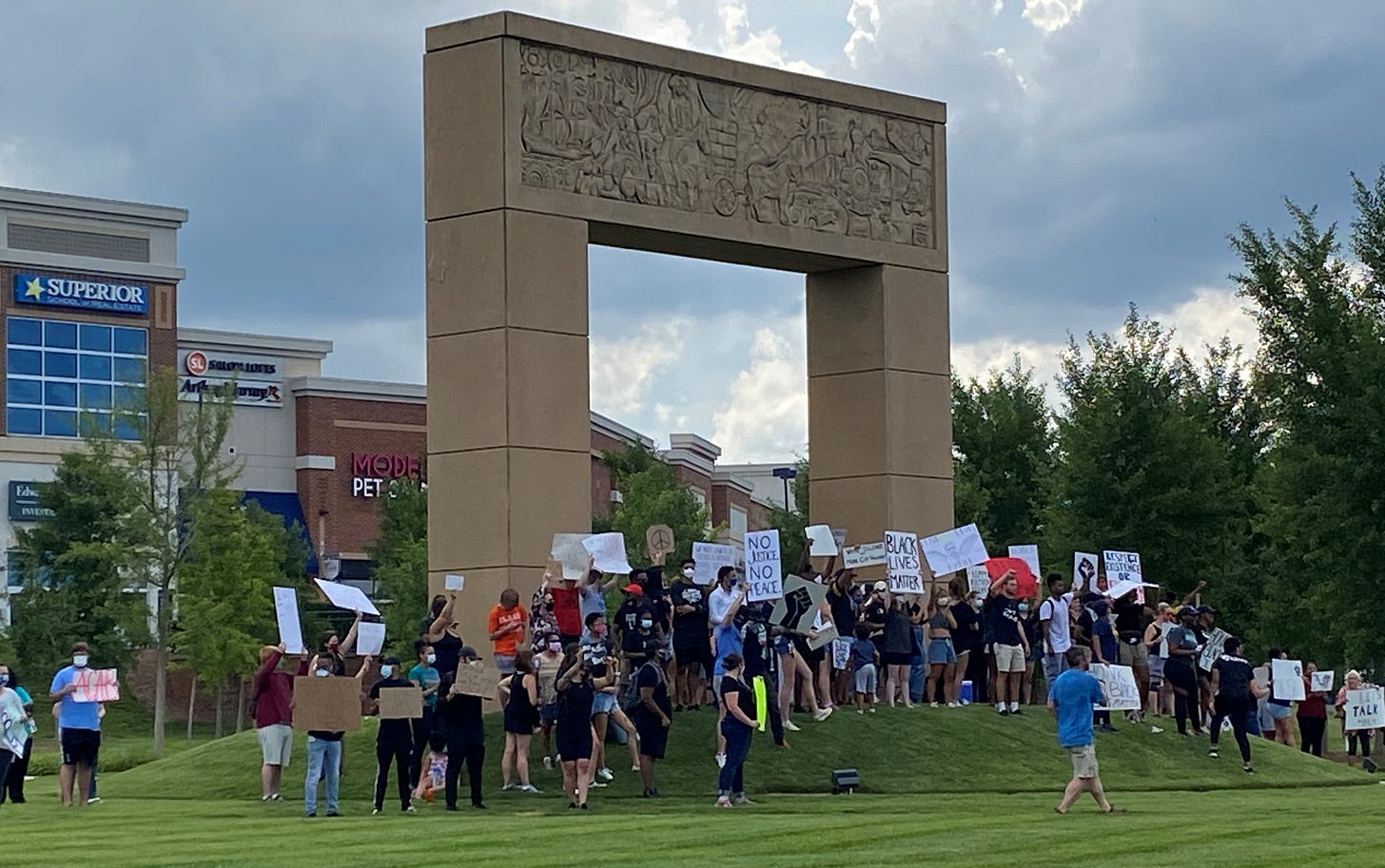 Protesters gathered for several hours of demonstrations Friday afternoon at the busy corner of Ballantyne Commons Parkway and Johnston Road to call for an end to systemic racism and police brutality. Cars honked in solidarity as they drove by, and many drivers and passengers raised their fists out of car windows in support. The protest was one of many held across Charlotte this week, sparked by the death of George Floyd as he was being detained by a Minnesota police officer.
---
Charlotte's top quarantine reads
Here at the Ledger, "read more" was high on our pandemic to-do lists, along with "clean out closets," "cook healthier meals" and "overhaul the garden."
We won't tell you which one(s) we achieved, but we do know what our fellow Charlotteans were reading during the stay-at-home period, thanks to the Charlotte-Mecklenburg Public Library, which pulled together this list of the top 10 digital books checked out through the Overdrive app between March 18 and May 31:
Where the Crawdads Sing, a novel by Delia Owens, described by the publisher as "at once an exquisite ode to the natural world, a heartbreaking coming-of-age story, and a surprising tale of possible murder."

Harry Potter and the Sorcerer's Stone: Harry Potter Series, Book 1, the famed series debut by J.K. Rowling.

Nine Perfect Strangers: A Novel, by Liane Moriarty, soon to become a series starring Nicole Kidman and Melissa McCarthy.

Educated: A Memoir, by Tara Westover, details her journey from her isolated life in a survivalist Mormon family in the mountains of Idaho to getting into the Ph.D. program at Cambridge University.

Becoming, by Michelle Obama, a memoir detailing the former first lady's roots, early career, years in the White House, her public health campaign and motherhood.

Little Fires Everywhere: A Novel, by Celeste Ng, a psychological mystery that became a TV miniseries starring Reese Witherspoon and Kerry Washington.

Guts: Smile Series, Book 3, by Raina Telgemeier, the third in a graphic novel series that's a true story of growing up and gathering the courage to face and conquer one's fears.

The Giver of Stars: A Novel, by Jojo Moyes, a story of five women set in Depression-era America and their journey through the mountains of Kentucky and beyond.

Summer of '69, by Elin Hilderbrand. Four siblings experience the drama, intrigue, and upheaval of the '60s summer.

Such a Fun Age, Kiley Reid, the story of a young black woman who is wrongly accused of kidnapping while babysitting a child, and the events that follow. — CB
---
In brief
---
Original articles from a busy week
It's been a busy week. Now might be a good time to catch up on these original Ledger articles you might have missed:
If you want to support smart, independent journalism produced in Charlotte for Charlotte, consider a paid subscription to The Ledger:
---
Perfect for Father's Day: Essential T-shirt endorsed by dad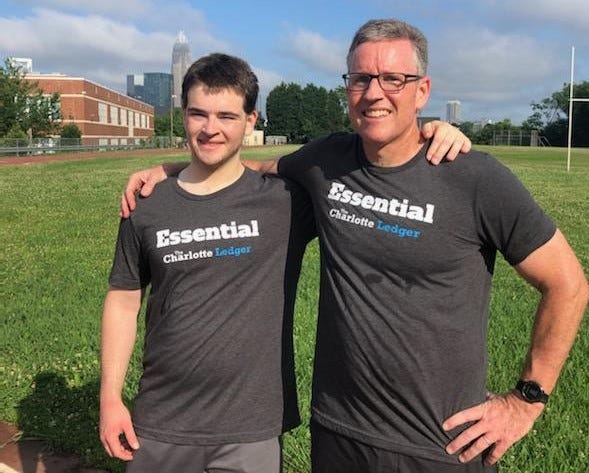 Hi, I'm Tim Whitmire, co-founder of F3 Nation, a national network of free, peer-led workouts for men. Getting a workout in is essential to my day, and the only shirt truly suitable for post-workout wear for me and my older son Alex is the Charlotte Ledger Essential T-shirt. With our workout complete and The Ledger in my inbox, I'm ready for another great day in the Queen City.
Still need a gift for Father's Day? Charlotte Ledger T-shirts are made of comfortable 100% cotton and are the perfect way to treat Dad to a gift that lets him feel essential and supports healthcare workers in the process. Or pick one up for yourself — they're available in unisex and women's cuts. They're just $15, and if you use the check-out code CLTL20, the shipping is free. Proceeds go to the Atrium Health Foundation's Essential Needs Fund, which supports healthcare workers.
While you're at it, why not surprise dad with a subscription to the Charlotte Ledger?
Also available — Doggone Essential Charlotte Ledger dog bandanas:
Got a Ledger T-shirt? Send us a photo of yourself wearing it and tell us why the Ledger is your essential source of news. We'll make you famous in a future edition of The Ledger.
---
Do you want the full Ledger experience and access to everything we produce? Go with a paid subscription:
Got a news tip? Think we missed something? Drop us a line at editor@cltledger.com and let us know.
Like what we are doing? Feel free to forward this along and to tell a friend.
Archives available at https://charlotteledger.substack.com/archive.
On Twitter: @cltledger
Sponsorship information: email editor@cltledger.com.
The Charlotte Ledger is an e-newsletter and web site publishing timely, informative, and interesting local business news and analysis Mondays, Wednesdays, Fridays and Saturdays, except holidays and as noted. We strive for fairness and accuracy and will correct all known errors. The content reflects the independent editorial judgment of The Charlotte Ledger. Any advertising, paid marketing, or sponsored content will be clearly labeled.
Executive editor: Tony Mecia; Managing editor: Cristina Bolling; Contributing editor: Tim Whitmire; Reporting intern: David Griffith