When Ubers crash
Plus: Open your wallet for Mecklenburg County; Extreme makeover, airport edition; Charlotte lawyer named Miss USA (really)
Good morning! Today is Friday, May 3, 2019. Need to subscribe? Sign up here (charlotteledger.substack.com).
Ride-sharing lawsuits on the rise
Most of the time, ride-sharing services will get you where you need to go, often with a chatty driver.
Sometimes, though, Uber and Lyft drivers crash. And sometimes when they crash, people sue.
Lawsuits against Uber and Lyft in Mecklenburg County have been piling up in the last few years. There have been at least eight lawsuits filed against the companies since 2017, according to court records. Almost all come from people injured in a crash involving an Uber or Lyft driver.
Long odds: Those suits are a little surprising. Uber and Lyft take great pains to let everybody know that their drivers are independent contractors — and that they are merely creators of a technology that links drivers and passengers. They do verify that their drivers have insurance coverage, and they also offer liability protection.
Nonetheless, crafty lawyers try to pin the blame on the companies with deep pockets. Because the filings are so new, most of the cases are ongoing, though a few have been dismissed:
A Union County couple sued Uber in 2017 over a September 2014 incident in which the husband was injured when his Uber driver ran a red light at Remount Road and South Tryon Street. The couple sought more than $25K. The case went to mediation and was dismissed last year.

Two Uber passengers sued Uber and Lyft in 2018, following a February 2017 wreck at 1:26 a.m. in which their Uber driver, heading south on North Davidson Street toward 5th Street, ran a red light and slammed into a 2014 Nissan that had just dropped off Lyft passengers. Lawyers for the driver said the plaintiffs were "believed to be intoxicated" and distracted the driver by talking to her.

An Uber passenger sued in 2018 after his driver in a 2011 Ford rear-ended a 2001 BMW on Providence Road in January 2017.

A driver sued Uber in 2018 over a bad accident that took place in October 2017 in the Clarabella subdivision near Steele Creek. The Uber driver in a 2003 Mercury was on his way to pick up passengers in the new subdivision, which did not have stop signs at cross streets, according to the suit. The plaintiff's left arm had to be amputated because of the wreck, the suit said.

A woman sued Uber over an August 2018 wreck on Park Road. She said an Uber Eats driver turned in front of the 2004 Dodge she was riding in and the vehicles crashed, resulting in neck and back injuries.

A former Lyft driver from Matthews sued the company for $200K in 2017 after the company terminated her for an undisclosed reason. Representing herself, in a lawsuit she wrote by hand, she alleged that Lyft defamed her character: "The claim against me affects my integrity and my political asylum." The claim was transferred to federal court last year.

A bike rider sued Lyft in April 2019, alleging that a driver for the company struck him from behind as he rode his bike on W. 4th Street in November 2018. He experienced "severe bodily injuries" and sued for more than $25K.

Another suit against Uber was filed this week, but details were unavailable.
Sometimes, though, lawsuits against ride-sharing companies can bear fruit. In one high profile case in 2015, Uber settled with the family of a girl who was killed in San Francisco when a driver hit her while he was using the app to look for passengers. And the companies are anticipating more suits as they grow. In its stock prospectus filed in March, Lyft wrote:
We have incurred expenses to settle personal injury claims, which we sometimes choose to settle for reasons including expediency, protection of our reputation and to prevent the uncertainty of litigating, and we expect that such expenses will continue to increase as our business grows and we face increasing public scrutiny.
Besides wrecks, there are plenty of other reasons people might sue Uber and Lyft — like accusing drivers of sexual harassment, or suits from drivers who want to be classified as employees. But no such cases have been filed in Mecklenburg County.
In case you are wondering, we also checked on suits against e-scooter companies Lime and Bird. Nothing there … yet.
---
Airport update: Concourse A
The unending story of Charlotte airport construction has moved on to its next chapter — though this book has more chapters than War and Peace.
This update involves the A concourse, so if you're a dedicated American Airlines platinum chairman elite preferred, or whatever the right term is, go ahead and skip on down to the next item. The A concourse is for cheapskates who fly Southwest, JetBlue, Delta and United.
Last week, the airport opened half of the old A concourse following renovations to the odd-numbered gates, the ones on the right as you walk into the terminal. The even-numbered gates on the left are under renovation.
Modern, shiny: The new gates look more modern, have new carpet and come tricked out with the airport's new signs, with their cool yellow circles on a soothing blue background. The Wendy's and Cinnabon are open and not too crowded. The restrooms are shiny. Oh, and there's now a small bar in the middle of the seating area by gate A1, just a few feet from where you board: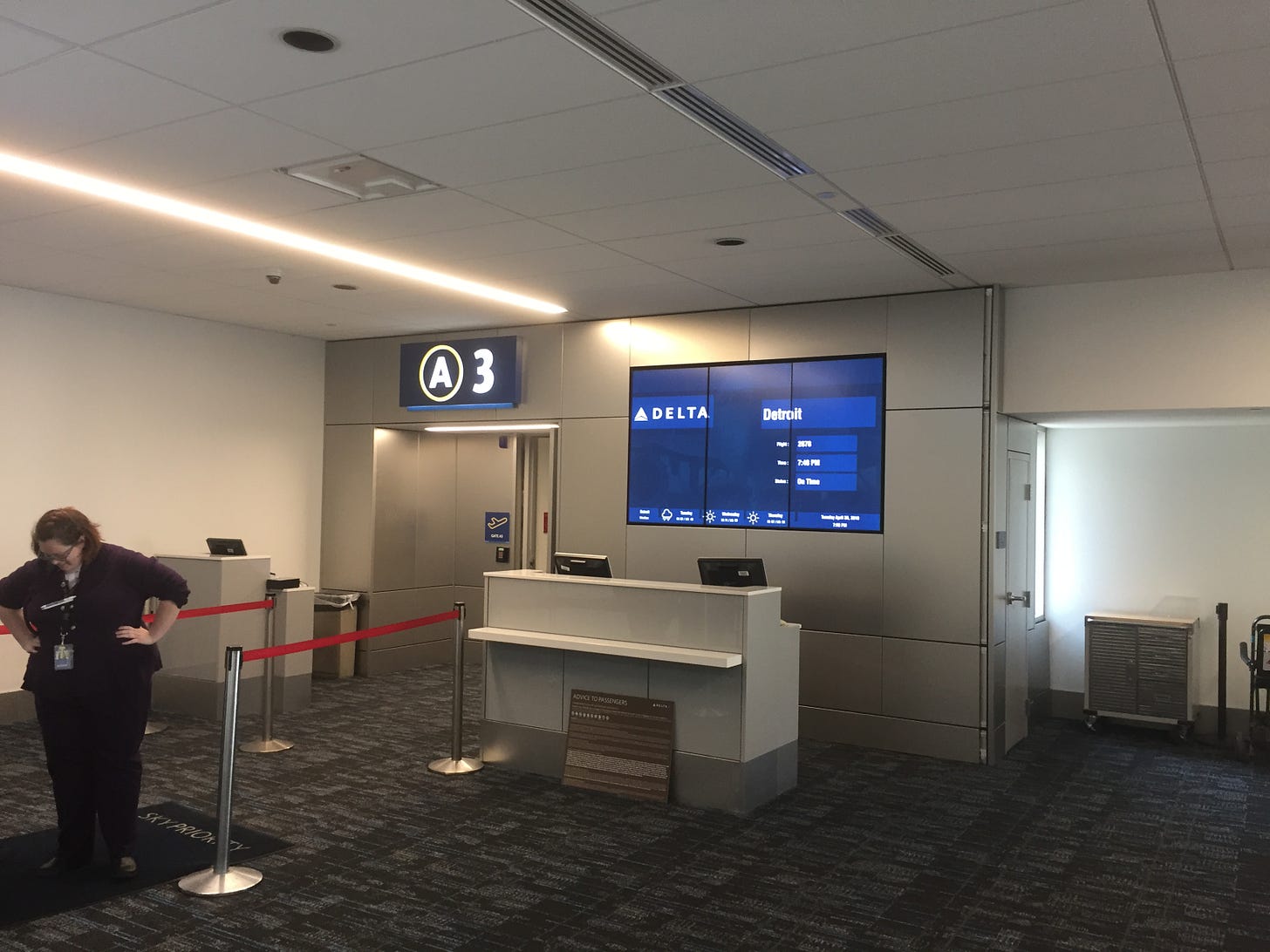 Work is ongoing on concourse C and on adding lanes at arrivals and departures. The real fun starts later this year when the airport starts renovations on its lobby.
---
Loves me some internet
WBTV comes through with a hard-hitting look at a Gaston County goat-fluencer with 50,000 Instagram followers:
There's a goat in Gaston County making a name for himself on social media, you might have even seen some of his videos on Facebook. With such a large following, you'd think he'd be a dancing goat or be able to perform some kind of trick, but that's not it.

Billy Gotti the Goat just makes people happy. He's also the most stylish animal you probably could ever meet.

"This is Billy's outfit. He has on his khakis and things," said Jo'lee Shine, who created Billy's social media pages. "My son stays fresh. He stays fresh."
Since WBTV ran the story, Billy has surged to … 72,000 Instagram followers.
---
There she is, Miss USA
Charlotte lawyer Cheslie Kryst, 28, was named Miss USA on Thursday night. She's an associate at the law firm Poyner Spruill. She's a University of South Carolina grad, according to her firm profile. It also says she's on the board of directors of Big Brothers Big Sisters of Central Carolinas and serves on an advisory board for the Harvey B. Gantt Center for African-American Arts + Culture.
From the Associated Press:
Kryst earned a law degree and an MBA at Wake Forest University before becoming a civil litigation attorney who does pro bono work to reduce sentences for inmates.

[Kryst], from Charlotte, North Carolina, said during the final round that she was glad to be competing in Nevada because it's the first and only state in the nation with female majorities in both houses of the state legislature.
---
Higher taxes will make us stronger, county says
What's that sound you hear? Why, it's the collective sigh of relief from Union and York county residents that they don't live in Mecklenburg, where the county manager yesterday recommended property tax increases for about 2/3 of property owners. Some tax bills would be a lot bigger.
With this year's property revaluation, some people were always destined to pay more. But county manager Dena Diorio declined to recommend a revenue-neutral tax rate, opting for one that increases property tax revenues by 6% — with the money used to boost spending on parks, schools, employee salaries, public health and, ironically, affordable housing.
'Fiscal discipline': The budget, Diorio said, "reflects my commitment as county manager to carrying out our vision of creating a stronger Mecklenburg County for employees and residents." She said the budget — $1.9B, or 9% more than last year's — "aligns with our goal of maintaining fiscal discipline."
According to county figures:
65.1% of residential property would experience a tax increase. Of those whose bills are rising, 54% would have taxes go up more than $120 a year.

71% of commercial property would have a tax increase. Of those, 89% would have taxes go up more than $120 a year.
If you want to geek out on the full proposed county budget, here it is. Commissioners are scheduled to vote on next year's budget next month. The city of Charlotte is still working on its budget.
---
In brief
Charlie Munger praises Tim Sloan. Berkshire Hathaway vice chairman says "he's a very good bank lender. … I would have kept Sloan myself, but nobody asked me." (NY Post)

Casino nights OK'd: "Bill making casino nights for charities lawful gets final OK." The law clarifies they are legal — some local charities have been running them for years. (News & Observer)

Dirt moving: Construction has started in Eastover on 150 Providence, an office building at Providence Road and Colonial Avenue.

New banks enter Charlotte — and consumers could benefit: "With the increased competition, banks are looking at different ways to entice new customers. For instance, JPMorgan provides up to $600 in cash to eligible customers if they open a new checking and savings account whenever it enters a new market." (Observer/paywall).
---
Food and booze news
A weekly wrap-up of the week's eating and drinking developments
A brewery bubble?
Queen City Nerve ran an interesting interview this week on Charlotte's future as a beer destination, with author Daniel Anthony Hartis, who wrote Charlotte Beer: A History of Brewing in the Queen City.
One of the questions he considered: Does Charlotte have too many breweries?
I don't think there's a bubble, I don't think there's a saturation point. But I think you'll see new breweries taking greater care to really set themselves apart through tap rooms, beer selections, anything they can to give you a reason to come in. I think breweries will continue to open but I think it will slow.

I think some of the bigger breweries, whereas in the past if they had seen that double-digit growth every year like they were for a while and they were encouraged to expand, I don't think we'll see as much expansion.
The interview is worth your time.
In brief
Donuts, Part 1: "Stoke Doughnut Tent Returns to Uptown" (Charlotte Magazine)

Donuts, Part 2: "Pepperbox Doughnuts now open in South End near Jeni's Ice Creams" (Agenda)

Cheeseburger, cheeseburger: Ledger reader Nick reports he is pleased with the new Habit Burger in Midtown, which opened yesterday. He was one of the first 50 customers and will receive a free cheeseburger a week for one year: "Burgers were perfectly fine, on par with Five Guys, Smashburger and the overrated (but perfectly fine) Shake Shack. I'm glad there's finally some life in that long-dormant building on Kings."
---
Got a news tip? Think we missed something? Drop me a line at editor@cltledger.comand let me know.
Like what we are doing? Feel free to forward this along and to tell a friend.
The Charlotte Ledger is an e-newsletter and web site publishing timely, informative, and interesting local business news and analysis Mondays, Wednesdays, and Fridays, except holidays and as noted. We strive for fairness and accuracy and will correct all known errors. The content reflects the independent editorial judgment of The Charlotte Ledger. Any advertising, paid marketing, or sponsored content will be clearly labeled.
The Charlotte Ledger is published by Tony Mecia, an award-winning former Charlotte Observer business reporter and editor. He lives in Charlotte with his wife and three children.