5 work-from-home tips from a pro
Plus: Southern Women's Show founder offers old-school advice; Jobless claims surge; Music venues shift performances to Facebook Live; Guy on Tinder has everything you're looking for
Today is Thursday, March 19, 2020. You're reading a SPECIAL BONUS ISSUE of The Charlotte Ledger.
If you like what you see, please forward to a friend.
Need to subscribe? Sign up for free here (charlotteledger.substack.com). A paid subscription, starting at $9/month, gives you access to all articles and helps build smarter original, local news in Charlotte. Details here.
---
I've worked from home alongside my husband for four years. Here's how we get work done — and stay married.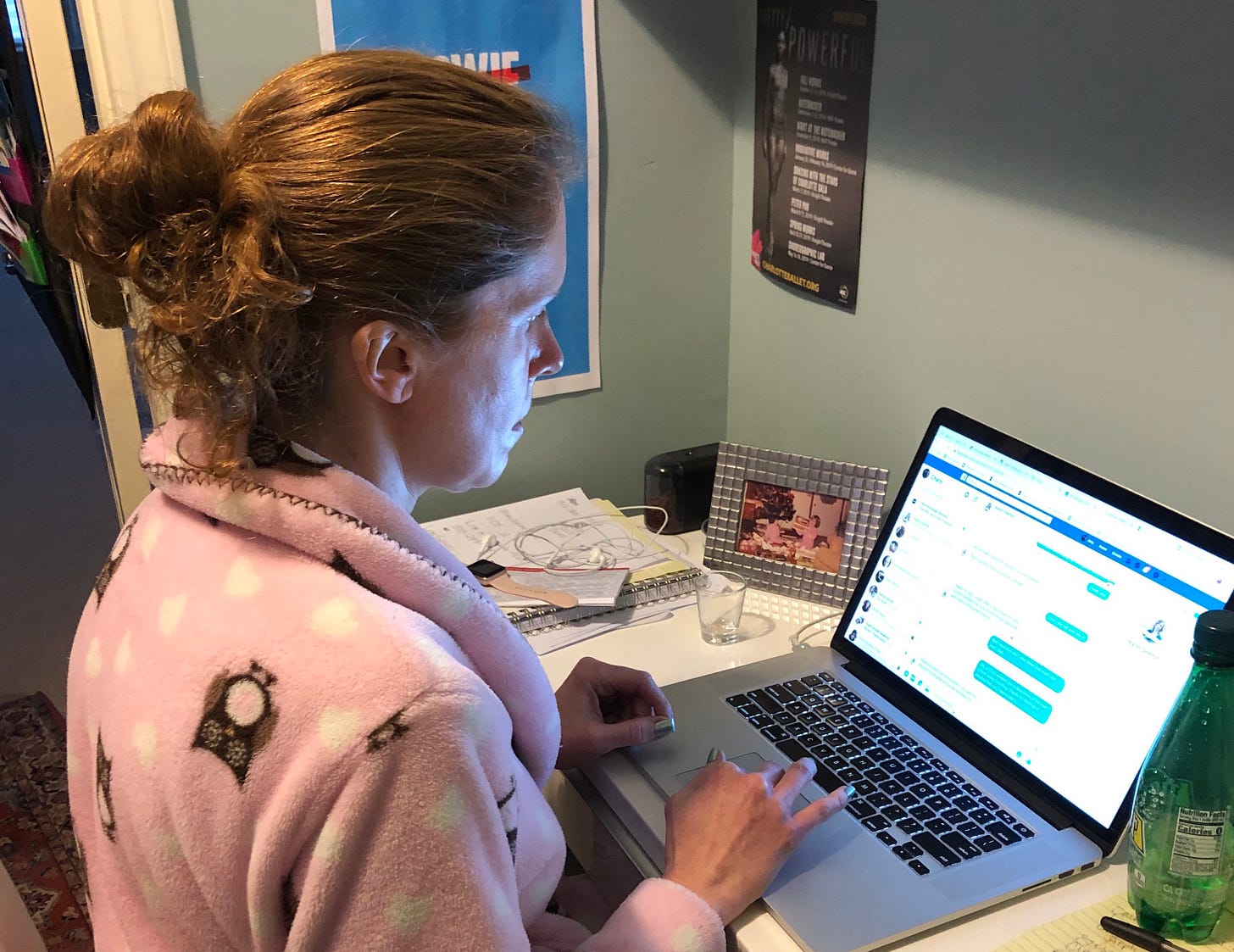 Having a structure but remaining flexible is a key survival strategy when you're home with a spouse, kids, a dog and a lot of work.
By Amy George
Maybe you were already thinking about how nice it would be to work from home.
Goodbye, rush-hour commute and professional attire. Hello, doing conference calls in PJs. Thank you, high-speed internet, remote-work technology and — in many cases — an evolving workplace culture that embraces flexible work schedules.
But the global coronavirus crisis has morphed the working-from-home dream into … well, if not quite a nightmare, definitely more of a challenge. I should know. My husband and I have (mostly) successfully navigated dual work-from-home careers for nearly four years.
In early spring 2016, Jeff left his corporate communications job at Bank of America uptown for a marketing communications job at PwC. His entire team is scattered and mostly works from home. Around the same time, I left a corporate communications job at Wells Fargo to start my public relations and communications agency, By George Communications, which didn't exactly require multiple floors in a high-rise office building. At least, not at the start.
With school called off because of the coronavirus, our two daughters, ages 13 and 11, are now at home with us. Given the past few years, Jeff and I are better prepared than others for the weeks and months ahead. But this time definitely is different — not only from our typical day-to-day rhythm, but also from a teacher workday or a couple of snow days.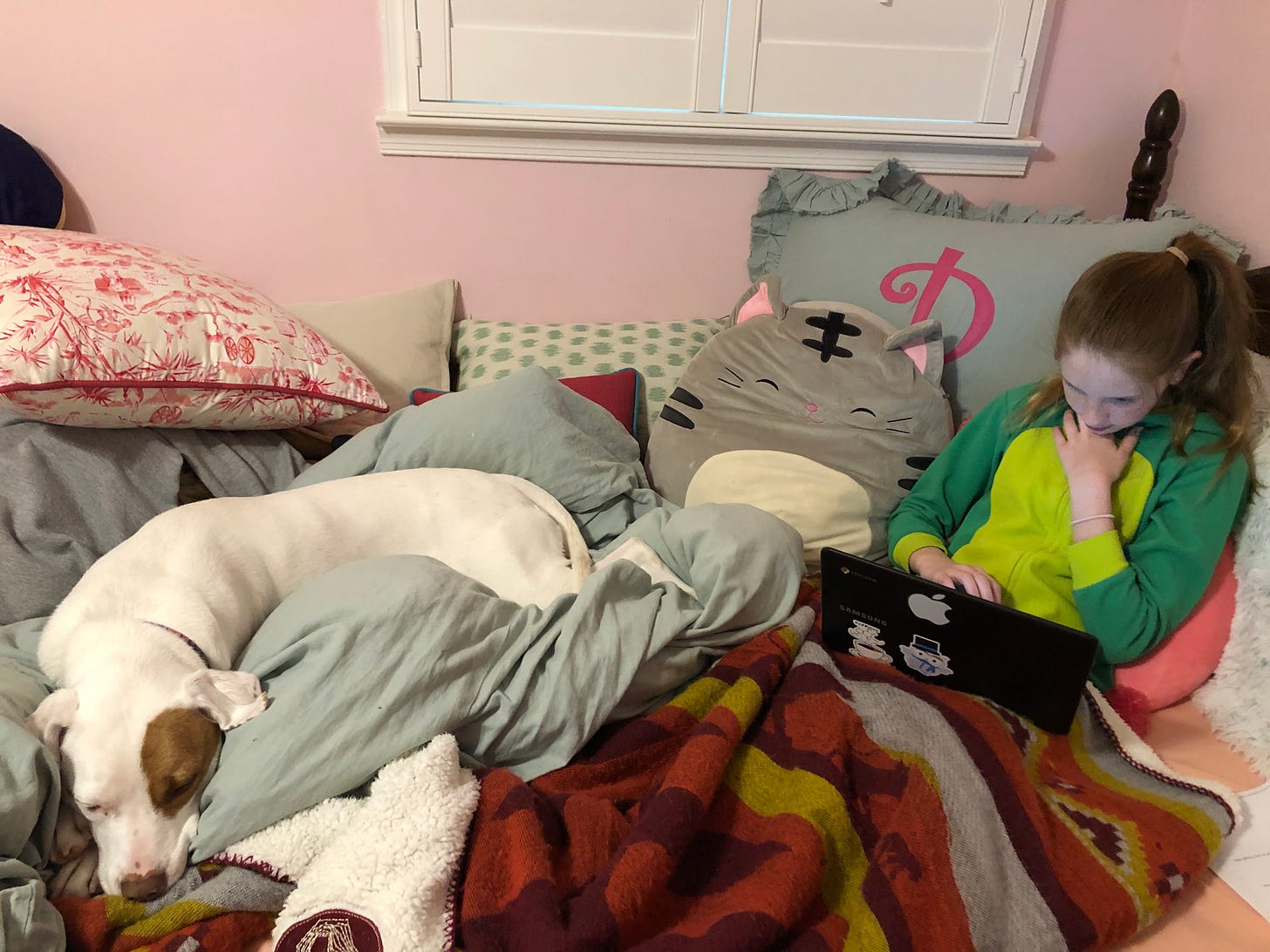 Having kids out of school ratchets up the level of difficulty of working from home.
Coronavirus challenges: "Social distancing" and the recent retail shutdowns mean some of our go-to strategies don't work. For example, I'm not getting out of the house for networking meetings, and writing from some of my favorite spots, like Amelie's on Park Road, is now no longer possible. And we have new homeschooling responsibilities.
When we aren't having mild panic attacks, here are a few strategies we lean on and recommend to spouses who now find themselves working in close quarters.
1. Have a schedule.
On Sunday, we put together a schedule for the children, blocking time for schoolwork, chores, reading and down time. We're easing into it because … let's face it, these are weird and trying times. But it's there, and it's comforting to know that when virtual learning kicks into high gear, we have some sort of plan.
2. Discuss the day ahead.
Usually in the evening or first thing in the morning, Jeff and I discuss what's ahead for us that day: our important work calls (so that the other can shush the dog when the mail carrier comes), our outside appointments (none currently) as well as where we have flexibility in our schedules or even if we want to have lunch together.
3. Block and tackle.
Sometimes, we can't both be on calls or immersed in work. Like on snow days — or like right now. When we can, we will block and tackle — trading off two-hour blocks of work time with two-hour blocks of handling the kids and dog time.
4. Have your own workspace.
This seems obvious. But the truth is you might need multiple workspaces in your house, so that you have a change of scenery and because each one has a different purpose. If I'm working at the kitchen table after breakfast, the family knows this work is more flexible. I'm responding to emails and reading the news. If I get into a groove and bark at people to be quiet, Jeff reminds me that this is a common area.
If I'm working my closet office (a.k.a. cloffice, a.k.a. "hole"), the kids and Jeff know I'm either on a call or deep into my writing. Likewise, I rarely interrupt Jeff in his downstairs office, but if he's on the back deck, all bets are off.
5. Keep regular work hours. But be flexible, too.
This one is hard but something we always strive for. It can be easy to let the lines between work time and family time blur. I get pretty cranky if Jeff is working while I cook dinner. He and the kids aren't happy if I check email during dinner. Try to keep regular work hours, but also stay flexible. After all, part of the benefit of working from home (usually) is that you can manage your time however it works for you. So if I take time during the day to help the kids with school work or play a game with them or ride bikes, Jeff knows I'll need to do work after hours or over the weekend.
Again, these are strange days, and this is not the normal idea of working from home. All any of us can do is try to plan but try to be agile, set some boundaries and breathe. More than ever, we're all in this together — but from a distance.
Amy George, who lives in Mountainbrook in south Charlotte, is the owner of By George Communications. She helps people, companies and organizations build credibility and grow their careers or businesses through storytelling and PR. She also elevates LinkedIn profiles. She doesn't usually spend all morning in her pink owl robe, but these are trying times.
---
How is it going at your house? How are you managing working from home? What tips do you have? You can leave a comment by clicking on one of the rectangular word bubbles at the top or bottom of this post.
---
Share this email with a friend:
---
Advice from an earlier era
Ledger reader Joan Zimmerman, founder and CEO of Southern Shows — which puts on the Southern Women's Show and other events — shared an email she wrote to company employees this week about how to persevere through a crisis:
Not to make light of a very serious and dangerous situation — however, now we have heard a thousand times about washing hands, social distancing, not touching our faces (very hard), self-quarantine and all the other things we can and should do to help stop the spread of this mysterious virus.

What else can we do to withstand fear, freedom restriction — and ultimately, boredom and the feeling of futility?

When we mentioned any of these things to our parents, in a large and diverse household, we knew there would be one response: MAKE YOURSELF USEFUL.

And — as you can imagine, the suggestions on how we could do this ranged from the delightful, to the difficult, the kind, the neighborly, to avoid getting slovenly, and plan for tomorrow, and the next day.

Their suggestions:

Think of someone or something else, besides your own current problems or situation.

If your "thinking" uncovers someone who needs help, or a job that needs doing ... stop thinking and get busy. Busy is good.

Call (or email) a friend, especially those not fortunate enough to have family and social networks. And keep it up: One call is just a start.

List:  Here's what I can and will do now. List: Here's what I can and will do when this crisis is over.

Among the opportunities you will uncover around your home, office, car or other "abode" or transportation:  

CLEAN places long overlooked: Tops of cabinets and furniture. Freezers, refrigerators, drawers and shelves stuffed with useless stuff ... you get the picture.

Add baseboards, moldings, curtains, bedspreads, racks and closet floors ... the list is endless.

If you can find the ironing board, iron that secret stash of napkins and other "stuff." Windows. Picture glass and frames ... and on and around it goes ... never a need to be idle; unless you choose to. Expending energy is good.

The important lessons we learned were:  Be other-oriented. Stay productive. Have a current and future plan. Do not get slouchy or slovenly. Be grateful for what you have.

And, by the way, these suggestions we received applied at all times, and in all circumstances — not just during a crisis.

Always darkest before the dawn ... thanks for ALL YOU ARE DOING, IT IS A REMARKABLE LESSON IN LEADERSHIP AND TEAMWORK!!
---
The Ledger is able to expand its local coverage in this critical time because of the support of sponsors and paying subscribers. Please consider a subscription, which allows full access to all Ledger articles and supports smart local news. Details here.
---
Local coronavirus round-up for last 24 hours:
Request: To prevent the spread of the coronavirus, Atrium Health is asking people with flu- or cold-like symptoms to contact Atrium before showing up up a doctor's office, urgent care or emergency department. It also announced new restrictions on visitors at hospitals.

In addition to rescheduling nonessential medical procedures, announced earlier this week, Novant Health is rescheduling well visits to doctors' offices, it said in an email Wednesday.
---
Ways to help others in Charlotte
---
Loves me some internet
---
In brief:
---
Credible local news is more valuable than ever:
Got a news tip? Think we missed something? Drop me a line at editor@cltledger.com and let me know.
Like what we are doing? Feel free to forward this along and to tell a friend.
Archives available at https://charlotteledger.substack.com/archive.
On Twitter: @cltledger
Sponsorship information: email editor@cltledger.com.
The Charlotte Ledger is an e-newsletter and web site publishing timely, informative, and interesting local business news and analysis Mondays, Wednesdays, Fridays and Saturdays, except holidays and as noted. We strive for fairness and accuracy and will correct all known errors. The content reflects the independent editorial judgment of The Charlotte Ledger. Any advertising, paid marketing, or sponsored content will be clearly labeled.
Editor: Tony Mecia; Contributing editor: Tim Whitmire