Discover more from The Charlotte Ledger
Delivering smart and essential news to Charlotte, one email at a time.
Over 20,000 subscribers
A drive-in movie does the trick
Plus: Meet Charlotte's pre-dawn toilet paper buyers; Are we about to shelter in place?; Grubb Properties CEO on the coronavirus
Today is Sunday, March 22, 2020. You're reading a SPECIAL BONUS ISSUE of The Charlotte Ledger.
If you like what you see, please forward to a friend.
Need to subscribe? Sign up for free here (charlotteledger.substack.com). A paid subscription, starting at $9/month, gives you access to all articles and helps build smarter original, local news in Charlotte. Details here.
---
With multiplexes closed, moviegoers take old-school approach in Kings Mountain; chance to 'escape all the craziness'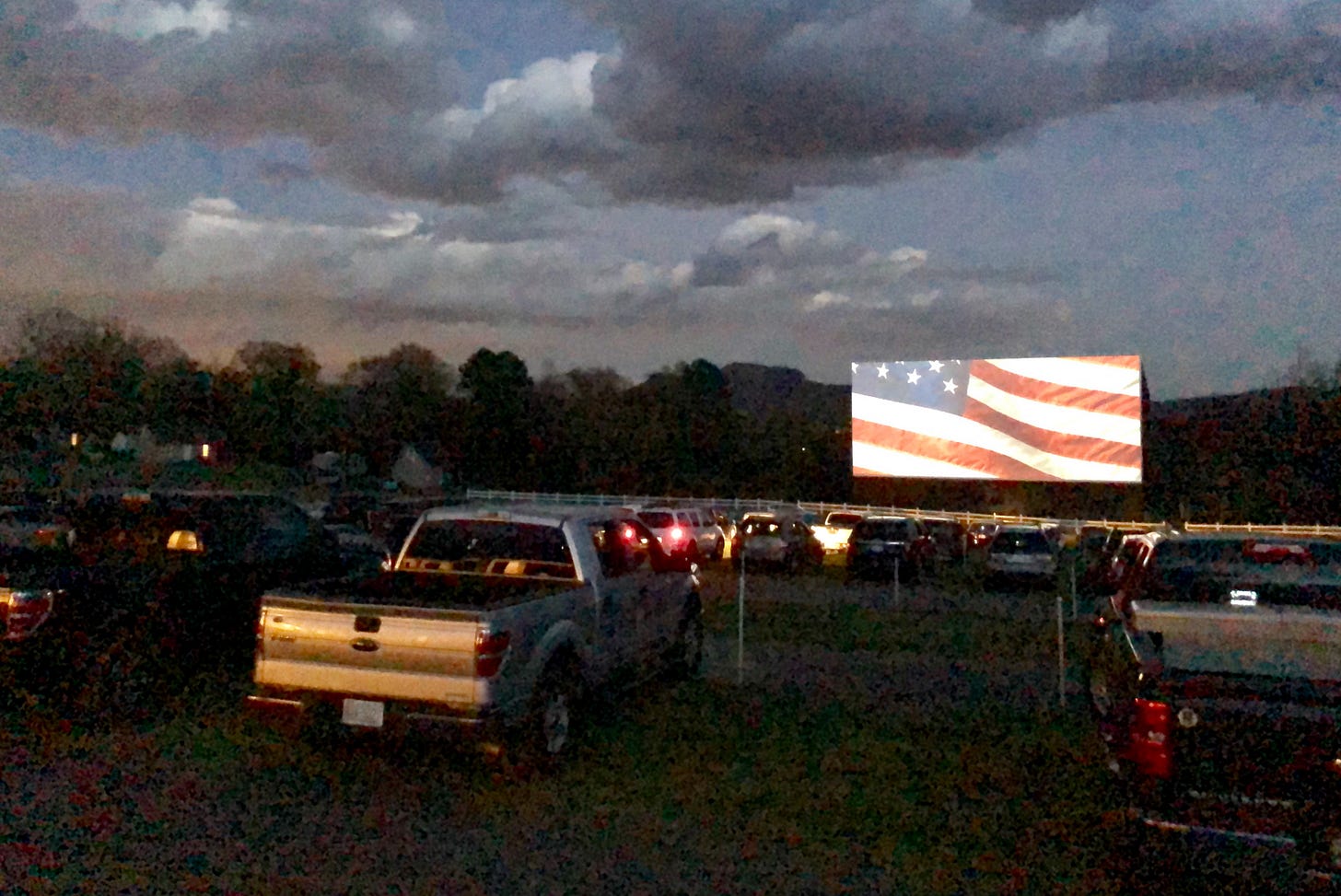 Opening night at Hound's Drive-In in Kings Mountain started with the national anthem.
By Michael Banks
After much of the Charlotte area spent a long week in virtual home lockdown, hundreds of people couldn't pass up the chance to get out Saturday night and see a movie under the stars.
About 500 vehicles from around the region streamed into Hound's Drive-In in Kings Mountain, 30 miles west of Charlotte, to take in a double feature: "Teenage Mutant Ninja Turtles" and "Forrest Gump." Over the years, drive-ins have closed, as people favored multiplexes or watching on huge TVs from their couches. But with regular movie theaters shut and people tiring of home, this drive-in on Saturday seemed like the place to be.
Greeting drivers as they pulled up was owner Preston Brown, who over the past five years has transformed a former eyesore of crumbling buildings that made up the Raven textile mill into a three-screen theatre.
"I felt like I needed to do something for these people," said the 50-year-old Brown, who was born and raised in Kings Mountain and still lives there. "A lot of people are having hard times."
Ted Clayton, 43, of Lake Wylie, S.C., said he's going through a separation, and he viewed the night at the movies as a chance to "escape all the craziness going on out here."
'Normalcy': Clayton usually works in a Charlotte office in his job with the sports streaming service DAZN but will be working from home starting this week. He said a night at the drive-in was a "way to get back some normalcy."
"It's what I'm yearning for," he said, pointing out that he spent a good part of Saturday at a Charlotte park that was full of people.
Backseat memories: Mike and Judy Trest drove an hour from their home in Waxhaw. With three teenage granddaughters to entertain over the weekend, they thought a drive-in theater would be a good option.
"I told them that when I was growing up, as a 15-year-old, I had to fight my brothers for the backseat, especially when the girlfriends were with us," Mike said with a big grin.
Date night for Matt Dayton and Grace Cooper, who have been dating for the past three years, usually consists of dinner and a movie, so the Rock Hill couple was happy to have the drive-in theater option. Cooper, a 19-year-old elementary education major at USC-Upstate, and Dayton, a 21-year-old employee at the Best Buy in Rock Hill, hadn't seen each other for a week.
"I think it's really generous of him," Cooper said of Brown. "It's a chance for us to go out and do something and be safe."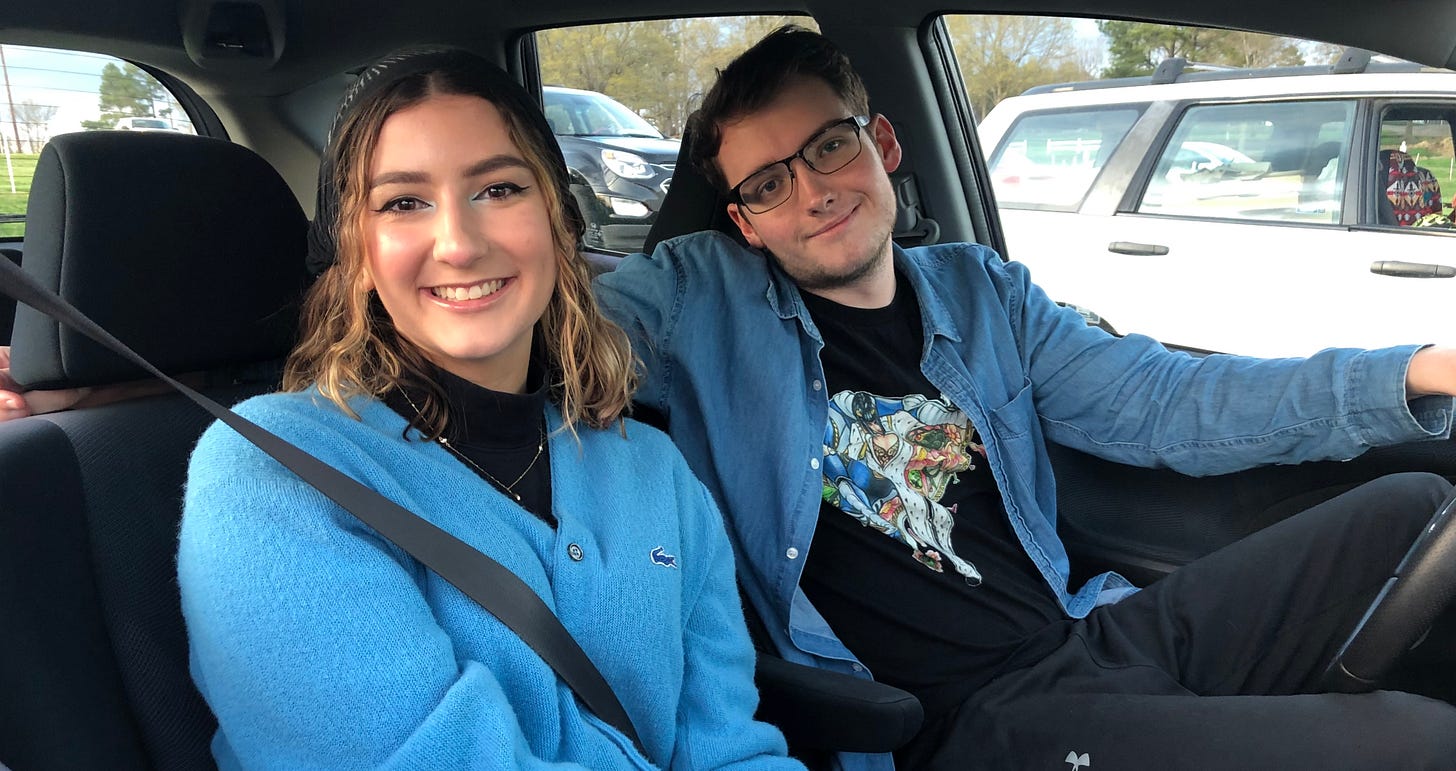 Date night: Grace Cooper and Matt Dayton hadn't seen each other in a week until they went to the drive-in on Saturday.
A good number of those entering the gate Saturday night were first-time visitors to the Kings Mountain drive-in. Brown said the free movie night was a good opportunity to show folks what his business has to offer. He was also happy to see repeat customers "because that means I must be doing something right."
Brown has constantly been expanding since he opened five years ago, with 34 restrooms and 10 concession windows. With the planned opening of the third screen this spring, he's built another ticket booth to handle the heavy flow of traffic he's seen his first four years.
"The lines have been so long," Brown said. "It's a good problem to have."
Those attending were asked to make a food donation Saturday and, at the end of the night, almost four bins had been collected that will be given to the Crisis Assistance Ministry in Kings Mountain.
Brown said that of the 327 drive-in theaters across the nation, only 13 were open this weekend.
Hatches closed, bathroom monitors: He was able to open Saturday by asking moviegoers to follow a few simple rules: They had to remain in their cars, all hatches had to stay closed and the only time they could exit their vehicle was when they went to the bathroom. Once there, monitors were in place to ensure that only two people were in the spacious, multi-stall bathrooms at a time and people were asked to stay 6 to 10 feet apart when they were waiting in line.
Brown said he originally had plans to open this season next weekend as he usually tries to time his openings with the release of big blockbuster movies. But now, like most of us, he's left with uncertainty as movie companies have cancelled their release dates all the way through June.
He has plans to be open next weekend and offer online ordering where people will be able to order from their cars and pick up their orders at the concession window when they're notified that it's ready.
Clayton, a first-time visitor to Hound's Drive-In, was appreciative of Brown's generosity.
"He's an angel to do this because this is what people need," Clayton said. "I'm just so excited he's open. It gives us some hope that this will soon pass."
Michael Banks is a longtime journalist with many of those years coming at The Gaston Gazette in Gastonia, where he is currently a staff writer. A Belmont resident, Banks is also working on his first novel as a member of the Author's Lab program provided by the non-profit Charlotte Lit organization.
---
Behind Charlotte's run on toilet paper
Sure, the 150 people lined up just before 7 a.m. outside SouthPark's Harris Teeter on Saturday were up early.
And of course they're worried about the coronavirus. Some wore masks. People kept their distance.
But no, person after person said in interviews — this isn't some pre-dawn raid for toilet paper. Brett Rise was looking for chicken. Nancy Lindstrom sought "staples, bread, stuff like that." Rochelle McColl needed "fruits and vegetables, meat if we can find it."
However, each one said when pressed, if the opportunity presented itself … and there were toilet paper still available when they entered the store … well, what rational person wouldn't buy at least a few more rolls? And who really knows how long this crisis might last, or what might happen with critical toilet paper supplies in the future? With toilet paper vanishing as quickly as it appears on the shelves, can you say you would do differently?
Around town, desperation is sinking in. Sally Brown of Myers Park said a Target in Wesley Chapel showed available toilet paper online, but it was out by the time she made the 40-minute drive there. There are stories of rolls being swiped from public restrooms. Amazon says toilet paper orders might not arrive until late May.
Promptly at 7, a store employee unlocked one of the entrances with a cheery, "Good morning, everybody!" Around the corner, before a second door could be unlocked, somebody in the crowd grumbled, "Open the door, already."
Then, the rush was on. Many shelves on Aisle 9 were empty — but there were several dozen packs of toilet paper. The crowd converged. Some grabbed the big packs and headed to the registers; others continued shopping. A gray-haired man with a black jacket and jeans emerged first from the masses, with a cart heaped with six 16-roll packages of Charmin, Mega-size. At the register, told of sales limits, he seemed bewildered: "I can only buy three?"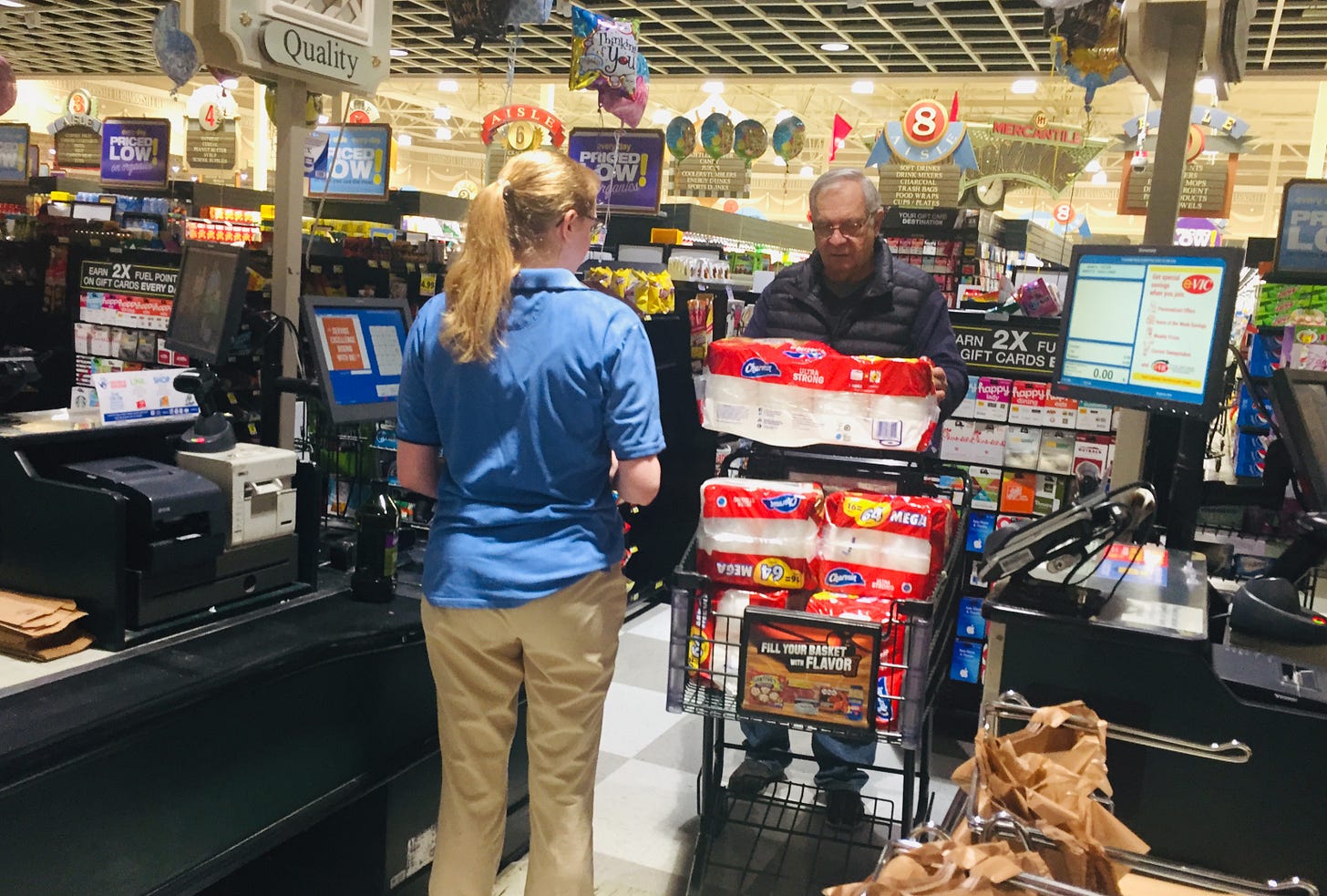 In an interview, he declined to give his name but said at home, he's down to two rolls: "It's an emergency."
At 7:10, a woman in a white sweatshirt snagged one of the last packages of toilet paper. "This is war," she joked.
Some day, there will be academic papers written about this period in our history, whether these buying habits are rational or not, and how consumers react faced with the unknown.
In the coming weeks, we'll face a lot of uncertainties. The people at this grocery store this morning agreed on this: In a pinch, you certainly don't want to be without toilet paper.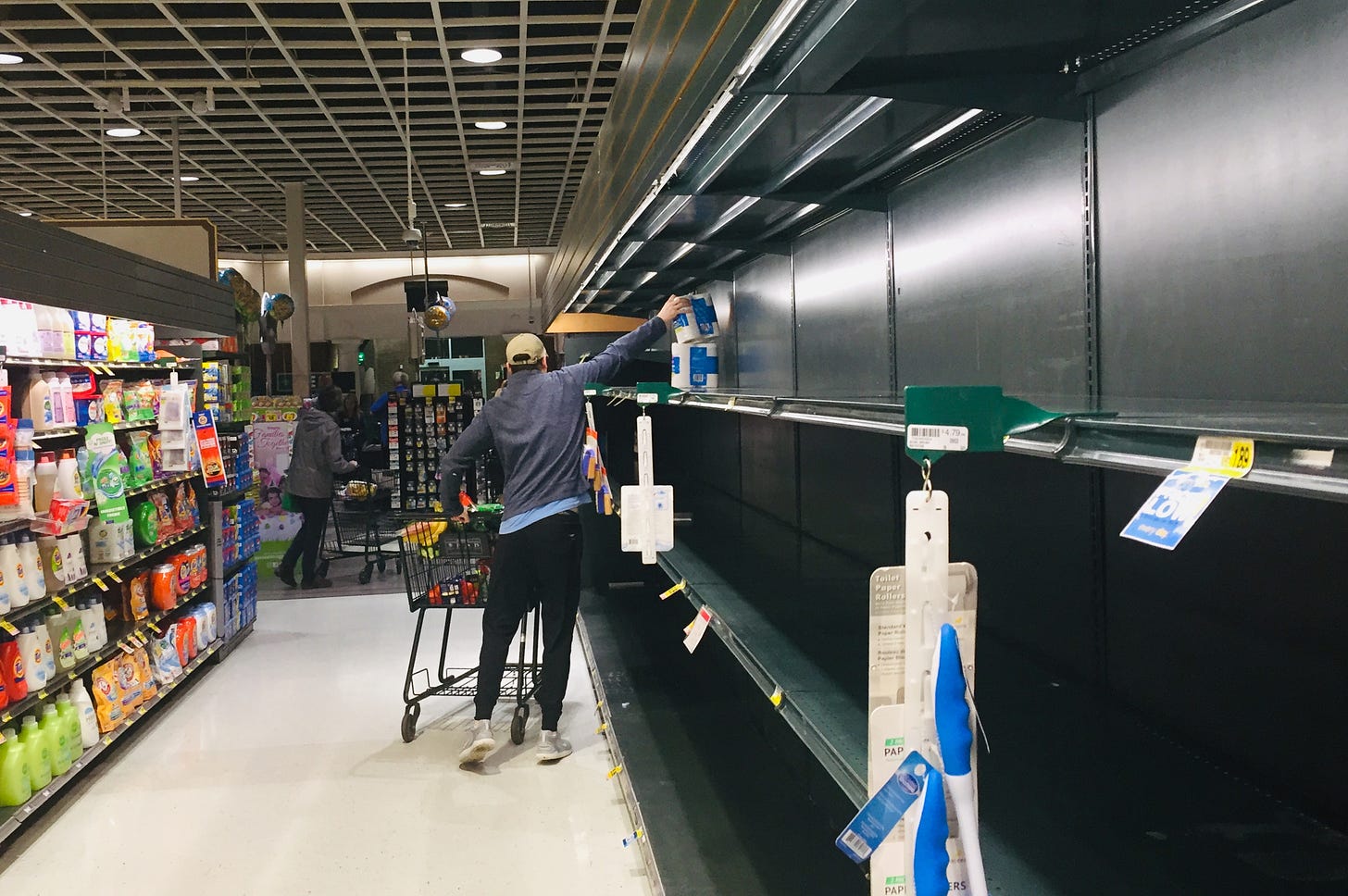 ---
Today's supporting sponsors are T.R. Lawing Realty:

… and Fionix Consulting. With 25+ years of experience in crisis and corporate communications, Fionix Consulting creates custom strategic communications solutions to reach — and exceed — your business outcomes: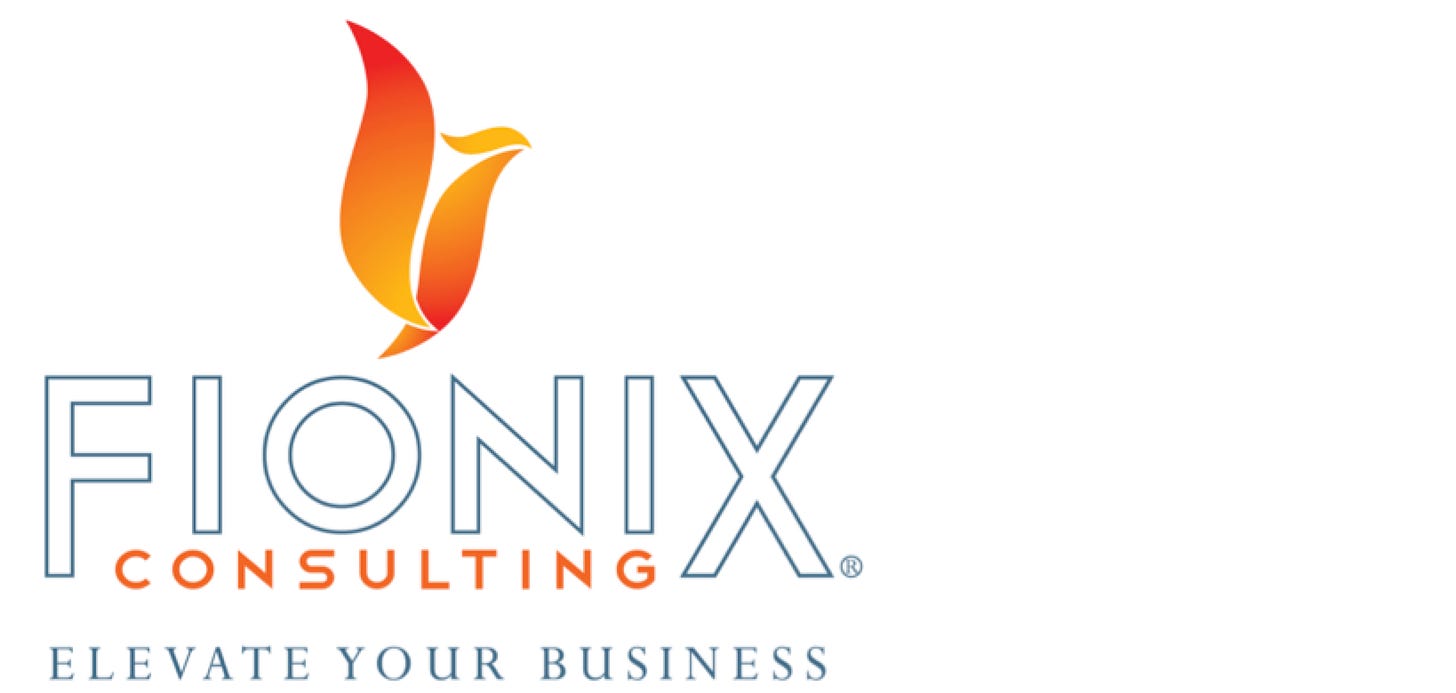 ---
Is N.C. heading toward a 'shelter in place' order?
If you look around at what other states are doing, it is not too far-fetched to imagine that additional restrictions on businesses and movement might be heading our way. Honestly, that seems to be what many people in Charlotte are talking about this weekend.
Times like these, it's best to stick to the facts. Here's what we know:
On Thursday, California's governor issued a mandatory stay-at-home order for the entire state. Illinois and New York issued similar restrictions on Friday.

Although the orders are known informally as "shelter in place" — a term that sounds as though there's an approaching tornado — state officials have preferred gentler-sounding names. Oregon officials announced a "stay home, stay healthy" policy for Portland on Friday.

In other states, the rules do not mean you literally need to remain confined to your house. In other states with the rules, you're free to leave your house, take a walk, visit with neighbors and drive to critical places including the grocery store, pharmacies, banks and hospitals. Roads including interstates remain open to traffic.
A "stay at home" order in North Carolina might not be all that different than what many people are doing now, except that it gives enhanced power to authorities to close additional businesses and enforce social distancing policies. That might be additionally devastating to businesses, but public health officials believe it could slow the expected surge of patients to hospitals.
California's order, for instance, includes a 16-page list of the kinds of "critical infrastructure workers" who should stay on the job. Still, the list has produced some confusion over who works in an essential job and who doesn't, the Los Angeles Times reported.
National Guard rumors: Meanwhile, in Charlotte in the last few days, there has been some buzz about the calling up of the National Guard, which some people are taking as a prelude to a more stringent shutdown. The state is activating a "small number" of National Guard soldiers to help deliver supplies, WBTV reported Friday.
N.C. Sen. Jeff Jackson, a Charlotte Democrat, elaborated on the issue of "shelter in place" orders and the National Guard's role on Saturday night. On Twitter, he said "at this point" there's no plan to use the Guard for anything more than delivering supplies and that "at this time" there is "no intent to issue a shelter in place order." He said "that could very well change in a matter of days." (Whatever you think of politicians, Jackson has credibility on this issue because he serves as a captain in the National Guard):
Recall that North Carolina wasn't the first state to close dine-in restaurants. Once others started doing it, though, our state went along. We will see what happens in the coming days.
---
---
Quotable: the biggest vulnerability
"Right now, we're working on the plans of how we can expand our capacity. That's really our biggest focus right now — the preparation for potential intake of patients so we can meet that demand. … In a pandemic time, capacity becomes our biggest vulnerability, if you will. Looking at maybe alternate means of how capacity can be increased is one of our biggest focuses." — James Clark, director of emergency management at Atrium Health, in a video the hospital system released late last week.
---
Text to Charlotte developer: 'Congratulations, you have the coronavirus'
Clay Grubb, CEO of Charlotte-based Grubb Properties, writing on LinkedIn last night: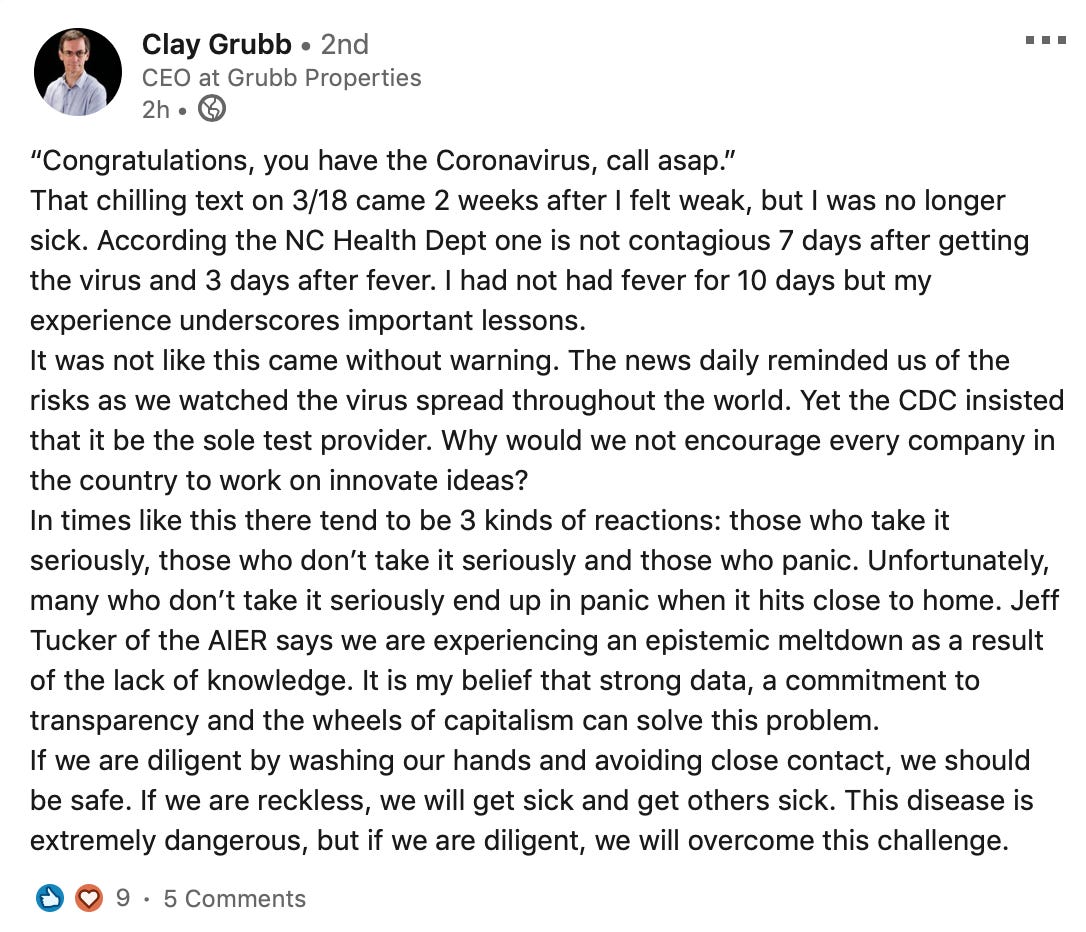 ---
In brief
Cases rise: The number of confirmed coronavirus cases in Mecklenburg County rose to 77 as of Saturday, and there are more than 250 statewide. (Observer)

Healthcare volunteers needed: The state is asking for volunteers with backgrounds as physicians, advanced care providers, nurses, EMS workers; in pharmacy, imaging and respiratory care; or who are available for work in facility maintenance, safety, and administrative positions. (Spectrum News)

From spirits to hand sanitizer: South End distillery Doc Porter's will begin making hand sanitizer "for first responders, medical professionals and non-profits providing shelter and assistance to others." It will "take ethanol it typically produces for spirits like vodka and gin and combine it with glycerin and hydrogen peroxide. That creates a hand sanitizer that meets the 60% ethanol minimum solution recommended by the CDC." (WFAE)
---
Need to sign up for this e-newsletter? Or want to support it with a paid subscription, which gets you access to everything and supports smart local news? Here you go:
Got a news tip? Think we missed something? Drop me a line at editor@cltledger.com and let me know.
Like what we are doing? Feel free to forward this along and to tell a friend.
Archives available at https://charlotteledger.substack.com/archive.
On Twitter: @cltledger
Sponsorship information: email editor@cltledger.com.
The Charlotte Ledger is an e-newsletter and web site publishing timely, informative, and interesting local business news and analysis Mondays, Wednesdays, Fridays and Saturdays, except holidays and as noted. We strive for fairness and accuracy and will correct all known errors. The content reflects the independent editorial judgment of The Charlotte Ledger. Any advertising, paid marketing, or sponsored content will be clearly labeled.
Editor: Tony Mecia; Contributing editor: Tim Whitmire