Discover more from The Charlotte Ledger
Delivering smart and essential news to Charlotte, one email at a time.
Over 20,000 subscribers
A new focus for local food
Plus: Washington might be close to sending you money; Harris Teeter to hire 5,000 workers; 'Stay at home' orders issued in other N.C. cities; Italian priest unwittingly discovers Facebook filters
Today is Thursday, March 26, 2020. You're reading a SPECIAL BONUS ISSUE of The Charlotte Ledger.
If you like what you see, please forward to a friend.
Need to subscribe? Sign up for free here (charlotteledger.substack.com). A paid subscription, starting at $9/month, gives you access to all articles and helps build smarter original, local news in Charlotte. Details here.
---
Top things you need to know:
Mecklenburg's "stay at home" order takes effect this morning at 8 a.m. Officials would like you to stay home and away from people, unless you are engaged in an "essential" activity or are going to an "essential" job. Read the order here.

The U.S. Senate last night passed a $2 trillion rescue bill that would give payments of up to $1,200 per tax filer (subject to income limits). It is expected to become law (details below).

Other N.C. cities and counties are following Mecklenburg's lead and enacting their own "stay at home" orders. Gov. Roy Cooper says "additional orders" from the state are coming soon (details below).

The state recorded its first deaths from the coronavirus, state officials said Wednesday (details below).
---
As restaurants orders drop, Charlotte-area farmers pivot to keep local eating alive; customers snap up bags of lettuce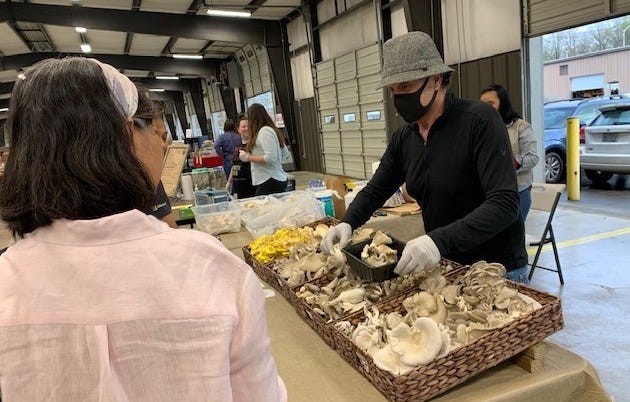 Many local farmers markets remain open, though vendors often wear gloves and masks. Charlotte-area farms are adjusting to big drops in sales to restaurants.
By Kathleen Purvis
For many farmers around Charlotte, the shuttered food economy couldn't have come at a better time.
It's not because restrictions around COVID-19 are anyone's idea of good news. It's because it's still winter (or just after it, anyway), when not much is growing yet.
"We're definitely losing income (right now), but not as much," says Amy Rohrer, who owns Boy and Girl Farm outside Waxhaw with her husband, Joe. "If this was happening in July, when we have tomatoes, I don't know what we'd do."
For many regional farmers like the Rohrers, the last 10 years have been a time of growth. The combination of the farm-to-table culinary movement and a booming Charlotte food scene allowed many to expand operations and sell through multiple channels: direct to the public at farmers markets; via Community Supported Agriculture (CSA) or "harvest subscriptions" that deliver weekly produce boxes to paying customers; and direct to restaurants.
Now, the abrupt ban on everything but to-go service at restaurants has forced many of those same farmers to rebuild their business models on the fly, just as they enter the spring and summer growing seasons.
Farm to ... your kitchen table?
Most farmers markets remain open for business, even as Mecklenburg County has put in place tighter restrictions on leaving your home to shop. Because they provide fresh food, farmers and farmers markets are considered essential businesses.
The Charlotte Regional Farmers Market, 1801 Yorkmont Road, is overseen by the N.C. Department of Agriculture and will remain open. The Matthews Community Market and the South End Market at South Boulevard and Tremont Avenue also will be open Saturday. The Davidson Farmers Market, which would usually go to full-time hours in April, is closed at least until May 2.
Plummeting restaurant demand
In the first week of the shutdown, Boy and Girl Farm saw restaurant orders (normally 90% of their business) plummet from 20 a week to none. During the summer high season, they usually sell to 30 to 35 restaurants a week.
With restaurants trying to survive, Rohrer hasn't even bothered to send regular customers a list of what she has right now, the usual late-winter kale/collards/carrots.
"Honestly, I think it would be more stress," she says. "I don't want them to feel bad (for not ordering). We understand."
One business is trying to change quickly from getting locally grown food into restaurants to getting it in the hands of home cooks. Jesse Leadbetter of Charlotte-based Fresh List had already started making plans to add home delivery, but it wasn't supposed to start until May or June. Now, he's racing to make the service available at www.freshlist.com, where you'll be able to order what you want and either have it delivered or pick it up at a central pickup point.
Leadbetter, the co-founder of Fresh List, usually gets food from 75 local farms and sells it to high-end restaurants, like The Stanley and Bardo. That business dropped by 75% last week. So focusing on home cooks may be a way to help farmers as they go into the busy season.
At the market, a 'table condom'
If you do head to a farmers' market this weekend, pay attention to the rules they have put in place to protect customers: No handling produce yourself, no food samples, and use the hand sanitizer that is readily available near vendors. Some markets have reduced the amount of money that must be handled by rounding up or down to the nearest dollar. Last Saturday at the Charlotte regional market, many customers were wearing gloves and masks and standing well apart in the lines.
Longtime vendor Nise Smart covered her table with a disposable green cover, joking that it was her "table condom." When she gets home from the market, it isn't a joke, though: She strips off her clothes outside ("That's the advantage to living in the country"), sprays herself down with sanitizer and then goes in to take a shower. One member of her family has health issues and she isn't taking any chances, she says.
"My daughters are afraid for me to go to the market. But I feel safer there — if you touch it, you buy it."
Demand has certainly been there. Even though traffic at the markets may be lower, it's still steady, and the people coming out appear to be buying more.
"It's some of the best days at the market," said Smart. "Instead of one bag of lettuce, they're getting two or three, because they don't know how long it will be." The first week after social isolating started, she sold out of everything by 9 a.m.
"People have not stopped going to the market, that's for sure," she said. "It's an early crowd. They rush in, they get their stuff, and by 11, it's slowed down pretty good."
At the Matthews Community Market, which is still on winter hours (8-10 a.m. Saturdays), they're letting only 30 people at a time enter the grounds. Sammy Koenigsberg of New Town Farms in Waxhaw, one of the founders of the market, said his large farm stand sold out in 11 minutes a few weeks ago, so they're trying to slow things down and make sure there is plenty of space between customers in lines.
'Just have to adapt'
Barbee Farms in Concord is one of the largest farms in the area. Brent Barbee says they've been lucky because they have several ways to sell. Sales to food distributors have fallen off, but they're doing heavy business at their farm stand in Concord.
"Most of what we're hearing is they're coming out to support us in times of uncertainty," he said. "They want to make sure we're here."
Other growers, like Brad Hinckley at Coldwater Creek Farm, are hearing from a lot of customers who just want to get their hands on food that's locally grown and organic. Applications for CSA subscriptions are up, according to several farmers, even though those typically don't start until May.
"We've been getting inundated (with calls)," said Hinckley, who was at the South End Market last Saturday. "'Can we come to the farm, where can we buy?' People are being fearful and wanting to know where their food comes from. Who touches it?"
For now, farmers are just trying to figure out what to plant for spring, when no one knows if the restrictions on restaurants and shoppers will get even tighter.
"We feel very lucky this happened in March," says Amy Rohrer. "In four to six weeks is when we're really going to be up a creek. You just have to adapt."
Kathleen Purvis is a longtime journalist who covers food in Charlotte and around the South.
---
Washington is close to paying out cash. Here are the details (with income limits)
Washington looks close to passing a massive economic stimulus package, and the part people will care the most about is the plan to distribute money.
From the Wall Street Journal:
The legislation will provide one-time checks of $1,200 to Americans with adjusted gross income up to $75,000 for individuals and $150,000 for married couples. Individuals and couples are eligible for an additional $500 per child. The government rebates will be pared by $5 for each $100 of income over those thresholds, completely phasing out for individuals whose incomes exceed $99,000, $146,500 for head of households with one child, and $198,000 for joint filers who don't have children. 

Eligible U.S. residents must have a work-eligible social security number to receive such a check and must not be claimed as a dependent by another taxpayer, according to Senate documents. …

The checks will be available to those who have no income as well as people who rely on income benefit programs, such as supplemental security income from the Social Security Administration.
The income levels would be based on previous years' tax filings. Other highlights:
Expanded unemployment benefits: Another feature of the bill is the expansion of unemployment benefits, which would be available to gig workers and freelancers.
It would also "increase current unemployment assistance by $600 a week for four months."
Small business loans/grants: The bill also includes about $350B in loans for small businesses. The principal of the loans can be forgiven if the businesses meet certain requirements. Provisions also include deferment of some payroll taxes, payroll tax credits and tax changes that allow more leeway in writing off losses. A few details here.
The bill passed the Senate last night and is expected to be adopted soon by the House and signed by the president. The administration said it hopes to start sending the money out in a few weeks by direct deposit, though cutting checks to those with no bank accounts on file with the IRS could take months.
How to use it: In a Ledger online discussion with three financial advisors last week, they said there is no easy answer to how to use stimulus money headed your way. Their advice (in brief):
"The best way to spend it is probably the way that best advances your long-term goals."

"It depends on your unique situation. If you have high interest debt it's a great time to pay it down, but with interest rates this low, good debt may be the lowest rate in your lifetime, so there's no clear answer."
---
Today's supporting sponsor is StretchLab:

Getting tight while working at home? Tune into our daily at-home stretch routine on Facebook live — check online for times. And follow our studios on Instagram and Facebook to learn multiple DIY stretches you and your family can do while in the midst of social distancing:  StretchLab SouthPark & StretchLab Dilworth
---
In brief:
---
A thank you to our Premium subscribers
The Ledger is able to deliver original, local information to you because of the support of our sponsors and paying subscribers. We are grateful for them.
Today, we want to give special recognition to our Premium-level subscribers. Premium subscriptions are for companies, groups and individuals willing to give more in exchange for a few extras — and also to lend support to the new model of local journalism that The Ledger represents.
They pay $379/year, which comes with newsletters for up to six email addresses, a monthly public thank-you (if desired) and an invitation to 1-2 events per year (on hold for now, for obvious reasons).
A special thank you to:
ATCO Properties

Charlotte Agenda

Crescent Communities

Drew Long Productions

Eric Moore, LLC

Foundation For The Carolinas

Greenway Wealth Advisors LLC

Ann Doss Helms

John Miller Law Firm, PLLC

K&L Gates LLP

Levine Properties

MVA Public Affairs

Next Stage

OrthoCarolina

SignatureFD

Tribek Properties

Stuart Watson, ManListening Podcast
For more information on paid subscriptions to The Ledger, check out this post.
---
Loves me some internet: Perils of live-streaming
---
Need to sign up for this e-newsletter? Here you go:
Got a news tip? Think we missed something? Drop me a line at editor@cltledger.com and let me know.
Like what we are doing? Feel free to forward this along and to tell a friend.
Archives available at https://charlotteledger.substack.com/archive.
On Twitter: @cltledger
Sponsorship information: email editor@cltledger.com.
The Charlotte Ledger is an e-newsletter and web site publishing timely, informative, and interesting local business news and analysis Mondays, Wednesdays, Fridays and Saturdays, except holidays and as noted. We strive for fairness and accuracy and will correct all known errors. The content reflects the independent editorial judgment of The Charlotte Ledger. Any advertising, paid marketing, or sponsored content will be clearly labeled.
Editor: Tony Mecia; Contributing editor: Tim Whitmire