Amid Covid-19, anxiety and depression risks grow
Plus: Troubles with Mecklenburg's Covid forecasting; Historic designation proposed for part of Camp North End; Recalling Little Richard's Charlotte show from 1956; Communion slots fill on SignUpGenius
Today is Monday, May 11, 2020. You're reading The Charlotte Ledger, an e-newsletter with local business-y news and insights for Charlotte, N.C.
If you like what you see, please forward to a friend.
Need to subscribe? Sign up for free here (charlotteledger.substack.com). A paid subscription, starting at $9/month, gives you access to all articles and helps build smarter original, local news in Charlotte. Details here.
---
Charlotte's quarantine has upended routines, severed social connections and created stress. Mental health professionals fear a coming wave of people in crisis.

For weeks, we've been surrounded by coverage of the havoc caused by Covid-19: the deaths, the hospitalizations, the economic catastrophe that's been unfolding around us. In the meantime, major healthcare crises are unfolding, too — ones that are happening quietly, with little public attention, but with very real effects on lives of people across Charlotte. This story is the second in a Ledger series exploring the hidden healthcare fallout from the pandemic.
by Cristina Bolling
Andrea Mikels was already struggling with depression, but when the Covid-19 pandemic hit this spring, it couldn't have come at a worse time.
The winter had brought a ruptured disc and unrelenting back pain and a fresh bout of deep sadness. But she'd found a new therapist, and as spring arrived, she was finally improving.
Then: quarantine.
Mikels, a South Charlotte mom of three active school-aged kids who relishes her gym workouts, tennis teams and evenings out with friends, was suddenly at home with a blank calendar and a feeling of despair.
"It's been brutal, because the way that my brain works, I thrive on a reason to get out of bed and go somewhere," said Mikels, who chronicles her journey with depression in a blog, Messy Mountains. "No distractions, just so much time to think and overthink and dwell, is not good."
Charlottean Andrea Mikels (shown here in the bonus room where she has virtual therapy appointments) writes about her journey with depression in her blog, Messy Mountains. She wants others going through mental health struggles to know they're not alone.
Entering a crisis: The Covid-19 pandemic has made us acutely aware of our physical health, but public health officials say we're entering another crisis that's getting largely overlooked: a mental health crisis.
For many like Mikels who are already battling mental health issues, the isolation, stress, schedule disruption and economic fallout of the pandemic has only made their struggles harder.
And mental health experts warn that a new wave of people with mental health disorders is on its way, brought on by the stress of Covid-19.
Mental-health related visits to emergency rooms were down by at least 50% during the first month of the pandemic, mirroring the decline in overall ER visits, said Dr. James Rachal, a psychiatrist with Atrium Health. But the low numbers don't mean fewer people need help — it's that they're staying away from hospitals out of a fear of contracting the virus, he said.
Other metrics portend trouble down the road, Rachal said:
Alcohol and gun sales are high. Mecklenburg liquor sales surged 29% in March, and nationwide, 2.9 million applied for FBI gun background checks in April.
Unemployment is way up, with 1 million people filing claims in North Carolina, or 20% of the state's workforce, according to the state's Division of Employment Security.
"Psychiatric disorders that are related to Covid-19 could crop up a year down the road," Rachal said. "There's going to be economic consequences that we haven't seen yet. Relationships that, while they may be held together right now, may fall apart and lead to increased stress for people. Substance abuse disorders are just getting started."
The onset of the pandemic was so sudden and so all-encompassing that it distracted many from their troubles, Rachal said. "The concern is that once the crisis passes … we're going to see all the people who weren't taking care of their medical conditions or psychiatric conditions because they were afraid to go in, we're going to see a rebound."
Isolation and 'entrapment': We humans are social creatures, and we're missing the mental and physical health benefits from coffee shop chats, workday lunch dates and gym workouts with friends.
"Social support as coping is one of the best protective things we have. It's one of the best stress buffers and one of the best ways to cope with poor mental health. I think a lot of us are losing our traditional sense of that support," said Robert Cramer, associate professor and Irwin Belk Distinguished Scholar in Health Research at UNC Charlotte.
"That can put us at risk for mental health concerns like anxiety and depression, and can make some of us look for other ways to cope — ways that may or may not be healthy," he said.
Social isolation can play into a concept called entrapment, Cramer said, "What kinds of things make you feel trapped? Losing a job. Financial stress. Things you can't escape. … We know from recent research that entrapment in particular is a risk factor for suicidal thinking."
(The National Suicide Prevention Lifeline's call volume has stayed steady so far through the pandemic, a spokeswoman told The Ledger. But calls to its Disaster Distress Helpline, which provides help to those experiencing emotional distress related to a disaster, rose 338% in March.)
The rise in telehealth: For mental health practitioners, the switch to video or phone appointments has been a game-changer. No-show rates for Atrium's behavioral health patients dropped sharply after the switch to virtual or phone appointments, Rachal said.
Meghan Rawlings, a Charlotte child and family therapist, said her clients have embraced the virtual visits. Couples counseling is harder via virtual sessions, Rawlings said, but young people especially have embraced the switch.
"You have to have privacy, and a sacred space carved out — an area where you can have the conversations you need to have freely," Rawlings said.
Mikels said she hesitated to do virtual therapy at first, but after three weeks without a session, she decided to give it a try. Now, she schedules her appointments for between her husband's work calls, goes up to his office in a third floor bonus room, and prays no one will overhear or walk in.
Virtual visits have proven critical for one Charlotte mental health facility that had to close its doors and send patients home when the pandemic struck.
HopeWay, a non-profit residential and outpatient mental health treatment center in South Charlotte, was forced to discharge its 60 patients and shut its doors in March out of fear of spreading Covid-19.
Most patients were able to go home and continue their treatment through virtual therapy. Three went to the hospital because they needed more intensive care, said Dr. Alyson R. Kuroski-Mazzei, HopeWay's CEO and chief medical officer.
HopeWay will start reopening this week, and Kuroski-Mazzei says she expects both local and national mental health providers to see a wave in the coming weeks and months of people who need treatment because of Covid-19 related trauma and stress.
Ways to cope: For Mikels, daily life is still a struggle, but she's found ways to cope.
She works to distract herself by tackling lists of home improvement projects. Recently, she blogged about why people shouldn't be critical of those shopping for non-essential items during a pandemic.
"You may look at this person in Target getting peel-and-stick wallpaper, and judge them, but that could be saving that alcoholic from taking a drink," she said. "You don't know what somebody's 'why' is for what they're doing."
She's passionate about making sure others who share her struggle know they're not alone.
"Depression is painfully lonely and exhausting, even when we aren't facing quarantine during a pandemic.  I want others to know that they are not alone in their daily struggles with mental health," Mikels said.
"Depression doesn't discriminate. But everyday we wake up and face our struggles, we are brave, we are strong, and we all need to remember to check in on each other."
Tips for staying mentally healthy: Rachal, the Atrium doctor, offers these guidlines:
Stay on a regular schedule, especially for sleep and meals
Eat well-balanced meals, and try to limit carb intake, which can make you feel sluggish and lead to weight gain
Maintain a regular exercise schedule, and get outside as much as possible
Keep doing the activities you enjoy most, whether it's reading, sewing or crafting
Stay away from alcohol and drugs. With nowhere to go every night, it's easy to fall into a pattern of regular drinking, but that could lead to trouble down the road.
Need help? Here are some local and national resources:
The National Suicide Prevention Lifeline is a 24-hour resource: 1-800-273-TALK (1-800-273-8255)
Hopeway can serve as both a treatment center or offer referrals: 1-844-HOPEWAY
Atrium Health has a 24-hour crisis intervention help line: 704-444-2400
Cristina Bolling is managing editor of The Ledger: cristina@cltledger.com
---
Previous article in The Ledger's "Hidden Health Crisis" series:
---
County coronavirus projections called into question
For the last several weeks, Mecklenburg County officials have said that the model they and local hospitals are using to predict future coronavirus cases is forecasting a peak to materialize this summer. The model they've relied upon initially showed a peak in mid-May, then late June and most recently July 14.
The date has been moving back, they say, because social distancing is working. The projections show local hospitals will run out of ICU beds and ventilators when the surge hits.
Now, though, a University of Pennsylvania data scientist who helped develop the model says the county is using it incorrectly.
From a story Saturday by WFAE's Steve Harrison:
Michael Draugelis, chief data scientist at Penn Medicine, told WFAE the model should only be used at the start of an epidemic — not when a region has entered into what he calls a "plateau of cases."

Mecklenburg County is generally considered to be in a plateau phase of the pandemic, with new infections having been level for several weeks.

"We made a decision to fit (our model) on the front side of the curve," Draugelis said. "We will assume that people are using this as they are ramping up into the epidemic and towards the peak. So it's never going to fit you on the other side of the curve." …

He said the model will struggle to show what will happen once new infections are stable or start declining.
County deputy health director Raynard Washington told WFAE that he thinks it's still OK to use the UPenn model because he doesn't believe the county has hit peak infections.
Ledger's take: If the data scientist who developed the model thinks you're using it wrong, you're probably using it wrong. Predicting the future is difficult, as county health officials have acknowledged, and it's best to be prepared. But it sounds as though it's time to abandon the belief that a surge of coronavirus cases will overwhelm our hospitals later this summer because this model says that it will. —TM
---
Today's supporting sponsors are Neatbooks, Your Virtual QuickBooks Partner:

and T.R. Lawing Realty:

---
Photo essay: Food drives show Charlotte stepping up

Continuing with our weekly photo essay series in partnership with The Biscuit, this week's photographer is Alvin C. Jacobs Jr., a photo-documentarian whose work has been featured at the Levine Museum of the New South and the Harvey B. Gantt Center for African American Arts + Culture.
Of his images in this week's gallery, Jacobs writes:
Charlotte has changed, many citizens have never needed food, utility or rent/mortgage assistance, but with adversity comes change. We're starting to understand our similarities and the social divides, while still present, don't seem to matter as much as they did before.

Charlotte helping Charlotte ... in these images from South Tryon Community United Methodist Church, you'll see a religious organization providing free lunches to members of the Brookhill Village community and surrounding area. West Charlotte High School had well over 200 families registered for their food drive. Our city is stepping up in the areas in which we've been left to fend for ourselves.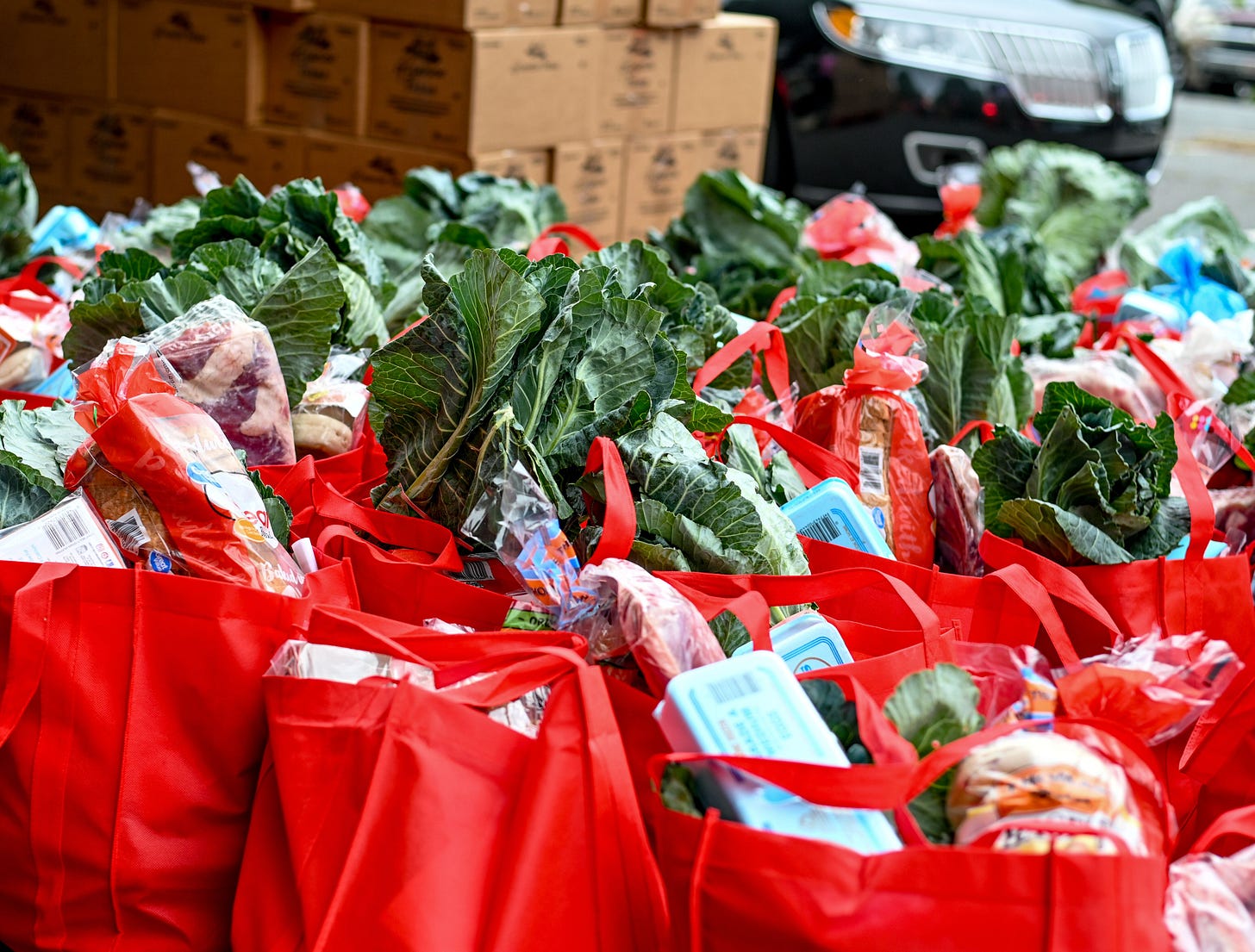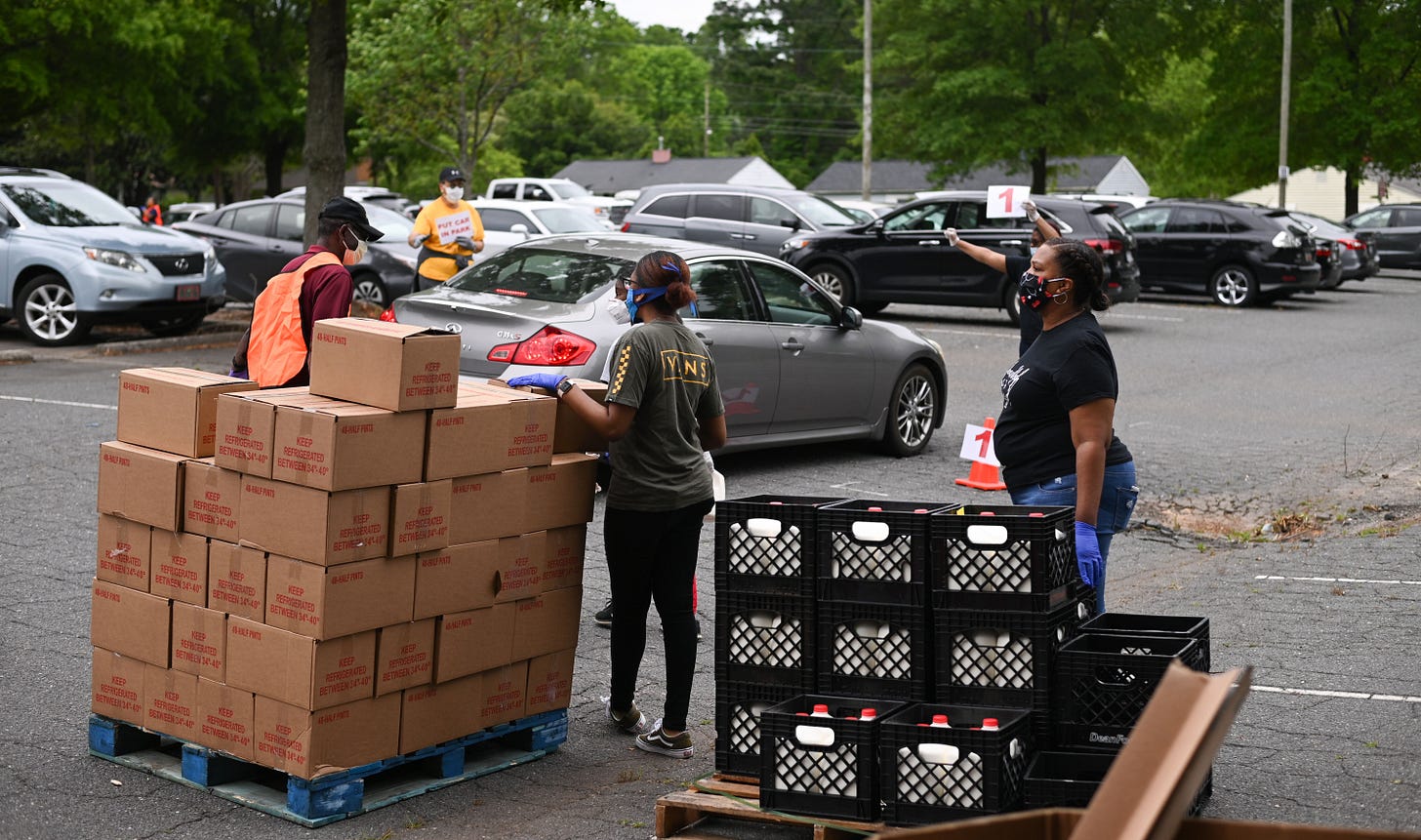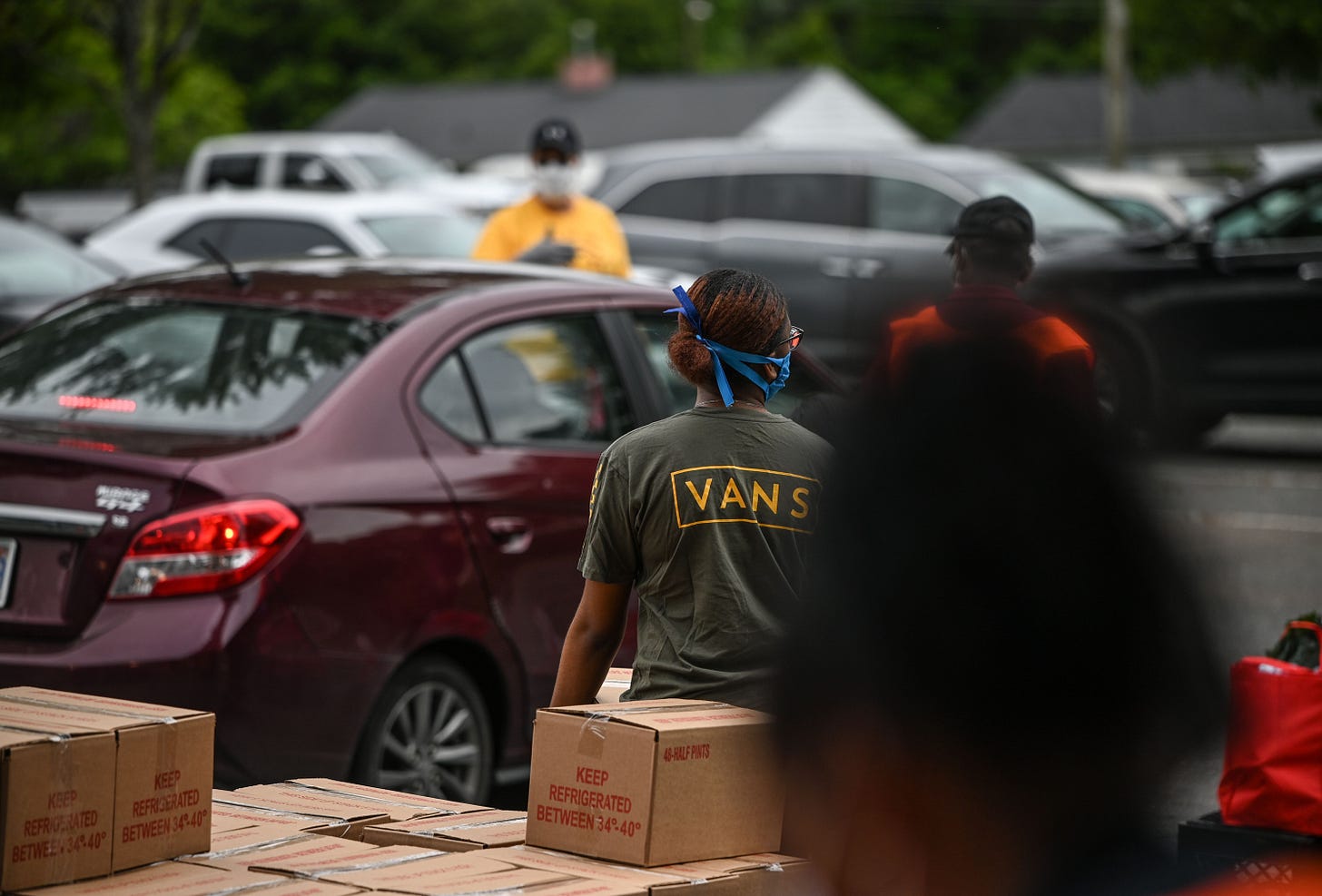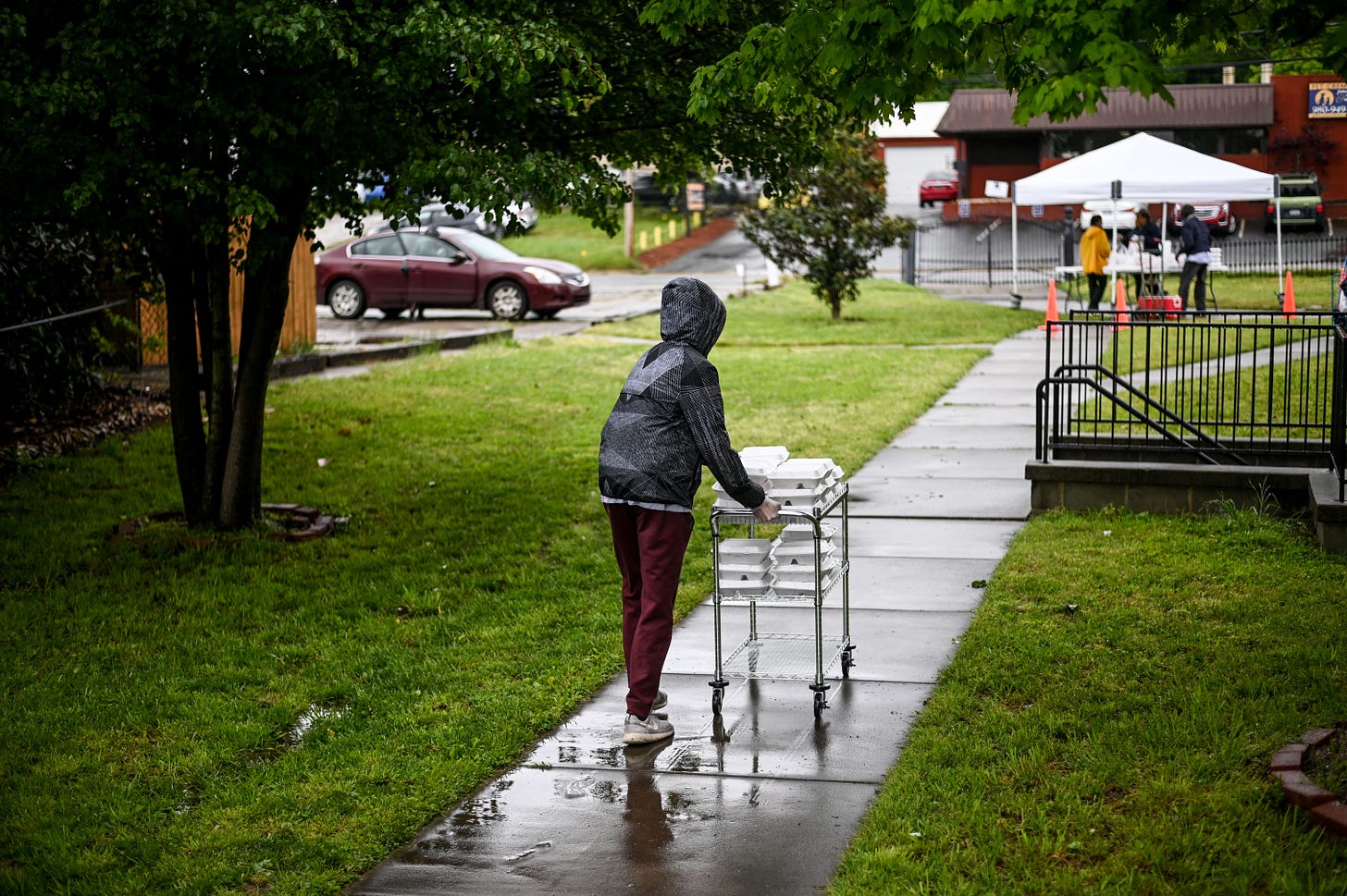 Each week, The Biscuit and The Ledger offer views of neighborhoods and communities across the city through the eyes (and lenses) of local photographers.
---
Little Richard's first Charlotte show: too many cats jitterbugging
Rock 'n' roll pioneer Little Richard died Saturday at the age of 87. The Georgia-born musician's first recorded performance in Charlotte was part of a jamboree at the Charlotte Coliseum that sounded like a raucous time.
From the April 3, 1956, Charlotte Observer:
More than 12,000 wild and wooly jitterbugs jammed Charlotte's Coliseum Monday night for Fats Domino's Rock 'n Roll Jamboree. …

The season's second Rock 'n Roll session packed the coliseum to the rafters with teen-agers far in the majority. And they were primed and ready to go.

The first experimental dimming of the house lights caught one jitterbug dancing in the aisles on the first wild beat. Four cops took him, struggling and kicking, and deposited him outside the coliseum. …

The show led off with The Turbans. … Little Willie John gave the crowd a dose of "skat" singing as he jitterbugged while the saxophone took over at the mike. … Just being among 12,000 teen-agers while a jungle beat whipped them towards hysteria created tension.

At 9:25 more trouble occurred — of a minor nature. As the cats cut up in the very eaves of the coliseum, the cops took out a couple that was obviously guilty of dancing in the aisles. The crowd booed. …

Two cats began jitterbugging in front of the platform but their girl-friends grabbed them by the coat-tails and pulled them down.

Pompadoured Little Richard played the piano and sang "Long Tall Sally," "Slipping and Sliding, Peeping and Hiding," and "Tutti Frutti."

But by then it was after 10 o'clock and the crowd quieted down. There was no intermission and they were just plain tired out.
---
In brief:
Reopening mall rush: Shoppers lined up outside SouthPark Mall on Saturday morning to be among the first inside as it reopened to customers, but only 40 of the mall's 140 stores, kiosks and carts opened. Concord Mills and Charlotte Premium Outlets also opened to shoppers Saturday. Carolina Place Mall reopens on Tuesday and Northlake Mall will reopen May 18. (Observer)

Police station planned: The city plans to buy 9 acres of land at 1800 and 1818 Mount Holly-Huntersville Road for the Charlotte-Mecklenburg Police Northwest Division Station. The land cost is $740,000. The purchase is in front of the City Council tonight.

Historic designations: The City Council tonight is expected to set public hearings to designate three new historic landmarks: the Derita High School gymnasium, "the only surviving pre-World War II public building associated with the Derita Community"; the Nevin School, "one of the oldest schoolhouses standing within the Charlotte Township"; and the Ford Motor Co. Assembly Plant, "one of the largest and best preserved historic, non-textile industrial buildings in Charlotte." The Ford plant is part of Camp North End.

Hospitalizations fall: The number of patients hospitalized with coronavirus in North Carolina fell on Sunday to 442, the lowest number in more than two weeks, according to the N.C. Department of Health and Human Services.

Eucharistic rush: When St. Matthew Catholic Church announced last Thursday that it would resume giving out Holy Communion on Sunday, parishioners wasted no time logging into SignUpGenius to sign up for slots to receive the sacrament. Within hours, all 480 slots for Sunday were filled, and a waiting list was started. Thirty churchgoers received communion every 15 minutes in an orderly social-distanced line outside the church from 8 a.m. to noon on Sunday. St. Matthew is the nation's largest Roman Catholic church.
---
Taking stock
Unless you are a day trader, checking your stocks daily is unhealthy. So how about weekly? How local stocks of note fared last week (through Friday's close), and year to date: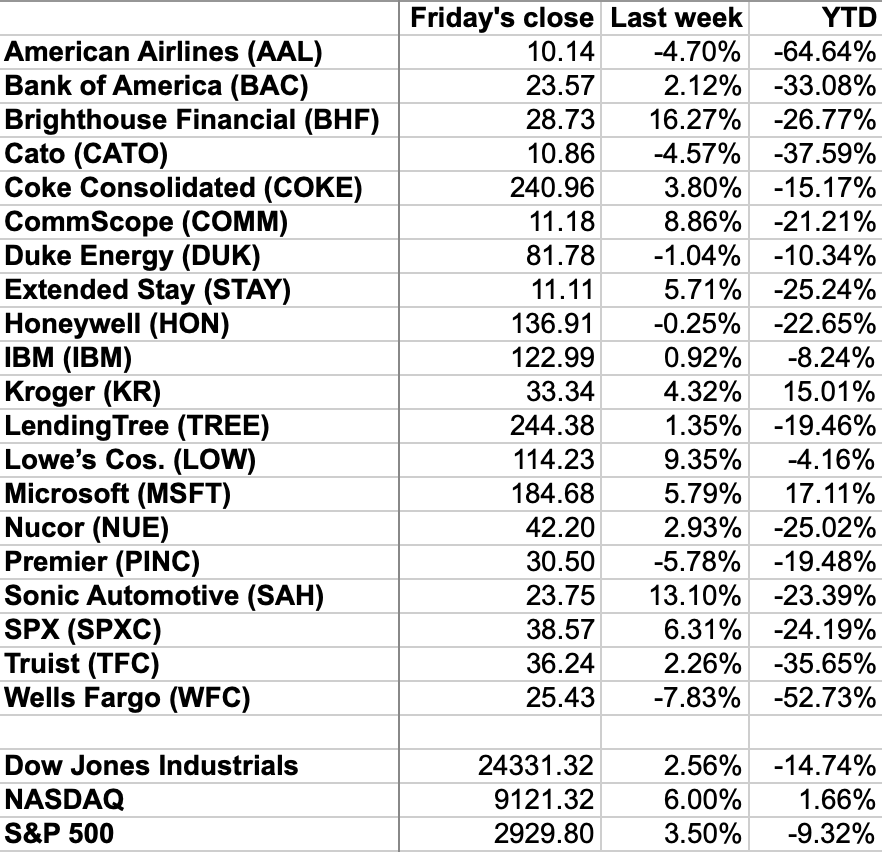 Tech stock rally turns Nasdaq positive
From CNBC on Thursday:
The Nasdaq Composite rose for a fourth straight day on Thursday, clawing back its steep losses for the year, as tech shares added to their recent strong gains while investors mounted bets on the U.S. economy reopening soon. …

Thursday marked the first time one of the major averages was up year to date since the coronavirus pandemic led to the closure of nonessential businesses, sparking massive layoffs and a historic market sell-off. 

The Nasdaq's rebound was led in large part by sharp gains in big tech stocks such as Facebook, Amazon, Apple, Netflix and Alphabet. Those stocks are all up at least 15.8% this quarter and are positive for 2020. Microsoft, another major tech stock, has rallied more than 16% this year and for the quarter.  
---
Need to sign up for this e-newsletter? Here you go:
Got a news tip? Think we missed something? Drop us a line at editor@cltledger.com and let us know.
Like what we are doing? Feel free to forward this along and to tell a friend.
Archives available at https://charlotteledger.substack.com/archive.
On Twitter: @cltledger
Sponsorship information: email editor@cltledger.com.
The Charlotte Ledger is an e-newsletter and web site publishing timely, informative, and interesting local business news and analysis Mondays, Wednesdays, Fridays and Saturdays, except holidays and as noted. We strive for fairness and accuracy and will correct all known errors. The content reflects the independent editorial judgment of The Charlotte Ledger. Any advertising, paid marketing, or sponsored content will be clearly labeled.
Executive editor: Tony Mecia; Managing editor: Cristina Bolling; Contributing editor: Tim Whitmire; Reporting intern: David Griffith