Discover more from The Charlotte Ledger
Delivering smart and essential news to Charlotte, one email at a time.
Over 19,000 subscribers
At west Charlotte daycare, an urge to help
Plus: County provides first hospitalization number in 11 days; Drive-up church services OK'd; Walmart adds beer delivery; Realtors seek permission to show homes
Today is Saturday, April 25, 2020. You're reading The Charlotte Ledger, an e-newsletter with local business-y news and insights for Charlotte, N.C.
Need to subscribe? Sign up for free here (charlotteledger.substack.com). A paid subscription, starting at $9/month, gives you access to all articles and helps build smarter original, local news in Charlotte. Details here.
---
A daycare center owner rallies support for her families: 'I couldn't just close the door and walk away.'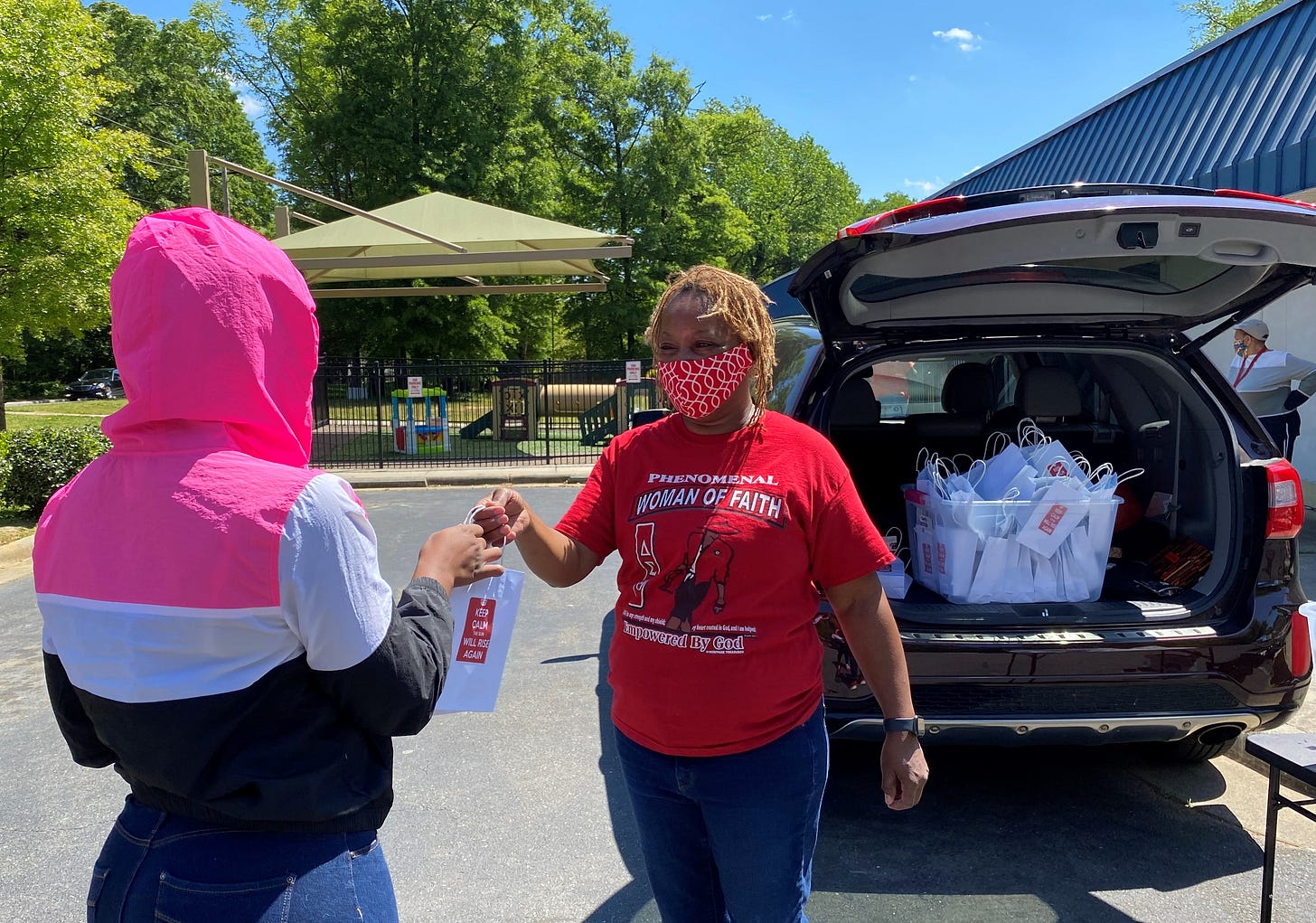 Gloria Dukes (right) hands a "safety packet" of hand-sanitizer and face masks to families in her west Charlotte daycare. With her daycare closed, Dukes and her staff have been inviting families to drive through the parking lot about every two weeks to pick up meals and learning materials.
By Cristina Bolling
Lauretta Covington blew kisses through car windows to her 2-year-old students in the parking lot of Bright Future Learning Center on a recent afternoon, their tiny hands reaching up to eagerly wave hello and goodbye.
"E-T-H-A-N, remember?" Covington recited to one little boy, Ethan, who giggled and grinned from his car seat.
Ethan's mom wasn't as smiley. She'd just had a new baby and was struggling with the demands of young kids and a household upended by the coronavirus.
"Imagine yourself on an island," Covington said soothingly.
"It's been overwhelming," the mom confided.
"I know, but you can do it. My phone is always on. I even sleep right beside it," Covington assured her. "So you just call me, and you say, 'Girl, what's up? I need an outlet.'"
The mom drove off. Covington, who's worked at the daycare for nearly 17 years, fought back tears.
"This place is like home," she said.
Gloria Dukes has been owner and director of Bright Future Learning Center for almost 27 years, and she has cared for two generations of families during their most tender years.
Around 90% of the children enrolled in her daycare off Wilkinson Boulevard in west Charlotte fall below the poverty line. So when Dukes had to close her doors quickly in mid-March, she worried about the 160 children and 100 families she serves.
Many parents were suddenly out of work, and their kids wouldn't have the breakfast, lunch and snack that the daycare provided. Other parents had jobs deemed essential, but suddenly no one to watch their children.
Dukes and west Charlotte non-profit Freedom Communities sprang into action. Freedom Communities created a GoFundMe that resulted in $50 for every family. Dukes had to lay off her employees so they could collect unemployment, but she gave them 60% of their salaries two weeks later.
The daycare has been hosting regular drive-by events, where families can pick up meal staples from Second Harvest Food Bank, fresh family-sized meals from Brown Bag Catering courtesy of Freedom Communities, and workbooks and other goodies to keep kids' brains growing.
The coronavirus has been devastating for families and communities across Charlotte, but it's also been a very visible reminder of the good that can happen: People pitch in. Groups pull together. Helpers show up.
"I've been doing this nearly 27 years, so they're my family, too," Dukes said as she handed out Brown Bag meals and invited families to pick up loaves of bread, fresh tomatoes, containers of juice and boxes of doughnuts.
"I couldn't just close the door and walk away."
An effort to reopen: Daycares are deemed essential businesses, so Dukes reopened for about a week during the first week of April. But only seven of her 30-member staff said they felt comfortable coming to work.
Dukes and her staff scrubbed the building "from top to bottom" and took children's temperatures as they entered each morning. Only about 15 children were showing up each morning, so after a week, Dukes decided it made more sense to stay closed.
"It was such a risk for us," she said, "and people were scared."
Most families in Dukes' daycare receive federal childcare subsidies, she said. Bright Future also houses several classes of government-sponsored pre-K programs, so those teachers are teaching students remotely and continuing to drawing their salaries.
Little extras: Dukes' two sisters have been helping by sewing nearly 100 cloth masks for daycare parents. Dukes bought hand sanitizer from Salisbury distillery Southern Distilling Co., which recently switched from making spirits to making hand sanitizer, and she packaged it in small bottles for each of her families.  
She printed "Keep Calm, We Will Rise Again" decals for white paper bags and filled them with the masks and hand sanitizers. "They're safety packets," she said. "We just want families to be safe."
Grateful families: Mom of three Tiffany Hancock couldn't hug Dukes, so she gave her an elbow tap last week as she picked up a Brown Bag meal along with the hand sanitizer and face masks.
Hancock lost her job as a cashier at a home décor store in Pineville that had to close because of Covid-19, and is still waiting on unemployment. Her fiancé is in food service, an employment sector deemed essential, so he's hung onto his job.
"We're making it," Hancock said.
Dukes said she worries about the families she doesn't see.
One mom was forced to move to Gaston County recently for cheaper rent, so Dukes and her husband delivered her meals to her home.
"A lot of people don't like to share their pain, but you can see it," she said. "Some people are a little leery about telling you about their pain, … but helping them is my goal."
Reach managing editor Cristina Bolling at cristina@cltledger.com
---
Mecklenburg officials finally release hospitalization numbers; curve continues to flatten
After 11 days with no update on the number of people hospitalized in Mecklenburg County with Covid-19, county officials finally released an update Friday: The figure is 91 patients.
That's one more patient than the 90 who were hospitalized on April 13, which is the last date for which the county reported a figure.
The Ledger asked Mecklenburg County health director Gibbie Harris for the updated number during a news conference Friday. She shuffled papers at the podium and said:
I've got bed counts, I don't have the specific number, but we are looking at probably around 90 individuals — 91, I think — currently hospitalized in Mecklenburg county with Covid-19.
The Ledger has been a big fan of looking at the numbers to track the progression of the virus since the pandemic arrived in Charlotte last month. And Friday, the county released a new graph that it hadn't made public since the start of the pandemic: the number of new daily cases. Previously, if you sought that number, you had to compile it yourself on a spreadsheet.
Until now, the county's charts and data listed only the number of cumulative cases, which is a poor indicator of how quickly the virus is spreading. The number of cumulative confirmed cases rises whether you add one case a day or 100, and releasing only that figure has prompted local media to focus on the overall number of people infected, which can sound scary but by itself tells you nothing about the growth rate of the virus.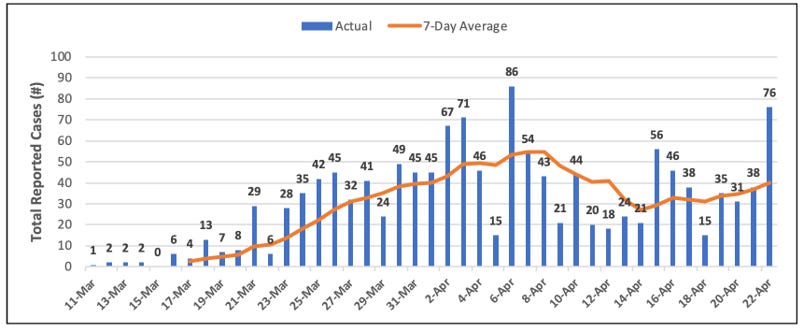 The number of new confirmed daily cases in Mecklenburg started leveling off and falling around April 9 and has stayed mostly flat in recent days, according to this chart
released Friday by the county
. The Ledger first reported that "
New Mecklenburg coronavirus cases fall again
" (April 10) and "
Mecklenburg's new virus cases are falling
" (April 14) as most others stuck with the cases-are-rising narrative.
Other headlines coming out of Friday's county update:
Drive-up church services will be allowed starting this weekend in Mecklenburg County, but drive-up communion won't be permitted.
County Manager Dena Diorio said she had her first meeting Friday morning with the business leaders roundtable she has convened to discuss re-opening the local economy. "They have a lot of great ideas. It's clear that they are interested in being a part of a solution and want to guide us as we begin to talk about how we reopen the economy," Diorio said. She said they'll meet again next week, but the group's meetings are closed to the public.
There are outbreaks in eight long-term care facilities in Mecklenburg, Harris said. She said the county is working with the facilities to ensure they have the supplies they need and the plans in place to contain the infections. —CB
---
Today's supporting sponsor is Industrial Handling Solutions: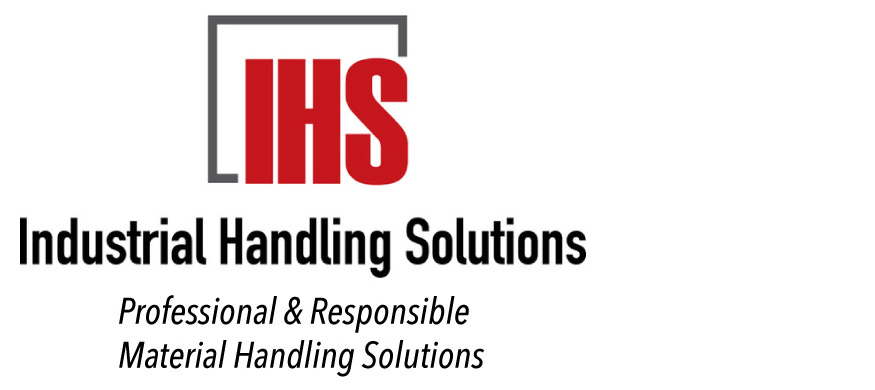 ---
'Un-Prom': Charlotte Christian names Quarantine King and Queen
Tonight would have been prom...so the prom committee delivered roses to all the senior girls and candy to all the senior boys. The senior class voted and congrats to Grace Gao our Quarantine Queen and Andrew Knotts our Quarantine King! Happy Un-Prom!
#ccsonlineschool
#ccsclassof2020
In brief
---
A thank you to our Premium subscribers
The Ledger is able to deliver original, local information to you because of the support of our sponsors and paying subscribers. We are grateful for them.
Today, we want to give special recognition to our Premium-level subscribers. Premium subscriptions are for companies, groups and individuals willing to give more in exchange for a few extras — and also to lend support to the new model of local journalism that The Ledger represents.
They pay $379/year, which comes with newsletters for up to six email addresses, a monthly public thank-you (if desired) and an invitation to 1-2 events per year (on hold for now, for obvious reasons).
A special thank you to:
ATCO Properties

Carroll Financial

Charlotte Agenda

Crescent Communities

Drew Long Productions

Eric Moore, LLC

Foundation For The Carolinas

Greenway Wealth Advisors LLC

Ann Doss Helms

John Miller Law Firm, PLLC

K&L Gates LLP

Levine Properties

McGuireWoods LLP

MVA Public Affairs

Next Stage

Northwood Office

OrthoCarolina

SignatureFD

Tribek Properties

Stuart Watson, ManListening Podcast
For more information on paid subscriptions to The Ledger, check out this post.
---
Loves me some internet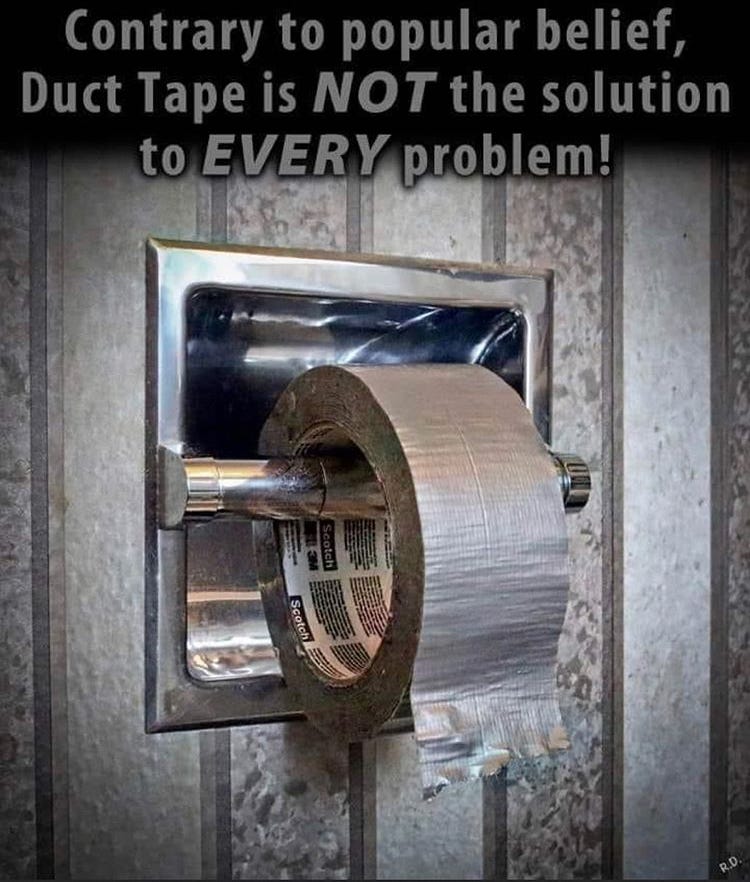 ---
Need to sign up for this e-newsletter? Here you go:
Got a news tip? Think we missed something? Drop us a line at editor@cltledger.com and let us know.
Like what we are doing? Feel free to forward this along and to tell a friend.
Archives available at https://charlotteledger.substack.com/archive.
On Twitter: @cltledger
Sponsorship information: email editor@cltledger.com.
The Charlotte Ledger is an e-newsletter and web site publishing timely, informative, and interesting local business news and analysis Mondays, Wednesdays, Fridays and Saturdays, except holidays and as noted. We strive for fairness and accuracy and will correct all known errors. The content reflects the independent editorial judgment of The Charlotte Ledger. Any advertising, paid marketing, or sponsored content will be clearly labeled.
Executive editor: Tony Mecia; Managing editor: Cristina Bolling; Contributing editor: Tim Whitmire; Reporting intern: David Griffith