Today is Friday, April 24, 2020, and we're coming to you with HOT BREAKING NEWS.
If you like what you see, please forward to a friend.
Need to subscribe? Sign up for free here (charlotteledger.substack.com). A paid subscription, starting at $9/month, gives you access to all articles and helps build better original, local news in Charlotte. Details here.
---
Online classes to continue through June, Gov. Cooper says; Classrooms closed but 'learning is not over'
Confirming the suspicions of many local parents, Gov. Roy Cooper on Friday said public schools in North Carolina will remain closed for the rest of the school year.
Students will continue with online classes. Previously, schools were closed through May 15.
"Today, we have had to make another tough choice," Cooper said. "… We decided to continue remote learning for the rest of the school year for our K-12 public schools. Classrooms may be closed, but learning is not over."
He said that even when schools resume in the fall, it will not be "business as usual" and that the state will take steps to protect students' health. He praised teachers, other school staff and volunteers for their efforts to help students continue learning — including by using creative techniques such as "music videos, carpool parades, online charades [and] checking in on students who need extra attention."
Leaders of Charlotte-Mecklenburg Schools had said before the decision that they foresaw problems with reopening schools in mid-May. School board chair Elyse Dashew told WFAE:
I cannot see how we could practice safe social distancing on May 18th. You know, I'm thinking about Community House Middle School, where the kids are so jam-packed in a hallway when classes change — there's just no way you could achieve safe social distancing.
CMS has about 147,000 students.
It's unclear under what circumstances students will return to class in the fall, and some districts might choose to alter their calendars. The General Assembly is considering a bill that would allow districts to start as soon as Aug. 17. CMS is scheduled to start Aug. 31, after the conclusion of the Republican National Convention.
Private schools: Most Charlotte-area private schools have not announced their plans for the rest of the school year, but it is likely they will follow the lead of the public schools and continue distance learning.
Slow reopening: The cancellation of in-person classes for the rest of the year also means any restart of the area's economy is going to be slow-going. Under the most optimistic timeline outlined by Cooper on Thursday, some retail businesses in the state could start reopening by the second week of May, followed by additional business openings and an end to the recommendation to work from home if possible by the end of May.
Yet even if the data on coronavirus infections supports opening on that schedule, the cancellation of in-person classes means many parents will be sticking around the house with their kids through the last day of classes, which for CMS is June 9. After that, many of the summer camps that parents rely on for childcare have been cancelled.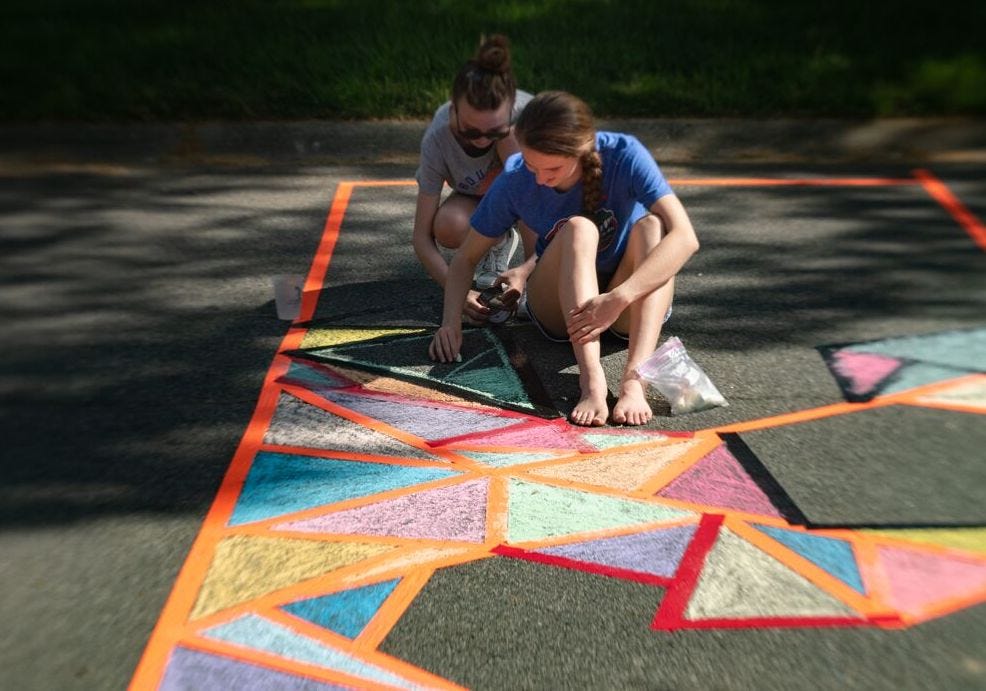 Prepare for more chalking: Schools will remain closed for the rest of the school year, Gov. Roy Cooper said on Friday. (Photo: Heather Liebler Photography/The Biscuit)
Creativity needed: Keeping kids at home is also going to force parents to dip further into their reservoir of creative ideas to keep children entertained. In the last few weeks, children have found new interest in chalk drawings, scavenger hunts and puzzles.
(Related article: Ledger contributor Michelle Crouch recently shared 10 creative ways to keep your kids entertained.)
---
Need to sign up for this e-newsletter? Here you go:
Got a news tip? Think we missed something? Drop us a line at editor@cltledger.com and let us know.
Like what we are doing? Feel free to forward this along and to tell a friend.
Archives available at https://charlotteledger.substack.com/archive.
On Twitter: @cltledger
Sponsorship information: email editor@cltledger.com.
The Charlotte Ledger is an e-newsletter and web site publishing timely, informative, and interesting local business news and analysis Mondays, Wednesdays, Fridays and Saturdays, except holidays and as noted. We strive for fairness and accuracy and will correct all known errors. The content reflects the independent editorial judgment of The Charlotte Ledger. Any advertising, paid marketing, or sponsored content will be clearly labeled.
Executive editor: Tony Mecia; Managing editor: Cristina Bolling; Contributing editor: Tim Whitmire; Reporting intern: David Griffith