Discover more from The Charlotte Ledger
Delivering smart and essential news to Charlotte, one email at a time.
Over 20,000 subscribers
BREAKING: Norfolk Southern says it's willing to deal on the Red Line
Railroad's reversal raises odds of train service to Huntersville, Davidson and Cornelius; 'An insurmountable obstacle has become surmountable,' council member says
You're reading Transit Time, a weekly newsletter for Charlotte people who leave the house. Cars, buses, light rail, bikes, scooters … if you use it to get around the city, we write about it. Transit Time is produced in partnership between The Charlotte Ledger and WFAE.
Transit Time is usually published Thursdays, but this week's is a special Wednesday edition because of developing news.
---
After 20+ years, the railroad reverses its stance — and says it will consider selling or leasing tracks to northern Mecklenburg for commuter rail
by Tony Mecia
Railroad Norfolk Southern, long viewed as the biggest impediment to building the Red Line commuter rail to northern Mecklenburg, now says it might be willing to cut a deal to allow public transit.
The railroad's shift in its posture to say it might be persuaded to permit commuter rail on its tracks in Mecklenburg could break a 20-year impasse over rail service to Davidson, Cornelius and Huntersville and provide new momentum to Charlotte's stalled plans to build a regional transit system.
In a short letter this summer to Charlotte Mayor Vi Lyles and City Manager Marcus Jones, Norfolk Southern senior vice president and chief strategy officer Michael McClellan wrote that the railroad is open to discussing the fate of what it calls the "O Line":
Norfolk Southern is willing to consider engaging with the City of Charlotte and other interested parties in the region regarding a possible transaction of the O Line. We have not decided upon what form such a transaction might take, whether an outright sale of the O Line or some variant of a lease.
McClellan added that the letter should not be viewed as a commitment to sell or lease the line.
The correspondence is dated July 25, 2023. The Charlotte Ledger learned of its existence last week and requested it Friday under state public records laws from city officials, who provided a copy on Tuesday.
A new stance for the railroad
Elected officials have been dropping hints about a warmer relationship with Norfolk Southern in recent weeks. Lyles told a transportation summit in September that "we are now in the best position in years to advance the Red Line and are continuing ongoing positive conversations to do so." Around the same time, the City Council agreed to spend $5 million on updating the design of the Red Line, which was initially designed in 2009.
But the disclosure of the letter is the first independent verification that Norfolk Southern is open to a deal.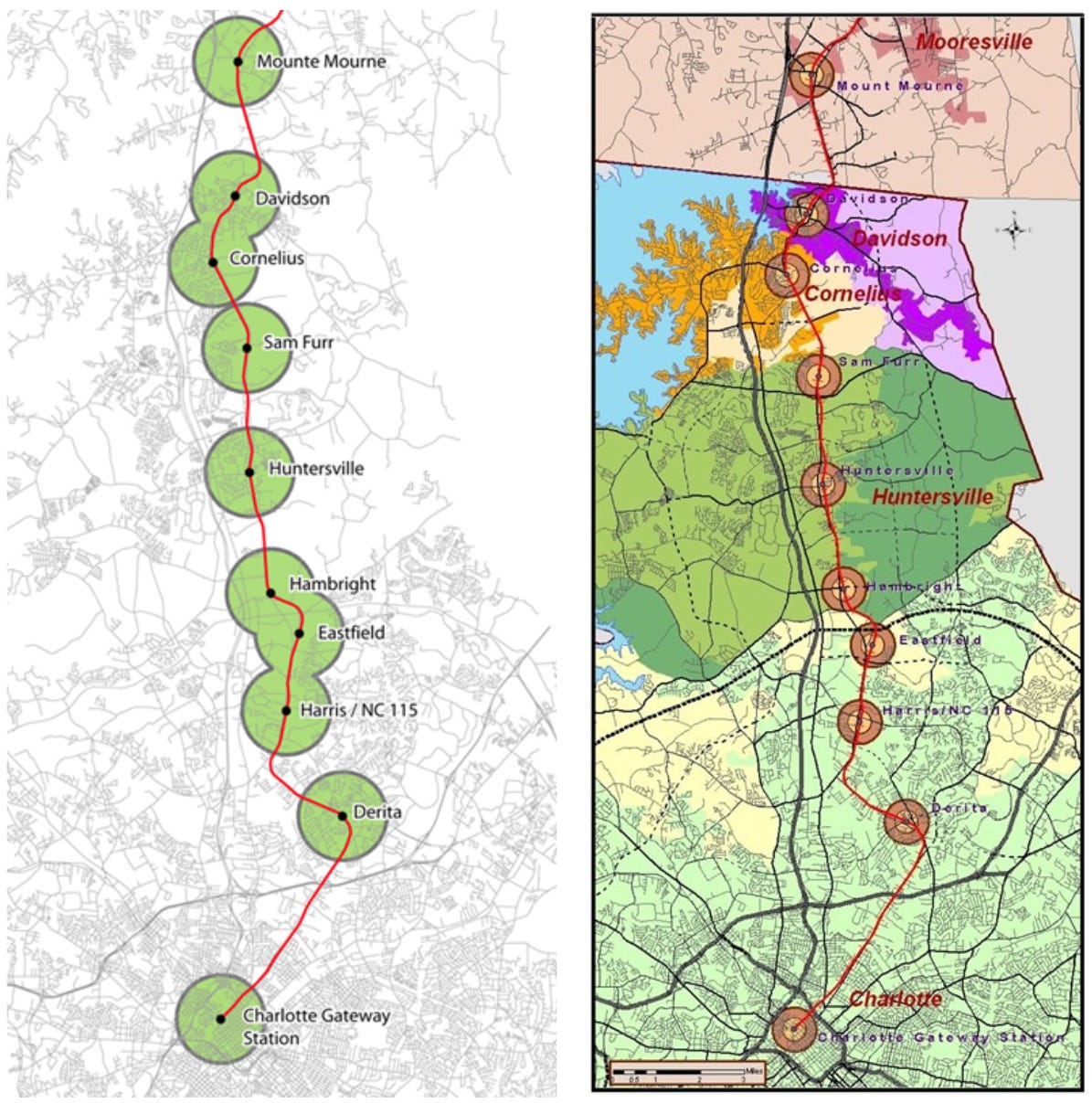 The Red Line has been envisioned as a 25-mile commuter rail line between uptown and Mooresville on tracks controlled by Norfolk Southern. The most recent plans call for 10 stops, including in Huntersville, Cornelius and Davidson. (Images courtesy of the Charlotte Area Transit System)
As recently as 2021, Norfolk Southern was saying that it would not be possible to grant access to the line for public transportation because it needed the line to ship freight. "Freight operations are long distance and customer-driven, which precludes 'passenger only' operating windows and temporal separation such as night-time-only freight operations," a Norfolk Southern spokesman told WCNC in February 2021.
It is unclear why the railroad changed its position on making the line available. Asked this week about the recent letter to the city of Charlotte, a company spokeswoman said via email: "Unfortunately, I don't have anything additional I can share with you on the topic at this point."
While avoiding discussing specifics of negotiations between the city and Norfolk Southern, city leaders say the prospect of the railroad changing its stance is encouraging.
"We are very excited that an insurmountable obstacle has become surmountable," said Charlotte City Council member Ed Driggs, who chairs the council's transportation committee.
Thwarted for 20+ years
The Red Line is a major component of Charlotte's long-term transit plan, which also includes running a new Silver Line light rail between Matthews and the airport, extending the existing Blue Line light rail and Gold Line streetcar and improving bus service.
As of now, there is no money for the estimated $13.5 billion cost of that larger transit plan. Lyles has described it as "a plan with no money."
City leaders have outlined a strategy to get the money that depends on persuading the Republican-controlled General Assembly to allow a vote on an additional 1% sales tax in Mecklenburg and convincing voters to approve. The strategy also calls for receiving federal transit grants.
Compared with other components of the transit plan, the proposed Red Line is not that expensive. A 2021 estimate put the cost at $674 million, or less than 1/10 the cost of the $8.1 billion Silver Line.
The 25-mile route on existing train tracks controlled by Norfolk Southern has been envisioned since at least 2002. It would connect uptown Charlotte to Huntersville, Davidson, Cornelius and Mooresville. The railroad has consistently said it needs the tracks for shipping. Transit planners have said the path of the existing rail line is the only realistic corridor for service between northern Mecklenburg and Charlotte because of development patterns.
The lack of progress in building a passenger rail line has been a touchy topic in northern Mecklenburg for years, with some residents saying the towns have seen no benefit from the additional sales tax Mecklenburg voters approved in 1998, with the money used to build the Blue Line. Instead, the area got toll lanes on I-77.
In 2021, Huntersville approved a resolution opposing a new transit tax, citing the lack of progress on the Red Line.
A boost for transit plan?
Now, the hope among city leaders would be that they can reach an agreement to use the tracks, which would boost enthusiasm for a regional transit plan among the northern towns. That newfound enthusiasm — combined with advocacy from surrounding counties and the Charlotte area's business community, the thinking goes — could help persuade legislators in Raleigh to support a referendum to pay for a new sales tax that would fund the Red Line, the Silver Line and other transit projects.
"Connecting Charlotte to north Mecklenburg has always been the pathway to unlocking regional mobility and getting state authorization for a sales tax," Lyles said in a statement. "Working together, this long-awaited opportunity is before us."
She said she is "greatly encouraged by the current discussions with Norfolk Southern." Her statement provided no further details about the conversations.
Even if the city can win permission to use the tracks for the Red Line — which is far from certain — the strategy for the larger transit plan still faces challenges:
Republican leaders in the General Assembly have been skeptical and have said Charlotte should focus primarily on road-building.

After revelations of troubles at the Charlotte Area Transit System, voters might not be willing to hand it more money and power.

The federal government might be pulling back on funding: Raleigh's mayor said this year that the Federal Transit Administration told Triangle officials that it is "no longer funding commuter rail." The FTA has said it doesn't favor one type of transportation over another and considers cost, ridership, economic impact and other factors in funding decisions. [Edited 10/18/23 at 11:50 a.m. to reflect FTA position on transit funding]
Work and commuting patterns have shifted substantially since the Red Line was first envisioned, especially post-Covid. The North Mecklenburg Express bus, which carried 17,000 passengers on the north-to-south route in April 2011, carried just an estimated 5,100 passengers in April 2023, a decline of 70%. Is there still sufficient demand for transit between Charlotte and north Mecklenburg?
Davidson Mayor Rusty Knox said resolving the Red Line will be crucial to lining up support for the larger transit plan: "Until we've got something tangible, I can't look my citizens in the eye and say, 'We've got to support this 1 cent sales tax because what if Norfolk Southern comes to the table?'"
He jokes that his goal one day is to "get on a train here in Davidson and go to Futo Buta and come back," referring to a popular South End ramen restaurant near a Blue Line light rail stop.
Knox said mayors of the northern towns have heard there were talks with Norfolk Southern, but he says he doesn't know the details: "We've known that there have been discussions going on, but nothing tangible that has been shared with us where we are like, 'OK, damn, we're getting ready to go. Pack your bags.'"
Tony Mecia is executive editor of The Charlotte Ledger. Reach him at tony@cltledger.com. WFAE's Steve Harrison contributed to this article.
➡️ Read the letter from Norfolk Southern to city officials about the Red Line (obtained by The Charlotte Ledger this week under public records laws)
Related Transit Time article:
---
Transit Time is a production of The Charlotte Ledger and WFAE. You can adjust your newsletter preferences on the 'My Account' page.
Did somebody forward you this newsletter and you need to sign up? You can do that here:
Other affiliated Charlotte newsletters and podcasts that might interest you: