Discover more from The Charlotte Ledger
Delivering smart and essential news to Charlotte, one email at a time.
Over 20,000 subscribers
Charlotte's social life is shifting to Zoom
Plus: Complaints about 'stay at home' violations multiply; Atrium and Novant working in almost-harmony; County makes ruling on whether you can use a football to play catch
Today is Tuesday, March 31, 2020. You're reading a SPECIAL BONUS ISSUE of The Charlotte Ledger.
Need to subscribe? Sign up for free here (charlotteledger.substack.com). A paid subscription, starting at $9/month, gives you access to all articles and helps build smarter original, local news in Charlotte. Details here.
---
Dates, book clubs, movie-watching go online; At south Charlotte wine night, 'maybe you shower, maybe you don't'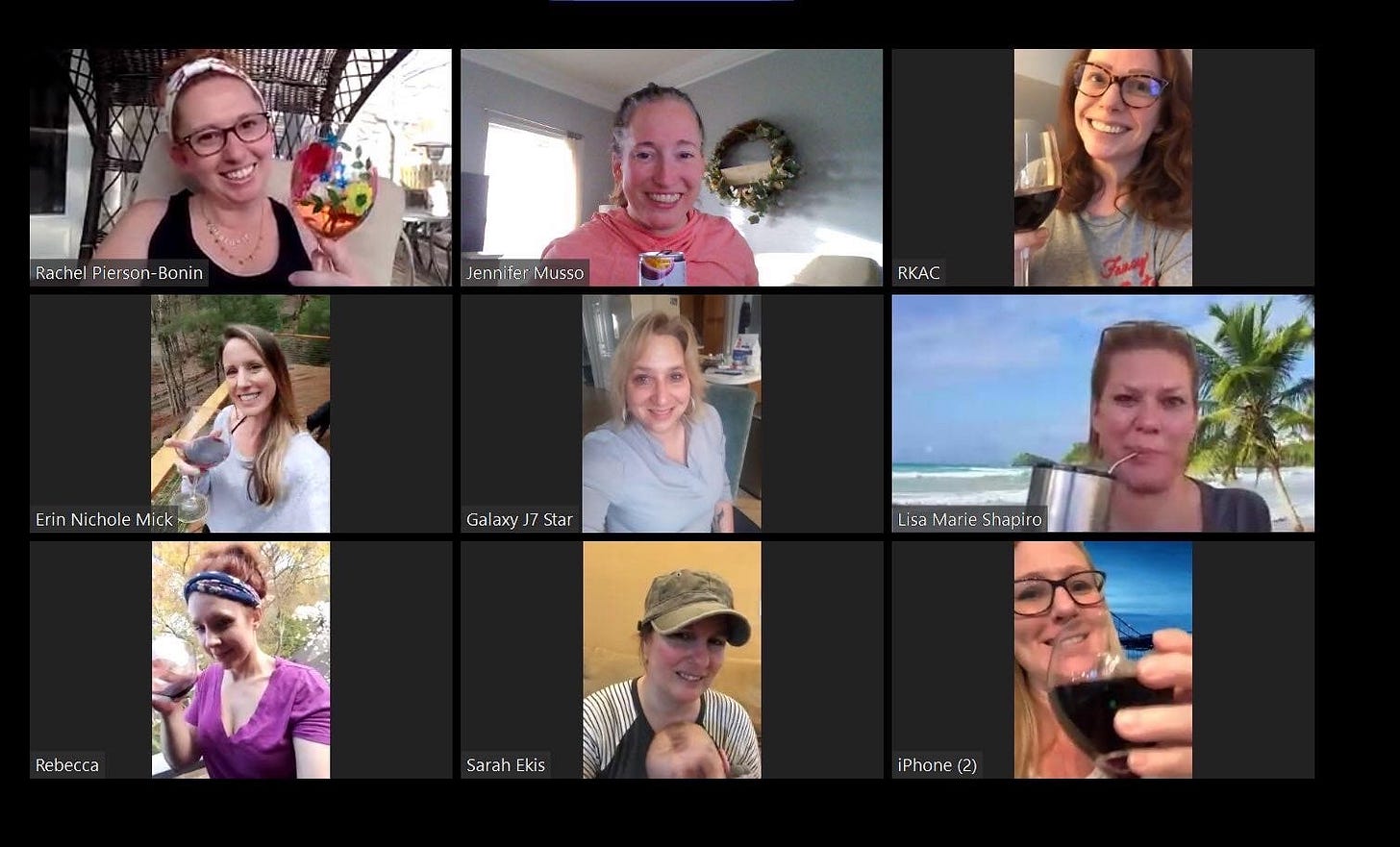 Zoom birthday: Lisa Marie Shapiro (middle right) says she attended seven social events on Zoom last week, including the 40th birthday of friend Deanna Breuer (bottom right).
By Michelle Crouch
Desperate for human interaction, Charlotteans are finding new ways to party during the coronavirus pandemic, hosting everything from virtual happy hours and online baby showers to digital first dates and drive-by birthday parties.
Book clubs, dinner parties, moms groups and support groups are all shifting their social events online to Google Hangouts, Houseparty, Facebook Live and Zoom — platforms unfamiliar to many people before two weeks ago. Virtual events give us a chance to laugh, connect and feel less alone during these trying times.
Lisa Marie Shapiro of South Charlotte attended seven — yes, seven — social events on Zoom last week, including a wine night with her book club, her daughter's Girl Scout troop meeting and a friend's 40th birthday party. No gifts were exchanged at the party, but they all sang "Happy Birthday" and toasted the birthday girl with cocktails.
Shapiro said she misses seeing her friends in person, but the online gatherings have some advantages.
"You might have some extra background noises between kids and husbands and dogs, but you don't have to get dressed, you don't have to leave your house, maybe you shower, maybe you don't," she said. "And if you're drinking wine, you don't need to call Uber, because you're already home."
Virtual happy hours: how to make old fashioneds
Unpretentious Palate, a digital publication covering food and drink, has been hosting virtual happy hours on the app Google Meet, with drink-making lessons from local mixologists.
About 200 participants tuned in for the most recent one, featuring Stefan Huebner from cocktail bar Dot Dot Dot on rum and how to make a daiquiri, said Unpretentious Palate founder Kristen Wile.
"People seem really happy to see bartenders they know," Wile said. "We're trying to add a sense of normalcy."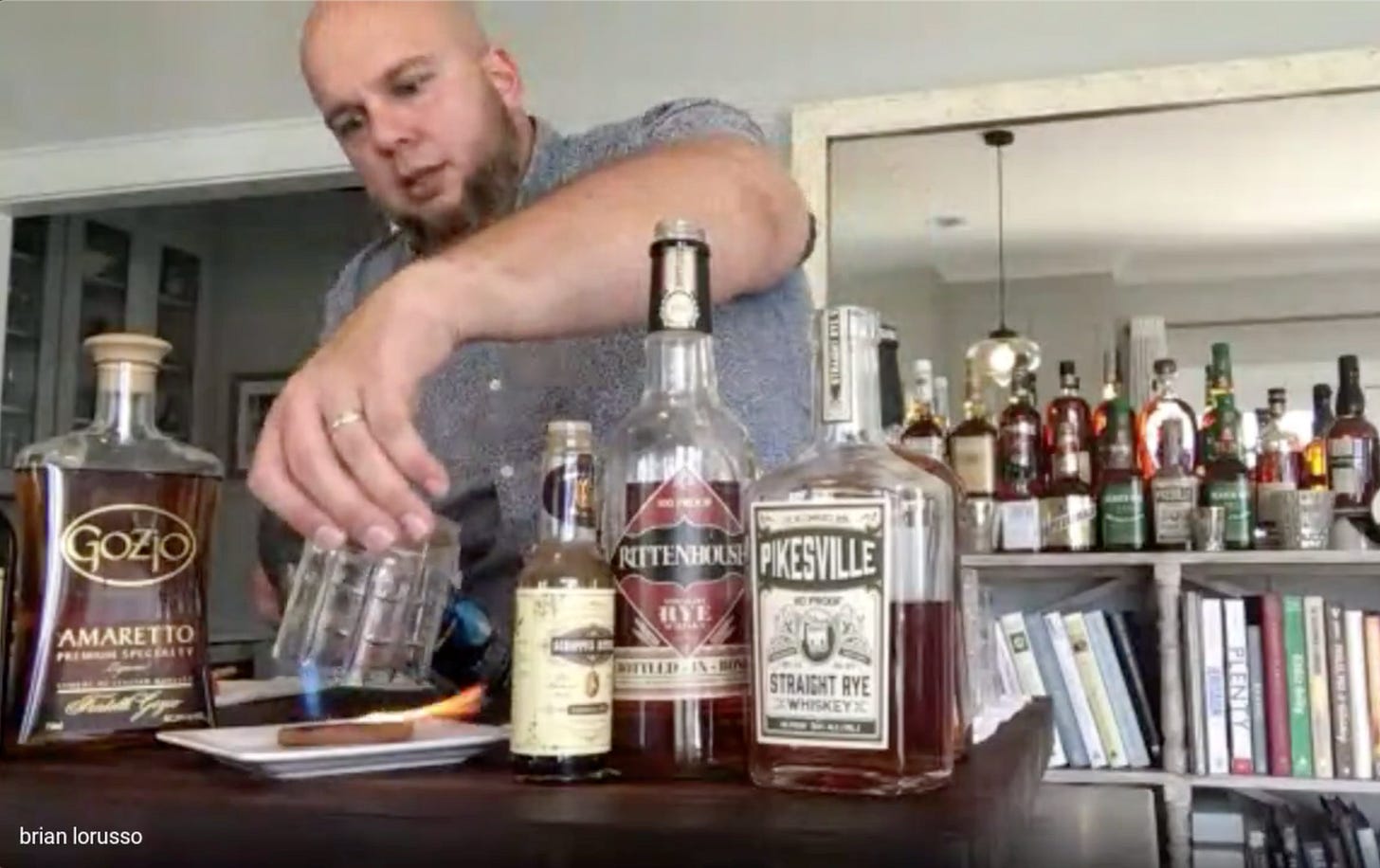 Not-so-old-fashioned event: Brian Lorusso, bartender at Dogwood Southern Table, gives an online lesson on making an old fashioned at Unpretentious Palate's first virtual happy hour.
Wile said she and her husband, Jon, also host virtual happy hours on a smaller scale with some of her college friends, and they're planning a special one for this weekend.
"We shipped them each four samples of different bourbons," she said. "After they get them, we're going to do an online tasting on Google Hangouts."
Online game nights
Thirsty Nomad Brewing relies on events to bring in revenue, so it's moved its weekly trivia and Jackbox game nights to the voice chat app Discord, where players can talk to each other online while sharing a screen.
"The idea is that we want people to come in on Wednesday or Thursday and fill up their growlers and then jump online and play the games with us on Thursday and Friday," said founder Brad Ledbetter. "So far, the response has been really positive."
Movie-watching parties: middle-school pranksters
Apps like Kast and Netflix Party (an extension on Chrome) have screen-sharing features that allow groups of people to watch a movie together and chat about it in real time.
South Meck high school sophomore Calli Robles used Netflix Party to watch "Spider-Man: Into the Spider-Verse" with her church youth group last week.
It was "definitely entertaining," she said, though a few pranksters pasted silly or extra-long comments in the chat box and kept pausing the movie. (Apparently, anyone can hit "pause.") "If we got rid of the middle-school boys, it would have been really fun," Robles said. (Want to try Netflix Party? CNET has step-by-step directions.)
A birthday parade: horns and cowbells
In Governor's Square in SouthPark last week, neighbors organized a surprise drive-by birthday parade for Noah Neal, who was turning 7.
After his parents brought Noah out onto his front porch, more than 30 cars decked out with signs and streamers drove by, horns blasting, cowbells ringing and kids yelling "Happy Birthday" from windows and sunroofs.  Noah watched car after car go by, his chin almost to the floor.
"For a little kid, birthdays are everything, and I was worried that his would be awful," said his mom Brooke Neal. "Every now and then your village shows up and makes some pretty bleak moments amazing."
Digital dating: no goodnight kiss
Laurie Berzack, founder of Carolinas Matchmaker, typically hosts meetups as a way to help Charlotte-area singles connect. As a social distancing alternative, Berzack launched a Facebook group last week called "Singles in the Carolinas." After just 48 hours, it had 457 members. The page's popularity tracks with national trends: Dating apps have reported a sharp increase in activity since global restrictions on interaction kicked in.
When two people in Berzack's group express interest in each other, Berzack can connect them and set up a video chat. What's nice about virtual dating, she says, is that "there's a long period of courtship." "It forces you to take things slow and really get to know someone," Berzack says. "If they're not even getting a kiss goodnight, are they still going to come back for more?"
The Zoom boom:  Once used mostly by businesses, Zoom seems to have become the go-to social platform in Charlotte and across the U.S. The New York Times reported that 600,000 people downloaded Zoom in a single day (Sunday, March 22), and the Zoom iOS app has been the top free download in Apple's App Store every day since.
Dusty Klass, associate rabbi at Temple Beth El, said she had used Zoom for work-related meetings before, but she wasn't sure how it would work as a social tool. At a Ladies Night Out she organized with some friends last week, the conversation never lagged.
"We really did schmooze for two hours," she said, "and it felt totally normal."
Hit mute, check surroundings
As with any new technology, there's a learning curve. At one point during an Unpretentious Palate happy hour, the bartender inadvertently muted himself, Wile said. A more common problem: Participants in large groups forget to mute themselves, subjecting everyone to their barking dogs, crying babies and side conversations.
And don't forget to check what's behind you. A Fordham University professor told the New York Post last week that during one of his classes on Zoom, he got a glimpse of a naked man rising off the couch behind a student.
Michelle Crouch is a freelance writer and a regular contributor to The Ledger.
---
How to get social online
Ready to host your own Zoom social event? Here are a few tips:
Use a computer, not your phone. The larger screen offers a gallery view that allows you to see everyone at once. If you use a phone, you'll have to swipe if you have more than four participants.

Keep it to 40 minutes — or be prepared to launch a new chat. Unless you pay to subscribe, the free version of Zoom is supposed to cut you off at 40 minutes (although anecdotal reports indicate that this doesn't always happen).

Serve as a moderator. As the host, you can help keep the conversation going and make sure everyone has a chance to speak.

Consider a background. Want to take your Zoom social event to the next level? Make it look like you're on the beach or in space by downloading one of the included virtual backgrounds, or upload a custom one. Locally, the Carolina Panthers and CLT airport have released options. In the Zoom web portal, click on your initials, choose "settings" and then "virtual background." 

Add a beauty filter.  Click video settings, and under "video," choose "Touch up my appearance." Blemishes, gone.

Consider picking up a cocktail. It helps your event feel special, and it's a way to support local businesses. Charlotte Five has a list of bars and breweries offering delivery or pickup of beer, wine and in-home cocktail kits.
---
Don't miss an issue of The Ledger. Subscribe today.
---
Today's supporting sponsor is Fionix Consulting. With 25+ years of experience in crisis and corporate communications, Fionix Consulting creates custom strategic communications solutions to reach — and exceed — your business outcomes: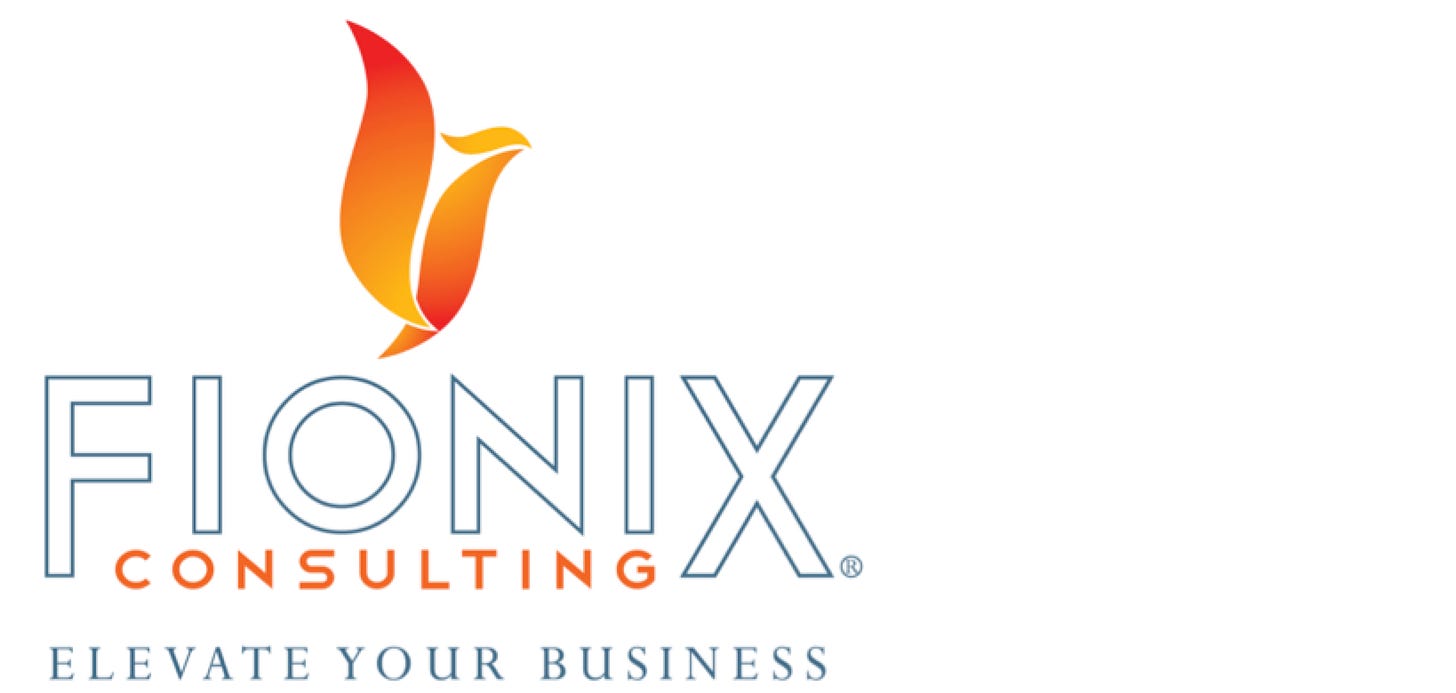 ---
Is Charlotte becoming a city of snitches?
County officials say calls continue to pour in from residents complaining about other people violating Mecklenburg's "stay at home" order. Charlotte-Mecklenburg police said they processed about 1,200 complaints in the first 24 hours. Since then, they've received "many" more, county health director Gibbie Harris says.
At a news conference Sunday, The Ledger asked Harris to characterize those complaints and whether they are worthwhile. She said:
They are seeing lots of different types of complaints. Some of those are individuals who are concerned about whether their business is essential or not. Some of those are individuals who are not happy with our order. Some are from individuals who are concerned about what they are seeing in their communities. It's a wide range of complaints. I do think that receiving the complaints is important. It gives us a picture of what is happening in our community so we can address issues.
The city hasn't provided more info on the complaints, at least not yet. So we don't really know if they are from well-intentioned people who want to limit the spread of the virus or if they're from newly empowered busybodies who have never liked the idea of unsupervised teenagers or other unfamiliar people walking around their neighborhoods.
Fortunately, though, we do have Nextdoor, the app that lets people vent about things they see in their neighborhood. You make the call about whether these are legit reasons for calling the cops:
In Dilworth, one resident had the urge to report children playing on a playground. Playgrounds are supposed to be closed under the "stay at home" order: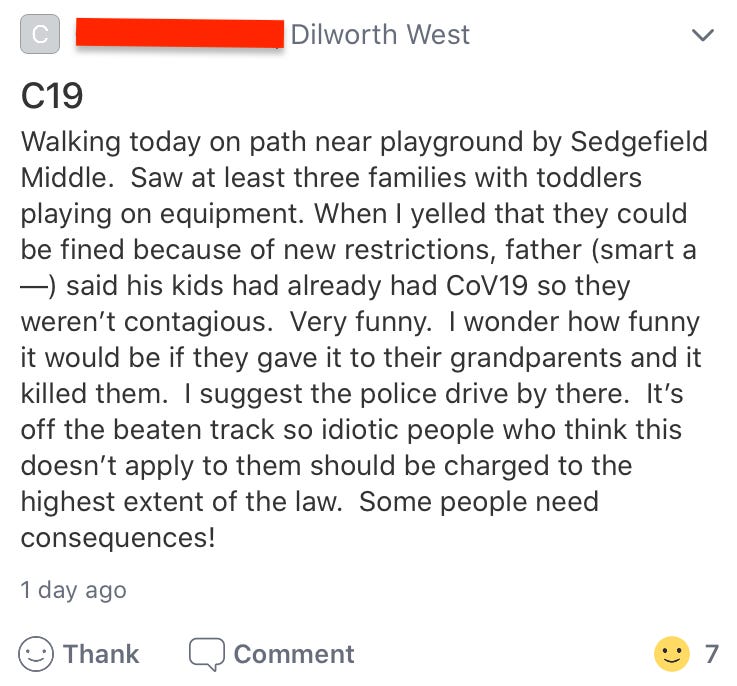 On Park Road, one resident became "flustered" when a surveyor spit on the ground — and she asked for help identifying him so she could alert authorities: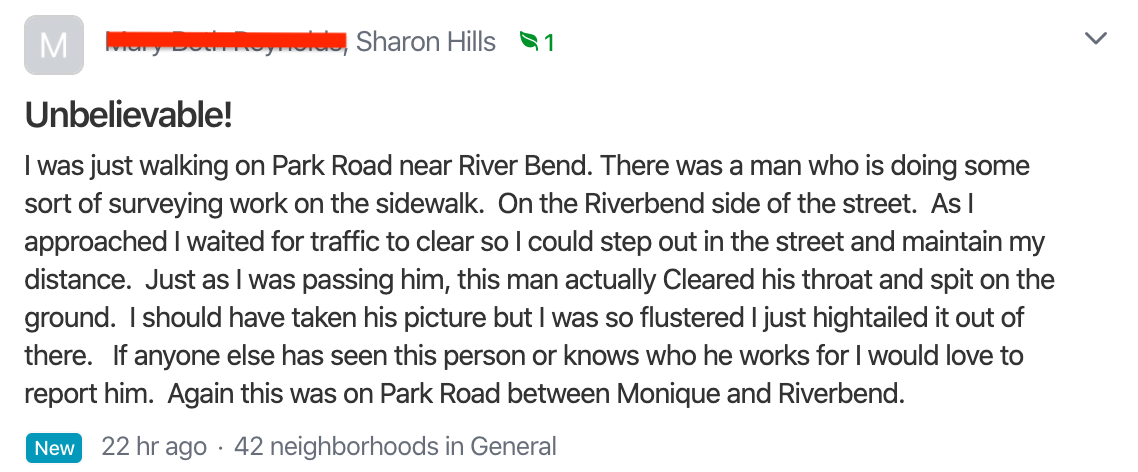 In Mountainbrook, a resident became alarmed at "teens in our park" who were "hanging out," before digressing about speeding. A neighbor replied: "Call police [and] let them deal [with] it."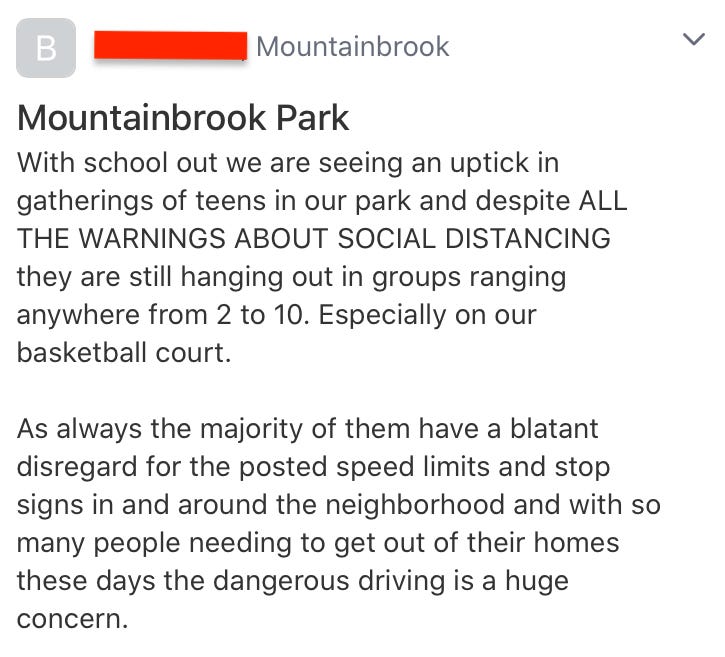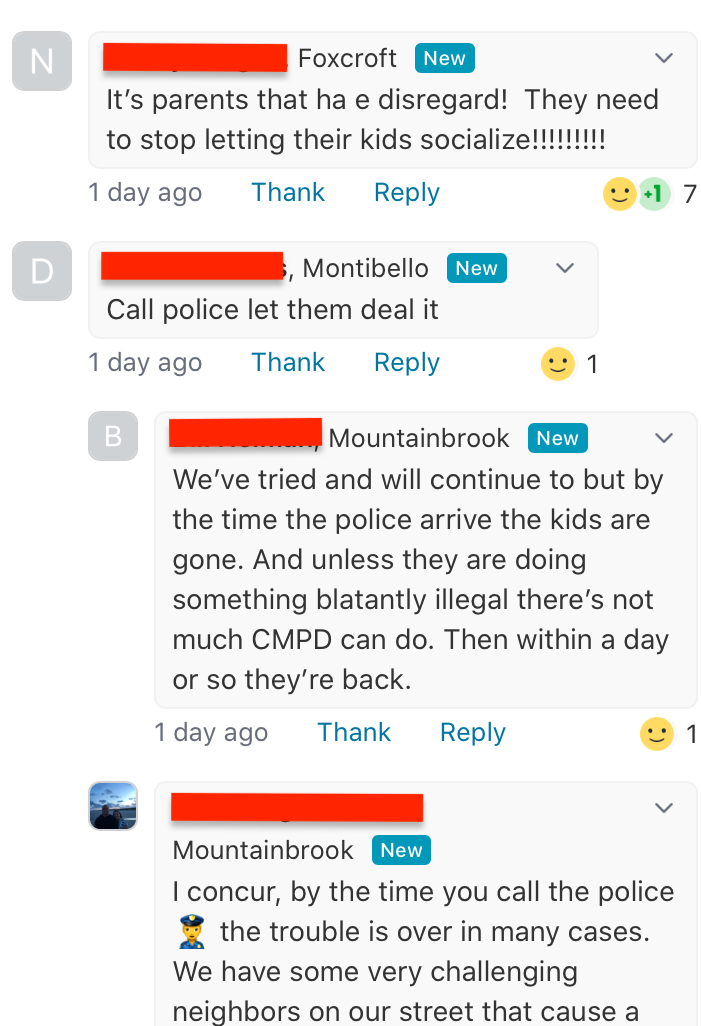 Charlotte has had periods of neighbors reporting neighbors before. In the summer of 2002, during a severe drought that resulted in watering restrictions, an Observer columnist noted that "calls and e-mails have flooded The Observer with complaints about somebody's fountain or sprinkler system spewing hither and yon." The mandatory restrictions, she wrote at the time, "bring out the second-grade tattler in each of us."
---
County criticized for ignoring black infection rate
Is Mecklenburg County ignoring the outsized effect the coronavirus seems to be having on Charlotte's African American community?
At the last few news conferences local officials have held, Glenn Burkins of Qcitymetro has been asking public health director Gibbie Harris about the county's claim that confirmed coronavirus cases correspond with local demographics. As we pointed out last week, that's actually not the case — among county residents testing positive, the Ledger wrote a week ago, blacks are overrepresented when compared to the county population, and whites are underrepresented. On Sunday, in response to a question by Burkins, Harris initially said she wasn't sure where he was getting his data. The answer: Her own department had put it out in a news release.
In an article published Monday, Burkins writes that the county's response to the coronavirus is "somewhat disappointing":
For days, Public Health Director Gibbie Harris has been saying the spread of Covid-19 in Mecklenburg County was reflective of the county's demographics. But with each release of new data we see that her assertion appears to lack credibility.

As the coronavirus has spread, Covid-19 appears to be affecting the county's Black population disproportionately. The county's own numbers appear to bear this out. …

Why is no one in county leadership talking about this? …

This all raises key questions — not the least of which is, how can Mecklenburg County's public health director be unaware of what appears to be a rising infection rate among Black residents under her jurisdiction? Followed closely by, how can the county's elected Black officials, put in office to serve their communities, sit idly quiet for a full week, also apparently oblivious to the county data that was right at their fingertips?

By no means do I suggest ill intent. What I suggest, instead, are missed opportunities.
You can read the full article here.
The Observer followed up with a piece Monday, as did WFAE.
---
County weighs in: When is throwing a football permissible?
---
Crisis makes strange (hospital) bedfellows
It's a poorly kept secret that Charlotte's two big hospital systems, Atrium Health and Novant Health, don't care much for each other. They've been rivals for years.
But the coronavirus outbreak is forcing them to work together. Last week, they wrote a joint letter urging the county to adopt a "stay at home" ordinance — and the county complied the following day. They are coordinating emergency responses together.
And in a video released by Atrium on Monday, a trauma surgeon revealed that Atrium and Novant have an agreement for doctors at the rival systems to sub in for each other if there are staffing shortages because of the virus.
"It's an effort everywhere within our system," said Dr. Samuel Ross. "We're also doing this with our partners at Wake Forest and also even here at Novant. This is all our community. It doesn't matter if you're Atrium, Novant or Wake Forest."
But old habits die hard. In the margin of the video released to the media, an Atrium public relations official had written: "I would take out the sentence where he talks about Novant."
---
In brief:
---
Loves me some internet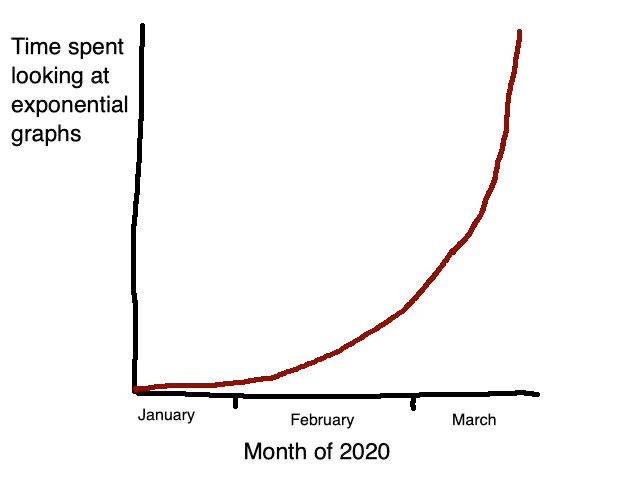 ---
Need to sign up for this e-newsletter? Here you go:
Got a news tip? Think we missed something? Drop me a line at editor@cltledger.com and let me know.
Like what we are doing? Feel free to forward this along and to tell a friend.
Archives available at https://charlotteledger.substack.com/archive.
On Twitter: @cltledger
Sponsorship information: email editor@cltledger.com.
The Charlotte Ledger is an e-newsletter and web site publishing timely, informative, and interesting local business news and analysis Mondays, Wednesdays, Fridays and Saturdays, except holidays and as noted. We strive for fairness and accuracy and will correct all known errors. The content reflects the independent editorial judgment of The Charlotte Ledger. Any advertising, paid marketing, or sponsored content will be clearly labeled.
Editor: Tony Mecia; Contributing editor: Tim Whitmire