Millennials account for 1/2 of local virus cases
Plus: How the coronavirus is disrupting life's big moments; Local gas prices fall below $2 a gallon; Atrium Health wants to take its hospital to your bedroom
Today is Monday, March 23, 2020. You're reading The Charlotte Ledger, an e-newsletter with local business-y news and insights for Charlotte, N.C.
If you like what you see, please forward to a friend.
Need to subscribe? Sign up for free here (charlotteledger.substack.com). A paid subscription, starting at $9/month, gives you access to all articles and helps build smarter original, local news in Charlotte. Details here.
---
Mecklenburg's 80 cases include a disproportionate share of patients aged 20-39; first release of demographic info
Mecklenburg County on Sunday for the first time released detailed demographic information about county residents who have contracted the coronavirus.
Some of the findings:
In numbers that might sound surprising, the county said that 49% of the 80 confirmed coronavirus cases as of Sunday were in patients aged 20-39. That's an age group that accounts for only 31% of Mecklenburg's population, according to census data. The high share of young people testing positive is notable because the only people being tested locally are those who show symptoms (fever, shortness of breath) and who have either tested negative for the flu or been exposed to somebody with a confirmed case of the virus.

Patients aged 60 and up, the age group most vulnerable to serious illness and death from the virus, accounted for 17.5% of patients, the county said. They make up about 16% of the county population.

Only one of the 80 cases involves a patient under the age of 19.

The numbers were evenly split between men and women. Whites, who account for 55% of Mecklenburg's population, are only 44% of the patients. Blacks, who account for 31% of the county population, make up 35% of the patients.

The numbers also show that there are confirmed coronavirus patients in every ZIP code in Mecklenburg County except for four: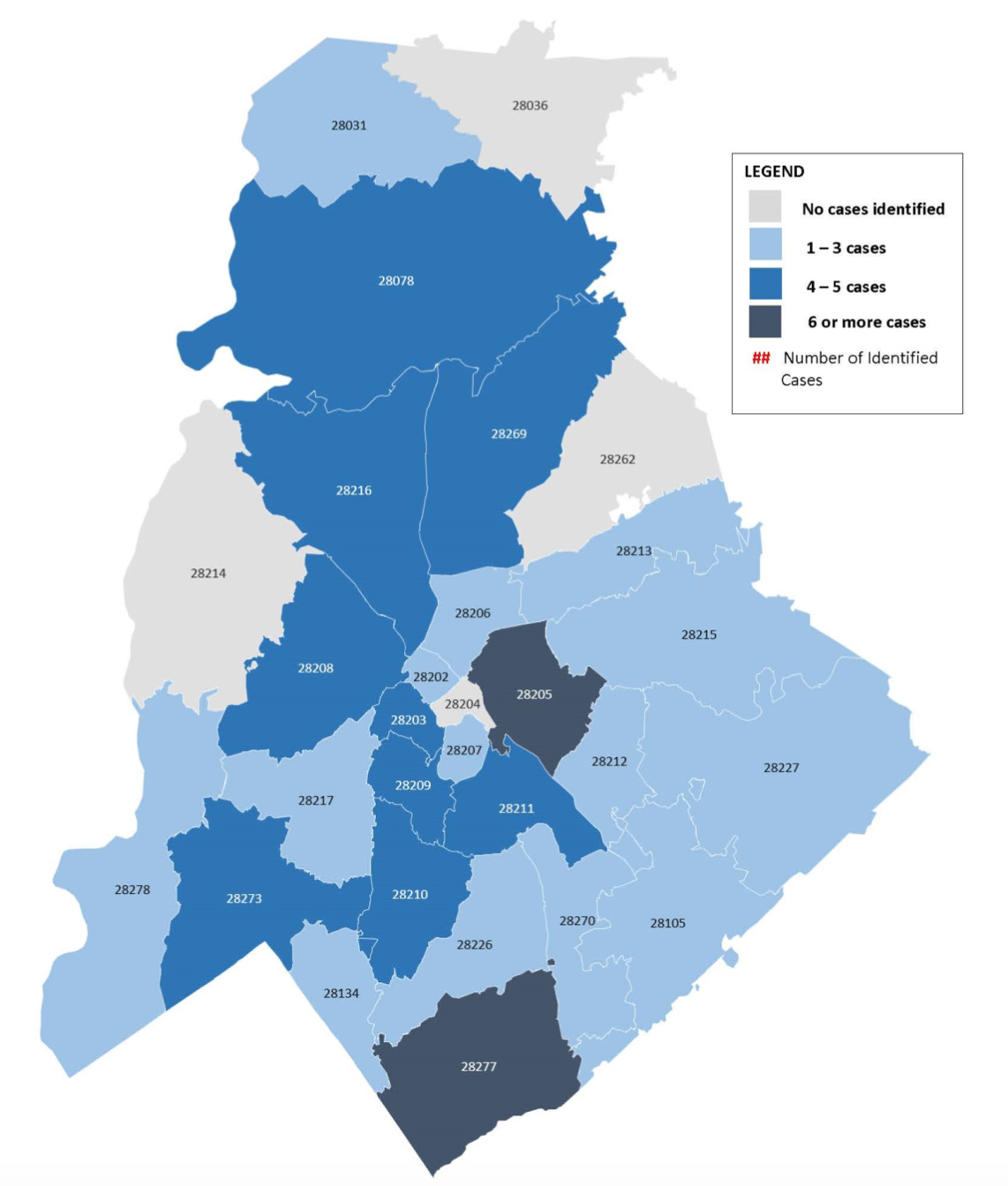 In addition, the number of confirmed cases as of Sunday — 80 — represents the smallest daily increase on a percentage basis in more than a week. On Saturday, there were 74 cases. That slow growth surely disappointed local writers of alarmist headlines.
Of course, a one-day slowdown does not indicate a trend, and many more confirmed cases are probably on the way as testing increases. Some local media have fixated on the growing number of confirmed cases, even though everybody knows that the number of cases is destined to rise. The number of confirmed cases is thought to be dramatically lower than the real number of cases, because testing has been so limited.
No deaths: So far, there have been no deaths attributed to the coronavirus in North Carolina. As of Sunday morning, the state had reported 255 confirmed cases. The state reports that 138 people in North Carolina have died this season from the flu.
In a statement, Gibbie Harris, the county's health director, said:
I want to continue to encourage our community to follow the Public Health Orders that have been issued to help stop the spread of this disease in our community. As the situation evolves, we will continue to provide more data and make decisions to protect the health of our residents.
You can read the county's full breakdown of coronavirus cases here.
---
Life's big moments — from weddings to memorial services to graduations — are forced to take a different course
The coronavirus is upending the lives of people in the Charlotte region in ways big and small.
Here are four short stories about how it is altering some of life's most important occasions:
"I had to postpone my wedding."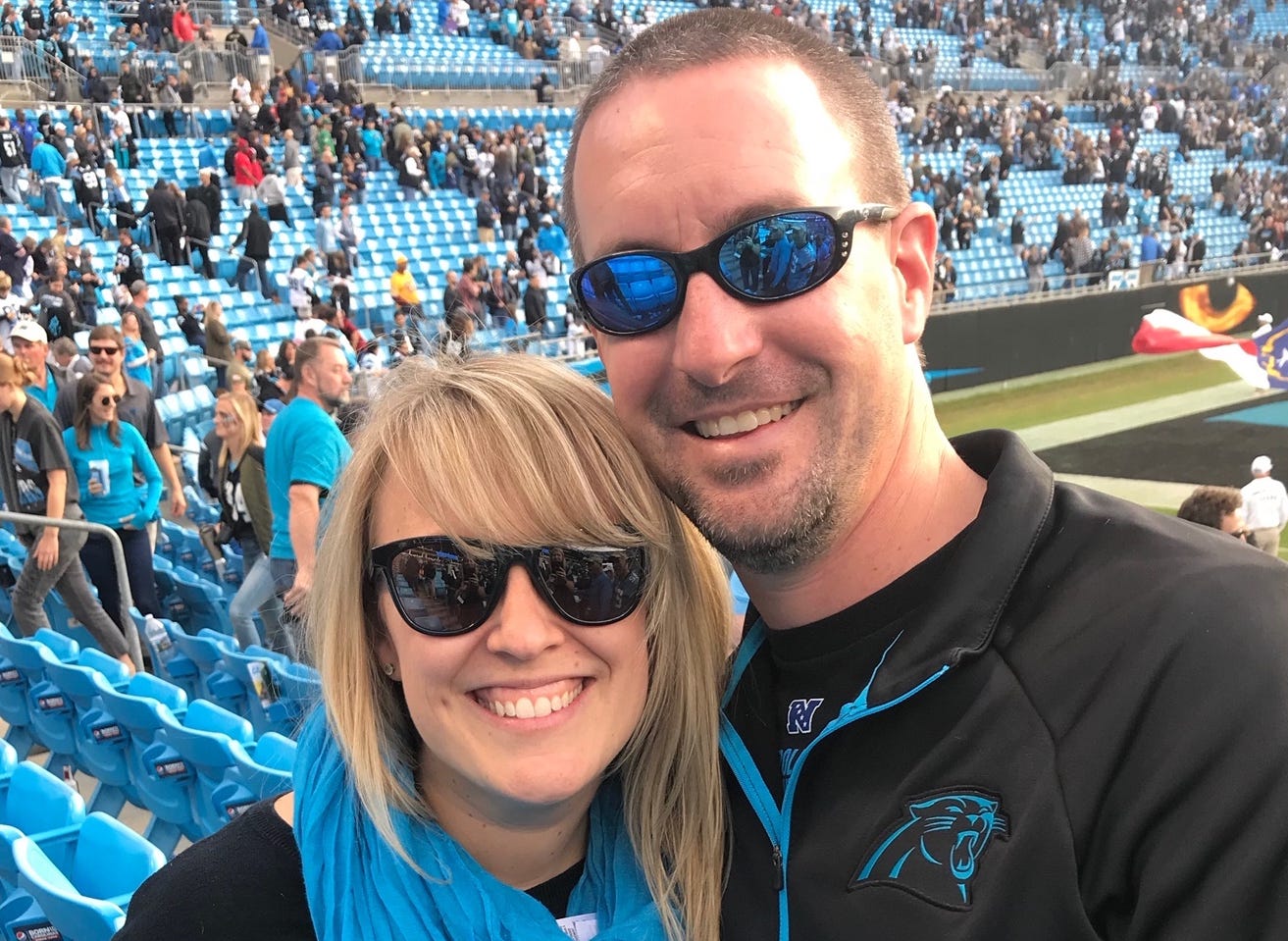 Heather Lumpp and her fiancé, Brian Lee, picked their wedding date eleven months ago, shortly after they got engaged. They had planned to celebrate on March 28 at Alexander Homestead, a restored 1903 estate off Shamrock Drive in east Charlotte.
But as the new coronavirus continued to make news, the cancellations started coming in: First, Lumpp's 96-year-old grandfather, whose doctor said it wouldn't be safe for him to travel. Next, a cousin with respiratory issues. Then another cousin whose family was exposed to the virus and was being quarantined.
About the same time, N.C. Gov. Roy Cooper announced a ban on gatherings of more than 100 people.
"I'm usually level-headed, but Wednesday to Saturday … I was crying a lot," Lumpp said.
The couple, who were expecting 136 people, considered cutting their guest list and moving ahead. But they ultimately decided they didn't want to put their guests at risk. They postponed their wedding and set a new date: July 11.
"It has been so crazy and upsetting," Lumpp says. "We picked March because we wanted to avoid the summer heat. Now we're getting married in the dead of summer. But Alexander Homestead handled everything, which made the process so much easier. We've got a plan, and hopefully things will clear up by July." 
Next on Lumpp's to-do list: rescheduling their honeymoon to Italy. — Michelle Crouch
---
They scrapped their big wedding for a quick courthouse ceremony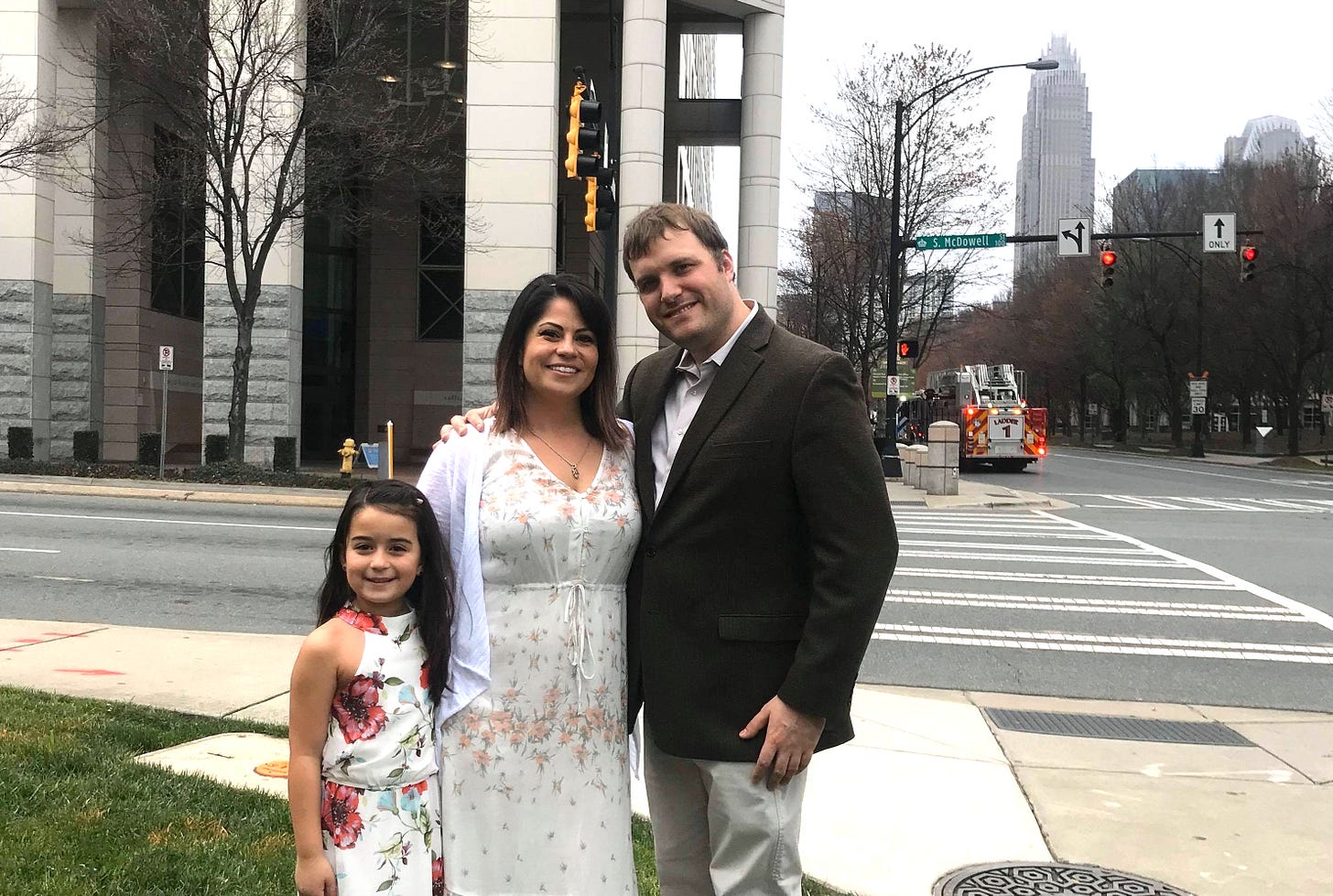 Kaily Rice of south Charlotte and her fiancé were supposed to get married May 30 in Myrtle Beach. They had already sent out the save-the-dates, booked a venue and planned their honeymoon.
But as the coronavirus continued to spread, Rice's anxiety grew. She worried about her own lack of health insurance (what if she got COVID-19?) and about asking friends and family members to travel for the event.
"I felt like it would be irresponsible for us to have a wedding and bring all these people together," she said. "I was stressed out like crazy."
Last week, after even Rice's mom said she was nervous about coming, Rice and her fiancé decided to cancel. Not knowing how long it would be before life returned to normal, they decided to take the bird in hand. A little over a week ago, they went to the Mecklenburg County courthouse and tied the knot there instead. 
It turns out they were just in the nick of time. The following day, the county suspended all courthouse weddings. — Michelle Crouch
---
Business as usual at funeral home, but some big memorials cancelled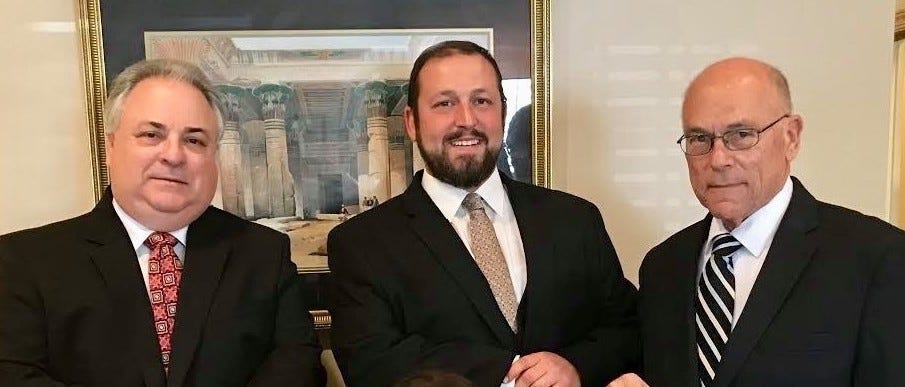 Many businesses have been closed or suspended in response to the spreading coronavirus, and many people have found themselves having to work from home. Not Steve Kuzma (pictured above, left).
The co-owner of Carolina Funeral Service & Cremation Center, located on Monroe Road in east Charlotte, has felt little significant change to day-to-day operations. There are still arrangements to be made, families to counsel, caskets to move and services to host for him and the other three workers on his staff.
One difference: Some funerals are much smaller affairs because of social distancing. Kuzma helped host a funeral last week where the two surviving daughters of an elderly woman called off the larger service and buried her quietly, with just them, two representatives from the funeral home, and a nun.
"At this time...at least in my firm, nobody is really panicking about the virus," Kuzma says. "It's just a matter of business."
The funeral home is keeping up key safety precautions, though. All the cars used to transport bodies have the necessary supplies for sanitary upkeep, like body bags and disinfecting spray. All stretchers use a special material impervious to liquids and easy to disinfect. To prevent the virus (or any other diseases) lingering on the surfaces, everything is wiped down each morning.
Kuzma remembers another time when the outbreak of a disease had a big impact on his industry: the arrival of the AIDS epidemic in the 1980s. "We were wearing spacesuits driving the car to the hospital," he said, "because back then we didn't know any better." — David Griffith
---
For a Queens senior, an abrupt and emotional end to college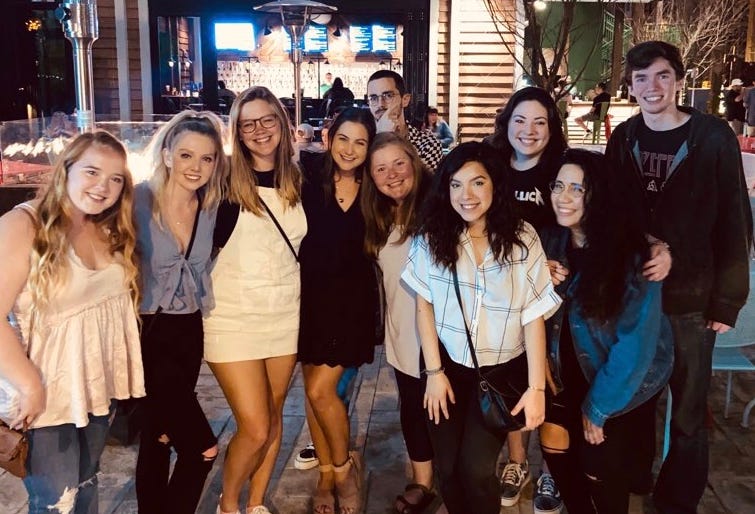 College seniors like Juliana Amos (third from right, above) of Queens University of Charlotte have had their final months in school take an unexpected turn.
"It was kind of like the end of our college," said Amos, 21, a journalism and digital media major. "It was super abrupt and just really intense."
Queens students had to leave campus by the end of March 15. Classes resumed online on Wednesday. All campus events for the rest of the semester were cancelled.
"All of my friends and I, we were crying and stuff," she said, "because we're never going to get that college experience again."
With three days to move out, seniors had to say their goodbyes quickly. Some of them put on caps and gowns and held mock graduations. Others, like Amos, went out one last time with friends.
"(Graduation) on top of job hunting in the current climate has … been really interesting," Amos said, "because you have to do that while balancing this whole new online class."
The graduation ceremony itself is a question mark. Queens University President Daniel Lugo told students via email that there would still be a physical ceremony, but the current restrictions on group gatherings made determining when, what and where unclear.
"It's a stressful time for a lot of people," said Amos, who is home with her family in Raleigh. "I still thought I had a month of college to kind of figure out stuff and to hang out with my friends. To go from college to just being home is a super weird feeling that I just wasn't ready for."
"Everything happened so fast that I just feel really lost at the moment." — David Griffith
---
Today's supporting sponsors are TechnikOne:

… and T.R. Lawing Realty:

---
Atrium finds new bed space: yours
Local hospital systems worry about the availability of beds if coronavirus cases keep increasing. Now, they might have located some additional bed space in your bedroom.
Atrium Health said on Sunday that it is implementing a new program called "Virtual Hospital At Home" that "combines remote, virtual care with portable technology that allows patients to remain monitored as if they were in a hospital bed, but from the comfort of their own home."
In a video released by the hospital system, Dr. Scott Rissmiller, Atrium's chief physician executive, said the program is a way for patients to be monitored in a safe and familiar environment while freeing up hospital beds for those who most require them. Medical professionals set up remote monitoring of patients in their homes and can deploy quickly if a patient's condition worsens.
Rissmiller said:
If you are in need of hospital services but not quite the level of an ICU, we can set up a hospital in your own home. With the remote monitoring devices such as blood pressure cuffs [and] oxygen machines that check your oxygen levels, we can continually monitor you, and our clinical team will be reaching out to you multiple times throughout the day.

We are doing basically the same thing for you that we would be doing if you were in the hospital. ... This is a safe way to care for the appropriate patients at home and is comparable to what they would receive in the hospital.
Innovative thinking is crucial right now. Let's hope this works well.
---
In brief:
---
Loves me some internet
---
The Ledger ramps up local coverage
The Ledger usually publishes four days a week, but since this crisis started, we've been going every day. There's a lot going on, and this story is too important to the community. We're putting it in context, telling you things you don't know and showing you how Charlotte is adapting.
In case you missed it, here's some of our top original work from the last 10 days:
If you're enjoying our coverage, there are three ways you can help improve it:
Send ideas, photos and videos. What do you find interesting? What do people need to know? Email editor@cltledger.com.

Spread the word. Forward a newsletter to a friend. Share on social media.

Consider a paid subscription. For just $9 a month, subscribers receive all editions of the newsletter and help build better, smarter local news in Charlotte in an innovative format. Details here.
---
Taking stock: Really, you might want to stop reading now
Unless you are a day trader, checking your stocks daily is unhealthy. So how about weekly? How local stocks of note fared last week (through Friday's close), and year to date: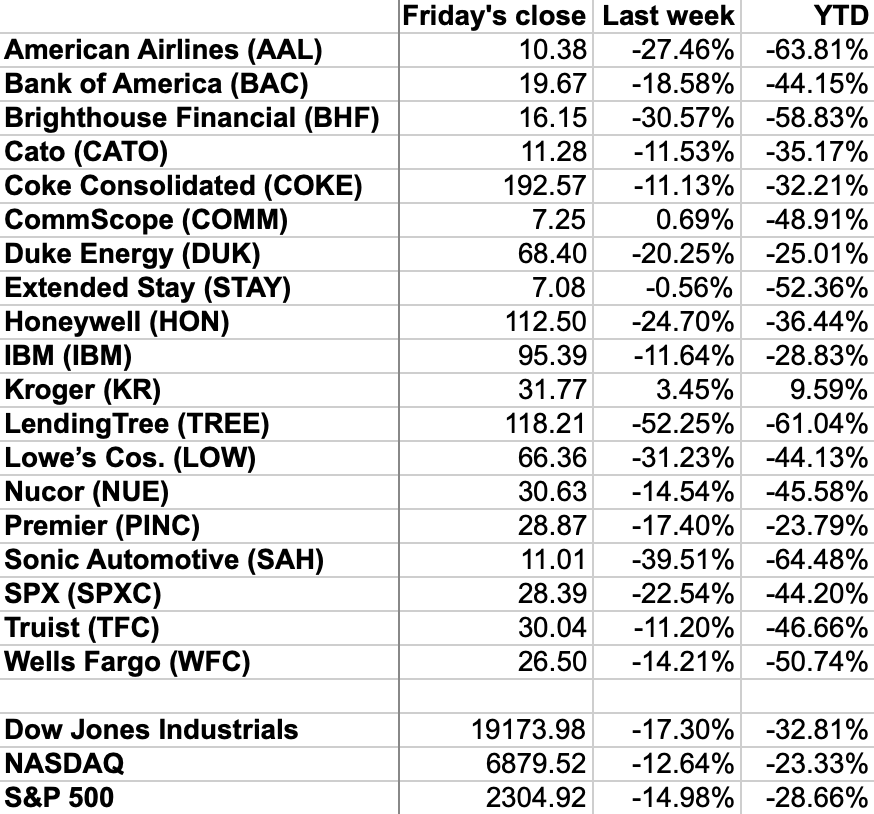 ---
Need to sign up for this e-newsletter? Here you go:
Got a news tip? Think we missed something? Drop me a line at editor@cltledger.com and let me know.
Like what we are doing? Feel free to forward this along and to tell a friend.
Archives available at https://charlotteledger.substack.com/archive.
On Twitter: @cltledger
Sponsorship information: email editor@cltledger.com.
The Charlotte Ledger is an e-newsletter and web site publishing timely, informative, and interesting local business news and analysis Mondays, Wednesdays, Fridays and Saturdays, except holidays and as noted. We strive for fairness and accuracy and will correct all known errors. The content reflects the independent editorial judgment of The Charlotte Ledger. Any advertising, paid marketing, or sponsored content will be clearly labeled.
Editor: Tony Mecia; Contributing editor: Tim Whitmire