Coronavirus slows Chinese exports — prompting N.C. uncertainty
Plus: Jim Bakker sells magical coronavirus cure; How CMS could build Ballantyne high school; Charlotte senior tries to rap his way into Harvard
Good morning! Today is Wednesday, February 19, 2020. You're reading The Charlotte Ledger, an e-newsletter with local business-y news and insights for Charlotte, N.C.
Need to subscribe? Sign up for free here (charlotteledger.substack.com). Send to a friend.
---
Today's Ledger is sponsored by CXN Advisory, a Charlotte-based firm that advises on executive goal-setting and execution for leaders of early stage and high-growth organizations. Subscribe to CXN's Set The Boat newsletter for regular leadership insights.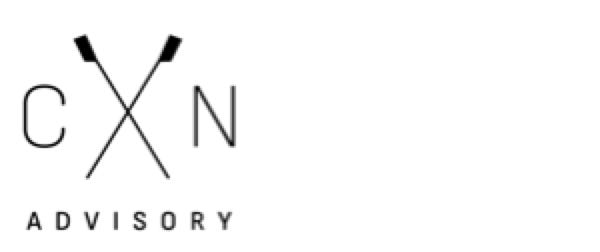 ---
With shipments from China drying up, effects could ripple to local factories, construction sites and store shelves; 'Everybody is worried'
As health concerns about the coronavirus continue, companies in the Carolinas with ties to China are becoming increasingly nervous about the potential disruptions to their businesses.
Many factories in China remain closed. And if you're a company that depends on getting machine tools, construction materials or fabrics from China, well, then that can be a problem.
"Oh, everybody is worried, from pharmaceuticals, raw materials, engineering companies, to many manufacturing sectors," says Richard Yang, founder of the Carolinas Chinese Chamber of Commerce, a Charlotte nonprofit that encourages trade between the U.S. and China.
Some of the effects here won't be felt for weeks, Yang says, since suppliers have inventories that will last a little while. But with cargo ships often unable to dock in China, those supplies will dwindle, and even consumers will notice: "In about two, three, four weeks, when the inventories start running out, you're going to see a lot of shelves in stores that will be empty, because there's no cargo coming in."
iPhone shortage: The economic danger of the coronavirus to companies that depend on Chinese factories was underscored this week when Apple announced it would fall short of economic forecasts in part because Chinese plants have been slow to reopen, which will create iPhone shortages. Nissan and Hyundai have closed plants in Japan and South Korea because they can't get needed parts from China.
In the best case scenario, Chinese plants start back up in the next few weeks, and supply problems are minimal. But nobody knows for sure how long it will take for Chinese authorities to clear the plants to reopen, or which ones. The spread of the virus seems to be slowing in China, but many workers remain quarantined. Even when plants reopen, "most factories have a severe shortage of workers" because of travel restrictions on migrant laborers, an American Chamber of Commerce official in Shanghai told the South China Morning Post. Nearly 80% of factories in the area lack the workers to restart full production, and 40% don't have enough masks, the paper reported.
Many big companies that source materials from China told The Ledger this week that it's still too early to know the effects. The buzzword seems to be "monitoring":
Honeywell, the Charlotte-based conglomerate that makes consumer and industrial products, says it "continues to monitor the COVID-19 coronavirus situation both in China and globally. We are working closely with our suppliers and customers to address any potential disruptions."

Lowe's, the home-improvement chain based in Mooresville, says it is "monitoring the situation very closely, and at this early stage, it's too soon to comment on the potential future impact to our supply chain."

BMW, which has a car factory outside Greenville, S.C., says the plant "remains unaffected" and that the company is "monitoring the situation closely."
Smaller companies are anticipating a pinch, too. Century Furniture of Hickory told the Hickory Daily Record last week that it is considering trying to move production of fabric it uses for furniture to India. "All of the supply chain is disrupted," the company's CEO said.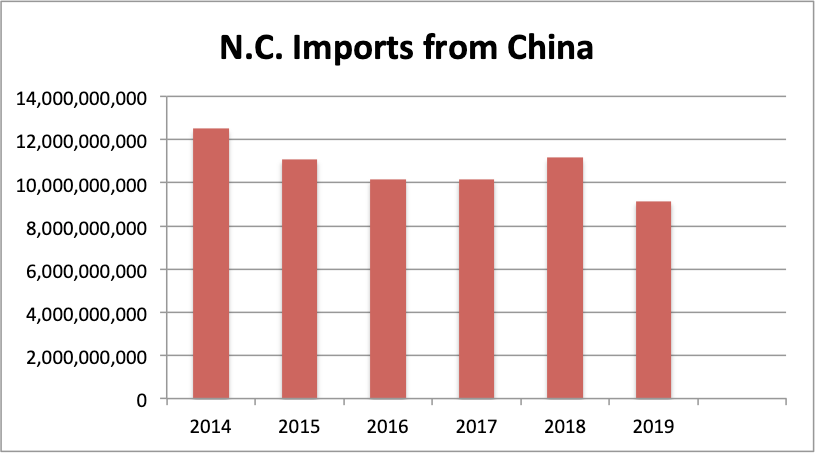 China is the top foreign source of goods heading to North Carolina. The value of products shipped from China to North Carolina fell last year, and it will probably fall a lot more in 2020 because of production problems in China related to the coronavirus. (Source: Census data)
Toaster oven supply to dwindle: John Connaughton, an economics professor at UNC Charlotte, says the North Carolina companies most at risk for disruptions are those that rely on specific parts that come only from China: "If it's highly specialized and you have a unique relationship with a supplier, you're going to be laying people off." Some consumer goods come mainly from China, too. He says that when consumers look for coffeemakers and toaster ovens at Walmart, "you may find they are running short."
The good news is that North Carolina is less intertwined with China's economy than other states are, such as tech-heavy California. Chinese imports accounted for about 15% of North Carolina's $9.2B in imports in 2019, according to census data. The top imports from China last year were: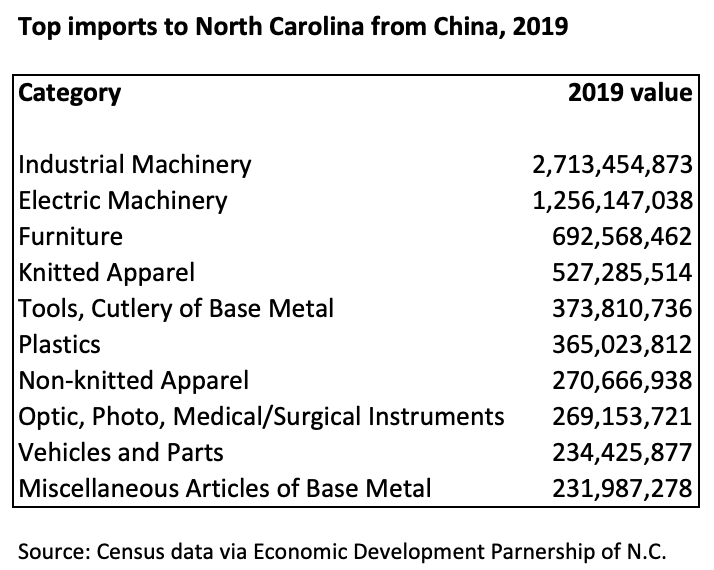 Construction companies are keeping tabs on supplies, too, says Ken Simonson, chief economist of the Associated General Contractors of America. He hasn't heard of any specific problems but wouldn't expect to for a few more weeks. He says issues will probably surface with the lack of availability of "some particular part or piece of equipment that most of us don't know anything about."
Chemical scramble: Companies often have to adjust on a smaller scale. For instance, Simonson says an explosion last year halted production at a Chinese chemical plant that was one of the world's only sources of pigment used in yellow highway striping paint. Companies were able to scramble and find substitute products and ramp up production elsewhere, he says, before a crisis of unpainted highway lanes erupted.
He says companies should check with their suppliers and subcontractors about contingency plans: "You don't want to get into the midst of a project where you are burning payroll every week and you don't have the machinery or the pieces for workers to put in place."
---
Televangelist touts coronavirus cure
Don't worry about the coronavirus — Jim Bakker has you covered.
Yes, that Jim Bakker — the televangelist of PTL Club fame. The multimillion-dollar ministry he ran out of Fort Mill created a lavish lifestyle for him and his wife, Tammy Faye, in the late 1980s. But it all came crashing down after the Observer revealed he had paid hush money to a church secretary who had accused him of rape.
In an episode last week of "The Jim Bakker Show," which is broadcast on satellite TV, Bakker hosted a "naturopathic doctor" who said a "Silver Solution" that you can drink can rid your body of the coronavirus. It hasn't been tested on the current strain, she explained, but on other coronavirus strains, the elixir "has been able to eliminate it within 12 hours."
Totally eliminated. Kills it, deactivates it and then it boosts your immune system so then you can support the recovery because when you kill the virus, the immune system comes into action to clear it out.
British tabloid The Sun says Bakker also markets the liquid "as a cure for SARS and HIV."
A 16-oz bottle sells on Bakker's website for $40.
Oh, in case you forgot, a (Charlotte) jury convicted Bakker of 24 counts of fraud and conspiracy for his PTL Club hijinks. He served five years in prison before his parole in 1994.
---
Today's supporting sponsors are The McIntosh Law Firm/Carolina Revaluation Services…

… and Cardinal Real Estate Partners:

---
Hope for Ballantyne high school after all?
In response to our opinion the other day that the odds seem low for the school board being able to build a school on Johnston Road in Ballantyne, an astute Ledger reader points out that the odds might be better than they appear.
Even though the 80 acres of land owned by the Catholic Diocese of Charlotte is under contract to somebody else, the school board has an ace up its sleeve: It could use its power of eminent domain to acquire the property and pay a fair market value for it. Often, just the threat of using that power is enough to drive landowners to cut a deal instead of hiring expensive lawyers to pursue what is usually a losing case.
Courts have recognized that local governments have wide discretion to condemn land for public use, says Charles Szypszak, a professor at UNC Chapel Hill's School of Government who literally wrote the book on the topic ("Eminent Domain for North Carolina Local Governments, Law and Practice").
And if the land the government wants happens to be under contract to somebody else? Doesn't matter, he says: "You can't transfer it and avoid eminent domain. They're going to get the property." Real estate lawyers tell us that purchase contracts typically include boilerplate language that provides an out if the land is targeted for government condemnation — though we can't imagine how steamed the potential buyer, Woodfield Development, might be at the prospect of CMS blowing up the deal.
Of course, there's still the matter that CMS says it doesn't have the money to buy land in pricey south Charlotte, despite a $922M school bond passed by voters in 2017. The Diocese land is valued at $33.6M, and CMS would like the county to hand over some money.
New Ledger take: OK, this could very well happen … if the county can find a way to scrape together some cash for all or part of the parcel.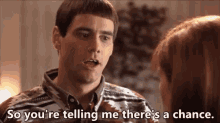 ---
In brief
---
Loves me some internet
An Ardrey Kell High senior, whose early application was deferred from Harvard, has created a rap video called "Harvard Please Let Me In" to persuade admissions officers that he should get a spot:
The 3 minute and 39 second video includes shots of him with uptown in the background, as well as walking past classroom trailers and in the woods. Lyrics include:
I'm an Asian from the South, oh, you ain't never heard of me? /
I be taking Taekwondo lessons and drinking sweet tea
He seems to realize creating a rap video to get into Harvard is a long shot. It closes with:
Getting rejected, I will never pout /
But this is me here and you gonna miss out
---
Cheap getaways from CLT
Charlotte to Fort Lauderdale, $63 round-trip on Spirit (nonstop), Feb. 29-March 2.

Charlotte to Newark, $60 round-trip on American (nonstop), various dates in March.

Easter/CMS spring break: Charlotte to Baltimore, $60 round-trip on American (nonstop), April 10-16.

Charlotte to Panama City, Panama, $261 round-trip on Spirit (one-stop), April 21-27.

Charlotte to Denver, $131 round-trip on Frontier (nonstop), April 23-28.

Charlotte to San Juan, Puerto Rico, $206 round-trip on Spirit (one-stop), May 7-11.

Charlotte to Hong Kong, $711 round-trip on Air Canada (one-stop), various dates in May.
Source: Google Flights. Fares retrieved Wednesday morning. They might have changed by the time you read this.
---
Programming note: Ledger editor Tony Mecia appears as a guest on 90.7 WFAE at 6:40 a.m. and 8:40 a.m. on Thursdays for a discussion of the week's local business news in the station's "BizWorthy" segment. Audio and transcripts are also available online.
---
Need to sign up for this e-newsletter? Here you go:
Want to share with a friend?
Got a news tip? Think we missed something? Drop me a line at editor@cltledger.com and let me know.
Searchable archives available at https://charlotteledger.substack.com/archive.
On Twitter: @cltledger
Sponsorship information: email editor@cltledger.com.
The Charlotte Ledger is an e-newsletter and web site publishing timely, informative, and interesting local business news and analysis Mondays, Wednesdays, and Fridays, except holidays and as noted. We strive for fairness and accuracy and will correct all known errors. The content reflects the independent editorial judgment of The Charlotte Ledger. Any advertising, paid marketing, or sponsored content will be clearly labeled.
The Charlotte Ledger is published by Tony Mecia, an award-winning former Charlotte Observer business reporter and editor. He lives in Charlotte with his wife and three children.