Debating Charlotte's light rail expansion
Plus: Lebda offered $15K to resolve property dispute; Warren Buffett wants to buy more of BofA; Ballantyne resident freaks out over Halloween decorations
Good morning! Today is Wednesday, October 16, 2019. It's a CMS early dismissal day: The kids are out three hours early.
Need to subscribe? Sign up for free here (charlotteledger.substack.com). Send to a friend.
Pro and con: Is adding 26 miles of track from Matthews to Belmont a wise investment — or is it too costly?
Charlotte is facing a big decision on its future. On Monday, the City Council heard a proposal for CATS to spend $50M to start designing the Silver Line, a 26-mile stretch of light rail connecting Matthews to uptown to the airport to Gaston County.
CATS is calling it "one of the most ambitious projects ever pursued by the city." There's no money to actually build the line. The hope would be that the federal government would pick up a big chunk of the tab, which is expected to be a few billion dollars.
Possible effects: The project could affect everything from development patterns to commutes to local taxes.
But is it a wise move? City leaders are pleased with the development of the Blue Line, which was extended last year up to UNC Charlotte, and they'd like to replicate that success. CATS posted its highest monthly light rail ridership ever in August, with more than 844,000 trips — 17% higher than a year earlier. Yet transit still accounts for just a small fraction of transportation locally. New census data shows less than 3% of county residents use transit to commute.
Next stop: Matthews? Big decisions lie ahead on the future of light rail in Charlotte.
To help you understand the issue better, the Ledger talked with experts on both sides of the debate: a CATS senior planner (who favors light rail) and a St. Louis transportation consultant (who doesn't). The full interviews — pro and con — are available on the Ledger's website. Here are the highlights:
Jason Lawrence, CATS senior planner:
On why light rail is needed: "When you're thinking about high-capacity transit – whether it be commuter rail, bus rapid transit, light rail – they are unmatched at carrying lots of people at one time. As we grow as a community, these stations are going to change and evolve over time and attract new development. One of the success measures is to build a station and an alignment that serves more than just getting to uptown. That's an important component."

On why other options — cars, Uber, scooters, self-driving automobiles — won't cut it: "Where light rail provides these opportunities is creating these places. I don't know if Uber or Lyft would have created South End. But light rail and the rail trail and the things around it and the development that came with that created a place that maybe would not have existed. And that place is going to be there for many years to come. Think about these as long-term, multi-year investments where billions of dollars in investment have occurred."

On the purpose of light rail: "The purpose of it is a growth-management tool. We are going to grow. There's no question that this region is going to grow. It's how. Light rail and transit in general provide choice."
For the full interview with CATS senior planner Jason Lawrence, click here.
Wendell Cox, St. Louis transportation consultant:
On the inadequacy of light rail: "The percentage of people taking transit in all of its forms to work in the Charlotte metropolitan area is 1.5%. That's absolutely nothing. When you're talking about that small a share, you've got to ask some real cost-benefit questions. … How many single mothers do you think there are who can use light rail in Charlotte to go to work and drop the kid off at daycare on the way? Probably the number is fairly close to zero."

On the best way to help the poor: "What is the solution to getting poor people to get to work? It's trying to get them cars. They need somehow to have the mobility that can only be provided by cars. Why is it that poor people can't get to as many jobs in Charlotte as you do?"

On light rail financing: "There's a very strong lobby for light rail. There's too much federal money. Everybody loves it. It's a trinket, and it's largely federally financed. What are you going to do, refuse the federal funding? They're just wasting an awful lot of money."
For the full interview with St. Louis transportation consultant Wendell Cox, click here.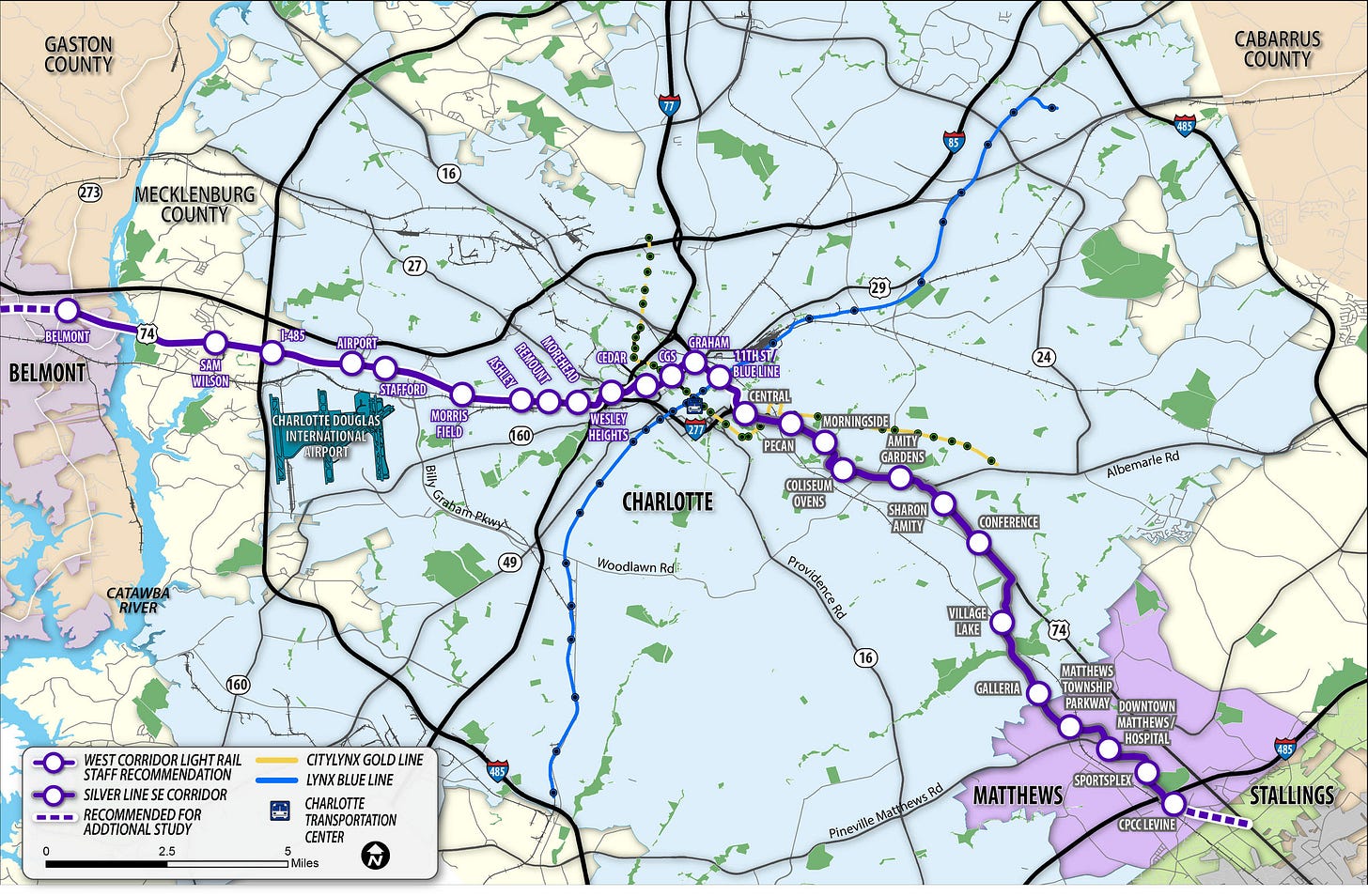 The proposed Lynx Silver Line would cost $50M to design over the next five years, plus a few billion dollars from uncertain sources in the future.
Outlook: The city is being asked to spend $50M over five years to prepare for a day when the federal government might pay gobs of money to help build the new line. There's no way the city is going to say no. This train will keep chugging along.
---
Quail Hollow plot twist: Lebda offered $15K to homeowners association
LendingTree CEO Doug Lebda offered the Gleneagles homeowners association $15,000 and a community entrance to the golf course for the Wells Fargo Championship if the association approved a disputed architectural feature on the home he was building that caused a legal dispute with former Rep. Robert Pittenger, according to newly filed court documents.
The Ledger shared many of the gossipy details of that dispute earlier this month.
The new documents show that Lebda was trying to win approval from the HOA for an architectural feature known as a "cantilever bay" or "bump-out" that was already under construction, even though it apparently encroached on the 10-foot setback requirement on the Pittenger side of the lot.
Disputed "bump out": LendingTree CEO Doug Lebda offered his homeowners association $15,000 to approve an architectural feature on his house that apparently violated setback requirements close to the lot of former Rep. Robert Pittenger, according to court documents.
The HOA's architectural review committee (ARC) had the power to grant an exception, and Lebda offered money, according to a February 2018 letter he and his wife wrote to the neighborhood association:
Our proposal is this. The ARC can grant us a variance of up to 10% of the 10 foot setback (1 foot and we need about 6-7 inches practically). And, we would also voluntarily pay the $15,000 we would pay to the framing company to the HOA …

The HOA can use this money to offset dues, pay for other expenses, and/or save for a rainy day. … [My wife] and I, in this scenario, are willing to allow an entrance through our property for the golf tournament. …

In the interest of neighborhood unity and goodwill it is better to have the HOA get money than builders or lawyers AND have a community entrance to the golf tournament this year. … We can cut 6 inches off a 9 foot cantilever that has no impact on anyone OR we can give the same money to the HOA and enjoy a golf tournament together.
The association declined Lebda's offer and made him adhere to the setback requirement by removing the bump-out, records show. Pittenger sued Lebda and the association anyway a few months later, alleging they colluded to allow Lebda to build a house that was too tall, too close to Pittenger's and had a garage that was too big.
'Outdated' four-car limit: Other new documents in the case show that a member of Gleneagles' architectural review committee was reluctant to raise the issue of Lebda's plans for a five-car garage: "I should not be the one to bring this up since I was approved for a five-car garage and a Port Cochere, but I think the garage size is four in the By-Laws. I do think this part of our by-laws are outdated."
---
Best of Nextdoor: Ballantyne Halloween decorations
(From the national "Best of Nextdoor" Twitter account. The post indicates it's from the Landen Glen neighborhood, which is south of StoneCrest near Blakeney.)
---
In brief
Buffett bullish on BofA: Warren Buffett's Berkshire Hathaway is seeking permission from the Federal Reserve to buy more stock in Bank of America, taking its ownership interest to more than 10%. "Buffett's company said in the Fed filing that it doesn't have any plans to sell Bank of America's assets, merge it with any company or make any other significant change in its business strategy and corporate structure." The bank's 3Q earnings dropped but beat estimates, the company said Wednesday morning. (Bloomberg/The Street)

Positive for Wells: Wells Fargo's stock rose Tuesday after reporting 3Q earnings that barely missed analyst expectations: "The lack of any new obstacles for Wells Fargo may be helping drive shareholder optimism." (CNBC)

Hornets chicken change-up: Chick-fil-A will replace Bojangles' as a sponsor of the Charlotte Hornets. Chick-fil-A will be available at the Spectrum Center starting in the 2020 season. "Both companies' mascots — Hugo the Hornet and the Chick-fil-A cow — appeared uptown Tuesday to start the sponsorship." (Biz Journal)

Home-sales reversal: Charlotte-area home sales rose 8.3% in September, compared with a year earlier — the biggest such increase since March 2017. Realtors attributed the jump to lower interest rates. (Biz Journal/paywall)

Airport lobby: Renovations of Charlotte airport's lobby are scheduled to start in December and last for nearly six years, airport officials told the City Council this week. (WSOC)

Five-story tower: Five new retail tenants will occupy the five-story "Binaco Tower" under construction on Fifth Street between the Hearst Tower and Connolly's Irish Pub uptown, the developer said this week. The ground-floor tenant will be a contemporary Asian restaurant called Saku.

Good read: Millennial urban living is about to get more expensive, with tech companies now having to focus on actually turning a profit — which means higher prices, according to the Atlantic. "Consumer tech companies, along with their venture-capital backers, help fund the daily habits of their disproportionately young and urban user base. With each Uber ride, WeWork membership and hand-delivered dinner, the typical consumer has been getting a sweetheart deal. … Higher profits can only mean one thing: Urban lifestyles are about to get more expensive." (Atlantic)

Fortnite sucked into black hole but unfortunately returns: To the dismay of parents everywhere, Fortnite returned on Tuesday after being inaccessible for nearly two days. The addictive game had apparently come to an end Sunday, "as rockets caused a virtual black hole that sucked in the game's map and screens — along with players and the trademark Battle Bus." Alas, it was just a marketing gimmick to build excitement for Fortnite Chapter 2. (NPR)
---
This week in podcasting
A round-up of interesting moments in recent Charlotte podcasts
Happy with chicken: Ely Portillo of UNC Charlotte's Urban Institute talks with host Sarah Blake Morgan about the gentrification of businesses in Charlotte: "When the landlord decides to sell, there's not a lot a tenant can do about it. A really good example going counter to that is Price's Chicken in South End, a site that's on some super-valuable land if you look what is being built around it. … It's owned by a family, however. … They could probably make a lot more money right upfront selling that property than they do slinging chicken, but they love their business and they're sticking with it and people are pretty happy about that." Morgan jumps in: "People are very happy about that." (Charlotte Newsmakers, Oct. 8, 40 minutes)

School competency: In a roundtable discussion of Charlotte-Mecklenburg Schools, WFAE's Mike Collins reviews the school board's recent personnel decisions in a question to longtime education reporter Ann Doss Helms: "They brought [Clayton Wilcox] in. We knew nothing about him until the moment they announced his arrival. His predecessor was dismissed once again under a cloud of complete and total secrecy. We still don't know why Heath Morrison was dismissed. We don't know why Clayton Wilcox was dismissed. All of this goes on under the aegis of a school board that hasn't changed all that much over this time. Aren't they to blame for all of this? Shouldn't their competency be called into question over all of this? … Are they competent? You've been covering the schools forever. Are they competent?" (Charlotte Talks with Mike Collins, Oct. 11, 49 minutes)
---
Cheap getaways from CLT
Charlotte to Newark, $70 round-trip on Spirit (nonstop), various dates October-February.

Charlotte to Baltimore, $64 round-trip on Spirit (nonstop), various dates October-February.

Charlotte to Boston, $116 round-trip on JetBlue (nonstop), various dates October-January.

Charlotte to Orlando, $64 round-trip on Spirit (nonstop), Oct. 31-Nov. 4.

Charlotte to Denver, $96 round-trip on Frontier (nonstop), Nov. 1-4.

Charlotte to Rome, $510 round-trip on Air Canada (one-stop), various dates in November-December.

Charlotte to Lisbon, $478 round-trip on Air Canada (one-stop), various dates in November-February.
Source: Google Flights. Fares retrieved Wednesday morning. They might have changed by the time you read this.
---
Got a news tip? Think we missed something? Drop me a line at editor@cltledger.com and let me know.
Like what we are doing? Feel free to forward this along and to tell a friend.
Searchable archives available at https://charlotteledger.substack.com/archive.
On Twitter: @cltledger
The Charlotte Ledger is an e-newsletter and web site publishing timely, informative, and interesting local business news and analysis Mondays, Wednesdays, and Fridays, except holidays and as noted. We strive for fairness and accuracy and will correct all known errors. The content reflects the independent editorial judgment of The Charlotte Ledger. Any advertising, paid marketing, or sponsored content will be clearly labeled.
The Charlotte Ledger is published by Tony Mecia, an award-winning former Charlotte Observer business reporter and editor. He lives in Charlotte with his wife and three children.