Discover more from The Charlotte Ledger
Delivering smart and essential news to Charlotte, one email at a time.
Over 20,000 subscribers
Juicy new details in Lebda-Pittenger mansion fight
Plus: Yet another high-rise for Ballantyne; Charlotte almost cracks Top 20 TV markets; New podcast mixes 'local news, not-so-local booze'
Good morning! Today is Wednesday, October 2, 2019. Need to subscribe? Sign up for free here (charlotteledger.substack.com). Send to a friend.
Millionaire dispute at Quail Hollow:
- Lebda 'didn't give a flip'
- Pittenger asked for $1M-$2M in face-to-face meeting
- Trouble erupted over 2" of limestone veneer
New court filings in the long-running dispute between Quail Hollow next-door neighbors Doug Lebda and Robert Pittenger are shedding light on the origins of the conflict — and revealing some severely hurt feelings.
Filings this week also show that depositions are complete and that Lebda's lawyers are asking for summary judgment. If the judge agrees, the case would be resolved in Lebda's favor.
It's a case that combines local celebrity — Lebda is CEO of LendingTree, Pittenger is a former U.S. congressman — with rich-white-guy suffering, and it takes place with Charlotte's most exclusive country club as a backdrop.
The two live next to each other near the tee box on Quail Hollow's 15th hole:
Lebda, his wife and their family in a new 15,000-s.f. house valued at $4.1M

Pittenger and his wife in a 10,500-s.f. house built in 2007 and valued at $5.1M.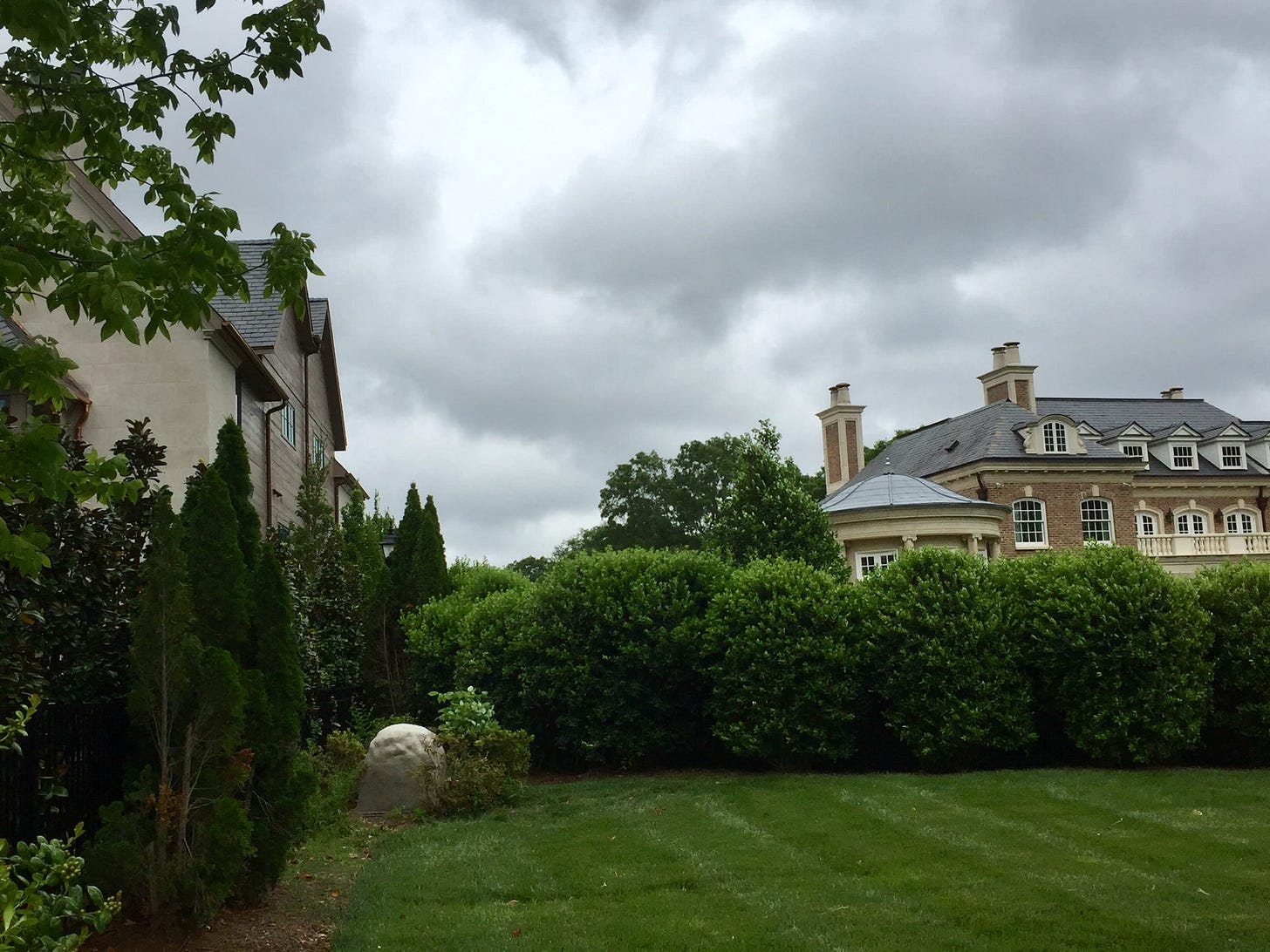 Too close for comfort: Lebda built a new 15,000 s.f. mansion (left) that Pittenger says violates neighborhood covenants by being too tall and too close to his 10,500 s.f. Quail Hollow mansion (right).
In May, the Ledger first reported of the snippy emails between each side's lawyers that were part of settlement talks (which fell apart).
The new filings from lawyers for Lebda and for the Gleneagles homeowners association give the clearest description yet of what led to the dispute — and some of the interactions between two of Charlotte's richest and most powerful men:
Mansion dreams: In June 2016, Lebda and his wife, LendingTree spokeswoman Megan Greuling, bought the lot on Baltusrol Lane with plans to build a dream home for their family. They hired Arcadia builders as the general contractor, and Arcadia recommended hiring an architect named Harry Schrader of Schrader Design. A 2018 Charlotte Agenda article says Schrader "has designed homes for many of Charlotte's most prominent CEOs and athletes."
Lebda and Greuling invited Schrader and his family to their beach house for the weekend, to give Schrader "a sense of how the family functioned together" and to "provide design inspiration."
Schrader finished the designs in March 2017 and sent them to Gleneagles' architectural review committee, which approved the plans. Construction started in May 2017.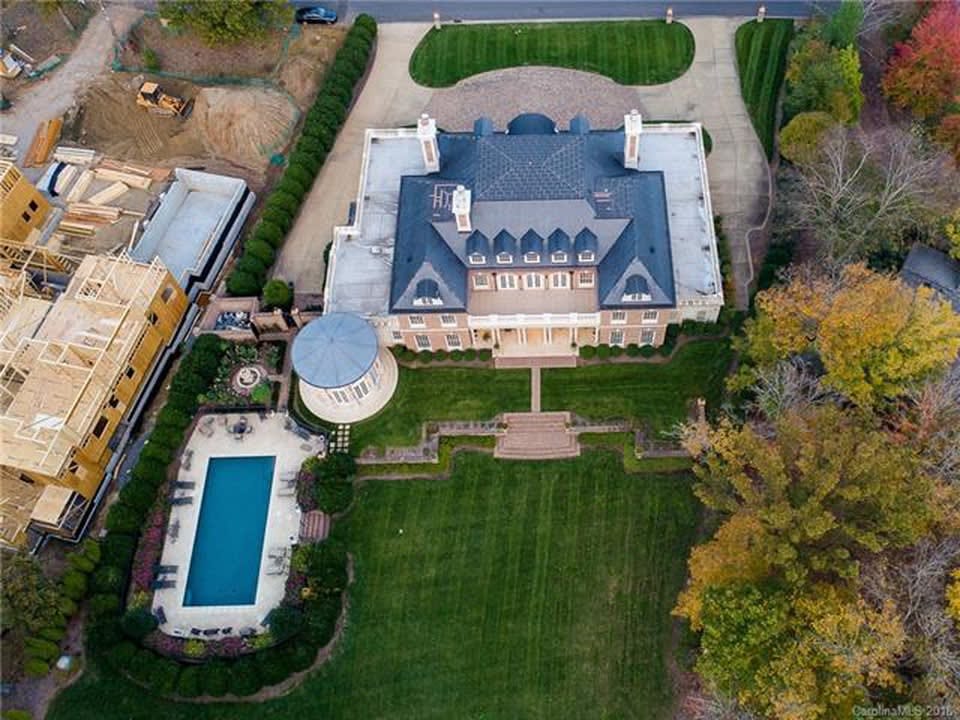 An older photo shows that Lebda's house, under construction on left, overlooks Pittenger's swimming pool (photo from 

Zillow

).
As far as Lebda and his wife knew, everything was going fine — until they received a letter in December 2017 from Pittenger's lawyer. It claimed the new house violated neighborhood covenants because it was too high, had too many car bays (five), was too close to the property line — and would "cause an invasion of the Pittengers' privacy" and was a "nuisance."
Shocked and stunned: Lebda was "shocked." He offered to meet Pittenger man-to-man at the Quail Hollow Club to try to resolve the dispute. In the meeting, Pittenger told Lebda he could "make this problem go away for one to two million dollars." Lebda was "stunned." He turned down the offer and checked with his builders, who assured him everything was in order.
But they soon learned that Pittenger might have had a point: They discovered that "a small portion of limestone on a thin layer on the exterior of the home stuck out over the setback line by approximately two inches due to an unintentional surveying error." Oops. But the Gleneagles HOA granted a waiver.
Pittenger sued in June 2018 — just a month after losing in the Republican 9th district primary to challenger Mark Harris. He later said in a deposition that he didn't file suit earlier because he was in the middle of an election. Lebda finished construction, and his family moved in in May 2019.
Hovering 'super structure': In the deposition, asked how the Lebda house is a nuisance, Pittenger said: "Well, it is to us in that you have this super structure that, you know, hovers over our personal space."
He added:
You know, sir, I would never do to a neighbor what he did to us. I would have been respectful of a neighbor. We built our dream house, but we did it in a thoughtful way. And the way that he's built it … I think he intentionally built the house the way he wanted and didn't give a flip of the outcome to us.
Keep in mind that this version is from Lebda's lawyers, who are probably casting the story in the light most favorable to their client. Pittenger's lawyer has not yet filed a response. He didn't reply to a Ledger email late Tuesday.
Learn more: Want to read the full account from Lebda's lawyers and from lawyers for the Gleneagles homeowners association? Check them out here.
---
Charlotte almost cracks top 20 TV markets
Charlotte has moved up two spots, from #23 to #21, in an important ranking of the size of national TV markets by Nielsen.
Unlike a lot of clickbait rankings articles out there — like Charlotte being #3 for wearing the most plaid — the national ranking of TV markets matters because it helps determine the flow of advertising dollars.
If Charlotte can crack the top 20 nationally, that will open up the spigots to more national ad money. That won't just benefit local TV stations but also spill over into other ad media including radio, billboards and buses. TV networks battle with more intensity for eyeballs in the top 20 markets.
An industry source tells the Ledger: "It would be a BIG deal in the industry to move up one spot to the top 20."
Charlotte is now at #21, ahead of Portland, Ore.; St. Louis, Pittsburgh and Indianapolis. Watch out #20 Sacramento — the Queen City is gunning for you.
---
Ballantyne gets deluxe apartments in the sky — with dog run and rooftop 'speakeasy'
The Ledger told you back in July that Ballantyne was adding tall developments — that was following the announcement of a 14-story office/hotel at Ballantyne Village.
But Ballantyne wasn't done movin' on up.
On Tuesday, developer Northwood Ravin said it's planning to build a 16-story luxury condo tower in Ballantyne that will be the tallest building in Charlotte outside of the center city.
The tower will be accompanied by a five-story building for a total of 212 luxury apartments. They'll be located on Ballantyne Corporate Place next to an 11-story office tower by Northwood Office that was announced in May. They're across from the Aloft hotel.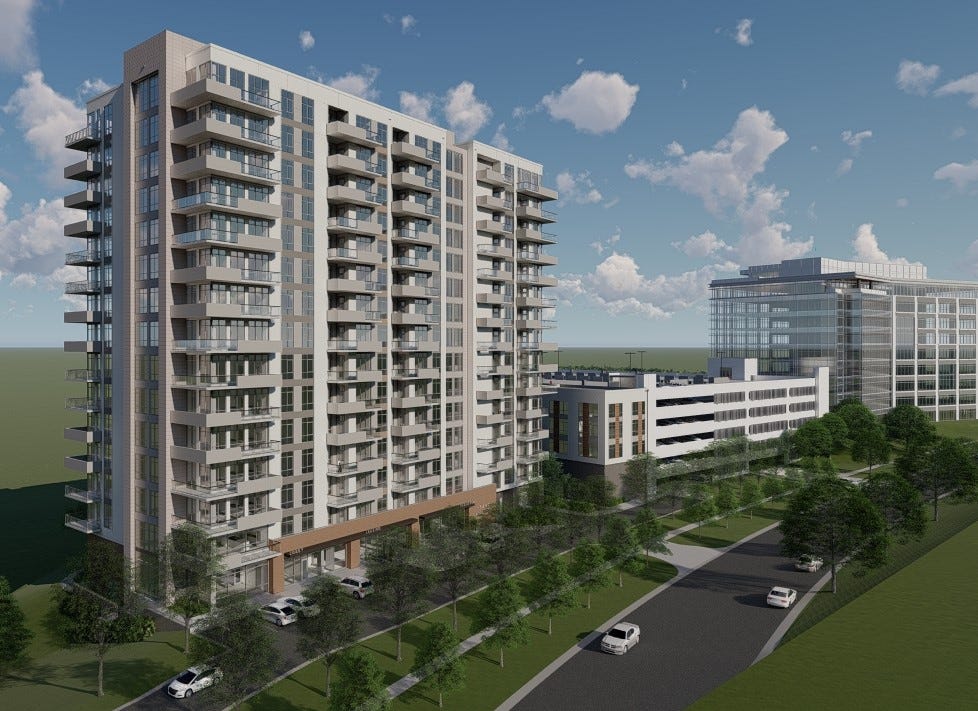 Movin' on up: Luxury apartments announced Tuesday will give Ballantyne residents high-rise living for the first time.
The 16-story tower will include:
a rooftop lounge on the 16th floor with full kitchen, private dining room, wine room and a "resident 'speakeasy.'"

a large dog run

a 1,700-square-foot saltwater pool with private cabanas

wine fridges in every apartment

a health club with fitness room, cardio room, indoor spa, sauna and steam rooms

an onsite concierge
The apartments will be one- to three-bedroom units ranging from 650 s.f. to 3,800 s.f. Rents will be between $1,200 and more than $4,000 per month.
Long thought of as a suburban location, Ballantyne is evolving into a more urban area, with higher-density developments and, unfortunately, more traffic.
---
Who will own Ballantyne's parks?
In related Ballantyne development news, the rezoning request for Northwood Office's "Ballantyne Reimagined" project is moving forward — but is there a dispute looming over its parks?
Northwood is proposing to rezone 454 acres to allow it to convert the golf course and other land behind the Ballantyne hotel into an urban town center development with restaurants, apartments, an amphitheater and plenty of green space.
But in a memo last week, the county's Park and Recreation Department requested that Northwood designate three sections of the development to become county-run neighborhood parks — one west of Johnson Road and two to the east. Neighborhood parks are two to 20 acres in size and have playgrounds, picnic shelters, trails and other outdoor features. "We are in need of more public open space in this portion of the county," according to a memo from a county planner to his counterpart with the city.
Northwood tells the Ledger it is committed to green space as part of the development but had not been planning to donate land to the county. In an emailed statement, a spokeswoman wrote:
We appreciate the strong interest from the Park and Recreation Department for additional park and green space. Current plans are to create more parks such that when done we will add 10 parks to the 13 parks we already have within the existing 535 acres. To maintain flexibility in future development, Northwood plans to continue to own all parklands and manage them. In doing so, we save county taxpayers the cost of maintaining any of the parks in Ballantyne.
---
Tabulating the cost of domestic violence
A new UNC Charlotte study says domestic violence costs about $50M annually in Mecklenburg County — a sum that includes lost work productivity, healthcare and court and police costs.
The report was sponsored by the Jamie Kimble Foundation for Courage and co-funded by a grant from the NFL Foundation. The Kimble Foundation was founded by former deputy city manager Ron Kimble and his wife, Jan. Their daughter, Jamie, was murdered by an ex-boyfriend in 2012 at the age of 31.
"The stunning cost of domestic violence to health care, law enforcement, courts, businesses and shelters should move us to realize it's in our best interests to do more, especially with our youth, before the next victim cries out for help," Kimble said in a release.
---
In brief
---
This week in podcasting
A round-up of interesting moments in recent local podcasts:
Local news with booze: In the debut podcast of Nooze Hounds, Queen City Nerve editor Ryan Pitkin explains the concept: "This is going to be local news, not-so-local booze. It's going to be a mix of the two." A few minutes later, a guest is describing her advocacy work on behalf of residents of the Lake Arbor Apartments, as there's a clinking sound of a drink being stirred loudly in the background: "… Jessica with Action NC, she was able to go in and listen to that first meeting, and it started from there, from just hearing the stories, hearing the frustrations, it was just, like, this is not right at all." Pitkin cuts in: "We should explain real quick that you're going to be hearing the mixing of cocktails. That's all a part of Nooze Hounds … We've got ginger Manhattans on the way!" (Nooze Hounds, Sept. 27, 59 minutes)

Zillow treasure: Host Jeremy Markovich explains that he found an interesting story by tooling around on Zillow : "I come across not just a house for sale but an entire island for sale. It's out on the North Carolina coast. We both agreed, like, well this is kind of crazy. There's got to be some kind of story here. Who sells an entire island with giant house on one end, and it just kind of shows up on Zillow? What's up with that? ' … You get out there and you find not only just the story of an island. You also find basically a love story on like three or four different levels." (Away Message, Sept. 30, 32 minutes)

Dog-casting at WFAE: In a panel on new N.C. alcohol laws at Divine Barrel Brewing in NoDa, host Mike Collins reviews some of the rules and points out: "The new laws were also a boon to cats and dogs. We have a couple of dogs in here tonight already, because they are now allowed to come to breweries. A hand for the dogs! [cheers] Yes!" (Charlotte Talks with Mike Collins, Oct. 1, 49 minutes)
---
Cheap getaways from CLT
Charlotte to Orlando, $57 round-trip on Frontier (nonstop), Oct. 26-28.

Charlotte to Denver, $119 round-trip on Frontier (nonstop), Nov. 2-4.

Charlotte to Newark, $70 round-trip on Spirit (nonstop), Nov. 7-10.

Charlotte to Baltimore, $70 round-trip on Spirit (nonstop), Nov. 7-10.

Charlotte to Paris, $483 round-trip on Delta (one-stop), Nov. 18-26.
Source: Google Flights. Fares retrieved Wednesday morning. They might have changed by the time you read this.
---
Programming notes:
Ledger editor Tony Mecia will be on "Charlotte Talks with Mike Collins" at 9 a.m. today on 90.7 WFAE. It's a business news round-up, and the other two panelists are Charlotte Agenda's Katie Peralta and the Charlotte Business Journal's Ashley Fahey. The program is also available as a podcast after the broadcast.

Mecia also appears weekly on Thursdays at 6:40 a.m. and 8:40 a.m. on 90.7 WFAE's weekly BizWorthy segment to discuss the week's local business news.
---
Need to sign up for this newsletter? Here you go:
Got a news tip? Think we missed something? Drop me a line at editor@cltledger.com and let me know.
Like what we are doing? Feel free to forward this along and to tell a friend.
The Charlotte Ledger is an e-newsletter and web site publishing timely, informative, and interesting local business news and analysis Mondays, Wednesdays, and Fridays, except holidays and as noted. We strive for fairness and accuracy and will correct all known errors. The content reflects the independent editorial judgment of The Charlotte Ledger. Any advertising, paid marketing, or sponsored content will be clearly labeled.
The Charlotte Ledger is published by Tony Mecia, an award-winning former Charlotte Observer business reporter and editor. He lives in Charlotte with his wife and three children.