Hiring an influencer is more complicated than you think
Plus: Companies restrict travel and promote cleanliness as coronavirus arrives in N.C.; Push for low-income housing in Ballantyne; South Charlotte nursery to become self-storage?
Good morning! Today is Wednesday, March 4, 2020. You're reading The Charlotte Ledger, an e-newsletter with local business-y news and insights for Charlotte, N.C.
Editor's note: We're reaching the end of the line: This is the final Wednesday Ledger you will be able to read … unless you join many others in signing up for a paid subscription. You'll be helping yourself gain a better understanding of Charlotte. And you'll be supporting an innovative new way of delivering local information and insight. If you value independent and informed journalism, written by people who really know Charlotte, now is your chance to lend a hand. We're building something new — and we want you to join us. The $99/year plan comes with two email addresses, and the $379/year plan comes with up to six email addresses. (We'll collect those addresses after you sign up.)
Years from now, you can tell your grandchildren, "I was a subscriber to The Ledger from day one." They'll be impressed.
---
Influencer marketing is growing. To understand the trend, I hired an Instagrammer. Here's how it went.
You've probably read a lot about influencers, the social media personalities who direct their legions of followers to new products in exchange for money or free goodies.
It's a growing business. Influencer marketing was expected to be a $6.5B industry in 2019, more than triple the size it was just three years earlier.
But if you're over the age of, oh, 35 or so, you might not really understand how that all works. Sure, you might see the social media posts. And you know businesses want to reach you. Yet it can be unclear how companies find and hire influencers to do their influencing.
To shed some light on this sometimes-murky process, The Ledger sought to hire an influencer or two in January. We were running our 40 Over 40 contest — and we were looking for ways to promote it. Why not tap into this growing segment of the advertising industry to see how it works … and if it's effective?
We enlisted the help of a pro, April Smith of Social Ape Marketing. She gave some pointers, suggested some places to start, and The Ledger — with a very little bit of cash to burn — went to work.
You would thinking hiring an influencer would be simple. You would be wrong: There are lots of options, you need lots of lead time, and finding the right influencer can be tough … especially if you're an e-newsletter running a contest for people born in the 1970s and earlier.
I can't report that the effort succeeded in drumming up more nominations for 40 Over 40. I can tell you that I learned a lot — but maybe that's not saying much coming from an infrequent Instagram user with just 89 followers.
It's a longer article than usual, and it has lots of screenshots and photos that reveal all the details of how I went about completing this fascinating task. For that reason, I'm creating it as a separate post, available here.
If you're not interested, you can at least behold the final result: A three-page post on an influencer's Instagram story that drew about 1,200 views: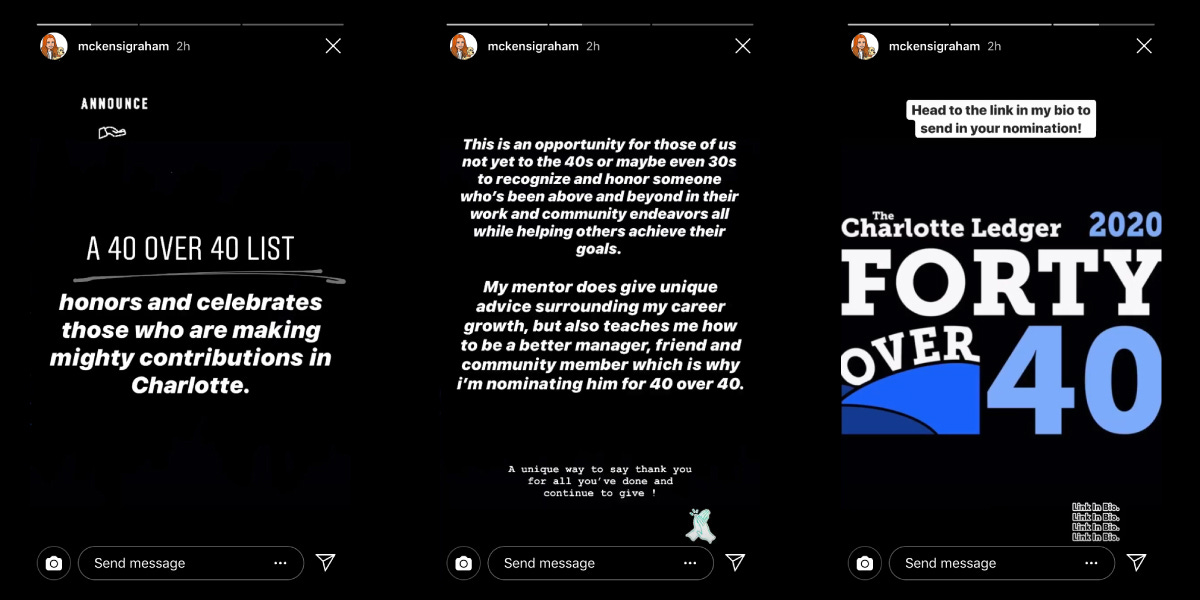 ---
Coronavirus: BofA reviews travel and meetings, pledges more 'deep cleanings,' memo says
Bank of America this week announced several measures aimed at combatting the spread of the coronavirus, according to a companywide email obtained by The Ledger.
The move comes as businesses try to come to grips with how to keep their workers safe as the virus spreads. The first case in North Carolina was confirmed on Tuesday, in Wake County.
The email said the bank is taking several steps, including:
"increasing the frequency of deep cleanings in our facilities"

limiting international travel to "essential only," with permission required by a member of the bank's management team or one of the team's direct reports

"reviewing major meetings and events"

working with employees who have recently traveled to affected areas or who might have otherwise been exposed, "including having them work from home" for 14 days.
With about 15,000 local workers, Bank of America is one of Charlotte's largest employers.
Lots of questions: A lot of local companies are just now starting to think through what the spread of the coronavirus locally might mean for their workplaces. It's a question with a lot of dimensions, including travel policies, workplace cleanliness, working from home and healthcare privacy.
Kenny Colbert, CEO of The Employers Association, which provides HR services to small businesses, says his phone has been ringing like crazy this week with employers asking just those sorts of questions.
He says he recommends not panicking but taking some commonsense steps such as making hand sanitizer widely available, encouraging hand-washing and eliminating handshakes and hugs in the office. (Eliminating office hugging might be wise anyway.)
"Forget the word 'coronavirus,'" Colbert says. "Treat it like you've got a bad cold epidemic running around your office, or you've got the regular old flu running around your office. What would you do in those situations?"
Don't be a hero: Employers should also encourage workers who are coughing or sneezing or are otherwise sick to stay home — just as they usually would.
"This is not the time to be a macho person and say, 'I've got to get to work. The company can't live without me," Colbert says.
Related Ledger articles:
---
Deadly virus sweeps through N.C.
In North Carolina, 115 people have died from the flu so far this season. It's the sixth of the last seven seasons in which flu deaths have topped 100. (Source: N.C. Department of Health and Human Services. * = season to date)
---
'Not enough': 2 council members push for more low-income housing in Ballantyne development
In the first public discussion of a developer's plan to redevelop a huge swath of the center of Ballantyne, City Council members on Monday sparred over how much affordable housing the development should have.
Northwood Office, which owns the Ballantyne Corporate Park and the Ballantyne hotel, is proposing to replace parts of the golf course with a mix of shops, 1,000 apartments, an amphitheater and parks in the first phase of a development it is calling "Ballantyne Reimagined."
On Monday, assistant city manager Tracy Dodson told the council that Northwood is upping the number of apartments available to renters making below the area's median income. Previously, Northwood had proposed that 8% of the units in the first phase be affordable, at 80% of the area's median income. Now, it would have 10% be affordable: 80 units available to those making 80% of the median income plus 20 units for those making 60% of the median income.
Called insufficient: But that still wasn't enough for a couple of council members, who found that proposal insufficient. The city has said it wants more affordable housing and would like it spread throughout the city.
"I applaud the affordable housing units, but it's just not enough, right?" said council member Malcolm Graham. "… A lot of service workers are going to be working out there, and they're going to need to find a place for them to live."
At-large council member Dimple Ajmera picked up on the theme, saying she was disappointed that the development doesn't include any apartments available to the city's poorest residents, those who earn 30% of the area's median income or below.
"That is a concern for me," she said. "I would like to see those numbers go up. … As a council, if affordable housing is our priority, we have to ask for more. This is not enough."
Ajmera had several exchanges on the topic with Ed Driggs, the city council member who represents Ballantyne. He said that pushing more affordable housing into the Ballantyne development is unrealistic and would make the economics of it unworkable. And he pointed out that the city is not using its money to build the apartments, but rather a private developer is — and that the city can't force developers to offer apartments at below-market rates: "What I worry about is this insistence that you must have room for more of these units."
Approval likely: Despite the concerns about the affordable housing component, the development seems likely to win approval of the rezoning and infrastructure improvements it is seeking from the council. City staff, who have been working with Northwood since before the development was even publicly announced last summer, seem to support the project.
So did Mayor Vi Lyles, who called Northwood "a great company and great organization"; and council member Tariq Bokhari, who called it a "very exciting project."
Public improvements: Officials said the development would add $1.5B to the tax base over 12 years. Northwood would also build 6.9 miles of 5-foot sidewalks, 6.4 miles of buffered bike lanes and 3.4 miles of walking trails and create four parks, more than 100 acres of open space and a public amphitheater. The city and county would also help finance the construction of some roads, as is common with large developments.
Some residents have expressed concerns about the effect on traffic and schools. But the proposal seems to lack the strong opposition that can sometimes doom or alter development proposals.
A public hearing is scheduled on March 16, with the council expected to vote in April. Work could start by September.
---
In brief
---
Like what you see? Sign up now for full Ledger access:
---
Programming note: Ledger editor Tony Mecia appears as a guest on 90.7 WFAE at 6:40 a.m. and 8:40 a.m. on Thursdays for a discussion of the week's local business news in the station's "BizWorthy" segment. Audio and transcripts are also available online.
---
February rezoning action
The following rezoning petitions were filed in February, according to city records (Note: starting next week, monthly rezoning round-ups will be available only to paying Ledger subscribers):
2020-031. The Creek Kids Zone. 3.11 acres at 721 W. Sugar Creek Road from INST(CD) to INST. From medical to childcare. Rezoning agent: Genesis Holding.
2020-032 Bridgewood Houston Property Co. 1.38 acres on 3 parcels at 727 E. Morehead St. (1,2,3) from MUDD-O to MUDD-O(SPA). "To allow redevelopment of the site with an age-restricted residential community."Up to 220 units, building up to 160 feet tall. Rezoning agent: Moore & Van Allen.
2020-033 Fifth Third Bank. 0.35 acres at 915 Providence Road from B-1 to MUDD-O. "Construction of a new freestanding bank branch facility for Fifth Third Bank." Single-story building, 2,400 s.f., one walk-up ATM. BDG Architects.
2020-034. Jefferson Apartment Group. 5.07 acres at 200 Wadsworth Place from I-2 to MUDD(CD)."Up to 375 residential dwelling units." Rezoning agent: Moore & Van Allen.
2020-035. CCP University. 49 acres at Neal Road and IBM Drive from R-4 to UR-2(CD). "to accommodate a single-family (attached) townhome development."Up to 290 units. Rezoning agent: Alexander Ricks.
2020-036 Charlotte Planning. 0.56 acres at Pecan and Central avenues (portion of this parcel) from NA to B-2(PED). Zoning of unzoned land.
2020-037 Renee Pride-Dunlap. 49.3 acres in Oaklawn Park at Russell Avenue from R-5 to R-5(HDO). "to establish local historic district (HDO) for the Oaklawn Park Community"
2020-038. Clover Group Inc. 9.96 acres at 14821 Steele Creek Road from R-3 to R-12MF(CD). "Develop/Construct/operate a 119 unit, 3 story senior independent age restricted living community"
2020-039. Hinshaw Properties. 0.44 acres at 2711 Firefighter Place from R-22(MF) to UR-2(CD)."townhome development"
2020-040. Alenky Signature Homes. 0.4 acres at 3441 Commonwealth Ave. from R-4 to R-6 "to allow subdivision of parcel."
2020-041. Bucci Development Co. 1.12 acres at 500 Providence Road from B-1 to O-2. "To allow use or uses in the O-2 zoning district"
2020-042 Boulevard Real Estate Advisors. 0.24 acres at 3700 Ellenwood Place from R-5 to TOD-TR. Rezoning agent: Robinson Bradshaw.
2020-043. Fourstore LLC. 2.9 acres at 4245 Rea Road from B-1(CD) to MUDD-O. "lifestyle self-storage development with heightened architectural standards." Up to 100,000 s.f. of indoor storage, maximum four stories high.
2020-044. Text amendment to the TOD zoning ordinance. For a copy of the proposal, head to the Ledger's supplemental website, here.
2020-045. Andrew Klenk. 0.5 acres on East Sugar Creek Road from B-2 and R-5 to UR-1(CD). "To accommodate 3 single family residences."
---
Need to sign up for this e-newsletter? Here you go:
Got a news tip? Think we missed something? Drop me a line at editor@cltledger.com and let me know.
Like what we are doing? Feel free to forward this along and to tell a friend.
Searchable archives available at https://charlotteledger.substack.com/archive.
On Twitter: @cltledger
Sponsorship information: email editor@cltledger.com.
The Charlotte Ledger is an e-newsletter and web site publishing timely, informative, and interesting local business news and analysis Mondays, Wednesdays, and Fridays, except holidays and as noted. We strive for fairness and accuracy and will correct all known errors. The content reflects the independent editorial judgment of The Charlotte Ledger. Any advertising, paid marketing, or sponsored content will be clearly labeled.
The Charlotte Ledger is published by Tony Mecia, an award-winning former Charlotte Observer business reporter and editor. He lives in Charlotte with his wife and three children.