Discover more from The Charlotte Ledger
Delivering smart and essential news to Charlotte, one email at a time.
Over 20,000 subscribers
How Charlotte's commutes are changing
Is traffic getting worse? Not so fast, new data says
You're reading Transit Time, a weekly newsletter for Charlotte people who leave the house. Cars, buses, light rail, bikes, scooters … if you use it to get around the city, we write about it. Transit Time is produced in partnership between The Charlotte Ledger and WFAE.
---
The pandemic changed a lot of things, including how we get to work, new data shows; shorter drives, later departures and a big surge in working from home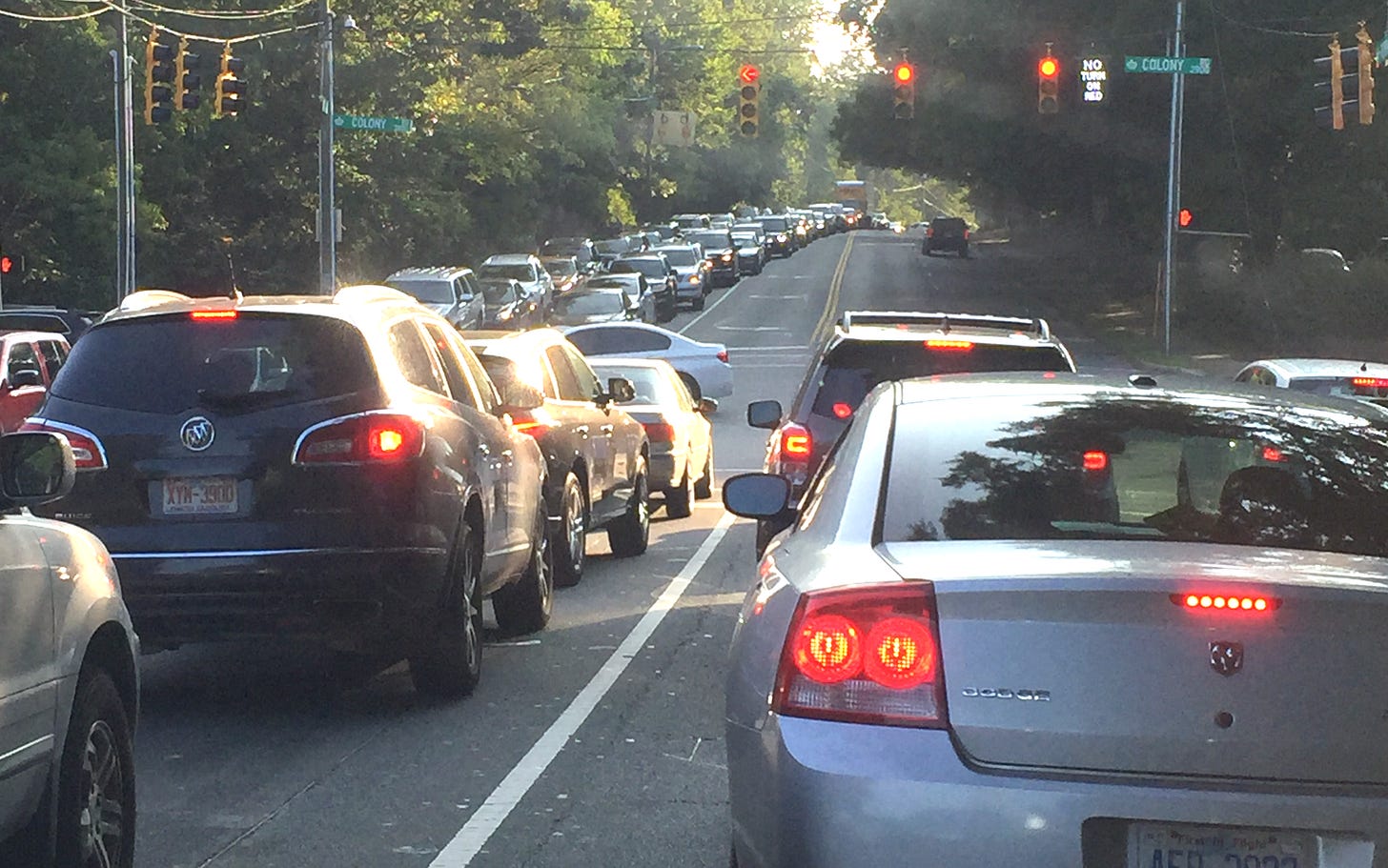 by Tony Mecia
Imagine it's 2019 and you're driving to work on one of Charlotte's infamously congested corridors, like I-77, Independence Boulevard or Providence Road.
Now it's 2023, and the restrictions of the Covid pandemic are solidly in the rearview mirror.
How has that commute changed?
According to recently released census data, quite a bit. Since the start of the pandemic, much of our lives have returned to normal. But there are still plenty of lingering effects on the way we get to work, the data shows.
Commutes are quicker. They're starting later. And perhaps the biggest change is that many of us no longer go to work at all, as the number of people in Charlotte who are working from home has tripled since 2019.
Here's a closer look at some of the commuting trends from census data:
1. Many people still aren't commuting at all
For many years, Charlotte has had an above-average number of people working from home. With two interstates, a major hub airport, reasonable weather most of the time and a low cost of living compared with other cities, Charlotte has seemed to attract people who can work from anywhere.
In 2019, 10.4% of Mecklenburg County workers said they worked from home. That ballooned to 34.4% in 2021 and dropped a little to 30.3% last year. That's still nearly one-third of workers in Mecklenburg indicating they're not going anywhere to get to their jobs. (The question asked "How did this person usually get to work last week," which means the percentage should include people on a hybrid schedule who go to an office or other out-of-home workspace less than half the time.)
The work-from-home figure for Mecklenburg is about double the national average of 15.2%. It's also higher than the percentages of work-from-home workers in surrounding counties, which are at levels double or triple what they were in 2019.
National numbers show that the people most likely to work from home are high-income earners in white-collar jobs. Nearly 40% of workers in the finance, insurance and real estate industries worked from home in 2021, the Census Bureau has said.
2. Our commutes are shorter
Everyone loves to complain about traffic constantly getting worse. But the data show that since Covid, it has actually improved.
Sure, if you're sitting in traffic, you're still probably annoyed. But statistically, you're not annoyed for quite as long.
In 2019, the average worker in Mecklenburg reported a commute to work of 26.7 minutes. In 2022, that average commute dropped to 24.4 minutes. That's about a 9% drop in average commuting time — probably because there are fewer people on the roads, because so many more people are working from home. (The average commute numbers are of people who leave the house for work.)
The average commute time also dropped for most big surrounding counties, too — Union, Cabarrus and York, S.C. The average commute time in Gaston increased.
The number of long commutes has also dropped — commutes of 30+ minutes and 60+ minutes are down. The number of Mecklenburg workers saying they work outside Mecklenburg is also down. In some of the bigger surrounding counties — Union, Cabarrus, Gaston and York — more workers also say they are working inside their home counties than they did in 2019.
Forbes last month ranked Charlotte as the No. 2 city in the county "with the hardest commute," ahead of New York, Washington and Los Angeles, a ridiculous claim given the data and an ordinary understanding of what constitutes a tough commute.
3. We're leaving later for work
See if this aligns with your experience on the roads in the mornings: Fewer people are leaving early for work.
This isn't a huge trend, but if you look at the numbers of when Mecklenburg workers say they leave for work, there's a shift toward the 8:00 hour (8:00 to 8:59) and away from the 6:30 to 8:00 timeframe.
When Covid hit and government leaders ordered people to stay home, traffic plunged by about 50% in late March and early April 2020, according to figures from Inrix, which tracks mobile phone data. It bounced back to about 90% of normal by July 2020 and virtually to normal by March of 2021. Although the volume of traffic was the same, the morning and afternoon rush hours weren't as severe, city transportation officials said at the time — the traffic was more spread out throughout the day. That trend seems to have continued, the census data shows.
The shift is small but statistically significant. It could be that the prevalence of flexible work arrangements also extends to being allowed to show up at work later. Or it could be that shorter commutes mean that you don't have to leave quite as early.
4. Non-driving commutes declined, too
Traditionally in Mecklenburg County, more than 80% of commutes take place in cars or trucks.
With many more people working from home, autos have come off the road. People's trips by public transit and walking are also down, according to census figures.
In 2019, public transportation accounted for 2.9% of all Mecklenburg commutes. In 2022, it accounted for half that — 1.4%. That helps explain why rides on the Charlotte Area Transit System are still not back to pre-Covid levels. Other factors, such as CATS' infamous recent problems with reliability, could also be contributing to those levels.
Walking to work accounted for 2% of commutes in 2019. Last year, it was 1.6%.
If you're looking for an upside, biking to work went from 0.1% in 2019 to 0.2% last year. Unfortunately, the walking and biking numbers are so small that they are close to being within the survey's margin of error, so we probably shouldn't get too excited about the reported doubling of bike commuters.
Last year, the city of Charlotte set a goal that by 2040, it hopes to have what it calls a "50/50 mode share," or have only 50% of commutes be people driving alone to work.
Ironically, though the data wasn't available at the time, Charlotte nearly achieved that goal about 20 years early: In 2021, the data shows, just 55.8% of commuters drove to work alone, down from 75.2% in 2019. That's because the census counts working from home as a commuting option. The number of people driving alone to work crept back up to 58.5% last year.
—
A lot of our lives have returned to pre-Covid ways — but work patterns are still feeling the lingering effects. A lot of people like the flexibility of hybrid work arrangements or remote work. Those effects are certainly being felt in the office market, with big vacancies in uptown office towers, similar to other cities, and the grinding to a halt of almost all new office construction.
Charlotte residents have long worried that with our growth, we're on our way to becoming the next Atlanta. Covid set back that trend — but for how long?
Tony Mecia is executive editor of The Charlotte Ledger.
📊 See for yourself: You can explore local data on commuting and other topics at the Census Bureau's website.
➡️ Let us know: How has your commute changed, if at all? Are you noticing any differences from a few years ago? What are you seeing out there? Let us know in the comments or with an email. We might include some responses in a future edition of Transit Time.
---
Transit Time is a production of The Charlotte Ledger and WFAE. You can adjust your newsletter preferences on the 'My Account' page.
Did somebody forward you this newsletter and you need to sign up? You can do that here:
Other affiliated Charlotte newsletters and podcasts that might interest you: