Pineville has a secret DMV + other time-saving hacks
Plus: 7 acres under contract in NoDa; Carowinds owner contemplates sale to Six Flags; Bojangles' says no to Thanksgiving turkeys
Good morning! Today is Friday, October 4, 2019.
Need to subscribe? Sign up for free here (charlotteledger.substack.com).
Like what you see? Forward to a friend or share on social media.
---
Going to the DMV doesn't have to crush your soul: Make an appointment, and know when and where to go
by Michelle Crouch
I didn't have a DMV horror story until last week, when I took my 16-year-old daughter Stella to get her driver's license. I thought I had done everything right — made an appointment weeks in advance, arrived early and made sure we had all the correct documents.
But the DMV employee didn't like the way my daughter had recorded some of her driving time, so he sent us to the waiting area to redo her driving log. It took almost an hour.
When we gave the employee the new log, he took a minute to look it over. Then he said, "Sorry, we don't do road tests past 4 p.m."
It was 4:01.
Stella, frustrated, burst into tears. But the employee wouldn't budge.
That's how we ended up waiting in line for three hours at the DMV on Arrowood Road on a Saturday morning.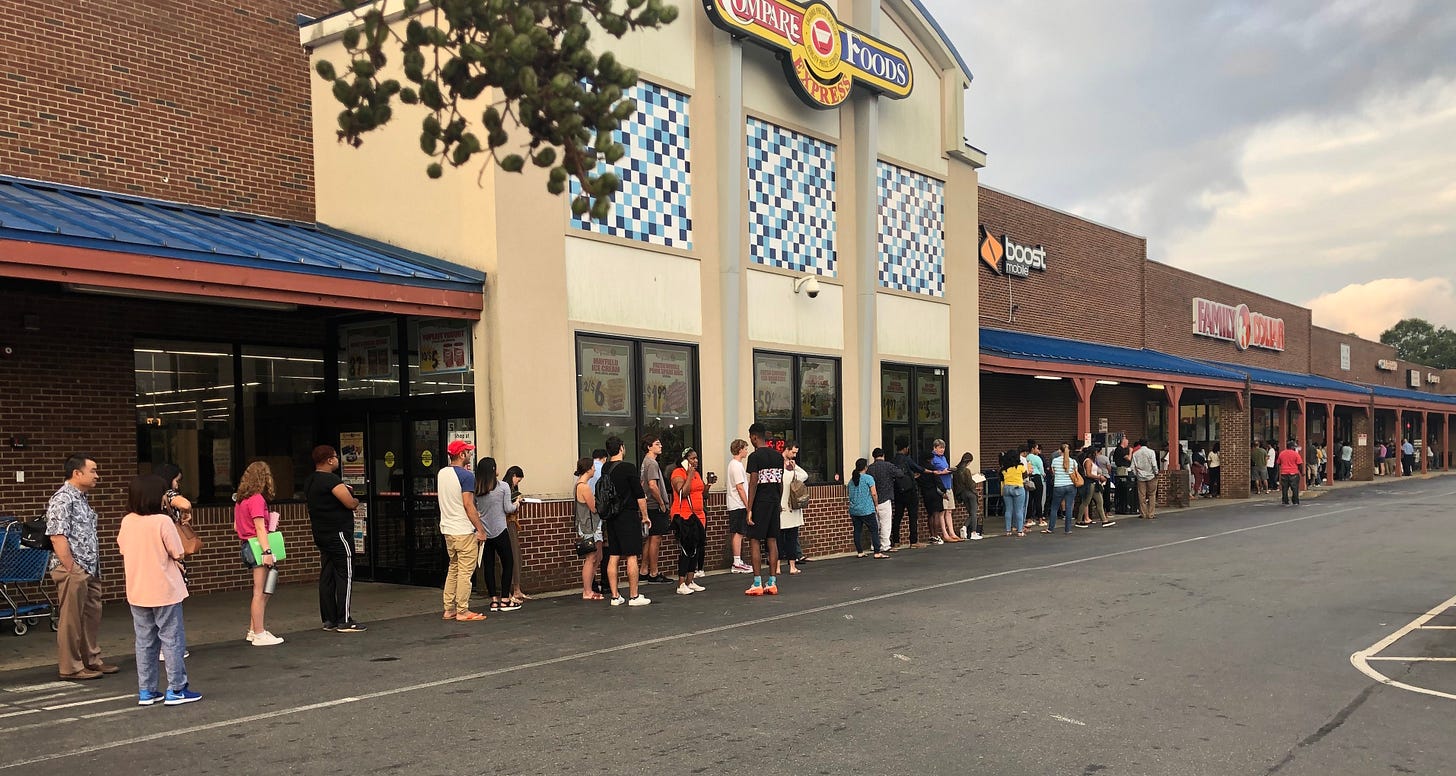 You make the call: Dante's ninth circle of hell, or the Arrowood Road DMV on a Saturday morning?
Wait time data: To spare Ledger readers the same fate, we requested data on wait times so we could find out which locations have the shortest waits. But the DMV tracks only the time spent waiting after you check in — and waiting to check in can be the big hold-up: At the Arrowood DMV last week, we waited outside the office for almost three hours before we checked in and then about 40 minutes once we got inside. 
After checking in, here were the average wait times on a recent week at Charlotte-area DMVs: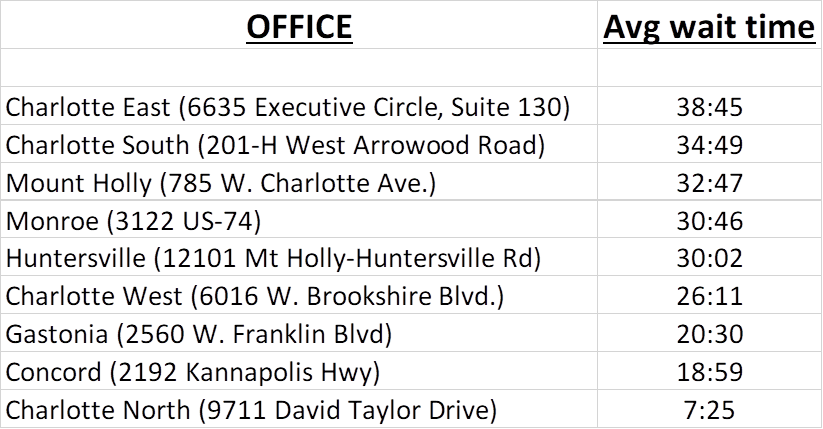 The data does offer some guidance on the best time and days to go to the DMV. We used that data, talked to DMV employees and crowd-sourced friends to compile these tips to help you get through the DMV with your sanity intact.
Important: Do whatever it takes to get an appointment…
An appointment means you can walk past all those folks sweating it out in line to check-in and go right up to the desk. It's a nice feeling, like having TSA PreCheck or using a FastPass at Disney. To get an appointment, call the state office at 919-715-7000 (after you hear "main menu," press 1, then 1). You may get a busy signal or get stuck on hold, and the first open spot will probably be weeks away. Trust me, it's worth the extra hassle. Use these tricks to get a reservation:
If you have to walk in without an appointment…
Michelle Crouch is a freelance journalist in Charlotte who covers health, personal finance and parenting. Her work has appeared in a variety of local and national publications, including Reader's Digest, Real Simple, Prevention and AARP.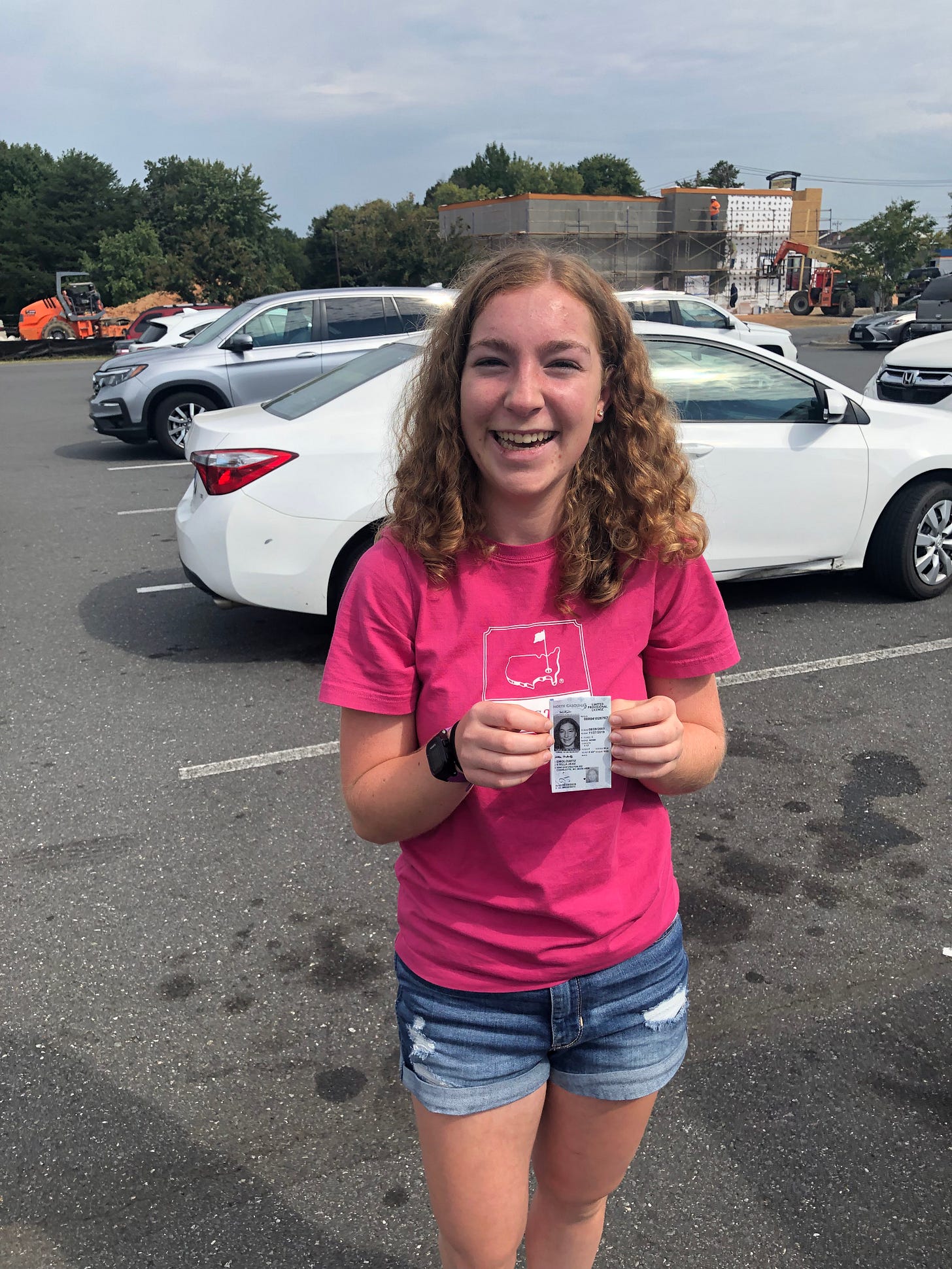 SUCCESS: The author's daughter Stella finally got her license after waiting for almost four hours.
---
Something big planned at ice plant near center of NoDa
Last month, we brought you the news of a potential redevelopment in the heart of Plaza-Midwood. Today, there's news of more big redevelopment plans near the heart of another close-in Charlotte neighborhood: NoDa.
Grubb Properties confirmed to the Ledger on Thursday that it is under contract on a 6.8-acre site on 36th Street just north of the light rail line that now contains the Herrin Brothers Ice building and open space. That's a prime spot just a couple blocks away from what's considered NoDa's main intersection, 36th and North Davidson streets.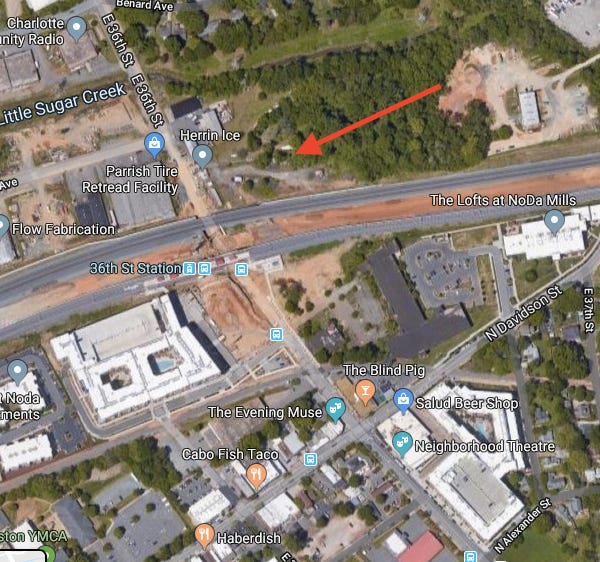 Grubb wouldn't give more details on what it's doing with the land. "We are looking forward to working with the city and the community to become part of the exciting NoDa neighborhood," said Frank Tetel, vice president of acquisitions and dispositions, in a statement to the Ledger. The news was first reported late Thursday afternoon by the Twitter account @CLT Development.
The parcel is zoned I-1, or general industrial use. But by the end of the year, the city is planning to rezone about 1,900 parcels along the light-rail line — including this one — with a new designation that allows developers flexibility for projects in transit corridors. The new zoning for this parcel would be TOD-NC, which allows construction of buildings up to 100 feet tall.
Opportunity for development: The development of this land in NoDa is probably made possible because it is inside a federal opportunity zone, a census tract that has been designated high-poverty and is eligible to postpone and reduce the taxes of investors who spend money on real estate projects there.
Grubb has been active in opportunity zone investments in recent months. This spring, Grubb announced a project on Franklin Street in Chapel Hill that qualifies for favorable tax treatment — even though almost nobody thinks of Chapel Hill as a blighted area (except, perhaps, for Duke and N.C. State fans).
Ice, ice: A 2014 Charlotte magazine profile of Herrin Brothers Ice says it is a fourth-generation family business originally named "Herrin Bros. Coal & Ice." It got out of the coal business decades ago and "mostly supply bags of ice for special events, convenience stores, and supermarkets, although they also still sell to individual customers."
The article continues:
When the bulldozers finish their work and a new light rail stop for the Lynx Blue Line Extension rises across the street, Herrin Brothers Ice Company will still be here. [The owner] hopes passengers will step off the train and pick up a bag of ice. 
---
Plan to buy Carowinds' parent company 'makes almost no sense'
Reuters was out with a story this week that Carowinds' parent company, Cedar Fair, is entertaining a buyout offer from Six Flags.
But the supposed offer is getting a thumbs down from some customers and analysts. Roller coaster enthusiasts tend to like Cedar Fair because its parks have distinctive character and different kinds of rides. Six Flags is a little more of a cookie-cutter operation.
Wells Fargo analysts panned the idea. So did the editor of Theme Park Insider, who said it "makes almost no sense, not from a business standpoint and absolutely not from a customer's one." That's because he figures Six Flags would spend so much to buy Cedar Fair that it would have little money to reinvest in the parks to build awesome new roller coasters.
---
In brief
---
Food and booze news
A weekly wrap-up of the week's eating and drinking developments
---
Need to sign up for the e-newsletter? Do it here:
Got a news tip? Think we missed something? Drop me a line at editor@cltledger.com and let me know.
Like what we are doing? Feel free to forward this along and to tell a friend.
The Charlotte Ledger is an e-newsletter and web site publishing timely, informative, and interesting local business news and analysis Mondays, Wednesdays, and Fridays, except holidays and as noted. We strive for fairness and accuracy and will correct all known errors. The content reflects the independent editorial judgment of The Charlotte Ledger. Any advertising, paid marketing, or sponsored content will be clearly labeled.
The Charlotte Ledger is published by Tony Mecia, an award-winning former Charlotte Observer business reporter and editor. He lives in Charlotte with his wife and three children.