Discover more from The Charlotte Ledger
Delivering smart and essential news to Charlotte, one email at a time.
Over 19,000 subscribers
Podcasts take off — but profits remain elusive
Plus: SouthPark development photo montage; November's rezoning filings include new hotels and apartments; Steph Curry producing Fox NBA comedy set in Charlotte
Good morning! Today is Monday, December 2, 2019.
Need to subscribe? Sign up for free here (charlotteledger.substack.com). Like what you see? Forward to a friend.
People in Charlotte are launching podcasts on everything from comedy to sports to heating equipment. Talking is the easy part.
On the Wednesday before Thanksgiving, Kevin Warren walked into the podcasting studio at Hygge Coworking off Wilkinson Boulevard. For the last year, he and his buddies have been recording and releasing the "Sports Chasers Podcast," which they bill as a "no hot takes, no nonsense" discussion of sports.
The group lives all over the East Coast, but when they are together, like they were last week, they want a studio where they can record Sports Chasers in person. After a 15-minute training session from a Hygge employee on how to use the mics and sound board, Warren and his fellow podcasters started recording the latest episode of Sports Chasers, opening with a discussion of why the Baltimore Ravens are so dominant.
"We are very passionate about sports," Warren says in an interview. "We just want to give it a different spin, a different look."
The Hygge studio is one of a few spots in Charlotte that is attracting the growing numbers of amateur podcasters like Warren who have something to say and who hope that people will listen. Local podcasts delve into all kinds of topics, including beer, charitable work, soccer, comedy, literature, real estate and dining. Producing a podcast can cost next to nothing: the Hygge studio rents for $15 an hour, and other expenses can be as little as a few dollars a month.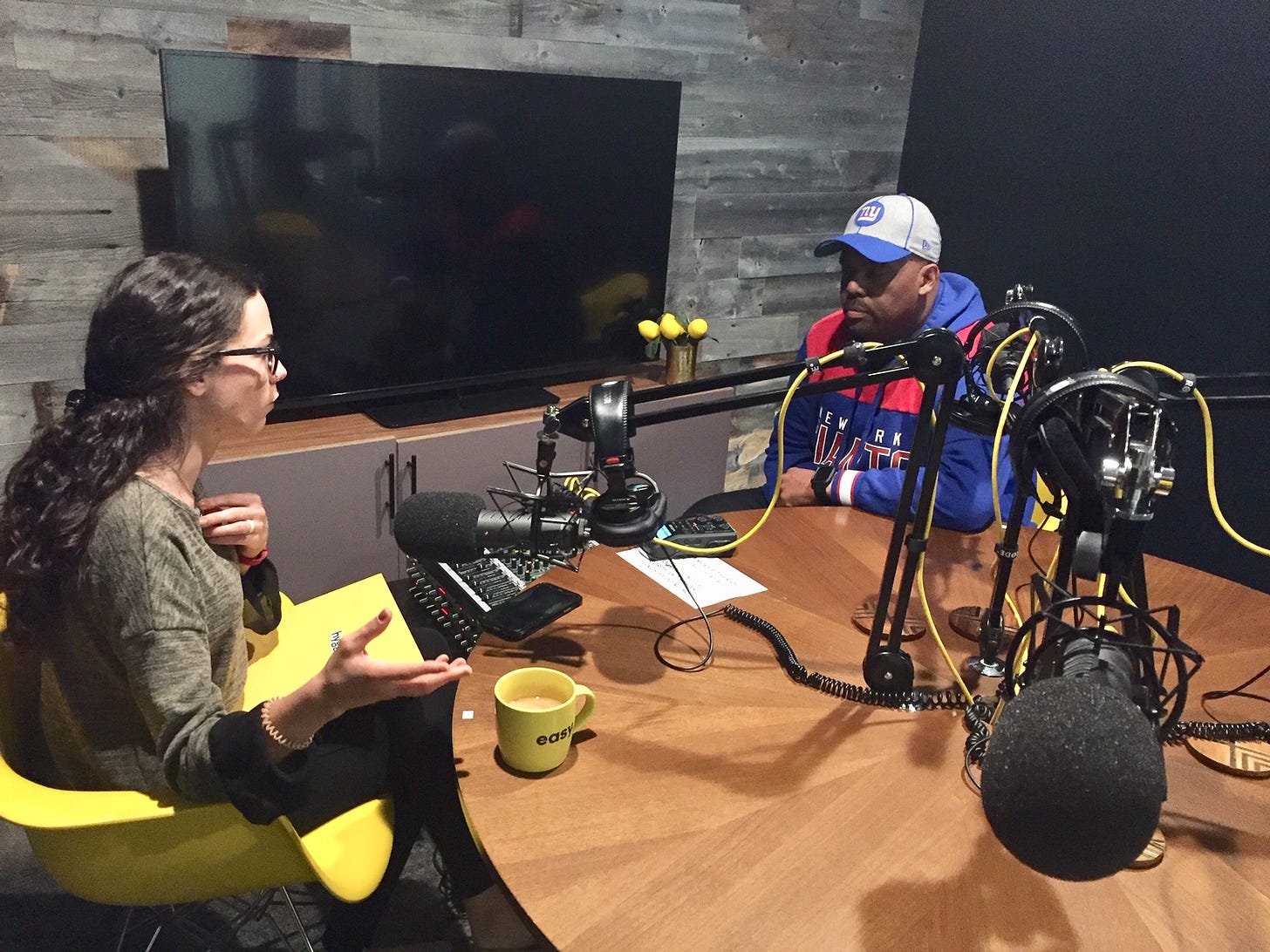 Alyssa Pressler (left), Hygge's community manager, explains the rules of using the podcasting studio to Kevin Warren, host of the "Sports Chasers Podcast." Food and even alcohol are OK, she says, but clean up after you're finished: "Someone stashed leftover takeout behind the chair a few days ago." (Photo by Julia Murray of Julia Fay Photography.)
Podcast explosion: Nationally, there are believed to be at least 750,000 podcasts, an increase of about 200,000 shows in the last year. Numbers for Charlotte are hard to come by. Hygge says it has 282 active podcasters in its reservations system, though most release episodes on irregular schedules. Dozens more are recorded at Advent Coworking in Plaza-Midwood. And add in people who have their own equipment and those produced by local companies, radio stations and other media, and the total of active local podcasts is probably at least in the mid-hundreds.
Almost nobody locally is making money off podcasting. Industry experts say podcasting is still in its infancy and that advertisers don't entirely understand the platform. Many of the local people who have launched podcasts say they're just doing what they love. For others, it's a natural outgrowth of their businesses. Some, though, say they hope their hobbies turn into money-makers.
With so many podcasts, it can be hard to stand out. The number of listeners on average is small. An industry executive has said the median number of downloads in the first 30-60 days of an episode's release is 160. Many local podcasters spread the word on social media, and they say their audiences are loyal and growing.
A few examples of local podcasters:
Claude Whitfield started the "WithOut No DJ Podcast" three months ago, an extension of the DJ academy he runs, With These Handz DJ Academy in Camp North End. "My motivation in getting it started was to be able to provide an opportunity for people to get up close and personal with these DJs that they may not ever get in touch with or hear their stories," he says. He also puts the conversations on YouTube and is working on marketing.

About a year ago, Faith Showler and Scott Hager started a podcast for employees of the HVAC division of Ferguson, a distributor of plumbing, heating and industrial building products. They reach about 700 listeners across the company. "It's anything you might get in a company email newsletter or intranet, except we have made it conversational," Hager says. "Did you know it was possible to have an engaging three-part series on a thermostat?" Sometimes, they prank call company executives.

In April, Baneshia Wyatt and Tonia Blackwood started "Arise and Shine — Stories of Triumph," a podcast dedicated to sharing the stories of everyday heroes. "We want to bring something not just to a podcast but to someone's life that is going to enhance it and encourage them," Wyatt says. "The testimonies we have gotten back have blown us away. People are starting businesses, writing books, building a relationship with God from people who previously weren't attending church. It has exceeded our expectations." They announce new episodes on social media and also broadcast the podcast on Facebook Live.
Alyssa Pressler, who helps run the podcast studio at Hygge, says the toughest part for podcasters is spreading the word: "If you don't put the work into marketing your podcast — getting it out into the world, encourage people to leave reviews and share with their friends — it's not going to grow on its own."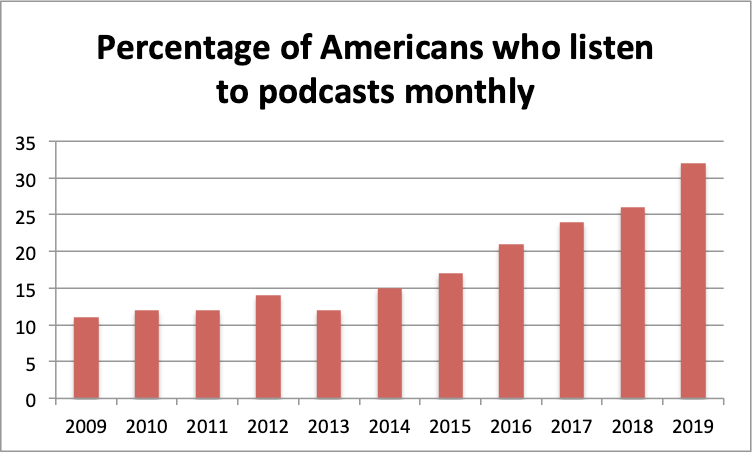 Hot pod: 32% of Americans say they listen to podcasts at least monthly, triple the share of 10 years ago. (Source:
Edison Research
)
Go deeper: Analysis from a local podcasting expert
For insight on local podcasting, the Ledger talked with Brian Baltosiewich, founder and executive director of the Queen City Podcast Network, a consortium of a couple dozen local podcasts including The Charlotte Podcast, The Charlotte Newsmakers Podcast and the Yelp Charlotte Podcast. He's speaking at an all-day "podcast basics" class this Saturday, Dec. 7, in conjunction with Advent Coworking — details on that here.
Why podcasting is taking off: "It's easier now than it ever has been before. You don't have to make a huge investment to get involved in podcasting. It just doesn't cost that much. If you have something to say and get some traction with an audience, it's a new way to get your voice heard."
On finding a focus: "You have to have something to say. You can't just yammer on for 30 minutes. You've got to have a take — the thing that you're passionate about that other people may be passionate about as well."
On self-awareness: "Everybody thinks they are hilarious and that everybody wants to hear what they have to say. But the reality is you might not be."
On the hard part: "Producing the podcast is the fun part. Everything that comes afterward can be draining — the relentless self-promotion, educating people of what a podcast is and how they can listen — all of that stuff is really the hard part. Everybody wants to put on a show, but few people want to do the heavy lifting that comes afterward."
On podcasts for businesses: "A business can use a podcast to expose their brand to move product. If you're a small business and you get 150 or 200 people to listen to your message every week or two weeks, every small business in Charlotte should want that. They should want 150 or 200 or 250 invested listeners."
On making money: "A lot of people get into it thinking they're going to make money. Podcasting isn't quite there yet. … The content has to come from a pure place. If your motivation is to make money, you're going to struggle."
On the challenge of attracting advertisers: "They want to know specifically who is listening and their ages, and that's really hard to pin down without doing some survey. … We can tell you how many people are listening in Charlotte or in North Carolina. What we can't really tell you just yet is who they are and how old they are and what their spending habits are."
Is anybody making money on podcasts in Charlotte? "It's still early. 'The Black Guy Who Tips' podcast has found some success. It's a married couple. They produce a ton of content. Videos every day, movie reviews. In their case, the lesson is, to be successful, you have to produce a constant flow of fresh content.  … [Former WBT morning host] Stacey Simms has one called 'Diabetes Connections.' She has found a real specific audience. She has gotten some recognition and speaks at conferences and does podcasts with experts. The lesson there is you can find success with a very, very specific audience."
---
Scenes from a changing SouthPark
Change is afoot in SouthPark, with several developments poised to start and one nearing completion.
Colony Apartments ghost town: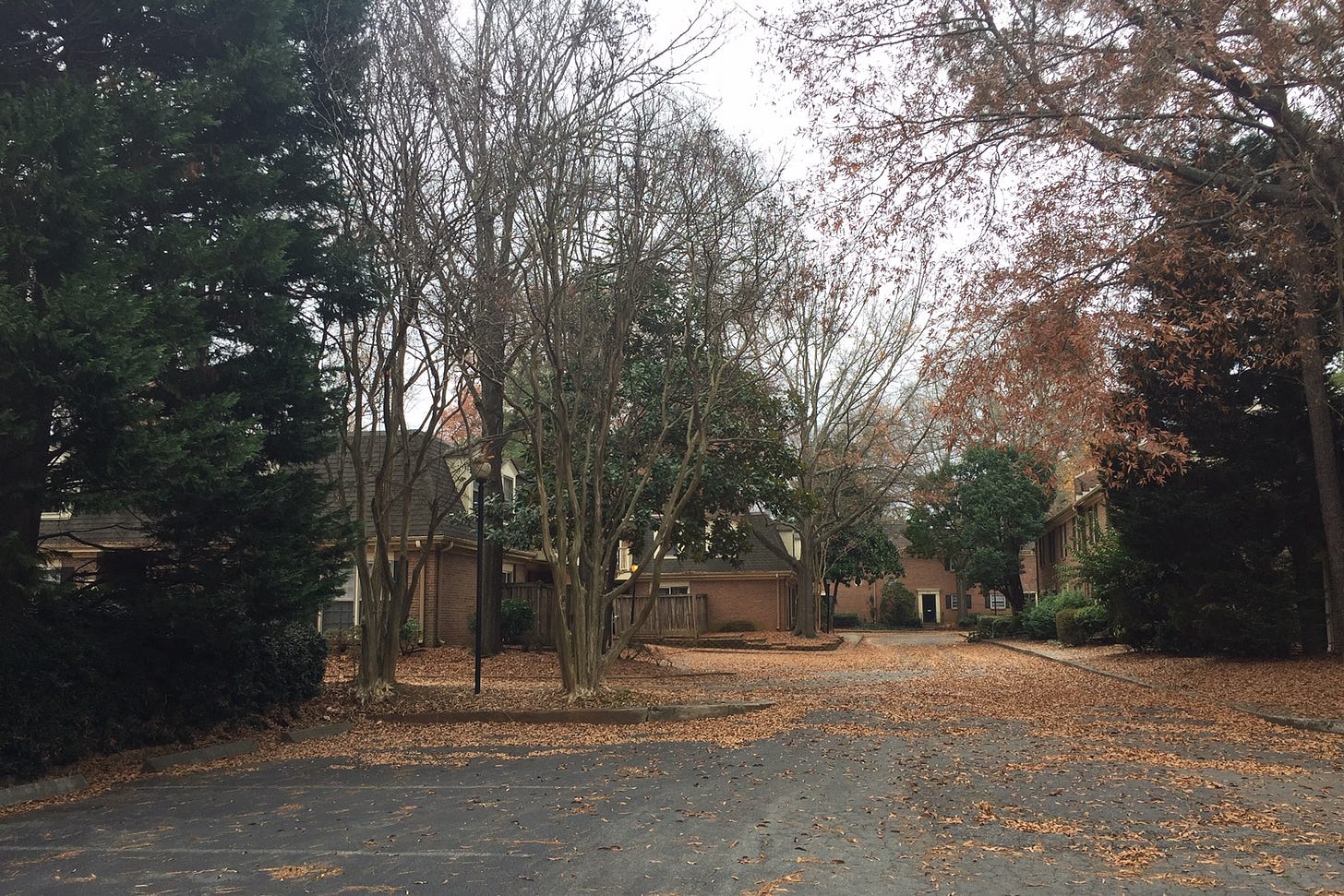 The Colony apartments are now vacant, with
demolition expected to start
by the beginning of the year. In their place will be a mixed-use development on 27 acres with 340 apartments and 280,000 s.f. of retail space that includes a Publix, a fitness center and perhaps a movie theater.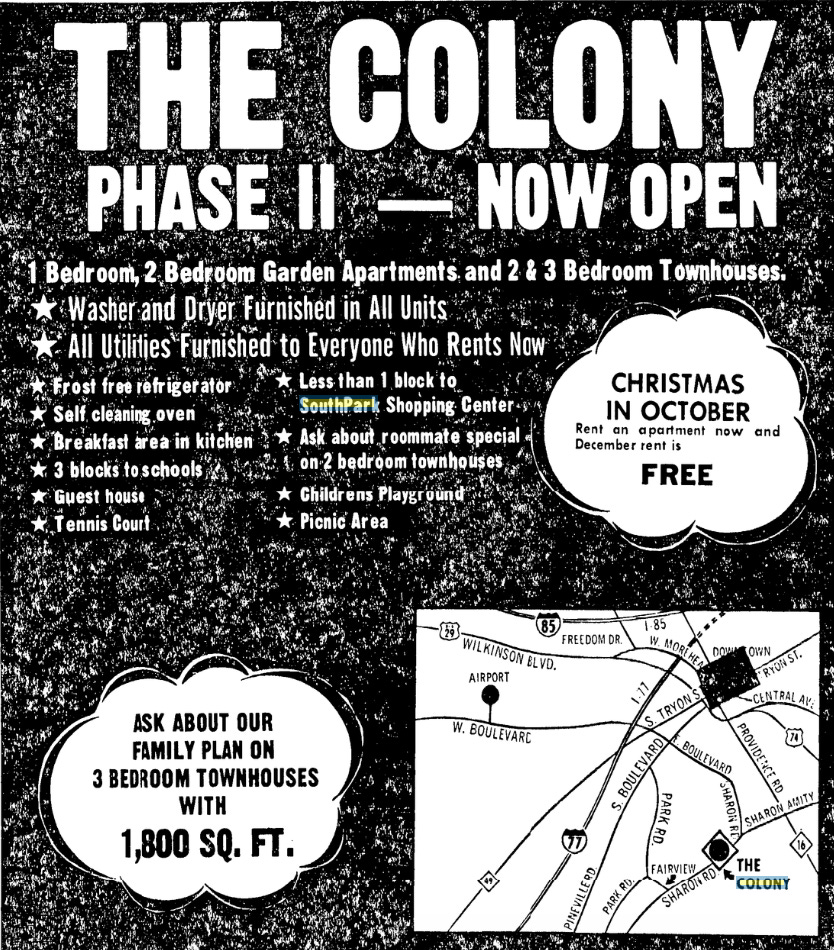 This newspaper ad from October 1973 shows that the Colony apartments came with amenities including "washer and dryer," "self cleaning oven," "frost free refrigerator" and "breakfast area in kitchen."
First rooftop bar almost ready to go: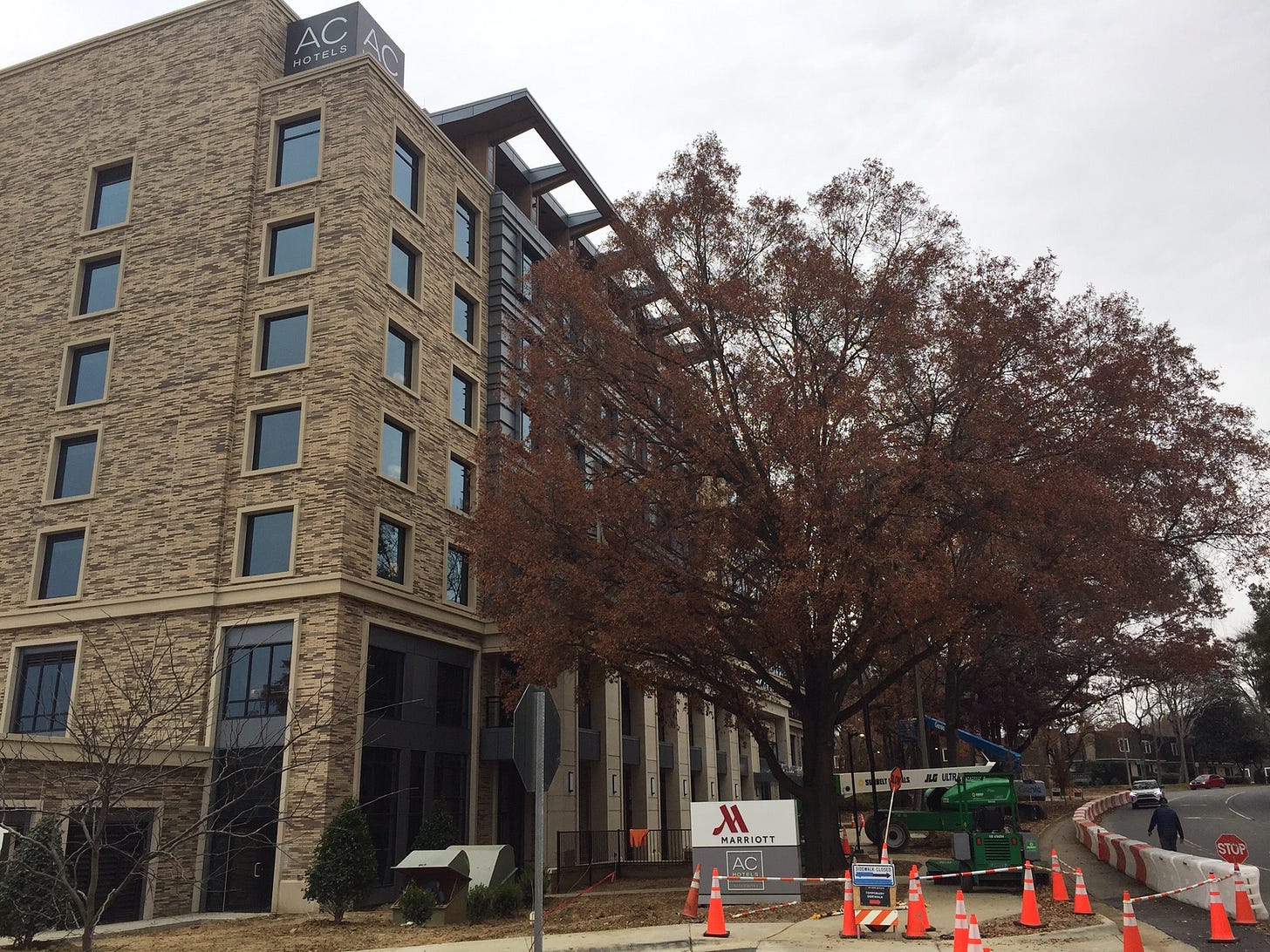 Just down the street on Roxborough Road, beside the Specialty Shops, the AC Hotel by Marriott is almost finished. It will have
SouthPark's first rooftop bar
on the eighth floor, expected to open in early 2020.
Symphony Park ready for revamp: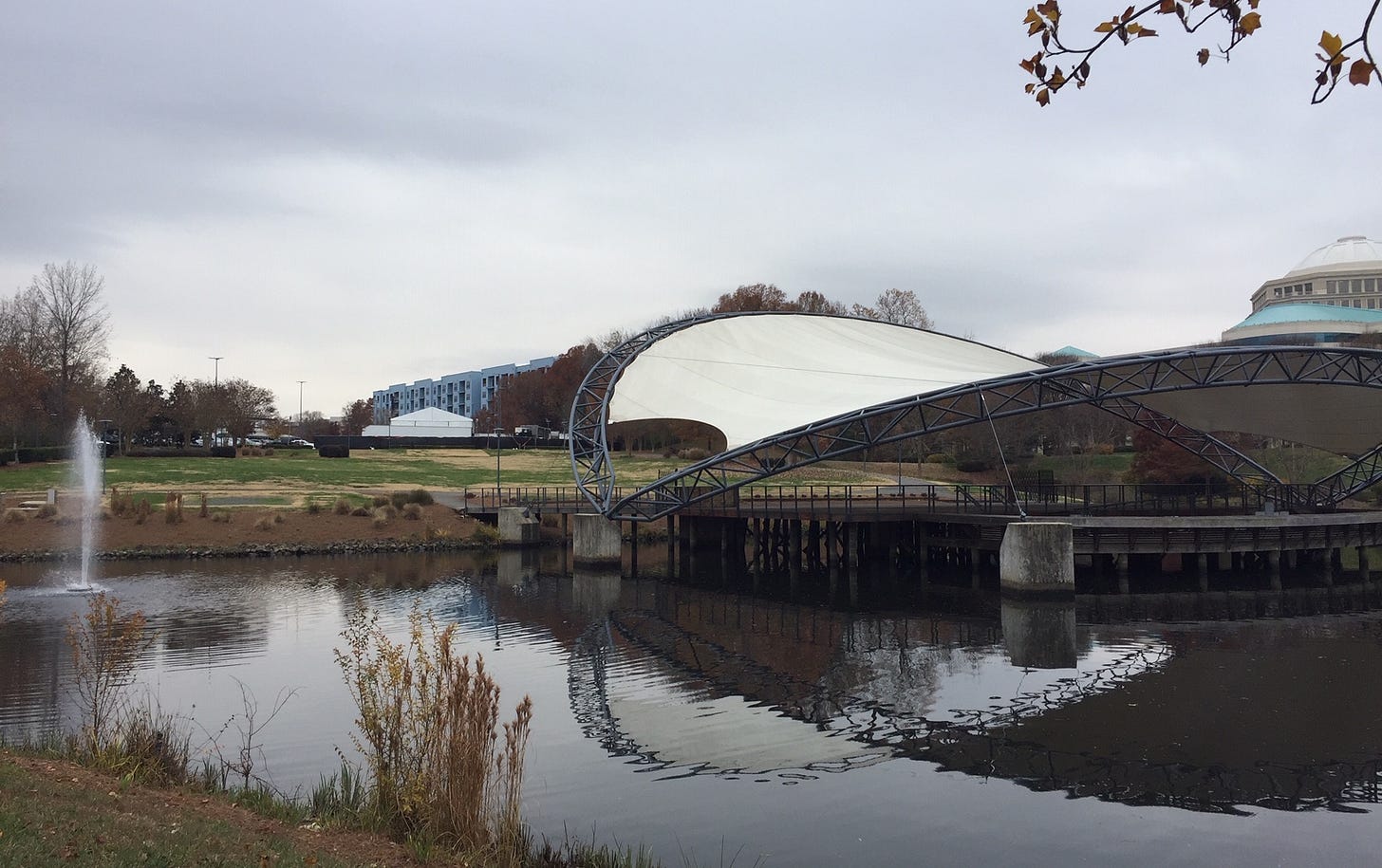 The city and mall owner Simon Property Group have agreed on hiring a company to start pre-design work on overhauling Symphony Park, council member Tariq Bokhari tells the Ledger. Each has committed $5M for the effort. "They have started brainstorming ways to better connect the retail component of the mall to the new vision for Symphony Park," he said. Design could start by the spring.
---
Loves me some internet
---
Rezoning time: houses, hotels, apartments, rooftop dining
It's that time again when new rezoning petitions for the previous month are out — which in layman's terms means "Developers, it's time to show your cards."
Some of the highlights for November include:
Apartment developer Wood Partners has assembled 10 parcels on West Morehead Street across from the WBT/WBTV studios. That indicates development is continuing west of Freedom Drive along Morehead.

An Indiana company is proposing a development near Hickory Grove Baptist Church's Mallard Creek campus that would include 280 apartments, commercial space and a hotel that could be up to 120 feet in height.

A hotel group is asking to rezone a half-acre in South End to a zoning designation that allows buildings of up to 300 feet high.

Asana Partners is seeking a rezoning in the main commercial district in Plaza-Midwood that would allow rooftop dining.

Meritage Homes is planning 280 single-family houses near Brookshire Boulevard at I-485. That's near the new Riverbend Village development at Brookshire and Mount Holly-Huntersville Road.

Novant Health is seeking a rezoning that would allow a hospital, emergency room or offices in the University area on land owned by Lincoln Harris.
Geek out: This stuff isn't for everybody, but all the gory rezoning details are at the bottom of this newsletter (after the stocks).
---
In brief:
---
Taking stock
Unless you are a day trader, checking your stocks daily is unhealthy. So how about weekly? How local stocks of note fared last week (through Friday's close), and year to date: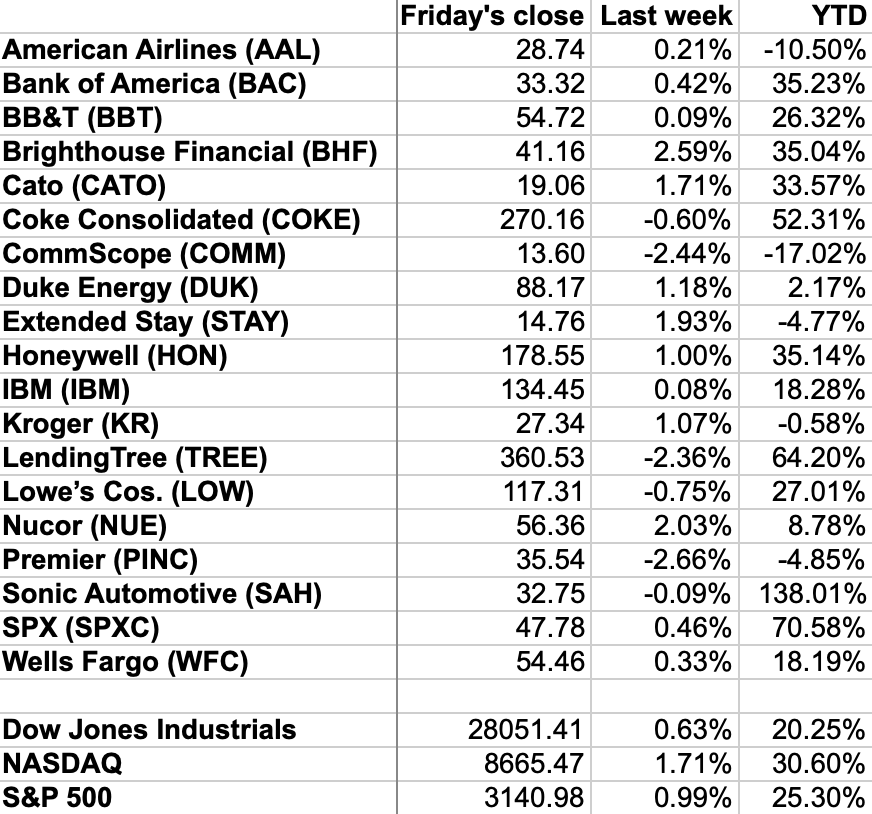 ---
Latest Charlotte-Mecklenburg rezoning applications
OK, so these won't interest everybody. But if you love local real estate development, here's your fix:
2019-154. OmShera Hotel Group, 0.495 acres at 1215 South Blvd. from TOD-M(O) to TOD-UC. Rezoning agent: Caren Wingate.
2019-155. Plaza Midwood Charlotte 2 LP (Asana Partners). 0.176 acres at 1508/1510 Central Ave. from B-2 PED to B-2 PED(O). "To allow re-use of the existing building with commercial and restaurant uses, without requiring additional parking." Would also "allow the addition of outdoor dining areas, including roof top dining areas" and "allow a major facade renovation." Rezoning agent: Moore & Van Allen.
2019-156. Parkwood Plaza LLC. 0.52 acres on two parcels at 1118 Parkwood Ave. (1,2) from R-5 to UR-3(CD). "Development of three-story 17 unit apartment building." Rezoning agent: Jason Dolan, Timmons Group.
2019-157. APB Development LLC. 8.5 acres on two parcels at 2809 Polk and White Road (1,2) from R-4 to R-8 MF (CD). "To accommodate the development of a residential community" that contains "a maximum of 68 dwelling units." Rezoning agent: Robinson Bradshaw.
2019-158. MPV Properties. 3.6 acres on three parcels at 616 E. Woodlawn Road (1,2,3) from UR-2(CD) and R-4 to UR-2(CD) and UR-2(CD) SPA. "To accommodate a townhome community" of "a maximum of 39 single-family attached dwelling units." Rezoning agent: Alexander Ricks.
2019-159. Ed Zepsa, Zepsa Properties. 0.95 acres at 4516 Nations Crossing Road from MUDD-O(CD) to TOD-TR. Rezoning agent: Thomas C. West.
2019-160. Meritage Homes of the Carolinas. 80.78 acres on 11 parcels at 9120 Hutchinson Lane (1,2,3,4,5,6,7,8,9,10,11) from R-3 to MX-2(INNOV). "To accommodate a residential development with innovative design standards in order to protect environmentally sensitive areas and preserve green space. … Maximum of two hundred eighty (280) single family attached dwelling units." Rezoning agent: Alexander Ricks.
2019-161. Crescent Communities LLC. 2.4 acres at 600 S. College St. from UMUD-O to UMUD-O SPA. "To update the signage request on approved office tower." Would allow "up to two attached electronic signs (video or LED screen) with a maximum size of 450 square feet each" and other changes to signs and setbacks requirements. Rezoning agent: Alexander Ricks.
2019-162. Kenneth Simmons. 2.89 acres on two parcels at 5801 Old Concord Road (1,2) from I-2 to TOD-TR. Rezoning agent: Kenneth Simmons.
2019-163. Novant Health, land owned by University Investors LLC (Lincoln Harris). 23.75 acres at 9831 N. Tryon St. from MUDD-O to MUDD-O SPA. "To allow development of the site with hospital, medical office uses [and] other medical related uses." Up to 144,000 s.f., maximum 4 stories. Rezoning agent: Moore & Van Allen.
2019-164. PDAN Holdings LLC. 1.1 acres at 3900 Johnson Oehler Road from R-3 to R-8MF(CD). "Up to eight (8) attached single-family residential dwelling units." Rezoning agent: Poyner Spruill.
2019-165. Wood Partners. 5.2 acres on 10 parcels at 2016 W. Morehead St. (1,2,3,4,5,6,7,8,9,10) from I-1, R-5, R-22MF and O-2 to TOD-CC. Rezoning agent: Alexander Ricks.
2019-166. Canopy CLT. 1.6 acres on 2 parcels at 4725 Providence Road (1,2) from R-3 to UR-2(CD). "Multi-family townhomes … up to 14 attached resident dwelling units." Rezoning agent: Urban Design Partners.
2019-167. Grubb Management LLC. 0.7 acres on 2 parcels at 539 State St. (1,2) from I-2 and R-8 to MUDD-O. "Affordable housing multi-family residential." Maximum of "140 multi-family dwelling units." Rezoning agent: Alexander Ricks.
2019-168. Suncrest Real Estate and Land. 22.87 acres on 4 parcels at 3418 Oakdale Road (1,2,3,4) from R-3 to MX-2(CD). "Residential community" of a maximum of 138 "duplex dwelling units." Rezoning agent: ColeJenest & Stone.
2019-169. Thompson Thrift Development Inc. 15.9 acres on 6 parcels at 2200 Odell School Road (1,2,3,4,5,6) from CC to CC(SPA). "Integrated multi-family residential development within the broader mixed-use center, with flexibility for additional commercial uses. Up to 75,000 square feet of commercial and institutional uses. … Up to 280 multi-family residential units. … Up to 150 hotel rooms. … Maximum building height up to 120 feet for commercial and mixed-use buildings." Rezoning agent: Alexander Ricks.
---
Need to sign up for this e-newsletter? Here you go:
Got a news tip? Think we missed something? Drop me a line at editor@cltledger.com and let me know.
Like what we are doing? Feel free to forward this along and to tell a friend.
Archives available at https://charlotteledger.substack.com/archive.
On Twitter: @cltledger
The Charlotte Ledger is an e-newsletter and web site publishing timely, informative, and interesting local business news and analysis Mondays, Wednesdays, and Fridays, except holidays and as noted. We strive for fairness and accuracy and will correct all known errors. The content reflects the independent editorial judgment of The Charlotte Ledger. Any advertising, paid marketing, or sponsored content will be clearly labeled.
The Charlotte Ledger is published by Tony Mecia, an award-winning former Charlotte Observer business reporter and editor. He lives in Charlotte with his wife and three children.