Discover more from The Charlotte Ledger
Delivering smart and essential news to Charlotte, one email at a time.
Over 19,000 subscribers
SouthPark isn't just a mall anymore
Plus: Why Mint Hill rejected sales tax; Sleek design for $100M uptown library; Restaurant-closing trifecta: Art's BBQ, Nova's (South End), Terrace Cafe (SouthPark)
Good morning! Today is Friday, November 8, 2019.
Need to subscribe? Sign up for free here (charlotteledger.substack.com).
Like what you see? Forward to a friend or share on social media.
---
Big changes heading to SouthPark area:
- Demolition of Colony apartments starts in weeks
- Adding walking trails, possibly new park and theater
- Avoiding Eastland's example: 'evolve or die'
If you think of SouthPark mostly as a big regional mall, it's time to change your thinking.
There's a bunch of construction going on around the SouthPark area. In a few years, it will look and feel very different. It will have new hotels, apartments, shops, restaurants and office buildings, sure — but it also could have a new theater and a town center park. And it will have at least part of a three-mile circular pedestrian path completed — like a greenway or the rail trail — that will be known as "The Loop."
Not just the mall: "You can say to your friends, 'Hey, let's just go to The Loop, and there will be things going on," says Hilary Larsen, chairwoman of the SouthPark Association of Neighborhoods, a collection of nearby neighborhood groups. "When you get there, you'll have ice cream, yoga, cool interactive art. What you really want is it to be some kind of an experience besides 'Let's go to the mall.'"
Some people don't like all the construction and new apartments, she says. But it's inevitable, so the best move for neighbors is to work with developers to make it palatable: "If you want things to be the way they were, then what you are really saying is you want SouthPark to become like Eastland Mall. You either evolve and allow the business mix to change, or you die."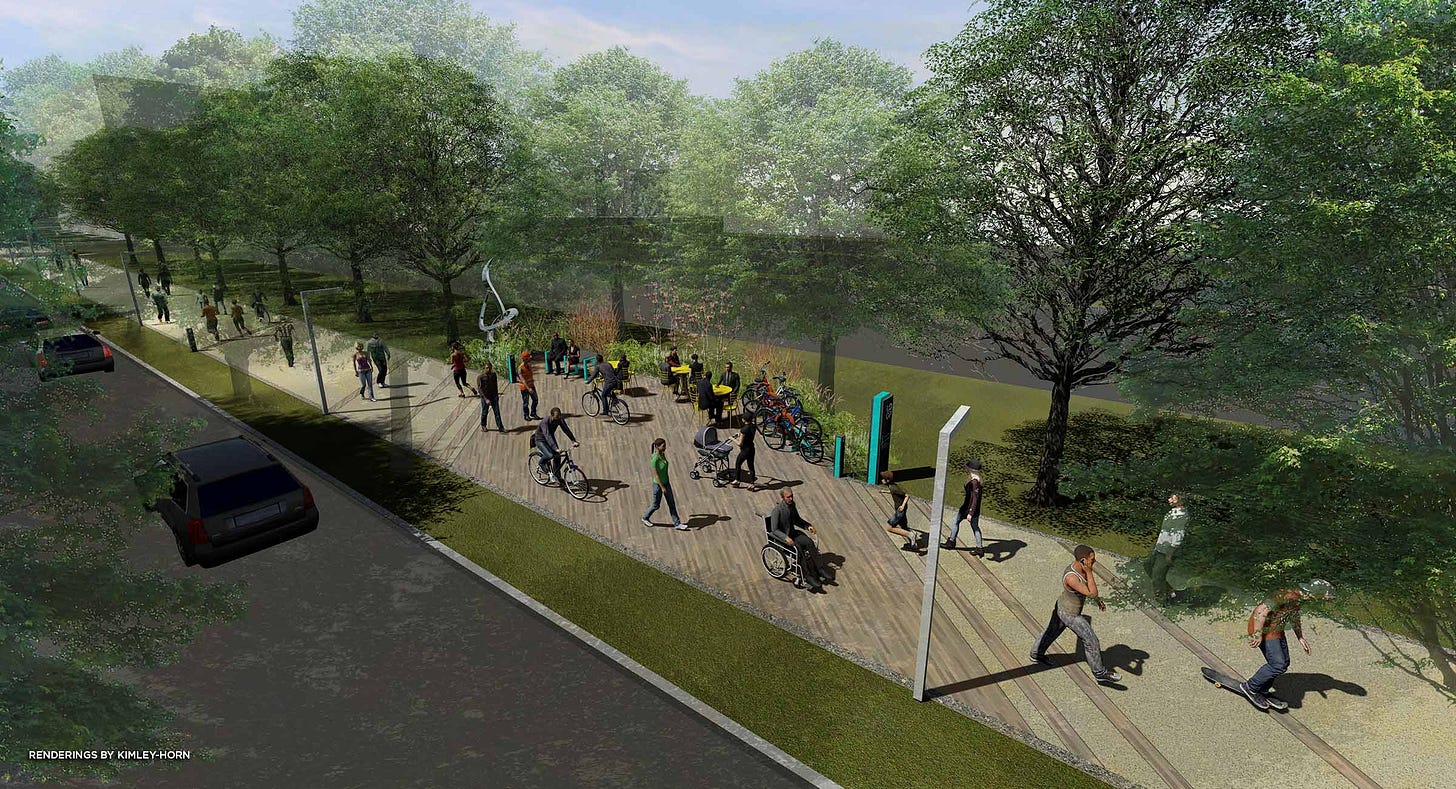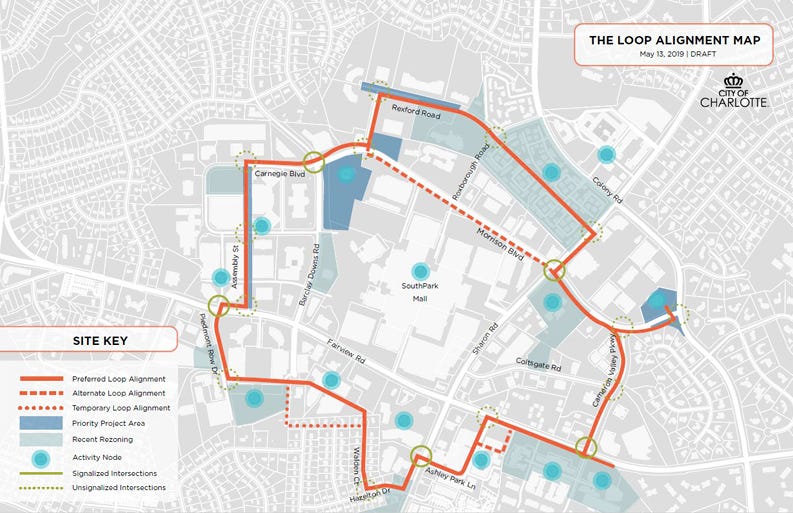 A bunch of changes are on the way to SouthPark, including installation of a circular walking path to be called "
The Loop
" that will be constructed piecemeal as part of the many developments underway in the area.
The next big step in SouthPark's evolution starts at the end of this month, when the last residents of the Colony apartments move out. Demolition of the apartments, built in the 1970s on Colony Road between Sharon and Roxborough roads, starts almost immediately after. Expect bulldozers by January. In its place on the 27-acre site will be 340 apartments and 280,000 s.f. of retail in the first phase, anchored by a Publix and including a fitness center. Construction should last about 30 months, says Tim Hose, president of Synco Properties, which owns the Colony land and is developing it with Schlosser Development. Later plans call for a hotel, offices and more apartments.
Movie theater? There's no lease signed yet, but developers are also hoping to land a small upscale movie theater with food and beverage service, Hose says. "This would be an experience focused on not just the movie screens but other types of entertainment like sports and things like that."
Developers are also planning to landscape the bunker-like culverts on Colony Road toward Runnymede Lane and to start building the section of The Loop by the Colony redevelopment.
Other projects underway in the area include:
Apex SouthPark, a huge mixed-use development by Childress Klein at Sharon and Colony roads. (Slick video of what it will look like when finished here.)

The AC Hotel by Marriott on Roxborough Road. It's expected to be finished in a couple months.

Hazel SouthPark, a 203-unit, five-story luxury apartment complex on Barclay Downs by the mall.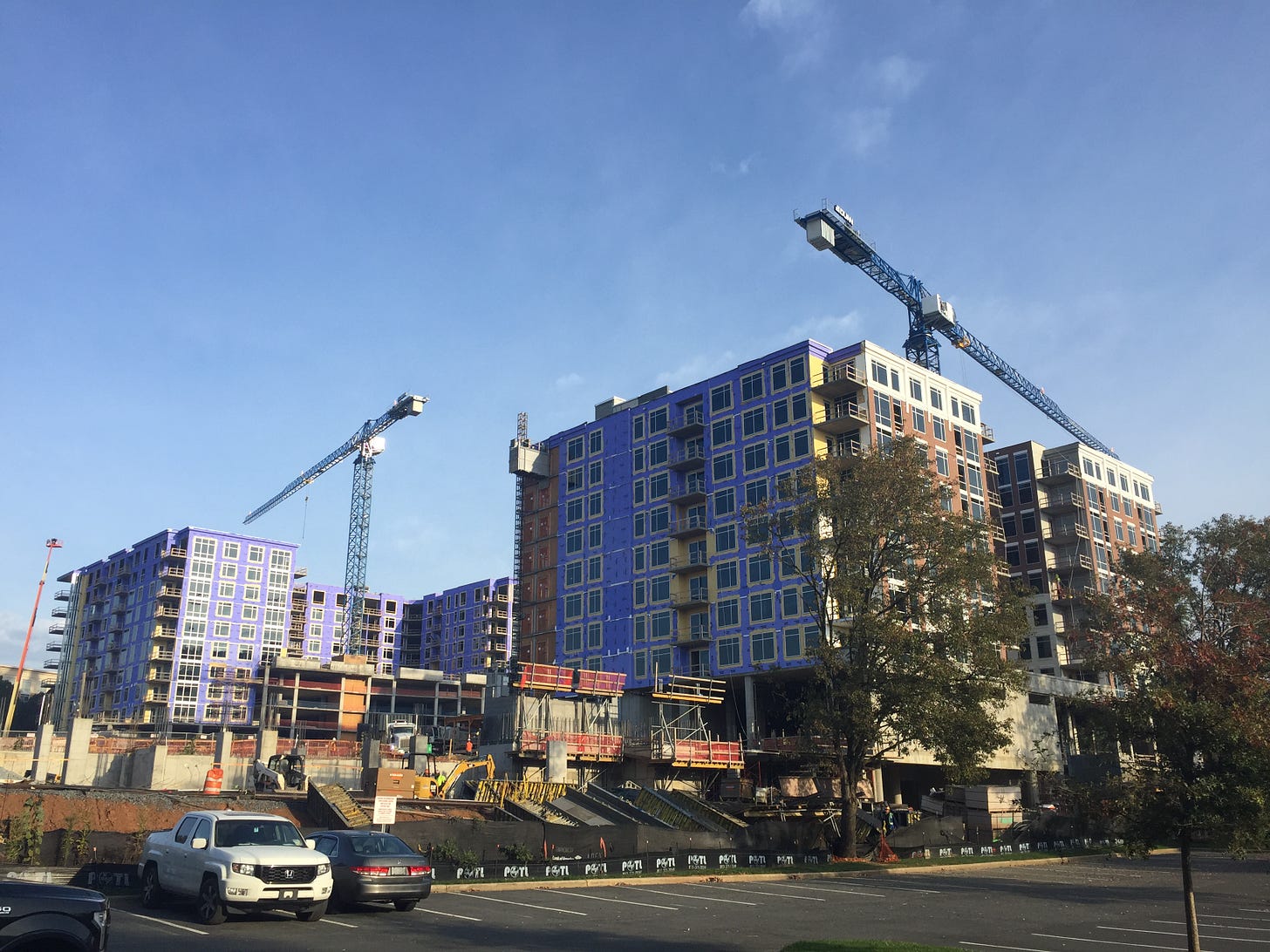 Cranes over SouthPark: The Apex SouthPark, on the site of the old 
Sharon United Methodist Church,
will have nearly 350 apartments in two 12-story towers, plus retail, restaurants, a new church and a hotel.
In addition, Lincoln Harris has rezoned land behind Piedmont Row for a third Capital Tower office building. It's unclear when that might start. Maybe next year?
At the same time, the city and mall owner Simon Property Group are in talks to revamp Symphony Park — perhaps to make it more like a town center. Nearby residents sometimes joke that despite its name, SouthPark doesn't actually have a park.
Ballantyne parallels: Ballantyne is trying to make a similar switch to become an area with higher-density housing, more shops and restaurants and walkable, lively public spaces. The Ballantyne redevelopment, though, has the benefit of a single owner, Northwood Office. Northwood is in the middle of a rezoning process for its project, called Ballantyne Reimagined. Redeveloping SouthPark requires more coordination between landowners.
Change is coming.
Says Hose: "It is going to get better and better, I think. It will be busier, for sure. But there will be some really neat things that will keep people from having to get in their cars to go everywhere, let people walk out of their apartments to work, to shop, to go to the doctor, to recreate, to take a 5K run on The Loop."
---
View from Mint Hill: Town wouldn't recoup higher taxes
The four Mecklenburg precincts that voted most strongly against this week's sales-tax referendum were in the Mint Hill area.
Countywide, 57% percent of voters voted against the tax, which would have gone toward arts, parks and education. But at those four precincts in Mint Hill — Mint Hill Town Hall, Mint Hill Masonic Lodge, Philadelphia Presbyterian Church and Blair Road United Methodist Church — the combined figure was 76% against.
Why? There could be a few reasons, said Brad Simmons, who won election as Mint Hill's mayor on Tuesday over Richard "Fig" Newton.
"The feeling out here in Mint Hill is the sales tax itself would be collected by Mecklenburg County and that a proportional amount doesn't get returned to the Mint Hill area," he told the Ledger. People in the town of 27,000 often feel left out of Mecklenburg County's priorities, he says. Tax supporters said $2.5M of the estimated $50M a year the tax would have raised would have gone to support arts in Mecklenburg's small towns, including Mint Hill.
'Gun shy,' Cotham connection: In addition, Simmons said, town voters last year rejected a controversial bond referendum, so "Mint Hill might be a little gun shy about taxes or bonds or anything of that nature." There might also be a personal connection: Former N.C. Rep. Tricia Cotham, the daughter of outspoken sales-tax opponent and county commissioner Pat Cotham, is a former assistant principal at nearby Independence High School and has a lot of credibility in the area, he said.
The mayor-elect said he supports the arts, including local groups such as Mint Hill Arts and the Spotlight Community Arts Academy, which puts on community plays. But he didn't like how this particular tax plan was put together. He told the Ledger on Thursday that he had just talked to his wife about what tickets they planned to buy for the Blumenthal's upcoming season. They went with "The Color Purple," he said.
---
Loves me some internet
This one's making the rounds on Reddit and Twitter — how many squares does Charlotte fill in? It's looking like at least 24, including "$10 juice," "bar with 'whiskey' in name" and "'crazy' donut concept."
Not sure about the unicycle.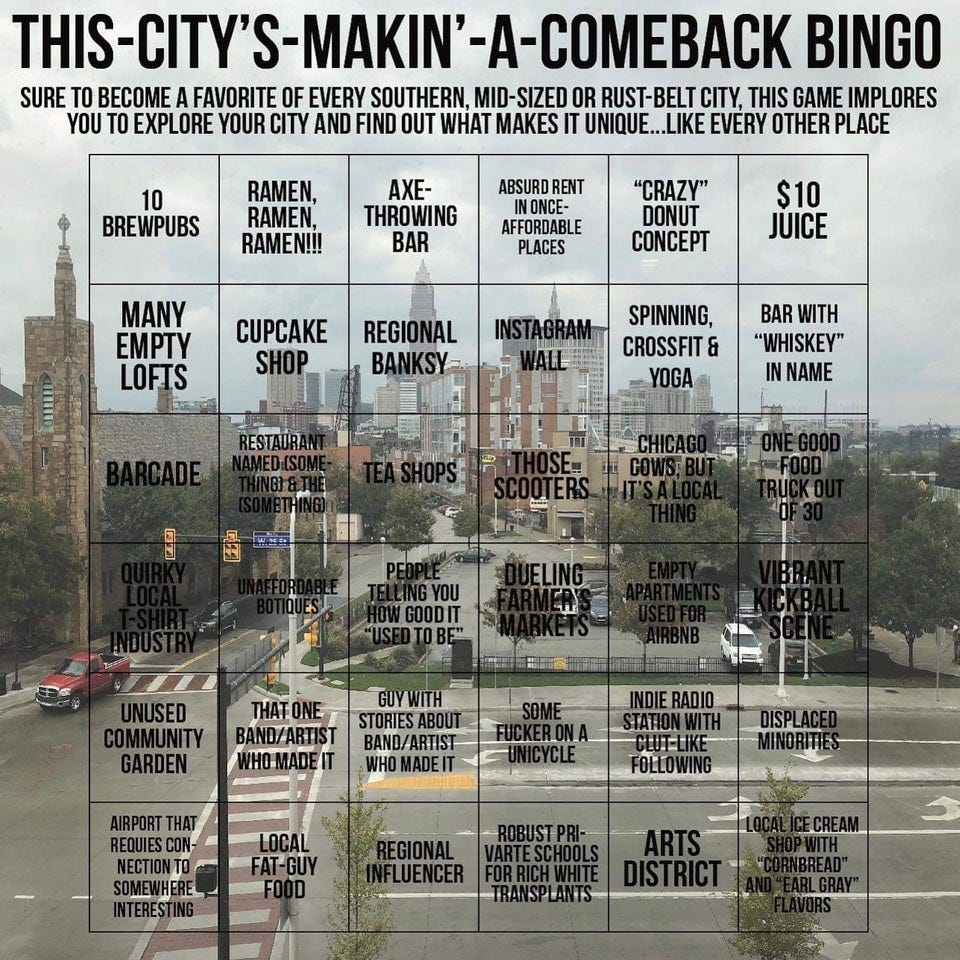 ---
Sleek new look for $100M uptown library
Architects released renderings Thursday for a new library uptown, on its current site at Sixth and North Tryon streets. The Charlotte Mecklenburg Library Foundation launched a fundraising campaign to help pay for the library's new main branch — which is expected to cost about $100M, the Charlotte Business Journal reported (paywall).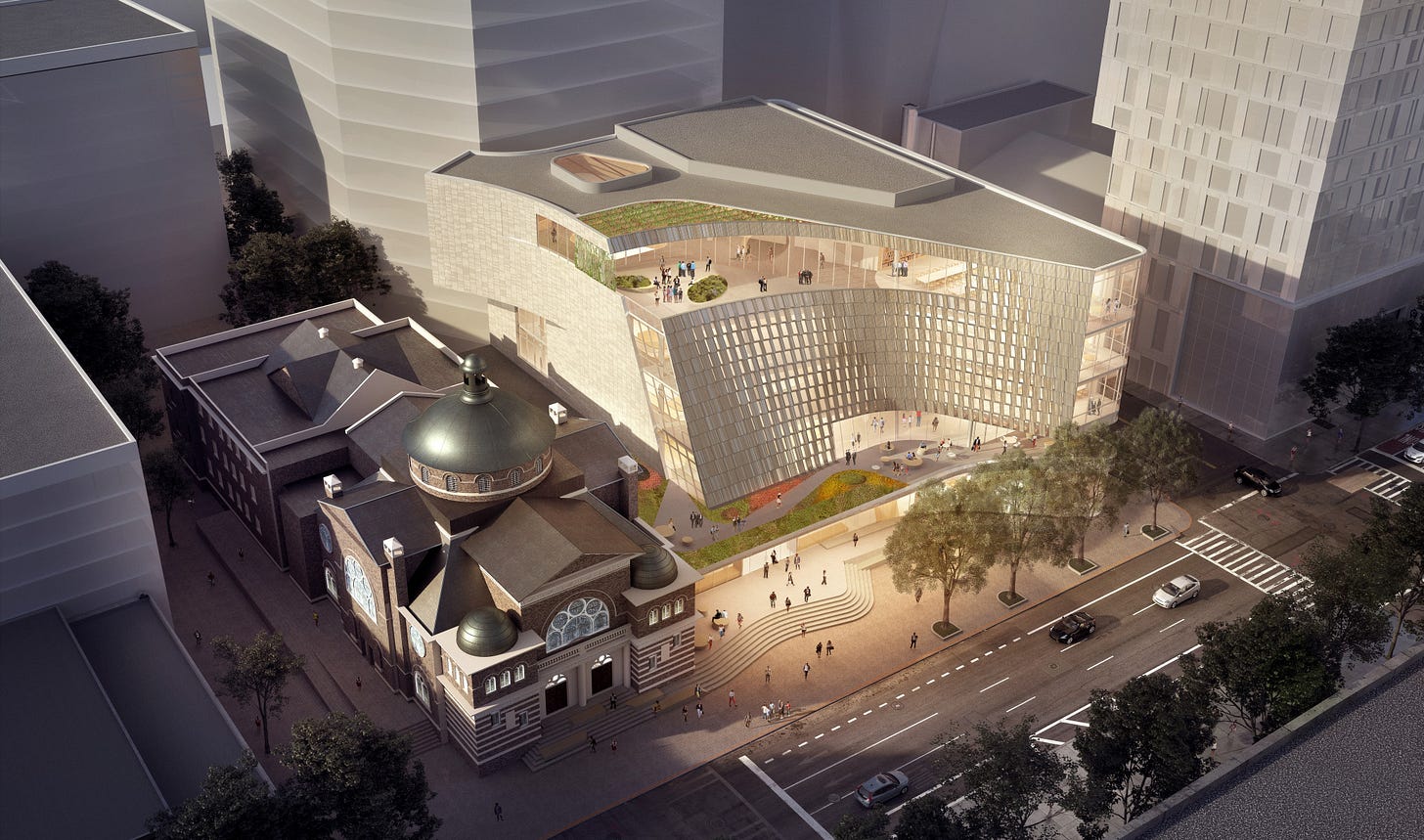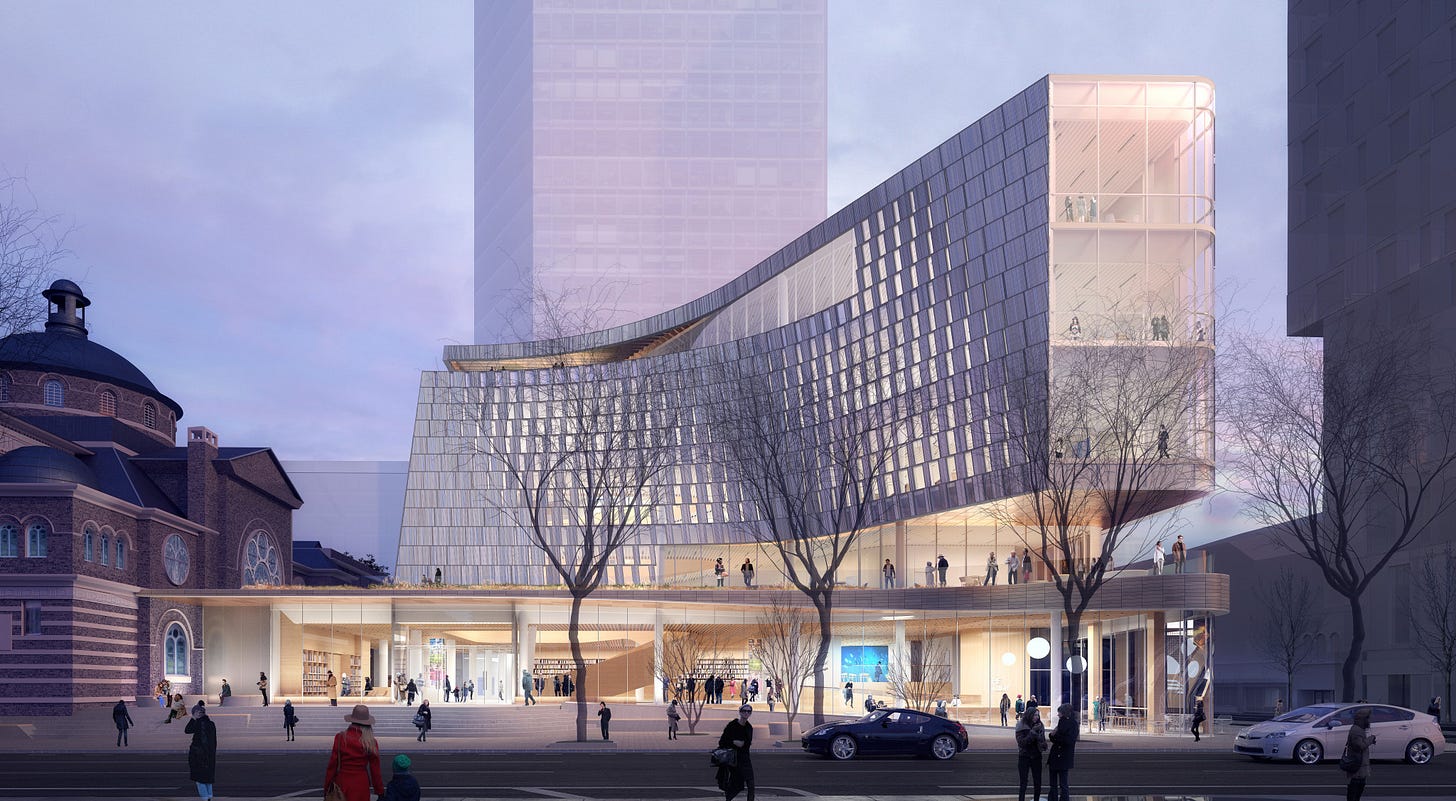 With a $10M pledge, the Knight Foundation is the lead private donor in the effort to build a new uptown library. The county has budgeted $65M.
Here's how the architect, Oslo-based Snøhetta, describes the design:
Settled by the British in 1768, [Charlotte] emerged along the contours of a ridgeline, which supported a rich history of trading paths that were first carved out by the Indigenous inhabitants of the Piedmont region and would then become modern-day Tryon Street. Building on the site's topographical history, the design draws on the concept of the ridgeline literally and figuratively: it generates views in a variety of directions and as a convergence point for community and culture.

Rising five stories, the building anchors the corner with a glowing, translucent prow that cantilevers out over the sidewalk, opening itself up to the street. …

The sloped wall of the Tryon façade is clad in ceramic panels inspired by North Carolina's rich history of earthenware and artisanry. Evoking a screen, or a patterned textile, the façade is strategically perforated to modulate light conditions within. 
Shhh, let's not tell Mint Hill about this one.
---
In brief
Last-minute bank/developer/foundation money: Partnership for a Better Mecklenburg, the political group formed to push for the sales-tax referendum, took in a late infusion of cash in the days before Tuesday's election, according to newly filed elections records. Donors included Foundation for the Carolinas ($100,000); Bank of America ($50,000); the Charlotte Executive Leadership Council ($50,000 — its second contribution of that amount); Crescent Communities CEO Todd Mansfield and his wife, Kathy ($1,000); Lincoln Harris CEO Johnny Harris ($1,000); and Foundation for the Carolinas CEO Michael Marsicano ($1,000). Details of the new donations here and here. The Ledger ran the list of corporate donors last week (2nd item), and the full earlier finance report is here.

All in on Panthers: Harrah's Cherokee Casino has signed a five-year sponsorship with the Carolina Panthers. A Harrah's spokesman said the deal would help the casino "gain some more exposure to customers in the Charlotte market." The casino is expected to open North Carolina's first (legal) sports book before the end of the season. (Cherokee One Feather)

Midtown rising: Pappas Properties detailed plans for a nine-story office building with ground-level retail plus a 150-room Tapestry Collection by Hilton hotel on Kenilworth Avenue in Midtown, next to Pearl Street Park. Construction is expected to start by the 3Q of next year. (Biz Journal, Observer, Agenda)

Better Bubble Wrap: The CEO of Sealed Air, the Charlotte company that makes Bubble Wrap, said on a Wednesday conference call: "We're introducing a new, reinvented version of our Bubble Wrap brand in 2020 that contains more than 90% recycled material while providing the same level of protection and air retention as our original Bubble Wrap brand."
---
Food and booze news
A weekly wrap-up of the week's eating and drinking developments
Farewell to Art's BBQ: Art's BBQ & Deli on Morehead Street in Dilworth is closing at the end of the year after 43 years. The owner turned 60 this year and figured it was time to retire. His father, a Greek immigrant, started the restaurant in 1976. Neighborhood regulars on Thursday were "in disbelief and even in denial the restaurant is closing." (Observer)

Nova's Bakery closes South End store. A sign on the door encouraged patrons to visit its spots in Plaza-Midwood, Mint Hill and Rock Hill. Nova's had had a location in South End for more than 20 years. (Biz Journal)

Terrace Cafe shuts in SouthPark: Terrace Cafe, known for its red-velvet waffles, closed its location in Piedmont Town Center. A sign on its door referred customers to its Ballantyne restaurant. (Agenda)

Steakhouse next to steakhouse in Matthews: You're not seeing double if you noticed two Texas Roadhouse restaurants within 200 yards of each other on Independence Boulevard at Highway 51 in Matthews. The current Texas Roadhouse will be demolished as part of the planned widening of Independence. The new Texas Roadhouse is scheduled to open Dec. 6, a company spokesman told the Ledger.

More expensive chikin: Signs posted at some Charlotte-area Chick-fil-A stores this week read: "To Our Valued Guests: There will be a Price Increase beginning Monday, November 11th. Thank you!"

Opera beer: Legion Brewing has created a special beer called "Opera Party!" to be served at Opera Carolina's current season at the Belk Theater. The theme for the opera season is "the struggle is real" and "Opera Carolina looked for a beer that highlighted the topic but might lighten the human struggle." (Observer)
Suite at EpiCentre pays $2,200 to settle ABC charges; South Boulevard Hooters pays $1,000
The N.C. Alcoholic Beverage Control commission released its disciplinary records for October. The Charlotte businesses on the list were:
AYNU Mart, 1233 E. 34th St., agreed to pay $1,000 on charges of "possessing adulterants intended for defrauding a drug or alcohol screening test" and failing to keep required records.

Caswell Station, 366 N. Caswell Road, agreed to pay $800 on charges of possessing a liquor bottle without a tax stamp and failing to keep required records.

Firehouse Bar and Lounge, 320 W. Carson Blvd., agreed to pay $500 on a charge of failing to comply with private club membership requirements.

Grab N Go, 13920 S. York Road, agreed to pay $500 on a charge of selling or possessing alcoholic beverages without the proper permit.

Hooters of South Charlotte, 9807 South Blvd., agreed to pay $1,000 on charges of advertising brand names outside the restaurant and cooperative advertising between an alcohol-industry member and a retailer.

Palisades Country Club, 13704 Grand Palisades Parkway, agreed to pay $600 on charges of possessing empty liquor bottles with tax stamps that had not been defaced, possessing bottles of liquor with no tax stamps and defacing tax stamps before bottles were empty.

Press Box Bar and Grill, 9609 N. Tryon St., agreed to pay $1,000 on a charge of failing to superintend.

Professional Sports Catering, 324 S. Mint St., agreed to pay $1,500 on charges of failing to recycle beverage containers, possessing a liquor bottle with no tax stamp and failing to deface tax stamps on empty bottles.

Suite, 210 W. Trade St. Suite A-300 (EpiCentre), agreed to pay $2,200 on charges of failing to comply with private club membership requirements, "performing services after having consumed alcoholic beverages" and "allowing controlled substance violations to occur on premises."

Tryon Distributing, 4701 Stockholm Court, agreed to pay $800 on a charge of delivering fortified wine to a retailer without the proper permit.

Via Roma, 7416 Waverly Walk Ave., agreed to pay $600 on the charge of possessing three liquor bottles with no tax stamps.
---
Need to sign up for this e-newsletter? Here you go:
Got a news tip? Think we missed something? Drop me a line at editor@cltledger.com and let me know.
Like what we are doing? Feel free to forward this along and to tell a friend.
Searchable archives available at https://charlotteledger.substack.com/archive.
On Twitter: @cltledger
The Charlotte Ledger is an e-newsletter and web site publishing timely, informative, and interesting local business news and analysis Mondays, Wednesdays, and Fridays, except holidays and as noted. We strive for fairness and accuracy and will correct all known errors. The content reflects the independent editorial judgment of The Charlotte Ledger. Any advertising, paid marketing, or sponsored content will be clearly labeled.
The Charlotte Ledger is published by Tony Mecia, an award-winning former Charlotte Observer business reporter and editor. He lives in Charlotte with his wife and three children.