The day the bulldozer arrived at Olde Providence
Plus: Harris Teeter starts selling hemp products; How to pay for a new Panthers stadium; N.C. still adding jobs
Good morning! Today is Monday, August 19, 2019.
Need to subscribe? Sign up for free here (charlotteledger.substack.com). Like what you see? Forward to a friend.
Neighbors found out about CMS high-school plans only after the trees started falling; 'What the hell?'
With the news from this weekend that Charlotte-Mecklenburg schools is considering building a new high school behind Olde Providence Elementary on Rea Road, the Ledger is taking a closer look at the neighborhood — and how exactly residents learned that there could soon be a high school behind their backyards.
Olde Providence resident Mike Wall, 72, shows the path of destruction from a "mini-bulldozer" that tore through CMS-owned woods by his house on Thursday. It led to the revelation that CMS is considering building a high school on the site.
In Olde Providence, neighbors in the last few days were at first bewildered, then angry. It's a common reaction when development takes place close to neighborhoods.
For an inside look at how the news was received in Olde Providence, check out the full article on the Ledger's website.
Here's the beginning of it:
On Thursday afternoon, Mike Wall was trimming his lawn in his backyard. When you're 72 and retired, that's the sort of thing you can do on Thursday afternoons, when your younger neighbors are at work.

When he turned off his trimmer, he heard an unfamiliar rumbling noise in the woods behind his house. The woods behind Olde Providence Elementary are a place where neighbors walk their dogs, where deer roam and where neighbors maintain the trails that their kids use to walk to school. The woods are in the back 1/4 of a 40-acre lot that also contains the school, several baseball fields and a football field.

The sound Wall heard that afternoon sounded like a big piece of machinery. He looked and saw a "mini-bulldozer" cutting a path about 50 yards behind his house. "I thought, 'What the hell are they doing to our woods?'"

The rumbling of heavy equipment in the Olde Providence woods last week was the first indication of Charlotte-Mecklenburg Schools' plans for a new high school in south Charlotte. The discovery of the bulldozer set into motion a chain of events – neighborhood alarm, calls to public officials, a social-media frenzy – that led to the revelation that CMS is looking seriously at building a new high school behind Olde Providence Elementary on Rea Road.

The Ledger was the first media outlet to report on the possible site on Saturday afternoon. One school board member, Sean Strain, told the Ledger there are four potential sites but that CMS staff seems to prefer Olde Providence – though the board hasn't discussed the issue recently. A second school board member, Margaret Marshall, told the Ledger in an email Sunday night that the Olde Providence site is one option, that land in south Charlotte is expensive and that "no final decision has been made." She added: "We are open to other options and invite folks to give us any leads on large tracts of land we might consider."

The debate over the site for the school is significant in a number of ways. It will require the shifting of assignment boundaries for thousands of CMS students in south Charlotte – most likely in the Ardrey Kell, Myers Park, South Meck and Providence attendance areas. It will affect land prices, property values and traffic. And it could be one of the first controversies of Superintendent Earnest Winston's tenure – and show how he balances the concerns of angry neighbors and parents against the wishes of his staff and the board that hired him.

In a fast-growing city, the drama that played out in Olde Providence in the last few days is a familiar Charlotte story of neighbors learning of possible development not far from their backyards – and racing to mobilize against it.
For the full article, click here.
---
Harris Teeter gets into cannabis
Remember back in June when we told you that before long, local grocery stores would be carrying CBD products, which are made from hemp? ("Big Retail is preparing to crush local CBD stores, dude")
Well, now it is happening.
In the last week, some Harris Teeter stores in Charlotte have started stocking a small selection of creams, lotions and oils made from hemp, the strain of the cannabis plant that won't get you high.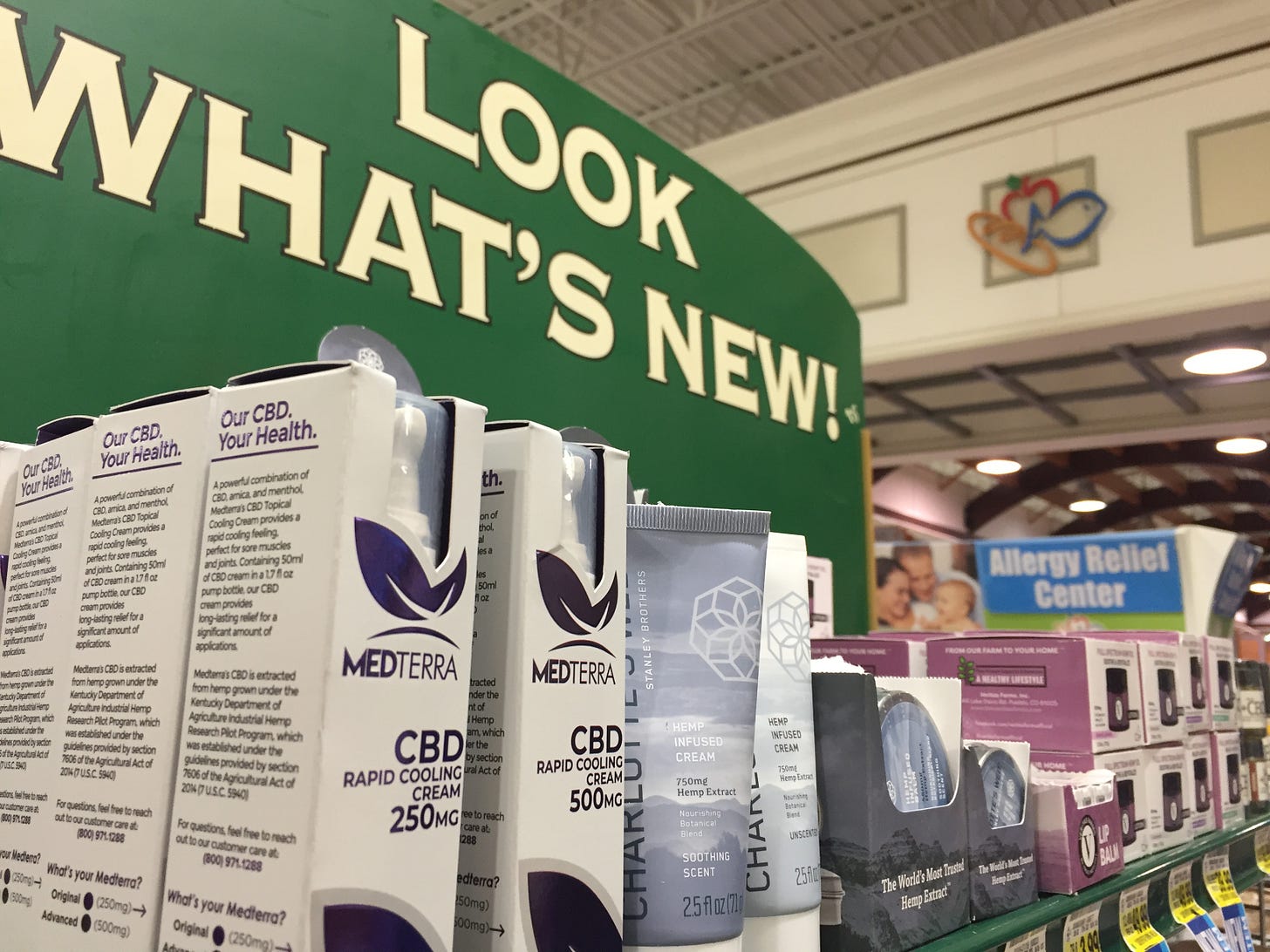 Hemp at Harris Teeter: Harry the Dragon now has topical cannabis lotions to help treat his joint pain.
A spot check over the weekend showed:
Harris Teeter stores in Blakeney and Stonecrest had a couple shelves in their pharmacies with lip balms, lotions, creams, scrub bars and even bath bombs made from hemp (bath bomb directions: "Drop in bath and relax.") A pharmacist said the new products arrived last week.

The HT at the Arboretum didn't have that selection, but it had hemp oil in its herbal medicines, between ginkgo biloba and horny goat weed.

At the Cotswold Harris Teeter, hemp-seekers are out of luck entirely.
Trend: Mainstream retailers are feeling more comfortable carrying CBD products. Specialty retailers will emphasize their better selection and service.
---
Higher taxes on dining out to pay for Panthers stadium?
Erik Spanberg of the Charlotte Business Journal unleashed a smart piece over the weekend (paywall) delving into how state and local government might help pay for a new Panthers stadium. It has actual numbers and actual projections, the result of conversations with actual sources who know what they are talking about.
The upshot of Spanberg's article is that people knowledgable about local government revenue seem to believe that hiking taxes on dining out could be a sensible way to help pay for the public share of a new stadium. Panthers owner David Tepper last month mentioned a "hotel revenue increase" as a potential funding source. But Spanberg writes:
The likelier source for local government stadium funding is a tax on drinks and food at bars and restaurants. Known as the prepared food tax, it already adds 1% to your tab. During fiscal year 2019, the 1% food and beverage tax generated $36.6 million, up from $34.7 million in 2018. The fiscal year ended June 30.

Doubling the current tax to 2% would, based on recent trends, reap somewhere in the neighborhood of $40 million per year. Assuming a borrowing leverage of 15-to-1 — a reasonable proposition — the food-and-beverage tax hike could then generate $600 million for an NFL stadium here.
That probably wouldn't fully fund the public contribution to a $2B stadium, but it might get close. Developing city-owned land near the stadium could be another source. Property taxes and sales taxes seem to be off the table, Spanberg writes.
Watch for more of this linguistic slight-of-hand: Spanberg's article repeatedly refers to the basket of hotel taxes, car-rental taxes and prepared-food taxes as "hospitality" or "tourism" taxes — which reflects the way some local officials talk about them. It's easier to raise taxes paid mainly by out-of-towners. But taxes on dining out fall pretty squarely on local residents. Grabbing a sandwich at lunchtime on the way back to the office isn't "tourism."
The article quotes the CEO of the North Carolina Restaurant and Lodging Association opposing new taxes on dining-out:
"It's baffling to me that when you collect $120 million a year (there is discussion about raising taxes)," said Lynn Minges, CEO of the trade group, referring to the current combined annual amount generated through local tourism taxes. … "We would oppose any effort to increase the meals tax or occupancy tax until there is better prioritization of how existing sources of revenue (are spent)."
---
In brief:
---
Taking stock
Unless you are a day trader, checking your stocks daily is unhealthy. So how about weekly? How local stocks of note fared last week (through Friday's close), and year to date:
---
Got a news tip? Think we missed something? Drop me a line at editor@cltledger.com and let me know.
Like what we are doing? Feel free to forward this along and to tell a friend.
The Charlotte Ledger is an e-newsletter and web site publishing timely, informative, and interesting local business news and analysis Mondays, Wednesdays, and Fridays, except holidays and as noted. We strive for fairness and accuracy and will correct all known errors. The content reflects the independent editorial judgment of The Charlotte Ledger. Any advertising, paid marketing, or sponsored content will be clearly labeled.
The Charlotte Ledger is published by Tony Mecia, an award-winning former Charlotte Observer business reporter and editor. He lives in Charlotte with his wife and three children.