'The state of the center city is strong'
Plus: Earth Fare founder recalls early hippie days; Swanky new lounge about to open at airport?; Charlotte brewery offers yoga with a dozen adorable puppies
Good morning! Today is Friday, February 7, 2020.
Need to subscribe? Sign up for free here (charlotteledger.substack.com).
Like what you see? Forward to a friend or share on social media.
---
Uptown and South End boomed in the 2010s. Where do they go from here? Q&A with Charlotte Center City Partners' Michael Smith
(Photo by Kyo H. Nam Photography)
You might have heard that there was a big State of the Union speech this week in Washington. In Charlotte, though, there was a different and less-divisive kind of annual update — one from Charlotte Center City Partners on how the uptown area has been faring lately.
In case you couldn't guess from all the recent construction and announcements of new jobs, uptown and South End have been on a remarkable run in recent years. In vivid detail, the new 2020 State of the Center City report digs into the numbers and shows gains in everything from office construction, apartments, retail, jobs, hotel rooms, entertainment and other areas. (The Observer and Biz Journal had thorough write-ups of the report this week.)
The growth is fast, sure. But it's also well balanced, says Michael Smith, CEO of Charlotte Center City Partners, which works with businesses and local government to develop the uptown area.
"The state of the center city is strong," he says.
Nobody knows more about what's going on in the center city than Smith. New light rail stop in the middle of South End? He's familiar with it. Status of Gateway Station project? He's up to speed on it.
The Ledger sat down with him this week to discuss the incredible growth of the uptown area, the challenges that growth presents and the future of the center city and the region.
The full Ledger interview is available here.
A few of the highlights:
On the 2010s: "When you look at this decade, it was our most prolific — prolific in development of things. But if that's where we stopped, that wouldn't be very interesting. What makes center cities great is the people. We created office space for an additional 41,300 workers, 81 shops and restaurants, a million overnight guests and 19,500 new residents. This community created that within one decade."

On Charlotte's challenges: "The issues that we are going to be facing will be around congestion and affordability. You're going to find that inclusivity and affordability are two of the highlighted values in the 2040 Center City Vision Plan. We are still in the listening phase. … I quickly point to Denver, that did not have an affordability problem five years ago, and they do now. We've got to get ahead of this."

On Trade Street construction: "For anybody who works uptown and has endured the creation of the Gold Line streetcar bisecting uptown, we are paying a price. There is great congestion. A lot of gnashing of teeth. But it is moving from a line to a system, and these are the moves that every big transit-oriented city has had to endure."

On the possibility of a new light rail stop in the heart of South End: "We are very interested in augmenting that gap. You look at the rhythm through South End, no matter where you are, you're a quarter-mile from a station when you're on the Rail Trail, until you get just beyond East-West, and there's a gap. It was value engineered out. There is interest in trying to create some kind of public-private partnership that would add a station in South End."

On the future of retail: "It's going to be really interesting to see what South End looks like in five years. We have really smart, well-financed investors, in Asana and in Edens. They are creating a 21st-century, completely woven urban shopping experience. It's more of what the malls want to become."
(Full interview includes his perspectives on David Tepper, Gateway Station, the Rail Trail and more.)
---
As Earth Fare shelves empty, founder is left 'sad and angry'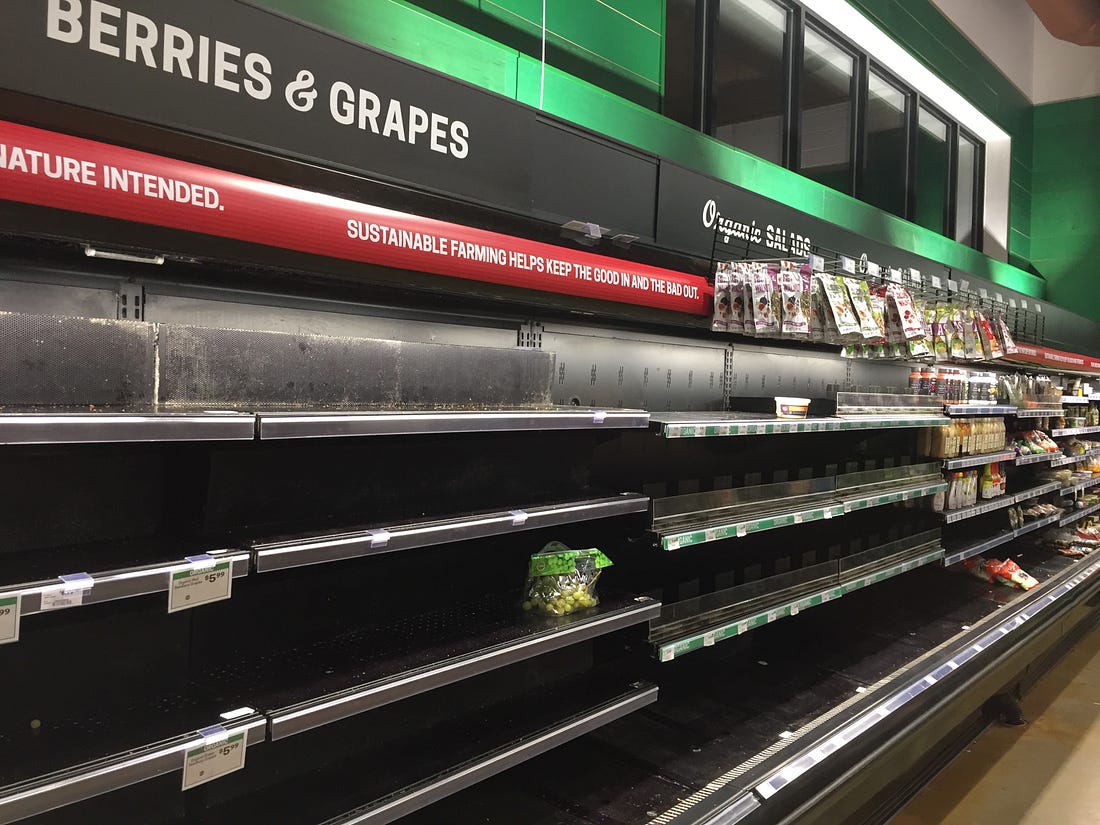 Shelves were getting bare at Charlotte-area Earth Fare stores on Thursday — particularly of fresh produce. A sign at the SouthPark store said everything was 10%-30% off. The company said this week it is going out of business and closing its 50 stores, including seven in the Charlotte area.
Roger Derrough, who founded the predecessor company of Earth Fare more than four decades ago in Asheville, said he found out the organic grocery chain was closing from the news, just like everybody else.
He was shocked, he told The Ledger in an interview. And so are a lot of people in Asheville: "People are walking around a little bit like zombies. They just can't believe it."
Hippie roots: When he opened a small store called "Dinner for the Earth" on Merrimon Avenue north of downtown in 1975 at age 24, it wasn't much to look at, and it wasn't popular. It was a "little hippie operation" that consisted mostly of small barrels of grain, he says.
"I can't say I was really successful back then," he says. "I had a small operation and low overhead."
It wasn't until the 1980s or 1990s that the market for organic foods really started taking off. He linked up with Roger Talley, who had started Talley's Green Grocery in Charlotte's Dilworth neighborhood (at the site of the current Fresh Market on East Boulevard). They renamed the Asheville operation Earth Fare and started adding stores before selling it in 2007.
He says he doesn't know what caused Earth Fare's demise, but he has theories:
"The fella that was the CEO, I think he came from the pharmaceutical industry. It seemed like he didn't click with the retail operations of a grocery store."

"They must have grown too fast and opened stores that they probably shouldn't have opened."

"If they hadn't been in such a hurry to grow so fast and maybe made better decisions, they could have been lean and maybe not so big."
Derrough and Talley now run a chain of four health-conscious cafes around Asheville called Green Sage. Derrough says he's "sad and angry" about Earth Fare's closing. "I'm just sorry for our customers. I'm sorry that this happened. I'm sorry for the staff and all the people losing their jobs."
---
Today's supporting sponsors are Cardinal Real Estate Partners…
… and The McIntosh Law Firm/Carolina Revaluation Services:
---
Ritzy new Amex lounge about to open at CLT?
It looks as though Charlotte's airport might be getting close to opening a fancy new airport lounge.
The American Express Centurion Lounge has been under construction for months between the airport's D and E terminals since it was first announced about a year ago. This week, the good folks over on the internet discussion group Urban Planet discovered that there's a page dedicated to the new lounge on an American Express website that says it is "coming soon":
The website says:
From the moment you walk in, you'll see that things are different here. Unexpected touches like a family room and a well-appointed shower suite meet productive workspaces with high-speed Wi-Fi.
Patrons can also enjoy "a cocktail developed by one of the nation's top mixologists, Jim Meehan, or explore wines handpicked by renowned wine authority Anthony Giglio."
Centurion Lounges are known to be a cut above typical airline lounges. They offer full buffet meals and alcohol — all included. To gain entry, though, you'll need an American Express Platinum card or an American Express Delta Reserve card. Each carries an annual fee of $550.
It will be open from 5:30 a.m. to 10 p.m., the site says.
An American Express spokeswoman told The Ledger she was unable to disclose when the lounge might open.
---
Thousands still powerless as of Friday morning
After Thursday's storms, nearly 21,000 Mecklenburg County residents remained without power as of 7:30 a.m. today, according to Duke Energy's outage map. The biggest clusters seemed to be in east Charlotte, in the Matthews area and along Pineville-Matthews Road in south Charlotte:
---
In brief
CMS bond pullback: Charlotte-Mecklenburg Schools has quietly shrunk the high school construction at West Charlotte and at a new Steele Creek high school from 125 to 100 classrooms. It also pushed back the opening of a new south Charlotte high school by a year, to 2024 (as the Ledger reported in December). But school officials aren't explaining why. The construction is to be financed by the bonds passed by voters in 2017. (Observer article is subscriber-only, WFAE)

Ballantyne office leasing: Ballantyne Corporate Park owner Northwood Office said it leased 251,000 s.f. of office space in Ballantyne in the last six months of 2019. The expansions, renewals and new leases included YourOffice Ballantyne, Select Bank & Trust Co., Hyosung USA, the GEO Group and SEGRA, the company said.

Venus flytrap plate update: The N.C. Botanical Garden Foundation says it has succeeded in receiving more than 500 applications for a new Venus flytrap license plate. The General Assembly is expected to grant routine approval in the next few months, and then "plates will be printed within 180 days," a spokeswoman said in an email.

Satisfaction: The Rolling Stones will play at Bank of America Stadium on July 1. Tickets go on sale Feb. 14. Fans can register for a pre-sale code that allows ticket purchases starting Wednesday.

Take Atrium out to the ballgame: Atrium Health is getting in on Kannapolis Cannon Ballers mania, signing a 10-year naming rights deal for the town's new downtown 4,930-seat stadium, to be called Atrium Health Ballpark. The minor league ball team's owner said: "We hope that we can help get brand awareness for them as a good partner, and we hope they will put a lot of butts in the seats." (Concord Independent Tribune)

Healthcare pay: Atrium Health is raising the pay of its lowest-paid workers to $13.50 an hour, up from $12.50 an hour. Next year, it will boost the minimum pay to $15 an hour. The change affects about 10,000 workers. (Biz Journal, Observer)

Charlotte featured in the air: Charlotte is featured in a 31-page spread in this month's American Way magazine, the in-flight magazine of American Airlines. The section, backed by ads from some of the city's biggest companies, tells readers that "Charlotte is emerging as an economic center of global prominence." It tries to reinforce the themes that Charlotte is not just a bank town but an innovation and tech hub, a center of culture that is "soulful" and that welcomes new businesses and people of all backgrounds. The section features interviews with Mayor Vi Lyles and mini-profiles of Duke Energy CEO Lynn Good, AvidXchange CEO Michael Praeger and airport director Brent Cagle, as well as sections on Honeywell, Truist, UNC Charlotte, Queens University, and several surrounding counties. It is comprehensive. The Charlotte Regional Business Alliance has a copy on its website and sent out a news release about it this week.
---
Loves me some internet
---
Food and drink news
A weekly wrap-up of the week's eating and drinking developments
---
Need to sign up for this e-newsletter? Here you go:
Got a news tip? Think we missed something? Drop me a line at editor@cltledger.com and let me know.
Like what we are doing? Feel free to forward this along and to tell a friend.
Searchable archives available at https://charlotteledger.substack.com/archive.
On Twitter: @cltledger
Sponsorship information: email editor@cltledger.com
The Charlotte Ledger is an e-newsletter and web site publishing timely, informative, and interesting local business news and analysis Mondays, Wednesdays, and Fridays, except holidays and as noted. We strive for fairness and accuracy and will correct all known errors. The content reflects the independent editorial judgment of The Charlotte Ledger. Any advertising, paid marketing, or sponsored content will be clearly labeled.
The Charlotte Ledger is published by Tony Mecia, an award-winning former Charlotte Observer business reporter and editor. He lives in Charlotte with his wife and three children.