The vacation home market is bonkers
Plus: New Lidl store in South End moves forward; Restaurant liquor sales have dropped by 1/2; How Hawthorne Bridge delay stacks up; Was that an earthquake or just a teenager's room?
Good morning! Today is Monday, August 10, 2020.
The Ledger offers free and paid subscription plans to our email newsletter. A paid subscription gives you access to all articles and helps build smarter original, local news in Charlotte. You can cancel at any time. Details here.
---
With jobs and schooling staying remote, families seek getaways; Beach and mountain markets called 'insane,' 'exploding'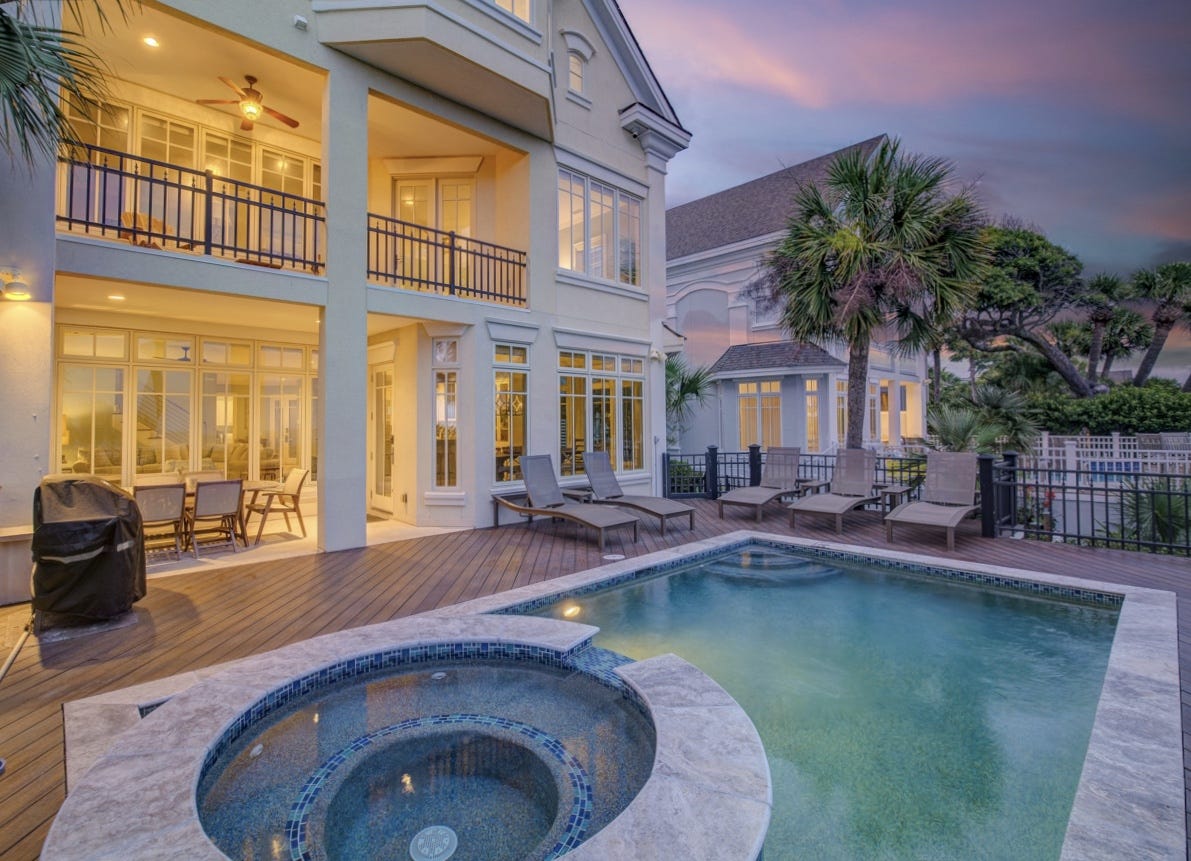 Quarantine dreams: For just $3.275M, this 6-bedroom, 8-bathroom beachfront home with an elevator and third-floor private suite on Hilton Head Island could be yours. "What I'm seeing is pure and utter chaos" in the frenzied vacation housing market, said Alison Melton, the Realtor with the listing.
by Cristina Bolling
For years, Charlotteans Suzanne and Jeff Cowden mulled owning a vacation home in the North Carolina mountains, where they have happy memories of vacations past and visions of future trips with their four children and soon-to-be-five grandkids.
When quarantine hit, the house bug bit them hard. They watched as friends and clients with vacation homes left the city for prettier places to ride out Covid.
Suzanne, a Realtor with Allen Tate's SouthPark office and Jeff, a licensed general contractor, have several investment properties in the Charlotte area, and Suzanne felt inspired: "Why not buy our next investment property in our happy place?"
The couple fell in love with a new-construction three bedroom, three-and-a-half bathroom townhome near Blowing Rock with a view of Grandfather Mountain. They acted fast with a full-priced offer, and sure enough, within days, the rest of the string of townhomes was snapped up. Their unit will be completed in February.
"We'll be using it as a rental property, but we'll obviously save lots of weeks for ourselves," Suzanne Cowden said. "We're going to have lots of adventures."
Whole industry is 'bonkers': The vacation home markets in both the Carolinas mountains and the coast are piping hot this summer, as families who can now work and learn remotely seek a second place to get away.
Also fueling the surge? Interest rates are near all-time lows, and the stock market is rebounding.
In Hilton Head, pending sales in June were up 80% from 2019, and the average sale price rose 19%, according to MLS data.
Homes there are going under contract before even hitting the market, said Alison Melton, a broker with Charter One Realty that serves Hilton Head and Bluffton.
"Everyone involved is just bonkers," Melton said. "We have seen a lot of delays in closings the last two months because of the amount of business. The inspectors, the appraisers, the attorneys" are overloaded, she said. "I keep telling people — be patient with us. We're not typically this behind."
The two ends of the price spectrum — under $400,000 and over $1M — are the hottest sellers, Melton said.
"Multimillion-dollar beach homes are going with multiple offers, and the sellers are sticking close to their asking price because they know they're going to get it," Melton said. "We've seen a lot of cash deals as well."
Real-estate whiplash: It's been real estate whiplash for everyone in the industry. In Hilton Head, 2019 sales were some of the best the market had seen, but once the pandemic hit, Melton said, "people thought the world was ending. Then all of a sudden, it just came roaring back."
'Insane' in Wilmington: In the Wilmington area, demand is so high that there's 2 months inventory or less for homes priced $500,000 or under, said Lake Slacum of Intracoastal Realty. (A market is considered normal, or balanced, if it has 5 to 7 months of inventory.)
His 44-year-old company set sales records in both June and July. In one week in July, the company closed $97M in new contracts. In one week in June, it closed $78M.
"It's an insane market," Slacum said.
Saturday madness: Another hot Carolinas area? The Outer Banks.
"We are exploding — just exploding," said Denise Graham, a broker with Keller Williams in the Outer Banks town of Corolla.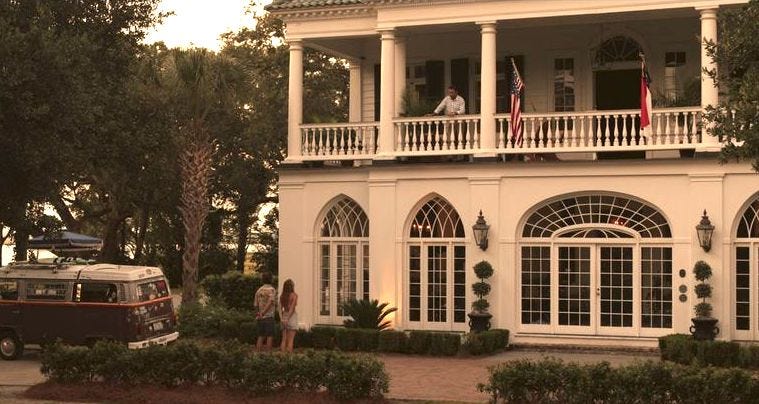 Outer Banks houses are in high demand, real estate agents say, like this one at Tanneyhill Plantation owned by the Cameron family.
Since about 2013, the Outer Banks MLS typically has about 425 homes under contract at any given time, Graham said. During the first couple of months of the pandemic, that number sank to about 310. Last week, there were 930 homes under contract.  
That translates to some crazy Saturdays.
Jostling for showings: Saturdays are the days when vacation rentals turn over, and prospective buyers have a small window of time when they can get into homes that are for sale but are being rented out for weekly vacationers.
Realtors have to fight for time slots to show homes during those few hours on Saturdays when homes are being cleaned and turned-over for the next family of renters. Graham sometimes tours buyers through five or six homes quickly in just a few hours. Buyers have to be ready to jump on a home they like.
"You need to make fast decisions. People are losing out," Graham said. "I'm working with clients who are doing that whole 'I'm kicking myself' routine."
Not 'tire kickers': The mountains are seeing less of a boom than the coastal towns, but sales are up.
In the Asheville MLS, pending sales in June were up 33% over June 2019, and the average list price rose 18%.
Buyers and agents are having to work harder to make sales happen because of Covid, said Byron Greiner, president of Land of the Sky Association of Realtors. Agents require buyers to first drive by a house and look at a video of the home online before meeting a Realtor to go inside. Sellers are asked to leave lights on, curtains open, and interior doors open so agents and buyers don't have to touch knobs and switches.
"Our agents are probably busier than they've ever been, but we have a lot of hurdles to show a house," Greiner said. Buyers are serious. "They're not tire kickers. They're much more engaged than in previous times," he said.
Reach managing editor Cristina Bolling: cristina@cltledger.com
---
Lidl dusts off plans for South End grocery store
Plans for a new grocery store in South End are coming back to life, with discount chain Lidl telling The Ledger that it's ramping up plans for a spot on South Boulevard.
The new store will be on a 4.3-acre parcel at South Boulevard near Hartford Avenue — right where South Boulevard splits to cross the light rail line, by Clanton Road. And get ready for more traffic congestion along South Boulevard, too, as the project will require a new traffic signal and perhaps a new turn lane.
Lidl spokeswoman Chandler Ebeier told The Ledger: "We are currently going through the approvals process for our South Blvd. site and expect to have more to share over the coming months." She didn't provide a timeline.
Plans filed with the city in May reveal that Lidl is proposing a 31,000 s.f. grocery store — that's about half the size of a typical Harris Teeter. It will include parking and landscaping, plus a new public road connecting South Boulevard and Weston Street. It's also proposing widening South Boulevard to install a southbound turn lane into the site. Who's up for more South End road construction?
Now, the site is a vacant, grassy lot in an area of South Boulevard caught between South End's past (pawn shops, auto repair places) and its future (Carvana, luxury apartment complexes).
A new grocery store and stoplight aren't usually huge news. But this is South End, where everything that happens seems to be amplified because it's such a fast-changing area and land prices are among the highest in the city. Lidl paid $4.9M in 2016 for the site, property records show — a quaint $1.1M per acre.
Expansion time: Lidl has been expanding in the Charlotte region lately. It opened its first Charlotte store, on Monroe Road near Sardis Road North, in December and added one in Matthews in February. Its South Boulevard site has been delayed for several years.
With fewer people eating out because of Covid concerns, it's a good time to be in the grocery business. Kroger, the parent of Harris Teeter, said same-store sales in its most recent quarter rose 19%. Publix said last week that its same-store sales in the first half of the year were up 17%. —TM
---
Today's supporting sponsors are T.R. Lawing Realty …

… and Landon A. Dunn, Attorney at Law in Matthews:

---
Summer liquor sales at restaurants fell by 1/2
Liquor sales to Mecklenburg County restaurants in the last two months were about half of what they were in the same period in 2019, according to new figures from the county's ABC Board.
It's one measure of the severity of the crisis in the local restaurant industry.
In June and July, the local ABC system sold about $5.2M worth of liquor to local establishments, or 51% of the total of those two months a year earlier. June was the first full month that restaurants could have their dining rooms open and sell alcohol again.
Overall, the ABC system sold slightly more liquor in June and July than in 2019 because of a sharp increase in drinking at home. Ordinary sales to regular people like you and me rose to $25M over two months, or a 23% increase.
Translation: It appears as though county residents are drinking about the same amount of liquor as last year, though instead of out late at night with friends, it's in front of the TV. —TM
---
New orders aim to restore some unemployment benefits, defer payroll taxes
Some potentially big economic news out of Washington over the weekend: With Congress hitting a stalemate over a new Covid economic-relief package, President Trump on Saturday signed a series of directives that could extend some help.
The measures include:
The measures don't address other priorities that members of Congress have been discussing, such as another round of stimulus checks and more help for small businesses.
It's also unclear if presidents have the power unilaterally to make all of these changes put forward over the weekend. There will likely be legal challenges.
We'll probably have to wait at least a few days for some of the details, or Congress could strike a more comprehensive deal.
If you want to know more, check out some of the national coverage: CNN, NPR, Forbes. There's a good analysis over at The Dispatch this morning, too. —TM
---
In brief:
---
Loves me some internet: Earthquake edition
---
Taking stock
Unless you are a day trader, checking your stocks daily is unhealthy. So how about weekly? How local stocks of note fared last week (through Friday's close), and year to date: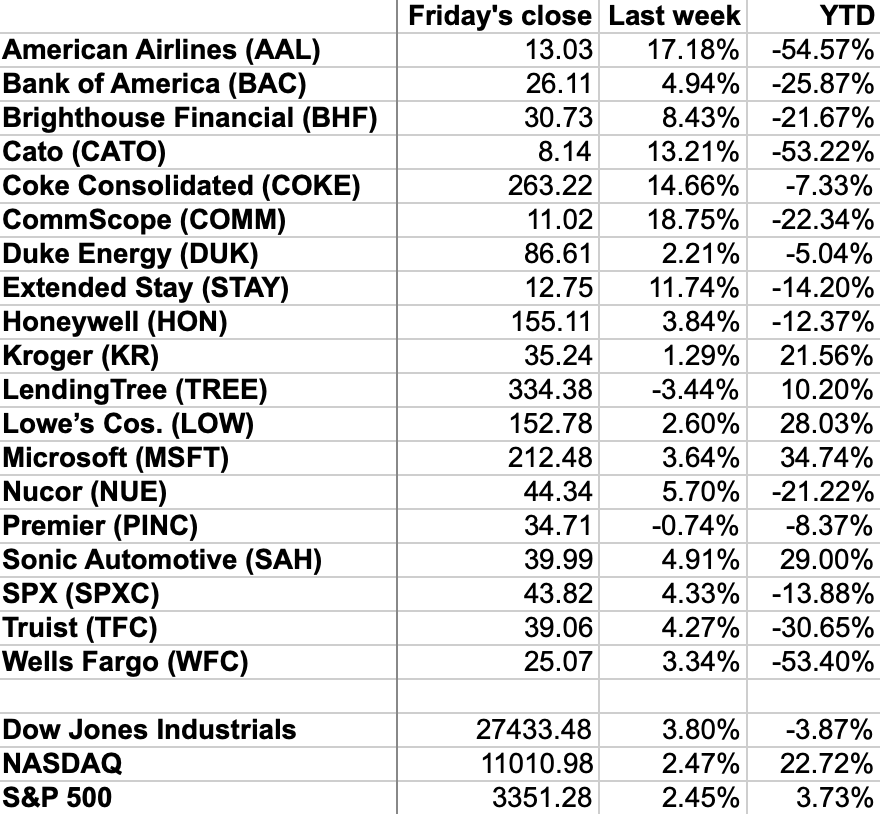 ---
Need to sign up for this e-newsletter? We offer free and paid subscription plans:
The Charlotte Ledger is an e-newsletter and web site publishing timely, informative, and interesting local business news and analysis Mondays, Wednesdays, Fridays and Saturdays, except holidays and as noted. We strive for fairness and accuracy and will correct all known errors. The content reflects the independent editorial judgment of The Charlotte Ledger. Any advertising, paid marketing, or sponsored content will be clearly labeled.
Got a news tip? Think we missed something? Drop us a line at editor@cltledger.com and let us know.
Like what we are doing? Feel free to forward this along and to tell a friend.
Searchable archives available at https://charlotteledger.substack.com/archive.
On Twitter: @cltledger
Sponsorship information: email editor@cltledger.com.
Need an "Essential Charlotte Ledger" T-shirt? Order here.
Executive editor: Tony Mecia; Managing editor: Cristina Bolling; Contributing editor: Tim Whitmire; Reporting intern: David Griffith