Discover more from The Charlotte Ledger
Delivering smart and essential news to Charlotte, one email at a time.
Over 19,000 subscribers
Why 'Cannon Ballers' is a marketing home run
Plus: American to upsize planes from Charlotte; Atrium says its Dilworth plans are in early phase; News flash: Beer and cocktails heading to South End
Good morning! Today is Friday, October 25, 2019.
Need to subscribe? Sign up for free here (charlotteledger.substack.com).
Like what you see? Forward to a friend or share on social media.
---
New name for Kannapolis Intimidators pays respect to Earnhardt and mills; fans snap up 'Ballers' gear
Kannapolis has a minor-league baseball team. Until this week, it was known as the Kannapolis Intimidators, after the nickname of the town's native son, Dale Earnhardt.
Maybe you've never heard of the team, and maybe you don't care about baseball — especially minor-league baseball in Kannapolis, a town of 49,000 people located 45 minutes northeast of Charlotte.
But the team this week put on a master class in branding and marketing. It announced in February that it wanted to move away from the Intimidators name — an idea fraught with peril, since Earnhardt, a beloved local figure who once owned the team, died in a race-car wreck in 2001. The name change had the potential to alienate a large swath of Cabarrus County.
On Wednesday night in downtown Kannapolis, team officials revealed the new name and logo. The Intimidators are becoming … The Kannapolis Cannon Ballers. The announcement was met with thunderous applause. Fans lined up for nearly two hours afterward to buy merchandise at the pop-up store next door.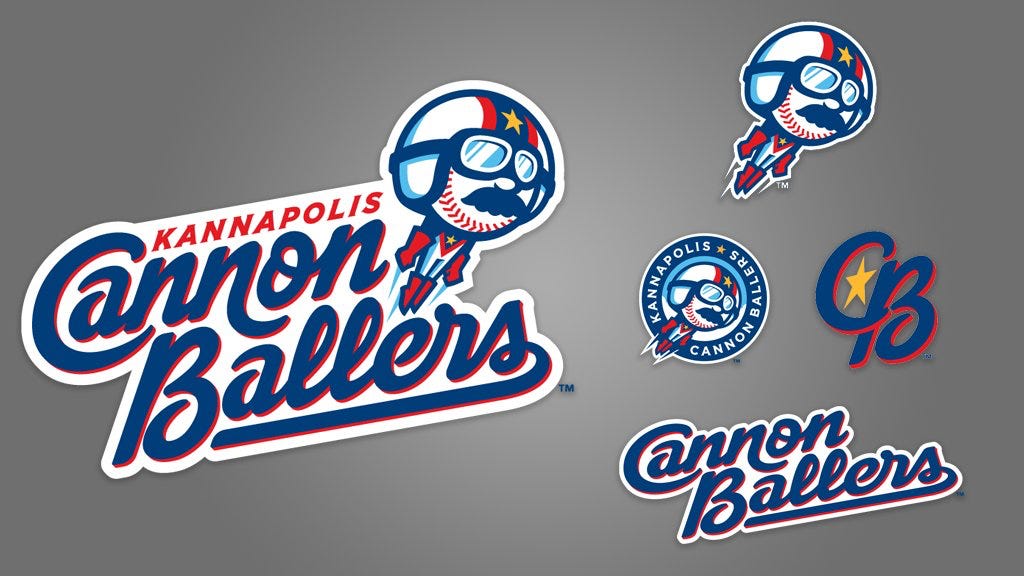 To an outsider, Cannon Ballers sounds like just another wacky minor-league ball team, like the Binghamton Rumble Ponies, the Rocket City Trash Pandas and the Amarillo Sod Poodles. But to local folks, it's a name and logo filled with meaning. Those seem hard to come by nowadays, with corporations opting for safe if largely meaningless names (cough, Truist, cough).
In a stroke of genius, Cannon Ballers manages to appeal to many different groups while being both campy and edgy. Here's how: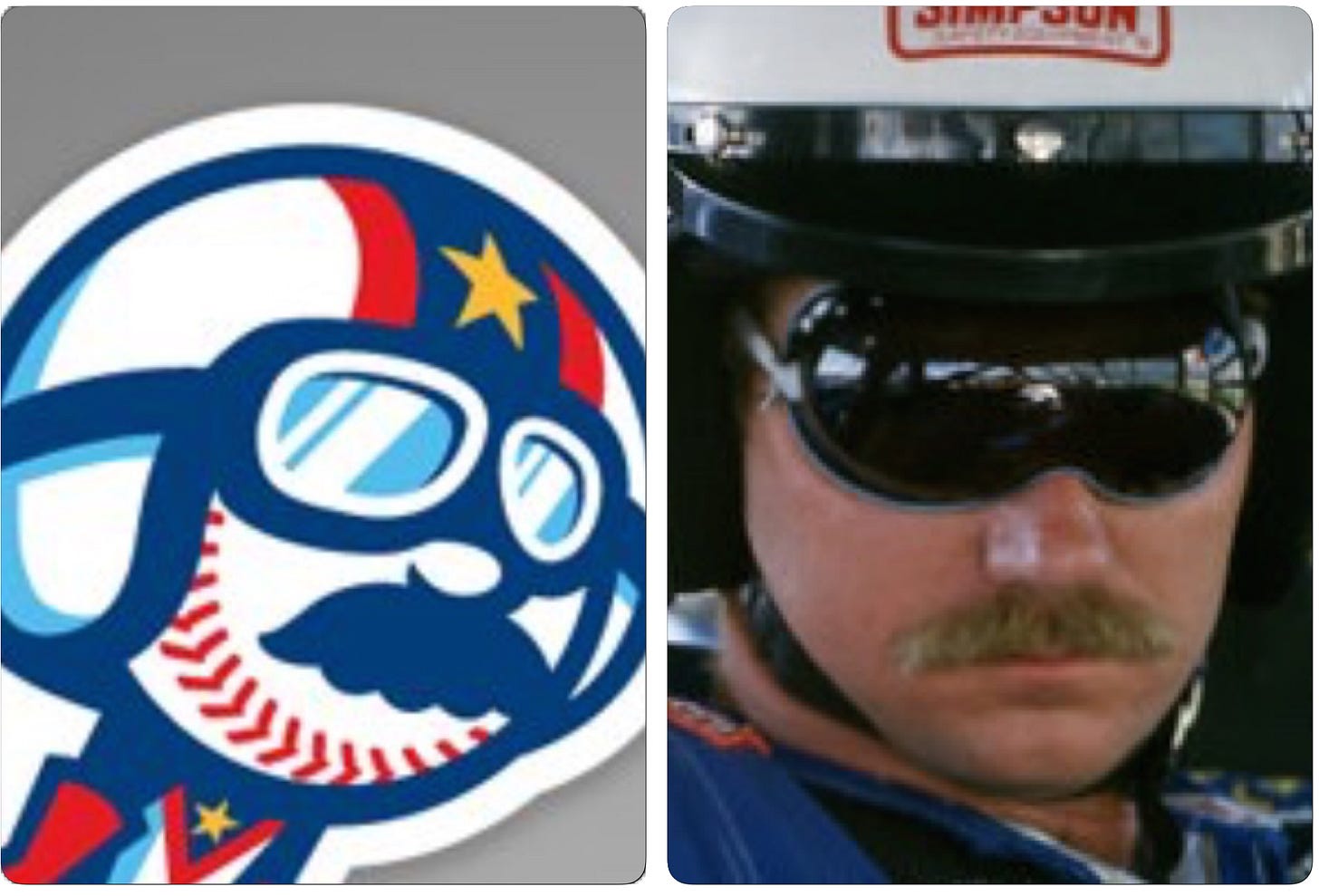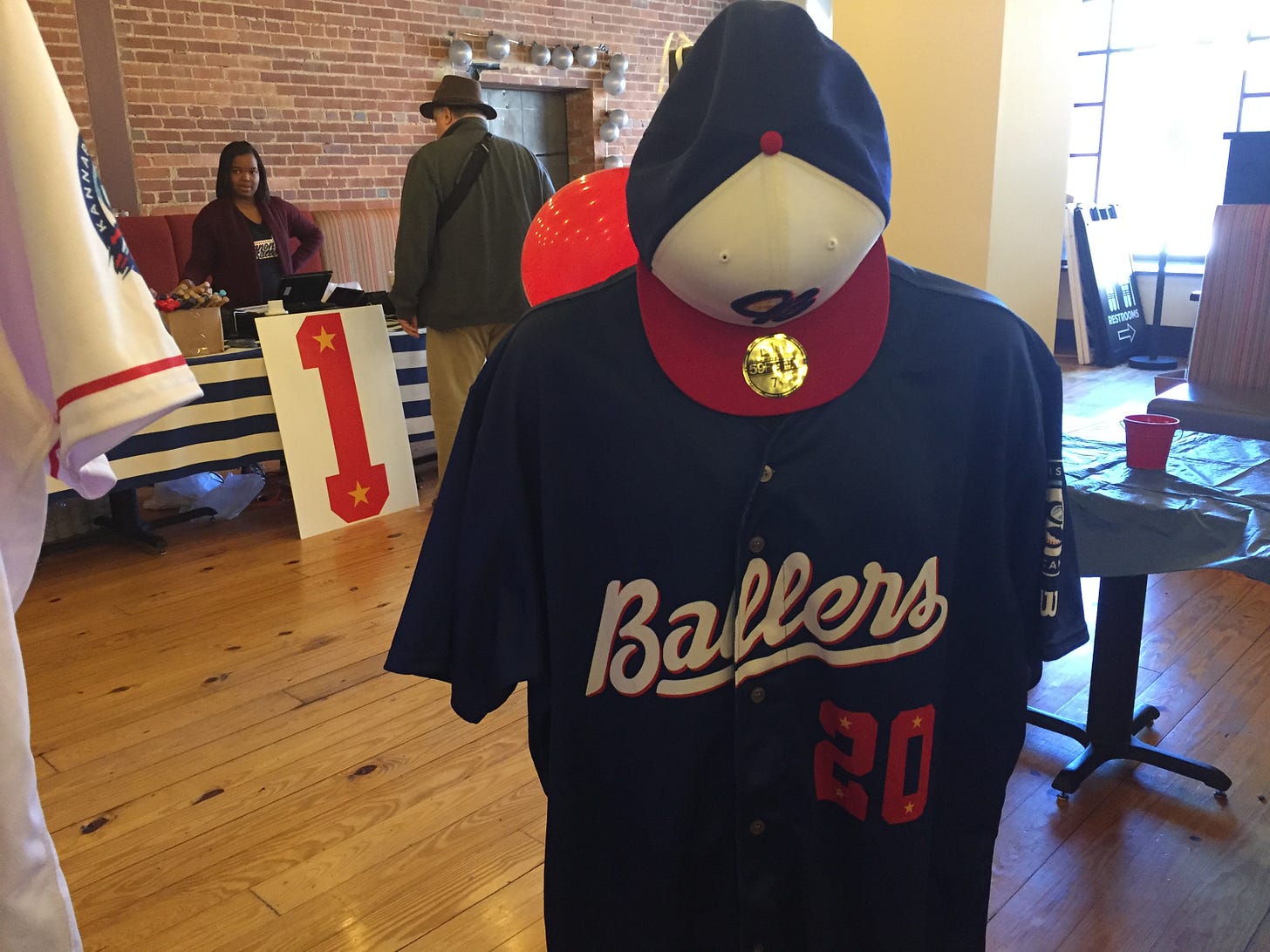 Fans stopped by a pop-up shop in downtown Kannapolis on Thursday morning to grab Cannon Ballers gear. Shopper Andrea Moody of Kannapolis told the Ledger: "It's a fun logo and a fun name. It pulls in the Kannapolis thing, the baseball, the ballers — it has a fun attitude to it. The mascot is just absolutely hysterical. … The people from around here will look at it and see the obvious connection."
No offense to the Charlotte Knights or to Homer the Dragon, but the Kannapolis Cannon Ballers are in a different league here, folks.
Dan Simon, who runs a Kentucky sports branding firm called Studio Simon and was hired by the ball club's owners in February, told the Ledger the name came to him after spending time in Kannapolis and talking to residents — many of whom urged a cannon mascot. The challenge: "How do we take this weapon of war and make it benign?" The answer came to him "like a bolt of lightning": Cannon ballers. First, his mind went to cannonballing into a swimming pool. Then it went to the 1981 comedy "Cannonball Run," which offered some racing possibilities. Then to the circus: "Now, it's still a cannon, it's still shooting something, but it's a guy flying through the air."
Easter eggs: Simon says the name and image work on different levels. Some people have perceived other meaningful images, like that the "B" in "Ballers" contains a "3" — the number on Earnhardt's car. Or that the mustache on the mascot evokes not only Earnhardt but Burt Reynolds in "Cannonball Run."
Branding advice: Not every industry enjoys the creative freedom of minor-league baseball. An accounting firm probably shouldn't brand itself as ballers, for instance. But the bigger lesson, Simon says, is that companies don't always have to choose between something plain and something controversial. "You can create a brand identity that is not vanilla, that has all the flavor of rocky road, but that resonates with your entire fan base. … Don't make a splash with something that's going to excite a lot of people but also upsets a lot of people if a lot of those people are your core fans." (If you really want to geek out on sports logo marketing, check out this long piece about the new name.)
Godspeed, Kannapolis Cannon Ballers.
---
American to fly bigger planes out of Charlotte
American Airlines is planning to move bigger planes into Charlotte, in addition to adding flights when more gates become available as part of airport renovations, execs said on Thursday.
In a conference call with analysts, executives said they want to switch out some smaller regional jets and replace them with bigger mainline planes as part of a strategy to increase the number of seats out of Charlotte, a profitable hub.
"Our growth in Charlotte especially is less about growing our regional jets," said Vasu Raja, the airline's vice president of planning. "It's about, one, improving the connectivity of the hub … and very critically having more seats on all those [flights in and out of Charlotte]. So you'll see a few things like bringing the 737s in the larger degree, turning more regional jets into the mainline."
American has previously said it intends to offer more than 700 flights a day out of Charlotte once the expansion of the A Concourse is finished around the end of the year.
Costly grounding: CEO Doug Parker also said American has lost $700M from the grounding of Boeing 737 Max jets and that "we're working to ensure that Boeing shareholders bear the cost of Boeing's failures, not American Airlines shareholders."
---
Atrium Health: Rezoning plans are in early stages
In response to Monday's Ledger article (and a subsequent discussion on WFAE) about Dilworth residents who want more information on the hospital's expansion plans, Atrium Health's head of corporate communications, Chris Berger, reached out to offer the following context on the health system's future growth. His emailed statement:
Earlier this year, Atrium Health announced a major capital commitment and investment into the Charlotte community. Atrium Health's Carolinas Medical Center is fortunate to be the region's only Level I trauma center, and has been growing piece-by-piece since 1941. Carolinas Medical Center provides a tremendous service to everyone in this area and, as the population continues to grow, we have to update some of the facilities with state-of-the-art equipment to meet the rapidly-changing needs within our community we're privileged to serve.

Currently, there are six different zoning designations that apply to Atrium Health's Carolinas Medical Center 70 acre campus. We've asked the City to simplify that by applying a single, Mixed Use Development District Optional (MUDD-O) designation to the property. This rezoning would give Atrium Health the flexibility we need to efficiently modernize our buildings and capabilities at Atrium Health's Carolinas Medical Center to better meet the needs of our rapidly-growing community. Construction permits have not been filed or approved, since we still need to understand what zoning requirements will apply.

Atrium Health has met with representatives of neighborhood boards in the area to discuss the rezoning proposal, and we will continue to engage in additional community outreach to share our rezoning plan and development proposal with area residents. It is still early in the rezoning process, and Atrium Health is continuing to work with its architects and engineers on revisions to the rezoning plan it filed with the City. The rezoning plan will evolve as we receive feedback from the community, the City and various governmental departments.
The current rezoning application and site plan filed with the city are available online on the city's rezoning website.
---
In brief
---
Food and booze news
A weekly wrap-up of the week's eating and drinking developments
---
Share with a friend:
Need to sign up for this e-newsletter? Here you go:
Got a news tip? Think we missed something? Drop me a line at editor@cltledger.com and let me know.
Searchable archives available at https://charlotteledger.substack.com/archive.
On Twitter: @cltledger
The Charlotte Ledger is an e-newsletter and web site publishing timely, informative, and interesting local business news and analysis Mondays, Wednesdays, and Fridays, except holidays and as noted. We strive for fairness and accuracy and will correct all known errors. The content reflects the independent editorial judgment of The Charlotte Ledger. Any advertising, paid marketing, or sponsored content will be clearly labeled.
The Charlotte Ledger is published by Tony Mecia, an award-winning former Charlotte Observer business reporter and editor. He lives in Charlotte with his wife and three children.