Anxieties grow in Dilworth as development looms
Plus: N.C. adds jobs in September; CMS Olde Providence high school plans included swimming pool; Former council member recalls great uptown pygmy goat debate of '09
Good morning! Today is Monday, October 21, 2019.
Need to subscribe? Sign up for free here (charlotteledger.substack.com). Like what you see? Forward to a friend.
Atrium expansion and talk of medical office building on Starbucks corner stoke neighborhood unease
Concerns are mounting in Dilworth about a couple of possible developments in the center of the neighborhood's commercial district. Residents say they'd like a lot more information than they have received about how development plans might affect traffic, residential streets and the character of their historic neighborhood.
Atrium expansion: One of the biggest areas of worry is the future building plans of Atrium Health's main campus. The hospital giant submitted plans to the city in August that would allow it to add a hotel, a medical school, office buildings and residential units on its 71-acre site. It also plans to widen the nearby greenway.
Neighbors say they're not necessarily opposed to Atrium's growth plans. But they say they're disappointed Atrium hasn't shared more detailed information. Plans seem to show that Atrium is proposing to connect Fountain View Street, a residential street with about two dozen single-family homes off East Boulevard, to the medical complex — which would likely increase cut-through traffic. A traffic study submitted to the city indicates that traffic generated by Atrium's expansion could double over current levels.
Plans also seem to allow new buildings of up to 60 feet right next to homes on Fountain View Street and Garden Terrace and up to 150 feet beside those on Lombardy Circle. But site plans don't disclose what those buildings might be.
"We were disappointed with the lack of specificity," says Dilworth resident Ellen Citarella.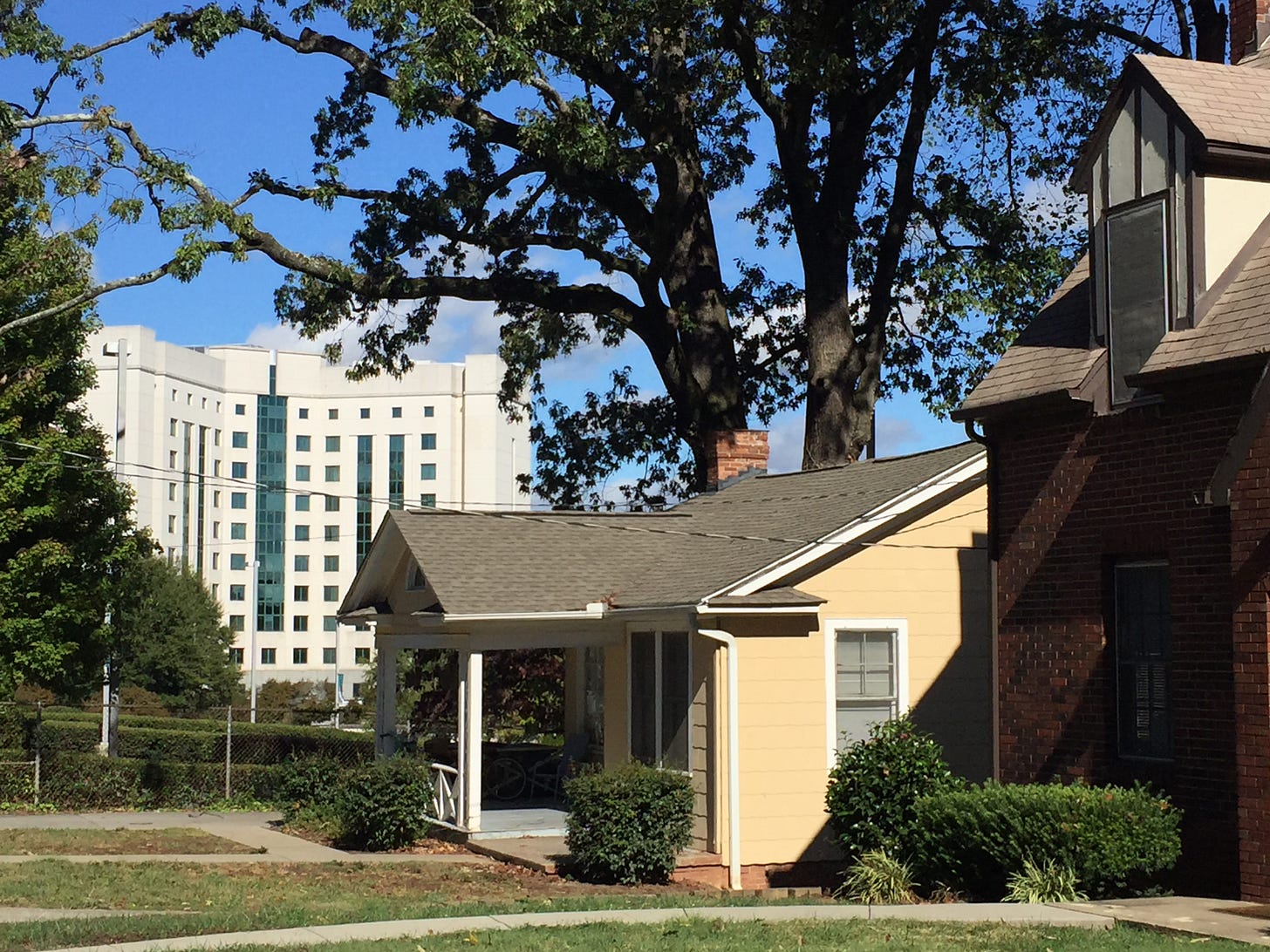 Some Dilworth residents object to Atrium Health's expansion plans, which call for constructing tall buildings near residential streets — such as on part of Garden Terrace off East Boulevard. The hospital system's rezoning application calls for buildings there of up to 60 feet.
Atrium, the county's largest private employer, has a reputation for operating in secret and not releasing more information than it has to. Atrium told the Ledger that it is "committed to ensuring that all of our communities have access to the most advanced, state-of-the art medical care available" and that "part of that plan includes exciting changes on and near the campus of Atrium Health's Carolinas Medical Center." It said it looks forward to sharing additional details in the future.
Opening offers: Citarella and Jill Walker, who co-chair the Dilworth Community Association's land use committee, say they understand that Atrium's proposal is a first step in a back-and-forth with nearby residents that will culminate in a City Council rezoning decision, probably by the beginning of next year.
"The frustration has been the lack of information on the part of the hospital," Walker says. "Neighbors would like to know for sure what their reality is. That is what any homeowner would want to know."
Larken Egleston, who represents the area on City Council, says it's important to listen to both sides: "Everybody in Charlotte recognizes Atrium as a huge employer and a huge asset to the community. That doesn't necessarily mean you want them running free on anything and everything they want to do."
A second area of concern involves the intrigue over what might be happening on the corner of East Boulevard and Scott Avenue. The Charlotte Business Journal reported earlier this month that a medical-office development firm bought the Key Man building and the adjacent Theory Design Studio, as well as associated rear parking lots.
Starbucks endangered? Then, developers submitted documents to the city that showed those parcels as well as the one with the big Starbucks on the corner as being redeveloped "for potential office or medical office use." The application elaborated: "Demolition of existing structures and construction of a single new building with structured parking facility." The person listed on the application, Jacob Bachman of engineering and architecture firm ColeJenest & Stone, did not return an email from the Ledger. The owner of the Starbucks parcel, though, told Charlotte Agenda's Katie Peralta that he had no plans to redevelop it.
However, neighbors say they're unimpressed with the idea of a new medical-office building because retail sites are needed to enliven East Boulevard: "That does not bode well for the future of East Boulevard, a street-level, pedestrian neighborhood," Walker says. "It would be nice if it had a retail aspect to it."
Atrium's expansion plans could have a big effect on three neighborhood streets — Fountain View Street, Garden Terrace and Lombardy Circle (red arrows). Residents also worry about a key corner being turned into medical offices (blue arrow).
Other changes coming: A portion of the East Boulevard block between Kenilworth and Scott avenues also recently sold, with the buyer saying it wants to freshen up the sidewalks and building exteriors. The long-vacant lot across the street — the old Epicurian restaurant site that's home to Christmas tree lots and pumpkin patches — is also up for sale, Charlotte Agenda reported this month.
Bigger picture: In a growing city, struggles between developers and residents are common. Developers often want higher-density construction, which is characteristic of urban settings (and more profitable), but residents often aren't keen on more traffic and on tall, sprawling buildings overlooking their backyards. The two sides often reach a compromise.
---
Loves me some internet
Fresh off last week's announcement that Chick-fil-A will be replacing Bojangles' as the Charlotte Hornets' chicken sponsor, Hugo and the Chick-fil-A cow train together and shoot some hoops:
---
Reader response
Ledger readers weigh in on recent articles:
In response to "Pineville has a secret DMV + other time-saving hacks":
"Not sure I've ever seen more than two or three cars in the Polkton DMV parking lot. If driving out there isn't a huge issue to you, that is 100000% the place to go. Also, they're pretty forgiving on the driving test. (Granted this was 14 years ago.)"

"I was ready to thump your head when you told the world about the secret Pineville DMV office."
In response to "Something big planned at ice plant near center of NoDa":
"Herrin Coal and Ice exited the coal supply and delivery business long ago. They did continue to stock 50-pound bags of coal through at least 2014, as I was a regular customer for my coal fireplaces in my 1905 Dilworth house. They would receive occasional deliveries from an Appalachian mine [and] had customers for heating, farriers and ironworkers and metal artisans."
In response to "Debating Charlotte's light rail expansion":
"Wendell Cox is as much an expert in transportation planning as the medical 'researchers' hired by Phillip Morris were experts on the impacts of smoking to human health. He has long ago been discredited within the transportation profession, leaving him the only voice in opposition to any planning that is not car-based. … The discourse on transit has moved beyond him and his simpleton arguments. To associate with his opinions makes our community look parochial, even backward. Transit in and of itself is neither panacea nor boondoggle. … I felt myself becoming a little dumber as I read the piece. We shouldn't promote dumbness around matters of such importance."
In response to "Pro soccer subsidies: It's economic revitalization, not corporate welfare":
"Brilliant take on Tepper. He's found their ultimate weak link to begin his reverse Robin Hood: Eastland. #KeepPounding this story line — maybe the public will see through it. But I doubt it."
Uptown's GOAT was named Buckley
In response to the item about somebody hunting deer with a bow and arrow in Boyce Park off Sardis Road, former Charlotte City Council member Edwin Peacock shared the following story with the Ledger:
Two of my most memorable experiences on Charlotte City Council between 2007 and 2011 involved citizen efforts to change our animal ordinances.

There was a group of hunters wanting us to update our ordinance to allow for bow hunting on city/county land. The argument for it from a conservation and overpopulation standpoint had solid footing and many precedents across the U.S. I can't recall how or where it went, but clearly there are some anxious bow hunters out there still!

The other was my favorite: In 2009, Buckley, a pygmy goat that was in the yard of a Fourth Ward resident, was being challenged by neighbors because our ordinance did not allow for goats of his type inside city limits.

Mind you, the ordinance did allow for certain types of snakes, chickens and other farm animals — just no one had thought a neutered pygmy goat would be a "pet of choice."

The owner was petitioning to have us update our ordinance to include the pygmy goat designation. It turns out that the owner found online that Buckley was the most environmentally friendly way to manage a problem he was having in his back yard: kudzu that grew out of control.

Buckley was essentially a small dog-like animal when neutered and was quite cute, friendly and harmless. His purvey of his pasture was from the front yard fence which had many visitors and walkers. Kids liked him and made daily trips to see him.

In short, we had half of the neighbors getting furious and wanting him gone. The other half were leading the "PRO-BUCKLEY / LET BUCKLEY STAY" camp.

The truth nugget from it all was from then-Mayor Pat McCrory, who shared some sage advice to me during the debate that ensued. Off the camera, he told me, "When you mess with people's kids or with their pets, people go nuts!" Man, was he right.

I voted in favor updating the ordinance to FREE BUCKLEY from being banished to the country. I was on the losing end of a 7-4 vote.

I hope someday in my future, if I run for president, this will be the centerpiece of my vision for America: MORE GOATS!
---
What recession? N.C. still adding jobs
The federal government released new employment stats for September, and North Carolina is looking solid, according to an analysis of the numbers from Wells Fargo's economics team:
North Carolina continues to have one of the nation's strongest job markets, with employers adding 8,000 net new jobs in September and adding 99,000 jobs over the past year. …

Hiring rose solidly across most major industry categories, led by a 3,900-job gain in trade, transportation & utilities and 3,800 new jobs in the leisure & hospitality sector. Professional & business service providers add 2,100 jobs during the month. … The state's factory sector hit a soft spot, however, with manufacturers cutting 4,200 jobs during the month.
---
In brief:
---
Taking stock
Unless you are a day trader, checking your stocks daily is unhealthy. So how about weekly? How local stocks of note fared last week (through Friday's close), and year to date:
---
Need to sign up for this e-newsletter? Here you go:
Got a news tip? Think we missed something? Drop me a line at editor@cltledger.com and let me know.
Like what we are doing? Feel free to forward this along and to tell a friend.
Archives available at https://charlotteledger.substack.com/archive.
On Twitter: @cltledger
The Charlotte Ledger is an e-newsletter and web site publishing timely, informative, and interesting local business news and analysis Mondays, Wednesdays, and Fridays, except holidays and as noted. We strive for fairness and accuracy and will correct all known errors. The content reflects the independent editorial judgment of The Charlotte Ledger. Any advertising, paid marketing, or sponsored content will be clearly labeled.
The Charlotte Ledger is published by Tony Mecia, an award-winning former Charlotte Observer business reporter and editor. He lives in Charlotte with his wife and three children.