CMS spent $170K on new website, but glitches persist
Plus: Suburbs lead rejection of sales tax referendum; Historian Dan Morrill to retire; Who am I — I'm T-Rex 24601
Good morning! Today is Wednesday, November 6, 2019. Need to subscribe? Sign up for free here (charlotteledger.substack.com). Send to a friend.
Website redesign leaves some parents frustrated and prompts calls to schools; 'I can't find anything'
by Michelle Crouch
If you tried to find anything on the Charlotte-Mecklenburg Schools' new website recently, chances are you came up empty — or at least a little frustrated.
If you Googled the name of a CMS school, you got directed to a generic www.wearecms.com page that listed every CMS school, forcing you to scroll down and click on the correct school.  If you Googled a CMS department, you landed on a generic www.wearecms.com home page rather than on the specific page with the information you sought.
CMS paid Los Angeles-based tech company Edlio $170,000 to redesign all of the district's public-facing websites — including the home pages for every school, according to a contract reviewed by the Ledger. As part of the redesign, CMS switched its color scheme from red to blue and moved all of its pages to the www.wearecms.com domain.
The contract calls for Edlio to maintain the sites and provide technical support to CMS for the next two years and to receive two more payments of $135,000 over that time. The contract did not require school board approval, though it was signed by school board chair Mary McCray.
CMS spokeswoman Renee McCoy said in an email that a goal of the redesign was to "empower people with accurate and accessible information." She said last week that CMS is in the process of making its second payment to Edlio.
Many parents have found the redesign challenging. When one frustrated web searcher asked others what they thought of the redesign on Facebook last month, parents quickly weighed in:
"The site looks as if it was designed by high school technology students."

"Perfect example of 'If it ain't broke, don't fix it.'"

"It just seems that it wasn't user tested, AT ALL."

"I can't find anything."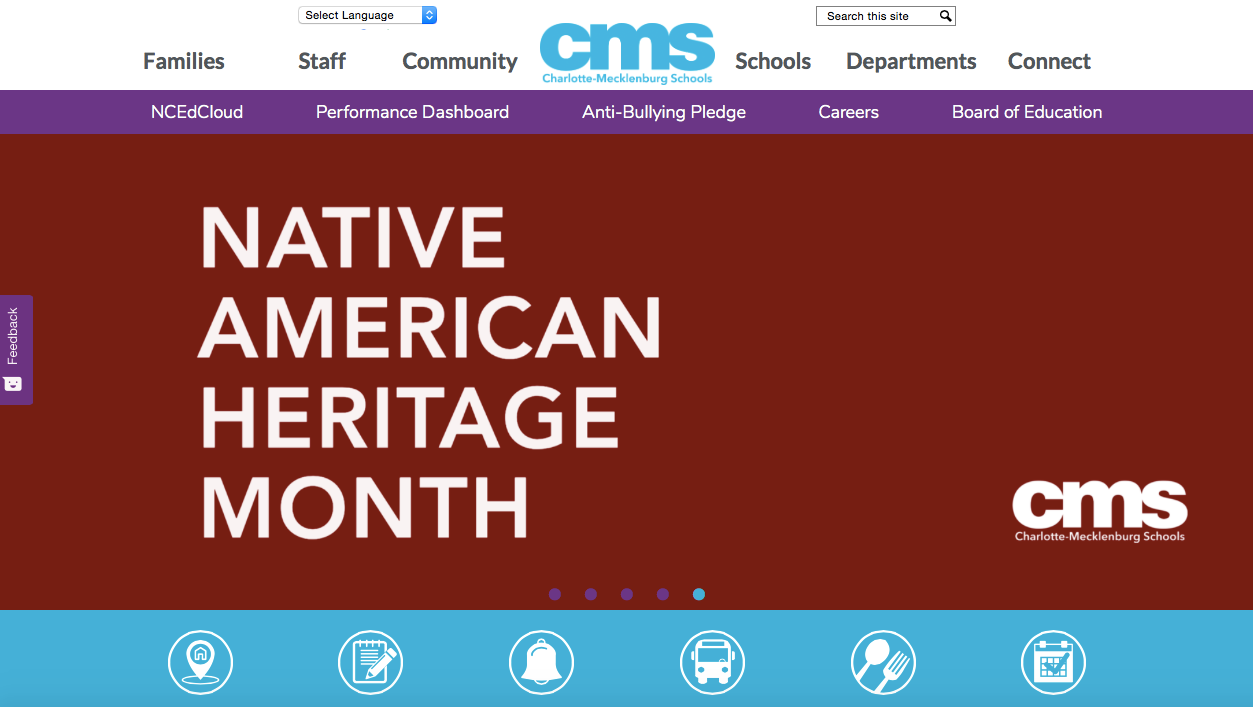 The main CMS webpage might look familiar to many parents, because many Google searches for school information provide links that go the homepage. Some parents say information is hard to find on the new site.
Since The Ledger started asking questions about the website last month, either Edlio or CMS has made some fixes. A Google search now brings up the correct links to popular CMS topics such as the Charlotte-Mecklenburg school board, the CMS transportation department and school calendars. But less popular pages are still tough to find:
A Google search for "Charlotte-Mecklenburg schools media room" — the name of the page where CMS lists media contacts — returns a couple lines of information from that page on Google. But if you click the link, you're led to the main www.wearecms.com home page with no mention of media. Typing "media room" into the search bar at the top of that page returns no relevant results.

A search for "Charlotte Mecklenburg Schools weapons policy" on Google provides a link that goes to the main CMS page. The second link listed in Google goes to the list of CMS schools.
Asked about the website's problems, an Edlio spokeswoman said the company is working with CMS, which she said has control over the site's content.
Web redesign best practices: Austin Crane, owner of Charlotte website redesign firm Bellaworks — which is not affiliated with the CMS website project — said it's not considered best practice to do what he called a "blanket URL redirect" to a generic homepage when you do a site redesign.
Instead, he said, designers typically provide a redirect to every page so visitors get redirected to the link they were looking for.  
"It's tedious because you have to copy and paste every URL," he said, "but it's standard practice, and we do it as part of every redesign."
School info tricky to unearth: Another complaint about the new sites is that it's difficult to find information on individual school pages. On the old www.cms.k12.nc.us sites, each school page on the left-hand side had a list of quick links to pages with information about the parent-teacher organization, prospective family information and the school handbook.
Now, to find those links, you have hover over the words "Our School" at the top of each page. But the words are not underlined or highlighted, so visitors don't realize you're supposed to hover there.
More phone calls: One school secretary told the Ledger she's getting a lot more calls from people asking where to find information that used to be easy to find on the website. "This new website has not made our lives easy," she said.
McCoy said the district is working with Edlio "to address all issues as they are presented."
Michelle Crouch is a freelance journalist in Charlotte who covers health, personal finance and parenting. Her work has appeared in a variety of local and national publications, including Reader's Digest, Real Simple, Prevention and AARP.
---
Suburbs ax sales tax
The referendum to raise the sales tax to help fund arts, parks and education was popular among Mecklenburg residents clustered near uptown — but it lost nearly everywhere else.
Overall, voters shot it down 57%-43% on Tuesday. The pro-tax effort was funded by some of Charlotte's biggest and best-known companies, including the Carolina Panthers, Wells Fargo, Duke Energy and Atrium Health.
Here's the map from the State Board of Elections on how different parts of town voted (orange is "for"):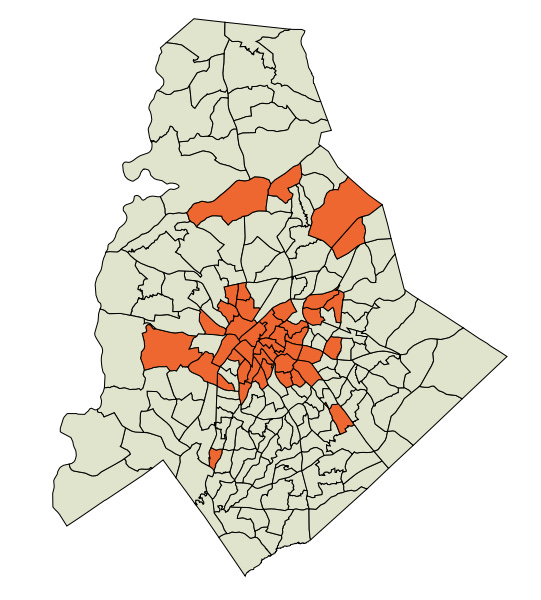 Urban-suburban divide: A Ledger analysis of voting data shows the precinct where the sales tax referendum was most popular was Precinct 30 in NoDa, where 66% of voters supported it. Other areas that were most supportive include Eastover, Elizabeth, First Ward and Plaza-Midwood — precincts there each voted 60+% in favor.
It was least popular at Precinct 236 in Mint Hill, where 77% voted against it. Man, Mint Hill did not like this sales tax idea: The four precincts with the highest share of "against" votes were in the Mint Hill area.
"Against" also racked up big margins in parts of Huntersville and in several south Charlotte precincts near Ballantyne and along Carmel Road.
Voters 'aren't clued in': Some supporters blamed the defeat on confusing ballot language: "You have a low turnout election, and people aren't clued in," county commissioner Susan Harden said, according to Charlotte Agenda.
If you're inclined to check out the precinct-by-precinct results, you can do that here.
---
Loves me some internet: Les Mis dinosaur fight scene
The actor who played Inspector Javert in last week's production of Les Misérables at The BOplex Ovens Auditorium posted this rehearsal of his fight scene over the weekend with the actor playing Jean Valjean … and they wore dinosaur costumes while singing:
---
Bulldozing Memorial Stadium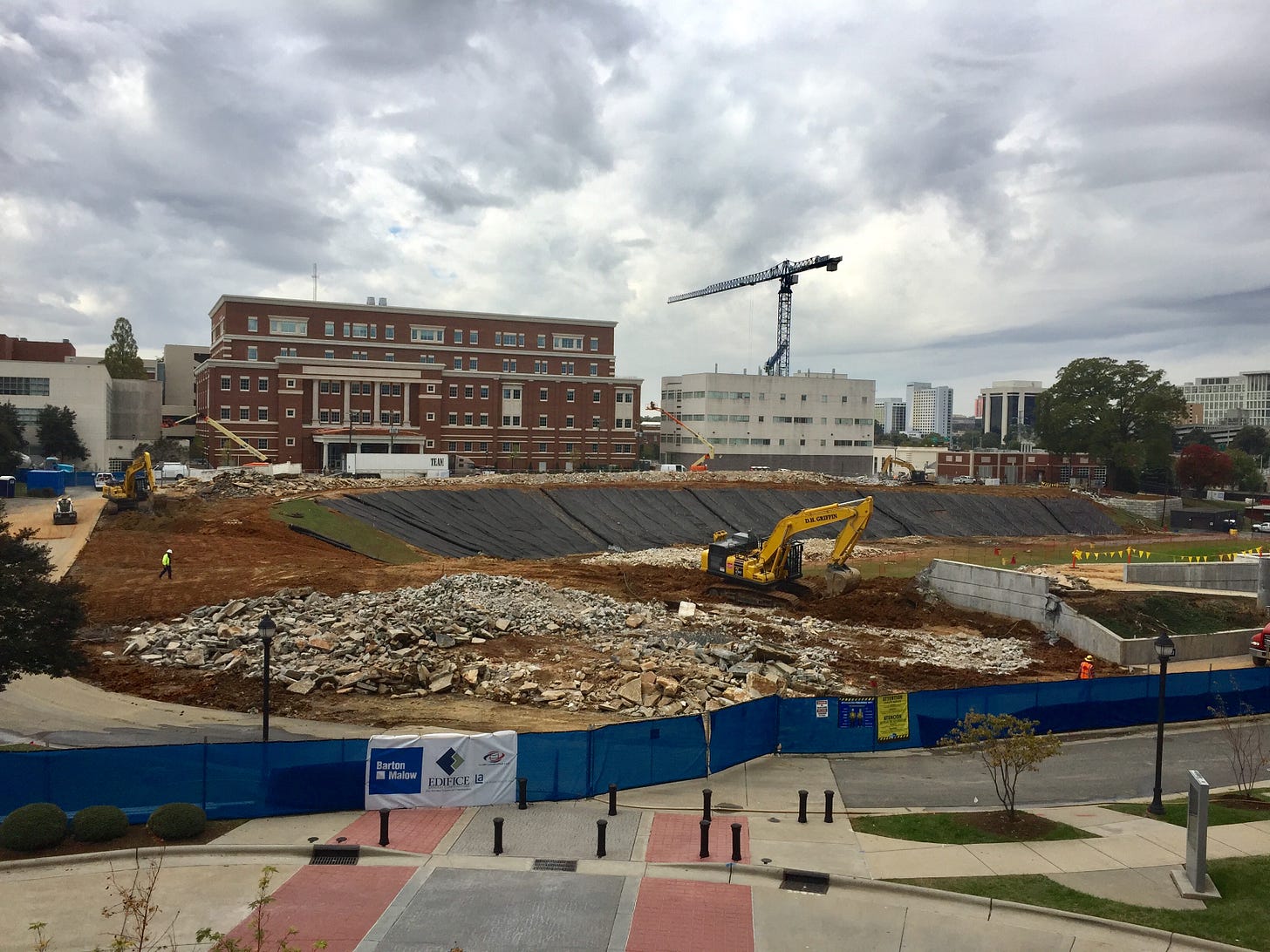 Demolition was in full force this week at Memorial Stadium in Elizabeth. It's the first step in a
$35M renovation of the stadium
that will enlarge the playing field, relocate ticket windows and connect the site to the nearby greenway. Work is expected to finish in 2021.
---
In brief
Historic retirement: Historian Dan Morrill is retiring as consulting director of the Charlotte-Mecklenburg Historic Landmarks Commission after 46 years, the commission announced Tuesday. He'll be replaced by Jack Thomson, executive director of the Preservation Society of Asheville and Buncombe County. Morrill's last day is Dec. 9. (Observer)

Atrium buys more Georgia hospitals: Atrium Health is buying a healthcare system in Rome, Ga., the companies announced Tuesday. The deal with Floyd Health System calls for Atrium to invest $650M in the next 11 years and donate $80M to the system's charitable foundation. "We know that with size and scale health care systems can be more efficient," Atrium's executive VP told a local paper, which called the purchase "one of the largest business deals ever in Floyd County." (Biz Journal/Rome News-Tribune)

Hilton Head's "zombie foreclosures": A ZIP code that includes Hilton Head's Coligny and Harbour Town areas is one of the tops in the country for so-called "zombie foreclosures" — foreclosures in which houses sit empty, according to a study released last week by ATTOM Data Solutions. The 29928 ZIP code is also #3 in the country for the highest share of vacant houses (26%), behind ZIP codes in Flint, Mich. and Chicago — although that's probably because of the high number of beach houses.

Fare sale: Frontier has some ridiculously cheap airfares at the moment for travel next weekend. It's selling $27 round-trip, nonstop flights between Charlotte and Philadelphia, and $107 round-trip, one-stop flights between Charlotte and San Diego. (See airfares below.)

Fox 46 sold: Fox Corp. is selling Charlotte affiliate WJZY (Fox 46) to Nexstar, the top owner of local stations, as part of a bigger deal involving four other stations. Nexstar's CEO said: "The Charlotte metropolitan area is the fastest growing in the country with a strong and stable economy, affordable housing and a solid job market." (Deadline)

Donut run restored: Following a social media backlash, North Carolina-based Krispy Kreme has backed down after banning a Minnesota college student from driving 135 miles to suburban Des Moines to buy donuts then reselling them in Minnesota, where there are no Krispy Kremes. He's now forming an LLC, obtaining a mobile food license and has started a GoFundMe page to buy a vehicle to accommodate up to 300 dozen donuts. His 2008 Ford Focus fit only 110 dozen. (CBS)
---
This week in podcasting
A round-up of interesting moments in recent Charlotte podcasts
Dr. Courtney McMickens, a Novant Health psychiatrist, talks with host Cliff Mehrtens about problems she sees teens experiencing in relation to social media — and what parents can do about it:  "Spending lots of time on social media can be linked to depression and anxiety, and it also facilitates this isolation of kids to their rooms and away from other relationships in their lives. . .. They become absorbed in some of the comments and the likes and the comparisons. That's what I see a lot in clinic, is a lot of concern about what other friends are doing. … Talk to your teen about engaging in social media from the beginning. Set some ground rules as far as you having access to their page and being able to log on and see what they're doing, especially for younger teens. … [have] that conversation initially and [talk] about things to look out for." (Novant Health Healthy Headlines, Oct. 21, 14 minutes)

Avoiding eviction: Natalia Botella from the Charlotte Center for Legal Advocacy tells host Sarah Blake Morgan about her work helping clients avoid eviction. Some of the problems, she says, stem from gentrification: "We also work with low-income homeowners who are being pushed out of their homes because of really high property taxes, but gentrification affects renters, too. The majority of our homes are renter-occupied. When people get shuffled from place to place, that's just not good for the fabric of a neighborhood. … A lot of the people I represent, they're working. They have families. And they're one crisis away from things just really unraveling." (Charlotte Newsmakers podcast, Nov. 4, 27 minutes)

It might not be a highlight, but Ledger editor Tony Mecia was the guest on this week's Charlotte Podcast, where he talked with hosts Miller Yoho and John Short about the idea behind the Ledger, the recent Pittenger-Lebda Quail Hollow dust-up and more. (Charlotte Podcast, Nov. 5, 35 minutes)
---
Cheap getaways from CLT
Charlotte to Orlando, $46 round-trip on Frontier (nonstop), Nov. 14-18.

Charlotte to Philadelphia, $27 round-trip on Frontier (nonstop), Nov. 14-17 and other dates in November-December.

Charlotte to San Diego, $107 round-trip on Frontier (one-stop), Nov. 14-18.

Charlotte to Baltimore, $52 round-trip on Spirit (nonstop), various dates in November-December.
Source: Google Flights. Fares retrieved Wednesday morning. They might have changed by the time you read this.
---
Programming notes:
Ledger editor Tony Mecia appears as a guest on 90.7 WFAE at 6:40 a.m. and 8:40 a.m. on Thursdays for a discussion of the week's local business news in the station's "BizWorthy" segment. Audio and transcripts are also available online.

You might also check out a "Charlotte Talks" discussion of Charlotte business news held Tuesday with Mecia, Charlotte Agenda's Katie Peralta, the Charlotte Business Journal's Ashley Fahey and the Charlotte Observer's Danielle Chemtob. Available here.
---
Need to sign up for this e-newsletter? Here you go:
Got a news tip? Think we missed something? Drop me a line at editor@cltledger.com and let me know.
Like what we are doing? Feel free to forward this along and to tell a friend.
Searchable archives available at https://charlotteledger.substack.com/archive.
On Twitter: @cltledger
The Charlotte Ledger is an e-newsletter and web site publishing timely, informative, and interesting local business news and analysis Mondays, Wednesdays, and Fridays, except holidays and as noted. We strive for fairness and accuracy and will correct all known errors. The content reflects the independent editorial judgment of The Charlotte Ledger. Any advertising, paid marketing, or sponsored content will be clearly labeled.
The Charlotte Ledger is published by Tony Mecia, an award-winning former Charlotte Observer business reporter and editor. He lives in Charlotte with his wife and three children.