Developers' challenge: building shops on the bottom floor
Plus: Was Amazon HQ search a massive data-gathering scheme?; South Charlotte Weekly publisher adds 2 papers in Union County; Brixx closes after 20 years in uptown
Good morning! Today is Monday, December 16, 2019.
Need to subscribe? Sign up for free here (charlotteledger.substack.com). Like what you see? Forward to a friend.
Expect to see even more mixed-use high rises all over Charlotte, but adding retail can be tricky; struggles with density, parking
By Kerry Hall Singe
Apartment buildings and office towers are popping up all over Charlotte, from University City to uptown and its nearby neighborhoods to SouthPark and Ballantyne.
And with a growing number of them, developers are opting to add an additional element: shops on the ground floor. As Charlotte grows, expect to see more of this type of development. It's inevitable for a growing city with big ambitions.
But retail brokers say ground-level retail won't appear everywhere. It's tough to pull off successfully.
South End's example: South End shows how ground-floor retail can transform a corridor. All new towers announced for the area now include ground-floor retail or restaurant space.
Consider Atherton Mill, which brokers point to as the as the pinnacle of mixed-use done right: Edens is turning the former mill into 35 retail spaces with space for shopping, eating and entertainment with a five-story, 346-unit apartment community, Crescent's Novel Atherton, up top. Tenants include beauty retailer Sephora, athletic and leisurewear maker Lululemon, and Barry's Bootcamp, where fitness fanatics can burn 1,000 calories per session.
"The city encouraged density to enhance the tax base in South End. They wanted to do new urbanism, and mass the density close to mass transit, and it's worked," says Adam Williams with Legacy Real Estate Advisors. He describes South End as one of the "most interesting, fast-moving neighborhoods in the three-state area."
But just because ground-level retail is being added in South End doesn't mean it will easily work anywhere. The challenges include:
Density. First and foremost, you need enough density. And not just a few condos or apartments. Size matters. Brokers say ground-floor retail on East Boulevard in Dilworth has struggled over the years because the area needs additional office space and apartments to generate more foot traffic. (Note: Latta Pavilion, the mixed-use development between Scott and Kenilworth avenues, has 85,000 s.f. of retail space that's fully leased, its website says.)

Parking. Yes, ground-floor retail is geared toward pedestrians. But parking still needs to be taken into account, especially for projects that lure a large number of drivers. The Metropolitan has struggled with parking because of the popularity of one of its tenants, Trader Joe's.

Design. Successful projects often include thoughtful design, which can be more expensive. Projects should ideally let retailers incorporate their unique branding and style. No one is inspired to visit endless blocks of beige buildings.

Tenant mix. The right mix of tenants is crucial to attract customers. If people can find a similar shop or cafe in a nearby strip mall, they will be tempted to go where the parking is easier.
"Nothing is guaranteed, and a lot comes down to individual operators and how they perform," says Charles Thrift, partner with Thrift Commercial Real Estate Services. "But a lot does depend on the mix and the quality of the tenant that's put in the property itself."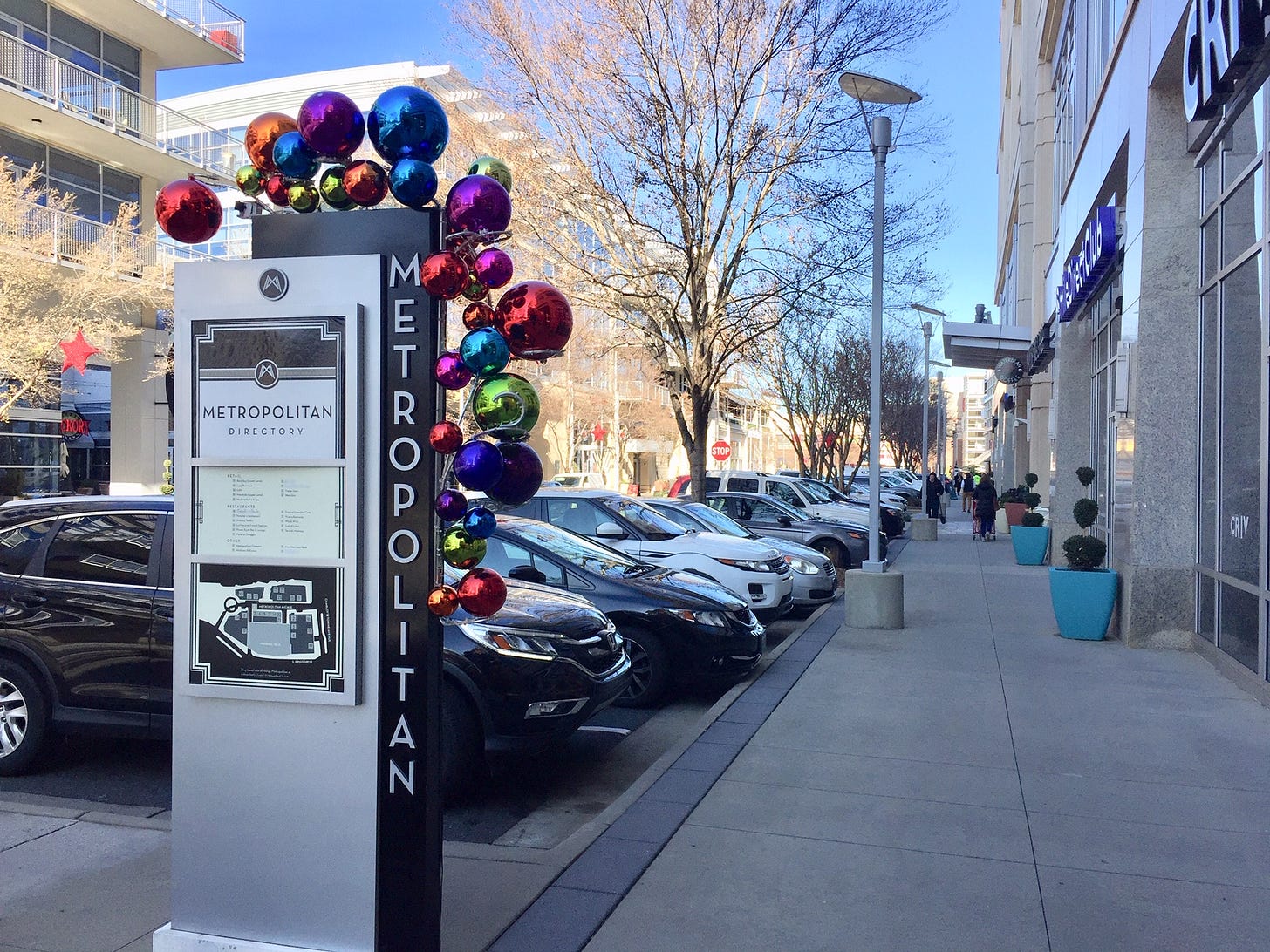 It can be tough for shops on the first floor of developments to thrive if parking is tight. Cars often jockey for spaces at the Metropolitan in large part because of the popularity of Trader Joe's.
Here's the outlook for ground-floor retail in Charlotte:
South End: Look for available space between Stonewall Street and New Bern Station (near Suffolk Punch) to fill in with multi-use projects and for projects to spill east and west off the Lynx light rail line.

Plaza-Midwood: The neighborhood is primed for mixed-use projects with ground-floor retail thanks in part to the prime 12-acre site being put up for sale at Central and Pecan avenues. "You're going to see Plaza-Midwood completely transformed," Williams says.

NoDa. Williams: "NoDa will be 2.0 of South End."

SouthPark. Apex SouthPark and the redevelopment of The Colony are underway. SouthPark isn't usually thought of as walkable, but these massive mixed-use projects and the addition of a three-mile greenway-like path called "The Loop" may change that outlook.

Ballantyne. Thrift says he can see the mixed-use Ballantyne Reimagined development between the Ballantyne and Aloft hotels succeeding, even though the Ballantyne area as a whole doesn't yet have the density typically desired for ground-floor retail projects.       

Suburbs should lower expectations: Generally, don't expect much ground-floor retail to be built in the 'burbs, where land is relatively plentiful and cheap. But it's fair to point to Birkdale Village, built on 52 acres of horse pasture in Huntersville, as a multi-use suburban success story. After Birkdale Village was finished in 2002, real estate experts traveled from across the country to study it. One reason Birkdale Village worked was it had the concentrated housing and offices, and the mix of retail and restaurants made the place an entertaining destination.
"I think we're in the beginning stages of seeing a lot more ground-retail product," Thrift says. "It works in other cities, and I don't see why it wouldn't work here."
Kerry Hall Singe is an award-winning former Charlotte Observer business reporter. In addition to writing for various publications, she helps her clients, many of which are real estate firms, tell their stories and manage content across multiple media platforms.
---
Ronnie Bryant: Was Amazon HQ search actually a data harvesting operation?
You'll recall that Charlotte's psyche was seriously damaged by the failure in 2018 to make the list of top 20 cities under consideration for a new Amazon HQ. At the time, Amazon explained to disappointed Charlotte leaders that the area didn't have enough tech workers. It ultimately chose to build the new HQ outside Washington, D.C.
Now, the economic developer who led Charlotte's effort says he wonders if the whole exercise was really a scheme by Amazon to compile sensitive economic information on the 238 cities that applied for the HQ.
In an interview with real estate broker John Culbertson on an episode of the "Cardinal Insights" podcast released last week, Ronnie Bryant admitted he's still bitter that the Charlotte region didn't make the cut, and he said upon reflection that Amazon's unorthodox public search might have been more than that: "I don't believe that project was a true headquarters location search as much as it was a data collection exercise."
Here's how Bryant laid out his case:
Bryant: The big surprise in not making the initial cut of 20 was the fact that when you look at other communities that made it, and you think about being told point blank that an international airport was important, well, let's name a few cities on the list, and tell me where their international airport is. I don't want to pick on Raleigh, but I'd like to visit Raleigh International Airport. And Columbus. Pittsburgh. C'mon, let's just be for real here. …

We were told we did not have enough tech workers. OK, fair enough. We maxed out at that particular time at about 62,000 tech workers. Raleigh had at the time about 80,000+. The average among the top 20 on the list was about 120,000 tech workers.

Now, that number is not a secret. Most of us, we go to the same source. CBRE is one of the best sources for workforce data within communities around the country, and all of us have access to that data.

Amazon didn't have to come to me to get that number. If that number was important, all you had to do in the RFP [request for proposal] was say, "If you don't have at least 80,000, don't apply!" Well, we wouldn't have applied. Simple as that. But they didn't say that.

Culbertson: Does Columbus have 80,000 or 60,000 tech employees?

Bryant: That's my point. That's what was so frustrating. I came to the conclusion, and I hope I don't sound bitter, although I am … I don't believe that project was a true headquarters location search as much as it was a data collection exercise. They now have the most extensive database of community information in the world of U.S. communities: 238 of us gave them everything. And then 20 gave them even more. For an information company, that's substantial.

Culbertson: All that information is stale the minute they get it.

Bryant: Some of it. But what's not stale is a community's desire to participate with incentives. Amazon — we've seen the benefit of their fulfillment centers in our region. They're building them all over the country. Now, when they are negotiating with a community, they are negotiating with a community [where] they know of the programs and the community's desire to incentivize a project.

The discussion takes a different twist now as opposed to if they didn't have that information.
Bryant, who stepped down from the Charlotte Regional Partnership when it merged this year with the Charlotte Chamber, also provided a lot more details on the podcast about the intensive though failed effort to land the retail giant. He's not the first to float the data-collection theory: The theme has been explored by Axios, CBS News and Business Insider.
Bryant now runs a consulting company and has written a book on nonprofit leadership — which is available, naturally, on Amazon.
---
Loves me some internet: full moon over Tryon
A gorgeous shot of the final full moon of the decade, captured last week over the Bank of America Corporate Center by Charlotte photographer Myles Gelbach: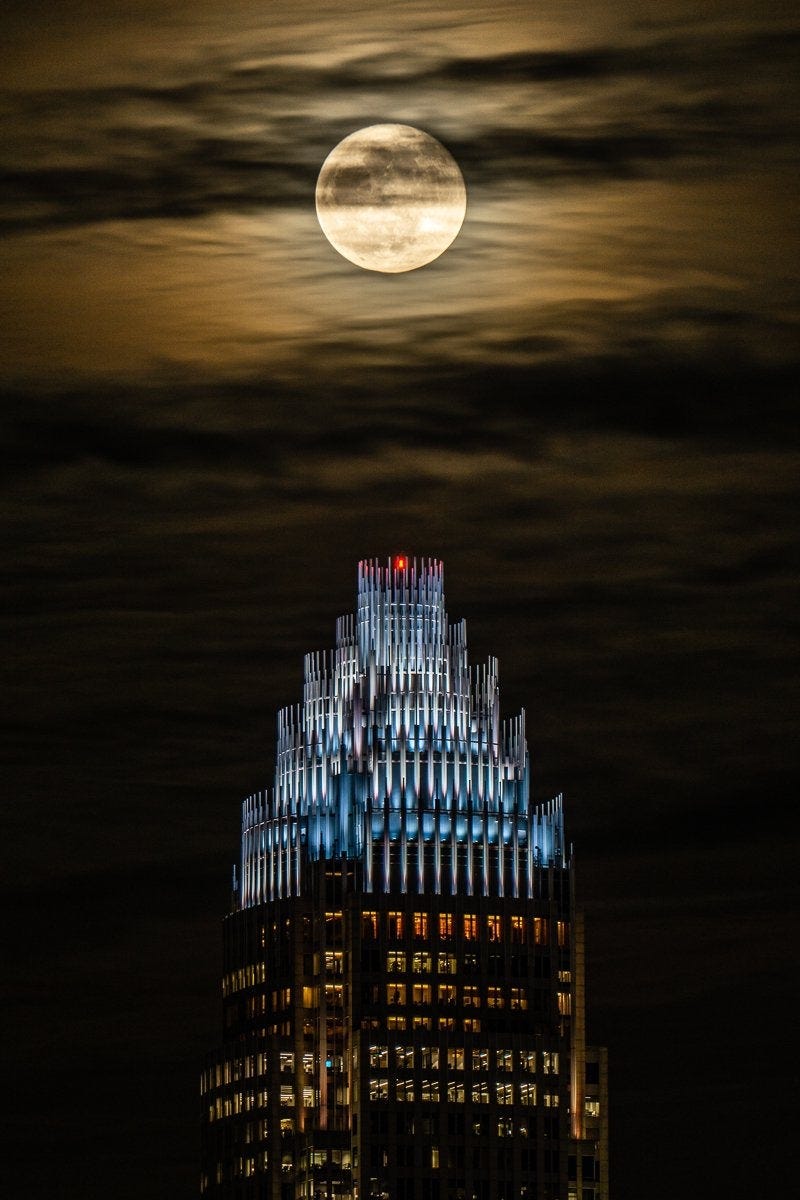 Taking this photo "took some careful positioning … running down Summit St. with a fully extended tripod until I found the perfect spot to set up," photographer Myles Gelbach wrote. He used a Sony A6000 with a 55-200mm lens. (Photo by Myles Gelbach. Used with permission.)
Gelbach also posted an accompanying photo of the moon peering through the Duke Energy building at the new Bank of America Tower. On Reddit, he posted a version of the shot above cropped for use as wallpaper on a mobile phone.
---
In brief:
---
Taking stock
Unless you are a day trader, checking your stocks daily is unhealthy. So how about weekly? How local stocks of note fared last week (through Friday's close), and year to date: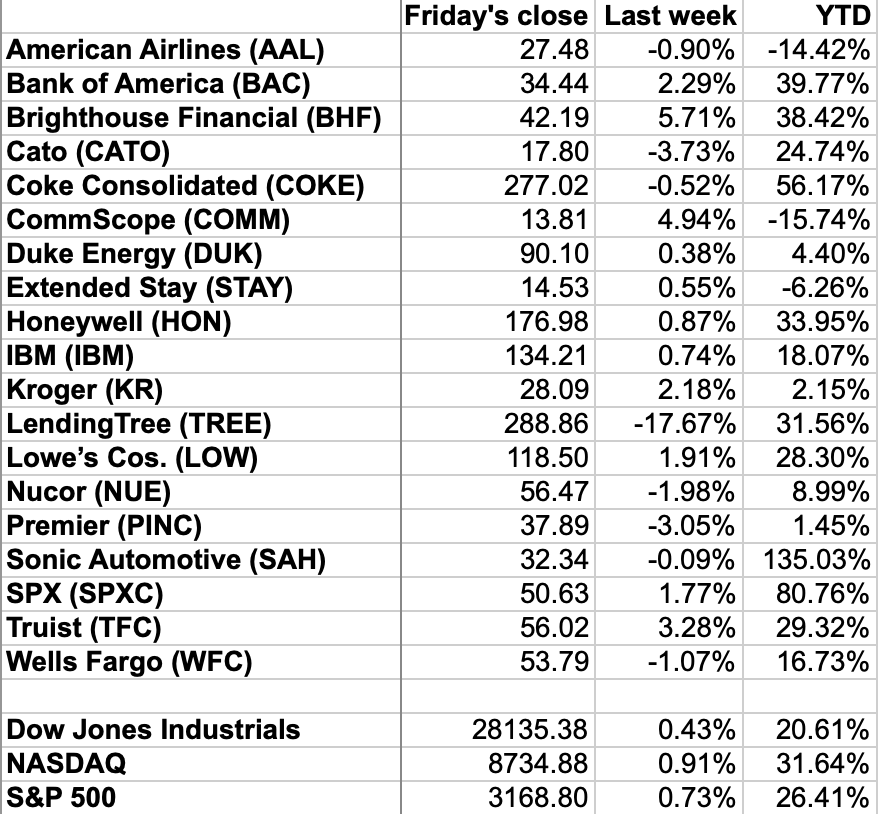 ---
Report: Star of '
A Night at the Roxbury
' comes to Charlotte, spends night at The Roxbury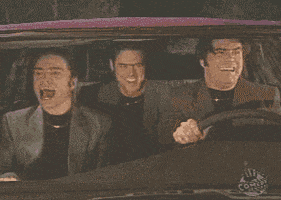 ---
Need to sign up for this e-newsletter? Here you go:
Got a news tip? Think we missed something? Drop me a line at editor@cltledger.com and let me know.
Like what we are doing? Feel free to forward this along and to tell a friend.
Archives available at https://charlotteledger.substack.com/archive.
On Twitter: @cltledger
The Charlotte Ledger is an e-newsletter and web site publishing timely, informative, and interesting local business news and analysis Mondays, Wednesdays, and Fridays, except holidays and as noted. We strive for fairness and accuracy and will correct all known errors. The content reflects the independent editorial judgment of The Charlotte Ledger. Any advertising, paid marketing, or sponsored content will be clearly labeled.
The Charlotte Ledger is published by Tony Mecia, an award-winning former Charlotte Observer business reporter and editor. He lives in Charlotte with his wife and three children.