New allegations against Charlotte media's 'financial guru'
Plus: Remembering Mary Jo's; Panthers uncork California cabernet; Speedway CEO's wife admits interrupting conference calls
Good morning! Today is Wednesday, August 28, 2019. Need to subscribe? Sign up for free here (charlotteledger.substack.com). Send to a friend.
Scheduling note: Because of Labor Day weekend, the next Ledger will be published on Wednesday, Sept. 4.
Jim Heafner, who dispensed financial wisdom on Charlotte TV and radio, gave bum advice to clients, legal filing says
New court filings have revealed additional allegations of shoddy investment advice against financial planner Jim Heafner, a former regular on Charlotte TV and radio stations who closed his firm this year and took off to Puerto Rico.
In a court filing this month, a financial firm that had agreed to buy Heafner Financial before the allegations surfaced this spring said it had become aware of new improprieties, including that Heafner:
"invested an 85-year-old woman's entire net worth into an equity index annuity with a 10-year surrender, virtually locking up all of her assets in unsuitable products."

"did not invest over $200,000 of a client's retirement funds. The assets earned no return during the entire period that the client had worked with the Heafner Partners."

"advised a client whose mother had passed away that he could pull out his mother's annuity but did not inform him that he would incur a large amount of capital gains due to the cost basis structure of the account."
Heafner's lawyer, Charles Bridgmon, didn't return an email from the Ledger on Tuesday.
The new allegations indicate that there could be many more people in the Charlotte area who received questionable financial advice from Heafner — beyond the three who filed earlier complaints with the brokerage industry's regulatory body. A lawyer for one of those three told the Ledger in April that his client, a 62-year-old retired Charlotte bank employee, was "devastated" after the $130,000 she entrusted to Heafner turned into nothing.
Background: Heafner has been accused of selling unregistered securities on behalf of a Florida company called 1 Global Capital. The SEC has alleged that 1 Global misrepresented the investments as safe for retirement accounts, when in fact its CEO — the former owner of Playgirl and High Society — used the money to pay for "lavish expenses such as a luxury vacation to Greece and monthly payments for his Mercedes Benz." Investors' money disappeared. Heafner has said he believed 1 Global offered legitimate investments.
WHO: In the last few years, Heafner appeared frequently on local media. He had a weekly segment on WCNC's "Charlotte Today" and also appeared on morning shows on WBTV and WSOC. WBT radio even named its studio after his company last year. Many of Heafner's media appearances seem to have been paid sponsorships, though the TV and radio stations seldom indicated that they were sponsored segments.
Investment adviser Jim Heafner was a regular fixture on programs including WCNC's "Charlotte Today," where Colleen Odegaard in this 2016 segment told viewers that Heafner's company has software "that can monitor your portfolio and alert you if its value goes down and get you out before it crashes."
In a 2017 segment on WBTV's "Morning Break," host LaMonte Odums told Heafner: "You're known as the Carolina financial guru coach. That's who you are!" Heafner replied: "To some people, yes."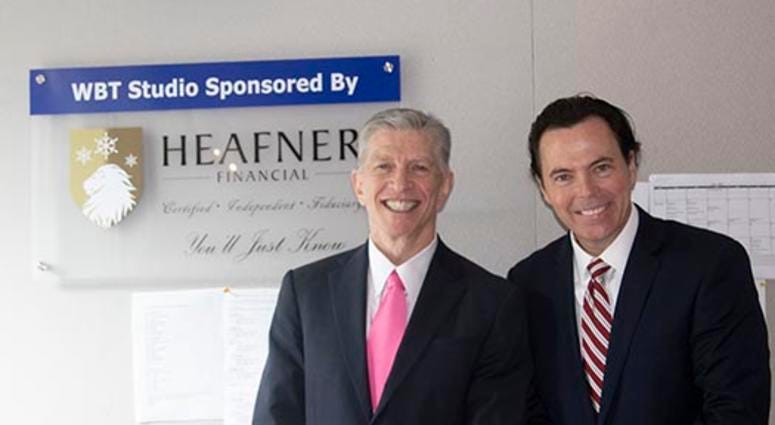 In 2018, WBT-AM "marked its growing relationship with Heafner Financial by naming the historic studio the WBT Heafner Financial Studios," according to an article that's still on the Charlotte talk station's website. "The unveiling finished with a cake to officially announce the new studio naming."
Many of the new allegations in the lawsuit have nothing to do with 1 Global. The lawsuit, filed by Heafner in May, seeks to force Baker Wealth Management to follow through on the commitment it made last year to buy Heafner Financial for $600,000 — before Heafner's involvement with 1 Global was publicly disclosed. The new disclosures about Heafner are in Baker's response to the Heafner lawsuit.
Baker says in court filings that it had no idea of Heafner's involvement in 1 Global and that Heafner denied any problems and misrepresented the strength of his business. After receiving Heafner's client list and a transfer of their assets, Baker couldn't transition the clients smoothly, the company says in court documents, "because Mr. Heafner would soon flee to Puerto Rico and [Heafner Financial] would soon be out of business as a result of the public's discovery of the Heafner Parties' illegal conduct."
The existence of the lawsuit was first reported Tuesday by the Charlotte Business Journal (paywall).
More details: For the full, 52-page complaint against Heafner filed by Baker Wealth Management, go to the Ledger's website. It's an intriguing read, as far as legal filings go. The site also has the original lawsuit filed by Heafner against Baker.
Choosing an adviser: Before selecting a financial planner, check out his or her background on BrokerCheck. In addition, understand how the adviser gets paid. Some financial products, such as annuities or certain types of life insurance, pay commissions to brokers, which creates an incentive for advisers to sell them to you.
---
A eulogy for Mary Jo's
Fabric stores don't usually evoke nostalgia — except for Mary Jo's Cloth Store, the 68-year-old Gastonia shop that's closing this week. It was once known as "the fabric mecca of the South" and had generations of loyal customers.
Tommy Tomlinson of WFAE reflected this week on the meaning of Mary Jo's and of other local landmarks that have gone away as the Charlotte region has grown and changed:
The store's founder, Mary Jo Cloninger, died two years ago. And the store had to fight two powerful forces — one, the decimation of the textile industry in North Carolina, and two, the transformation of shopping into something you do without leaving your house.

Those haven't been the only changes to our region and our culture. Sometimes it's hard for me to believe how much Charlotte has changed since I moved here 30 years ago. But it turns out the changes that mean the most to me don't have to do with new roads or tall buildings. It's the little stuff I miss.

I miss the Scoreboard, the great sports bar that used to be way out Independence Boulevard. I miss Anderson's, where deals got done over breakfast. Of course I miss the Double Door, where the blues and the bartenders never changed.

And I'm going to miss Mary Jo's — not as much as my wife will, but I'll miss it just the same. Places like Mary Jo's give our area its texture. They belong only to us. They're the raw materials for what we make of ourselves, the same way a beautiful piece of fabric becomes a dress or a blouse.

The good news is, even though Mary Jo's is closing, it's not going away. It will live on in our closets. And after that, in our memories.
The full article is available here.
---
Tweet of the day: NASCAR conference call
From Cassi Mitchell Smith, wife of Speedway Motorsports CEO Marcus Smith:
For those of you who don't know, I am guilty of forgetting my husband is on a home conference call or radio interview. In the past, I've blurted out everything from "We're out of toilet paper" to "Listen my shoes make fart sounds!" He's now moved his calls outdoors. Bless...
---
Does football pair nicely with a cabernet?
The Panthers are offering a new drink this year — a Panthers-branded California cabernet that is available at the stadium, online and at local Total Wine and Harris Teeter stores.
"The Panthers are celebrating 25 seasons in the Carolinas and wanted to create a new experience to offer their fans," said Kristin Trimble, VP of operations with Wine for Design, in an email to the Ledger.
The trade publication Front Office Sports reported Tuesday that the Panthers are one of at least four NFL teams uncorking their own wine brands this season. The Colts, Titans and Jets are also marketing their own wine to fans:
Beer and football have long gone hand-in-hand, but shifts in drinking habits mean you're increasingly likely to see someone enjoying a Cabernet Sauvignon at a game instead of a Coors Light.
The shift is driven by — you guessed it — millennials:
That's being pushed by younger consumers, who are now more likely to ditch beers for lower-calorie wines, spirits, and hard seltzers. U.S. drinkers now choose beer less than half the time, according to the Beer Institute. That's down from over 60% in the mid-1990s.

Also, as a team's fan base become more diverse, so too does its drink offerings.

For example, the Indianapolis Colts' fan base now skews almost 50-50 male/female, according to Roger VanDerSnick, the team's chief sales, and marketing officer. Selling a "Colts Wine Collection" marks a "logical next step," he said.
The Panthers wine goes for $19.99 a bottle.
The team's website says the wine was developed by a "team of experts [including] former sommeliers at some of the country's best restaurants." It has "scents of cherries, dark fruits and a hint of oak."
---
In brief
Staffing battle: Two big tech staffing firms are tussling in court over a non-compete clause regarding one of the company's Charlotte employees. In a case filed this summer, ATR International alleges that one of its former account executives defected to Beacon Hill Staffing Group and has tried to poach ATR clients, including Wells Fargo, after leaving ATR in October 2018. The exec had signed a two-year non-compete agreement, the suit says.

Anti-suicide campaign in parking decks: Parking decks in Charlotte are starting to post signs urging people not to kill themselves, following a campaign by a Charlotte mental-health advocate, the Washington Post reports. Four parking decks in Charlotte have agreed to install the signs, including the Center City Green parking deck across from the Spectrum Center uptown, where six people killed themselves between March 2015 and March 2019. A Lincoln Harris VP called the campaign by Fonda Bryant "very compelling and eye-opening." (Washington Post)

Avatar corrected: EA Sports, maker of the football video game "Madden NFL 20," sent a photographer to town Tuesday to take a good photo of Panthers tight end Greg Olsen, the Panthers said. Olsen's original avatar in the game had a dark beard and looked looked nothing like the real Olsen.

Trolley donation: The city plans to donate three surplus trolley buses that were formerly used to run the "Gold Rush" transit service uptown, which was discontinued in 2017. Who is the lucky recipient? The city of Greenville, N.C., which wants the trolleys to connect Eastern Carolina University, downtown and the hospital system. The value of the trolleys ranges from $8,000 to $23,500 each, the city says.

Tech purchase: AvidXChange said it plans to buy BankTEL Systems, a Mississippi accounts-payable firm, for an undisclosed price. It's Avid's fifth acquisition in 10 years. (Biz Journal)

Ballantyne meeting: Developer Northwood Office is holding a community meeting tonight to discuss its plans for a town center that features retail, apartments and an amphitheater. The meeting is at 7 p.m. at the Ballantyne hotel's Fairway Ballroom.

North Carolina's healthcare transformation: "The state has embarked on one of the country's most ambitious efforts to transform how health care is defined and paid for." The state is trying to turn away from the traditional fee-for-service model and pay healthcare providers based on health outcomes. (New York Times)

Alt-weekly reviews Popeyes sandwich: "That chicken sandwich is good sh—, better than anything Chick-fil-A has ever cooked up. … The sandwich is good, but there are very few things I'll sit in a line that long for, and 'fast food' ain't one of them." (Ryan Pitkin, writing in Queen City Nerve)
---
Off the Clock
Low-key ideas for the weekend
Movies opening in Charlotte this weekend:
Don't Let Go (R) (50% on Rotten Tomatoes): Detective time-travel mystery

Killerman (R) (20%): Criminal navigates memory loss

Bennett's War (PG-13): Army veteran helps family
Highly rated movies now playing:
The Peanut Butter Falcon (PG-13) (95% on Rotten Tomatoes)

Blinded by the Light (PG-13) (90%)

Ready or Not (R) (88%)

Once Upon a Time in Hollywood (R) (85%)

Dora and the Lost City of Gold (PG) (82%)

Scary Stories to Tell in the Dark (PG-13) (79%)

Good Boys (R) (78%)

The Angry Birds Movie 2 (PG) (75%)

Fast & Furious Presents: Hobbs & Shaw (PG-13) (67%)
Cheap getaways from CLT:
Charlotte to Providence, $76 round-trip on Frontier (nonstop), Sept. 7-9.

Charlotte to Philadelphia, $80 round-trip on Frontier (nonstop), Sept. 27-29.

Charlotte to Trenton, $66 round-trip on Frontier (nonstop), various dates in September.

Charlotte to San Jose, Costa Rica, $233 round-trip on Spirit (one-stop), various dates in September-November.

Charlotte to Montreal, Canada, $246 round-trip on American, Delta or United (one-stop), many dates available October-March.

Charlotte to Newark, $76 round-trip on Spirit (nonstop), Oct. 3-7.

Charlotte to Fort Lauderdale, $79 round-trip on Spirit (nonstop), Oct. 25-28.

Charlotte to Helsinki, Finland, $445 round-trip on American (one-stop), Nov. 23-Dec. 2.

Charlotte to Beijing, China, $594 round-trip on American or United (one-stop), Dec. 5-11.
Source: Google Flights. Fares retrieved Wednesday morning. They might have changed by the time you read this.
---
Got a news tip? Think we missed something? Drop me a line at editor@cltledger.com and let me know.
Like what we are doing? Feel free to forward this along and to tell a friend.
The Charlotte Ledger is an e-newsletter and web site publishing timely, informative, and interesting local business news and analysis Mondays, Wednesdays, and Fridays, except holidays and as noted. We strive for fairness and accuracy and will correct all known errors. The content reflects the independent editorial judgment of The Charlotte Ledger. Any advertising, paid marketing, or sponsored content will be clearly labeled.
The Charlotte Ledger is published by Tony Mecia, an award-winning former Charlotte Observer business reporter and editor. He lives in Charlotte with his wife and three children.