Plunge in heart patients alarms Charlotte doctors
Plus: Hedge fund to buy Observer parent; Developer nixes plans for Ballantyne townhomes; Covid update; Taxes due Wednesday; Rapper Jay-Z takes on Charlotte's newest Fortune 500 company
Today's Ledger is sponsored by Helios Cloud Solutions, a Charlotte-based information technology consulting firm that specializes in Microsoft Cloud Services such as Office 365 and Azure, enabling your staff to work safely and securely from anywhere. Visit them at their website for a free 15-minute consultation on what your business needs to stay productive through this Covid-19 pandemic.

---
Fearing Covid, people with chest pain avoid the ER or show up too late; Irreversible heart damage 'totally preventable'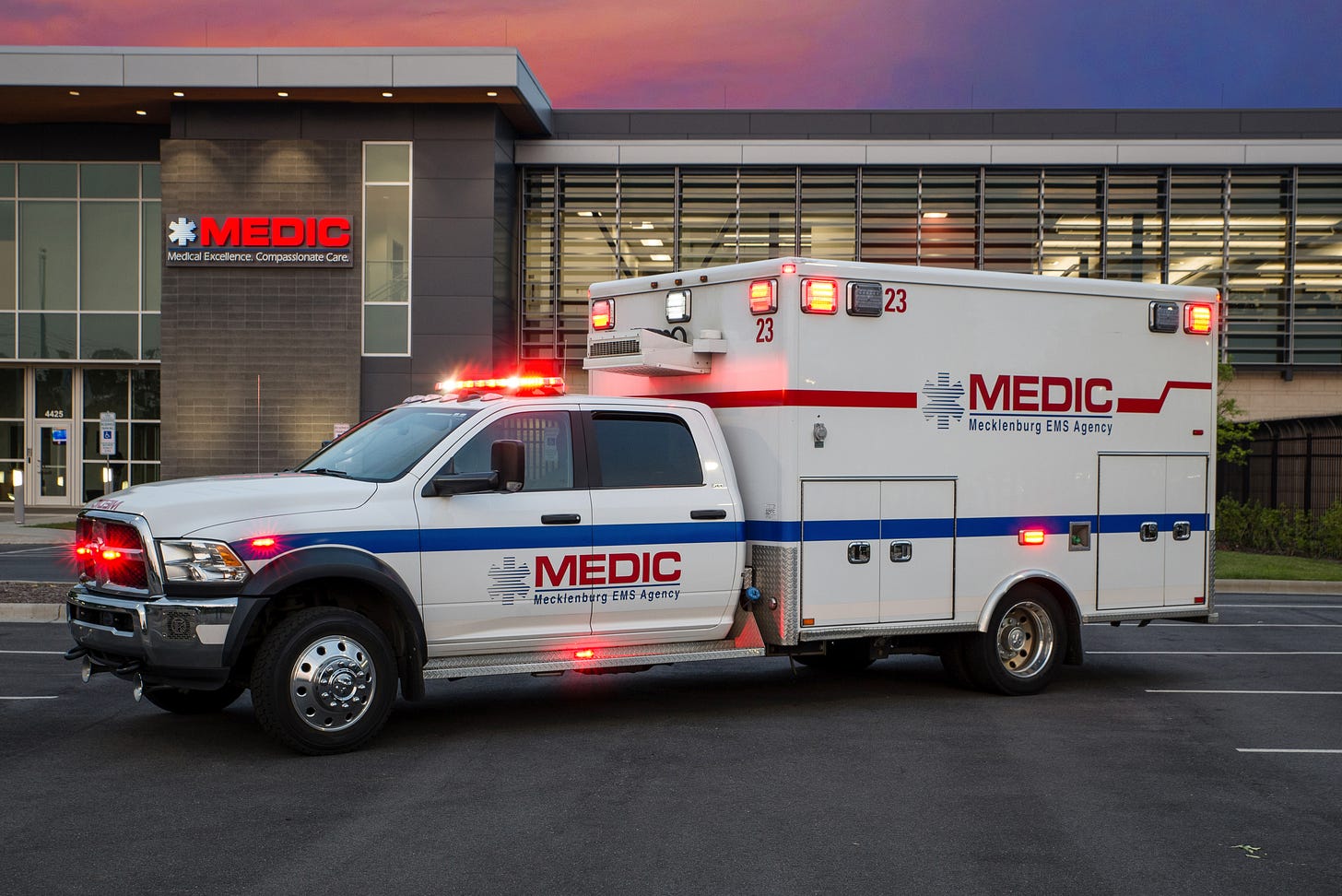 Mecklenburg County ambulances transported 35% fewer patients with chest pain between April and June than in the same period last year — one of several indications that people suffering possible heart attacks are avoiding going to the hospital. (Photo courtesy of Medic.)
For weeks, we've been surrounded by coverage of the havoc caused by Covid-19: the deaths, the hospitalizations, the economic catastrophe that's been unfolding around us. In the meantime, major healthcare crises are unfolding, too — ones that are happening quietly, with little public attention, but with very real effects on lives of people across Charlotte. This story is the fifth in a Ledger series exploring the hidden healthcare fallout from the pandemic.
By Tony Mecia
Last month, a patient in his 40s showed up at a Novant Health hospital complaining of chest pain.
Usually, people suffering from chest pain show up at hospitals within a few hours of experiencing sweating and shortness of breath. This patient, though, waited three whole days, says Dr. Gary Niess, a cardiologist who is the lead physician at Novant's Heart & Vascular Institute.
In the last few months, local doctors have noted an alarming trend: They are seeing many fewer heart patients. Fearful of contracting Covid at hospitals, fewer people are calling for ambulances and showing up in ERs, and those who do head in are delaying those decisions longer than before.
For people who have suffered heart attacks, that's a real problem. ER doctors and cardiologists like to say that "time is muscle" — which means that the longer people wait for treatment, the more likely it is that part of their heart will stop working, never able to be repaired.
For the Novant patient who waited three days, that means limited activities and limited breathing for the rest of his life.
"It's totally preventable. It's really a shame," Niess says. "It's all because there is a misunderstanding of the safety of hospitals. … Part of you wants to say, 'Dammit, you should have known better! Why the hell didn't you come in here?'" Niess says he knows the answer is complicated, and Novant provided the patient with physical and mental support — not a lecture.
But Niess' frustration reflects that of many doctors, who say that the very real concerns about Covid are leading to unfortunate and permanent side effects in other areas, including death from other causes such as heart attacks.
Those changes are playing out throughout the medical system nationwide, as Covid has upended many longstanding practices and trends. But perhaps nowhere are the stakes higher than with heart disease, the country's leading cause of death.
Because the effects of the pandemic on healthcare are so new, many of the trends are not yet fully understood and will no doubt be the subject of future studies. In Charlotte, though — as throughout the country — there are indications that many people are not receiving the heart care they need at every step of process, from calling an ambulance to showing up at the ER to visiting their cardiologist.
Chest pain in the middle of the night: In mid-April, James Conner, 51, woke up at 2 in the morning with a sharp pain in his chest. He thought it might be indigestion from the lasagna he ate for dinner the night before. He took some antacid, but after about 30 minutes, the pain hadn't gone away. His wife, Michelle, called 911, and in the ambulance on the way to Atrium Health Pineville, his heart stopped beating.
Doctors revived him and put a stent in his artery. He has now recovered and goes to cardiac rehabilitation twice a week and is working to improve his diet and exercise. He says he didn't worry about contracting Covid in the hospital and thought that if he was having a heart attack, that's where he needed to be. "I feel blessed and fortunate to get another opportunity to try to do it better," he says.
A lot of doctors worry others won't get that second chance.

Empty ambulances: Between April and June, Mecklenburg County ambulances transported 35% fewer patients with cardiac-related chest pain, according to figures from Medic. Yet the number of Medic patients taken to hospitals because of heart attacks rose 28%.
How to explain those numbers?
"A theory is people delay care longer, and that cardiac-related chest pain then becomes more serious, and we see an increase in those true heart attacks," says Jonathan Studnek, Medic's deputy director.
The number of stroke patients is also down about 5%. "In those 2 categories — chest pain/heart attacks and strokes — there is definitely some sort of pandemic effect that is occurring," he says. Overall, Medic responded to 15% fewer calls for all reasons in the last three months.
At the ER: Charlotte's emergency rooms have also been seeing fewer patients of all kinds, including heart patients. At Novant, the number of people coming in with possible heart attacks was down 40% to 50%.
At Atrium Health, the numbers were down about 40% at their peak. The numbers have rebounded, but Atrium is still seeing about 15% to 20% fewer patients complaining of chest pain than they have historically, said Dr. David Pearson, an ER physician and chief of quality operations and innovation at Carolinas Medical Center.
That could mean that more people with chest pain are staying home and the pain disappears without medical attention. But it could also mean that more people are suffering massive heart attacks at home and dying. Doctors don't know, because they don't see people who don't seek medical attention.
"I don't know the numbers on those patients from a mortality standpoint that didn't present [go to the ER]," Pearson says. "That's a hard thing to get at."
As at Novant, Atrium is handling more heart patients who wait longer before going in for care. Pearson said the hospital is admitting about 35% of ER heart patients, up from the historical average of 28% to 30%, because the cases are now more serious: "It's permanent damage — permanent death to a part of their heart — so their heart muscles are actually dead. That's not reversible."
Covid fears: The shift, he says, stemmed from the "tremendous amount of fear in the community that led to folks not seeking care. … It was really led by concern that maybe they would get infected from Covid by going to the hospital."
Those delays in seeking care can also limit longer-term options for caring for heart patients, says Dr. Nicole Cyrille-Superville, an Atrium cardiologist who performs heart transplants and other advanced measures. If there's too much heart damage, patients might not be future candidates for transplants or heart pumps.
"What we worry about in terms of our patients is if they become too sick to be candidates for particular therapies," she says. In March and April, Atrium reduced the number of heart transplants and heart pump procedures to ensure it had the right screening in place, she says, and now those numbers are increasing and approaching normal levels.
She said people should know that they shouldn't fear hospitals, which have put in rigorous procedures to ensure that patients are safe from coming down with Covid. Delaying or avoiding needed medical care might be worse: "It could be a matter of life or death."
When to head to the hospital: These warning signs of a heart attack warrant a call to 911, according to Novant Health:
Uncomfortable pressure, fullness, squeezing or pain in the center of the chest that lasts more than a few minutes or goes away and comes back

Pain that spreads to the shoulders, neck or arms

Chest discomfort with light-headedness, fainting, sweating, nausea or shortness of breath
But don't dismiss these less common heart attack symptoms, which include:
Atypical chest pain, stomach or abdominal pain

Nausea or dizziness (without chest pain)

Shortness of breath and difficulty breathing (without chest pain)

Unexplained anxiety, weakness or fatigue

Palpitations, cold sweat or paleness
Previous articles in The Ledger's "Hidden Health Crisis" series:
---
Today's supporting sponsors are Landon A. Dunn, Attorney at Law in Matthews:

… and T.R. Lawing Realty…

---
Mecklenburg commissioners want to do more to stop Covid (+ other virus updates)
Some Mecklenburg commissioners are getting antsy that coronavirus numbers are heading the wrong way — and they want to do more about it.
At least one commissioner wants to discuss another lockdown, according to an Observer article over the weekend. Here's what the paper quotes some commissioners as saying:
Susan Rodriguez-McDowell: "I feel like we're just sitting here watching a train come toward us, and we're just sitting on the track. And we're like, 'Oh, maybe it will stop before it hits me, and maybe it won't.' It's just a really weird feeling."

Trevor Fuller: "I don't feel like we're leading. It's clear we are reaching (hospital) capacity. Do we do nothing? I would call myself worried and alarmed in a way that I haven't been since we first started."

Mark Jerrell: "I think we're at the point where we have to seriously examine a lockdown. As a business owner, this is my worst-case scenario. But I don't have a business if I don't have healthy people."

Vilma Leake: "We opened up too early, because now we're retrogressing — rather than progressing."

Susan Harden: "We need to do more."
By themselves, commissioners don't have the power to order businesses to close again or to keep people home. Charlotte or Mecklenburg's towns would have to agree, or the state would have to make such an order.
New tactic: The latest trend in anti-Covid public policy seems to be to order restaurants to close early. Last week, Orange County — home of Chapel Hill — commanded that no dine-in food or alcohol could be served after 10 p.m. South Carolina last week directed that alcohol sales cease at 11 p.m.
What the numbers say: The number of new daily cases in Mecklenburg and the state is rising, though increased testing accounts for much of that increase. Covid-related hospitalizations are also rising, at a rate of about 80 statewide per week in the last month, to 1,070 on Sunday. Despite those increases, though, the average number of Covid-related deaths has been falling: North Carolina averaged more than 20 deaths a day the last week in May, and state figures show the seven-day average dropped to half that the last week in June.
Ranked: North Carolina is 25th in the country in the number of Covid cases per capita and 31st in the country in Covid deaths per capita, according to a New York Times analysis of Covid numbers. Of North Carolina's 100 counties, Mecklenburg ranks #9 in cases per capita and #40 in deaths per capita.
Hospital status: State health officials said last week that they were concerned about the Charlotte area's hospital capacity. Atrium, Novant and the county health department released a statement Friday that said: "While today we are not concerned about our capacity or preparedness to manage Covid-19 cases, we do share the state's concerns about the trends we are seeing." Mecklenburg hospital beds are about 80% full, the hospitals said.
Schools and reopening status: Gov. Roy Cooper is expected to announce plans this week for public schools to reopen next month. It's expected to be a mix of online and in-person instruction, though the logistics will be tricky. Cooper is also expected to update the schedule for business reopenings. His existing order expires Friday at 5 p.m. —TM
---
Jay-Z backs lawsuit against Charlotte's new corporate darling
Just about all of Charlotte rejoiced in the news this month that health-insurance giant Centene plans to open a regional headquarters in the University City area, build a massive new campus there and hire at least 3,200 workers.
But who is not impressed with Centene? Rap star Jay-Z.
Bloomberg News reports that Jay-Z's media company, Roc Nation, is backing an investor lawsuit against Centene stemming from the prison medical services it provided during the coronavirus pandemic. Centene's Centurion unit is perpetuating "a grave injustice behind prison walls," the suit says, by downplaying the Covid risks to inmates. The suit, filed in May, seeks records from a prison in Mississippi "to evaluate whether Centene directors properly supervised its prison health-care units and if any lapses could jeopardize the company's contracts with states," Bloomberg reports.
A Centene spokeswoman replied that the company and its board "are proud of the company's history of providing outstanding and innovative health-care solutions to this vulnerable population" and declined to discuss further details.
Big companies attract these suits all the time — Charlotte's banks can tell you about that. We'll add Centene to the list of Charlotte's big players to watch for controversial lawsuits. —TM
---
In brief:
Ballantyne townhomes scuttled: Homebuilder David Weekley Homes has withdrawn plans to build 164 townhouses on Blakeney Heath Road in Ballantyne. In a letter to city officials, the developer didn't cite a reason for deciding to end the rezoning request. Neighbors had strongly criticized the plan over concerns about traffic, schools and a nearby historic 100-year-old farmhouse. (Ledger web extra)

Hedge fund to buy McClatchy: The Charlotte Observer's parent company, McClatchy Co., will soon have a new owner: New Jersey hedge fund Chatham Asset Management. Chatham put in the winning bid for McClatchy's court-supervised sale, making McClatchy the latest struggling newspaper company to be owned by an investment firm. McClatchy, which filed for bankruptcy in February, didn't disclose the sales price in Sunday's announcement. Chatham also controls American Media Inc., which owns the National Enquirer. (Bloomberg)

500+ apartments/townhomes: A developer is proposing a new housing complex with more than 500 homes in northern Charlotte, near I-485 and I-77. The proposal by MVP Equities of McLean, Va., would contain 384 apartments and 140 townhomes on a 50-acre site by the intersection of Old Statesville and Hucks roads. The company is requesting a rezoning.

Wells job cuts ahead? Wells Fargo is preparing to cut tens of thousands of positions nationwide starting later this year, according to unnamed sources quoted by Bloomberg News. "Pressure to dramatically reduce costs is coming to a head inside the bank." (Bloomberg)

Real estate gains steam: The number of residential real estate closings in Mecklenburg County fell just 3% in June compared with a year earlier, even as the number of new listings fell by nearly 8%. The numbers show that home sales are close to where they were a year ago, despite the Covid pandemic. The number of houses placed under contract rose 26%. (Canopy Realtor Association)

Big loans: Nearly 2,300 Charlotte companies received more than $150,000 in Paycheck Protection Program loans this spring, according to data released by the Small Business Administration last week. Recipients listing as having received between $5M and $10M included Wendy's franchisee Carolina Restaurant Group, Hickory Tavern, OrthoCarolina, Johnson C. Smith University, law firm Parker Poe and Tryon Medical Partners. (Ledger web extra)

US Bank addition: US Bank plans to open its second Charlotte-area branch this fall. It will be on Pineville-Matthews Road in Pineville.

Home-schooling more popular: The number of students being home-schooled in Mecklenburg County rose more than 8% last year and is up 44% in the last five years. The state's website to register for home-schooling crashed on July 1 when registration opened, indicating more parents might turn to home-schooling this year amid the pandemic. (WFAE)

Tax deadline: If you're really a procrastinator, you have until Wednesday to file your 2019 income taxes. The deadline was extended by three months — to July 15 — because of Covid. That is Wednesday.
---
Taking stock
Unless you are a day trader, checking your stocks daily is unhealthy. So how about weekly? How local stocks of note fared last week (through Friday's close), and year to date: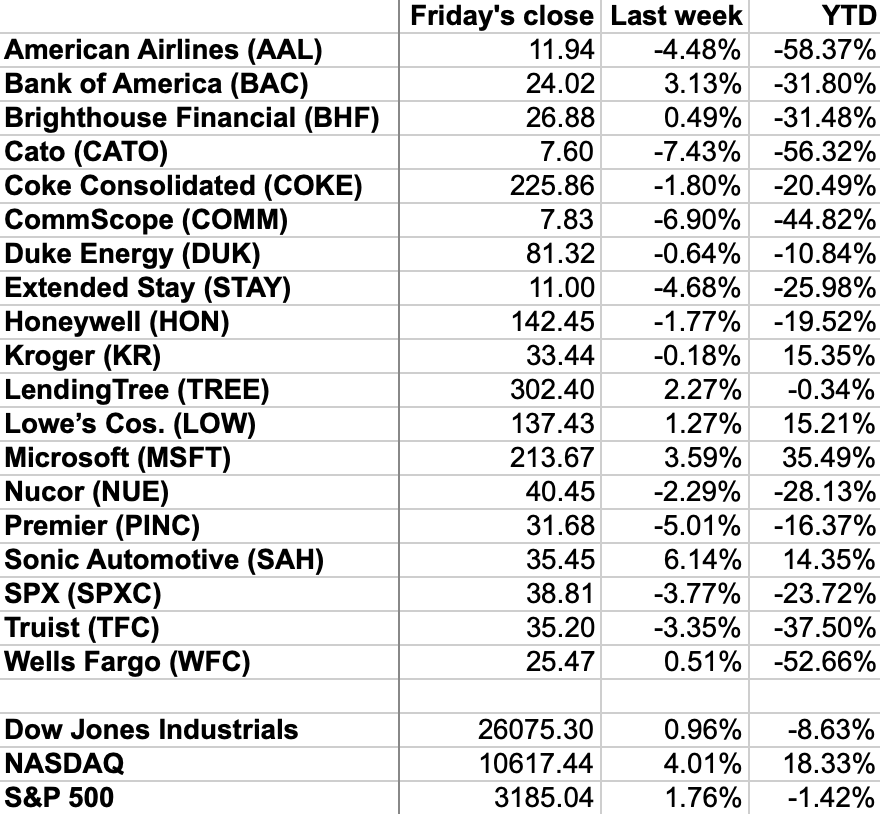 ---
Need to sign up for this e-newsletter? Here you go:
Got a news tip? Think we missed something? Drop us a line at editor@cltledger.com and let us know.
Like what we are doing? Feel free to forward this along and to tell a friend.
Archives available at https://charlotteledger.substack.com/archive.
On Twitter: @cltledger
Sponsorship information: email editor@cltledger.com.
The Charlotte Ledger is an e-newsletter and web site publishing timely, informative, and interesting local business news and analysis Mondays, Wednesdays, Fridays and Saturdays, except holidays and as noted. We strive for fairness and accuracy and will correct all known errors. The content reflects the independent editorial judgment of The Charlotte Ledger. Any advertising, paid marketing, or sponsored content will be clearly labeled.
Executive editor: Tony Mecia; Managing editor: Cristina Bolling; Contributing editor: Tim Whitmire; Reporting intern: David Griffith