Ruff life: Charlotte pet boarding goes upscale
Plus: 6 questions for Planning Commission Chair Sam Spencer; Hearst Tower expected to sell for record $455.5M; American eyeing year-round flight to Madrid?
Good morning! Today is Wednesday, November 20, 2019. Need to subscribe? Sign up for free here (charlotteledger.substack.com). Send to a friend.
New breed of pet 'resorts' and 'suites' offer pampering at bone-shaped pools; unwinding to Animal Planet on the flatscreen
In the old days, if you wanted to board your dog, your best bet was to call your vet and reserve some space in a crate.
Today, though, there are plenty more options for Fido — including stays at places that evoke luxury by calling themselves "resorts" and "suites." To hear companies tell it, these boarding locations are like canine Ritz-Carltons, with personalized attention and amenities that rival human hotels — but with frozen balls of peanut butter instead of cucumber water. Humans can even watch the action on live webcams.
As the holiday travel season is getting ready to start, one of the upscale chains, Pet Paradise, opens a location in the Ballantyne area this week. It's the company's fifth Charlotte-area spot and features "spacious, climate-controlled indoor suites, synthetic grass play areas, auto-fill water bowls with fresh water systems, a bone-shaped swimming pool" and even "private cat condos."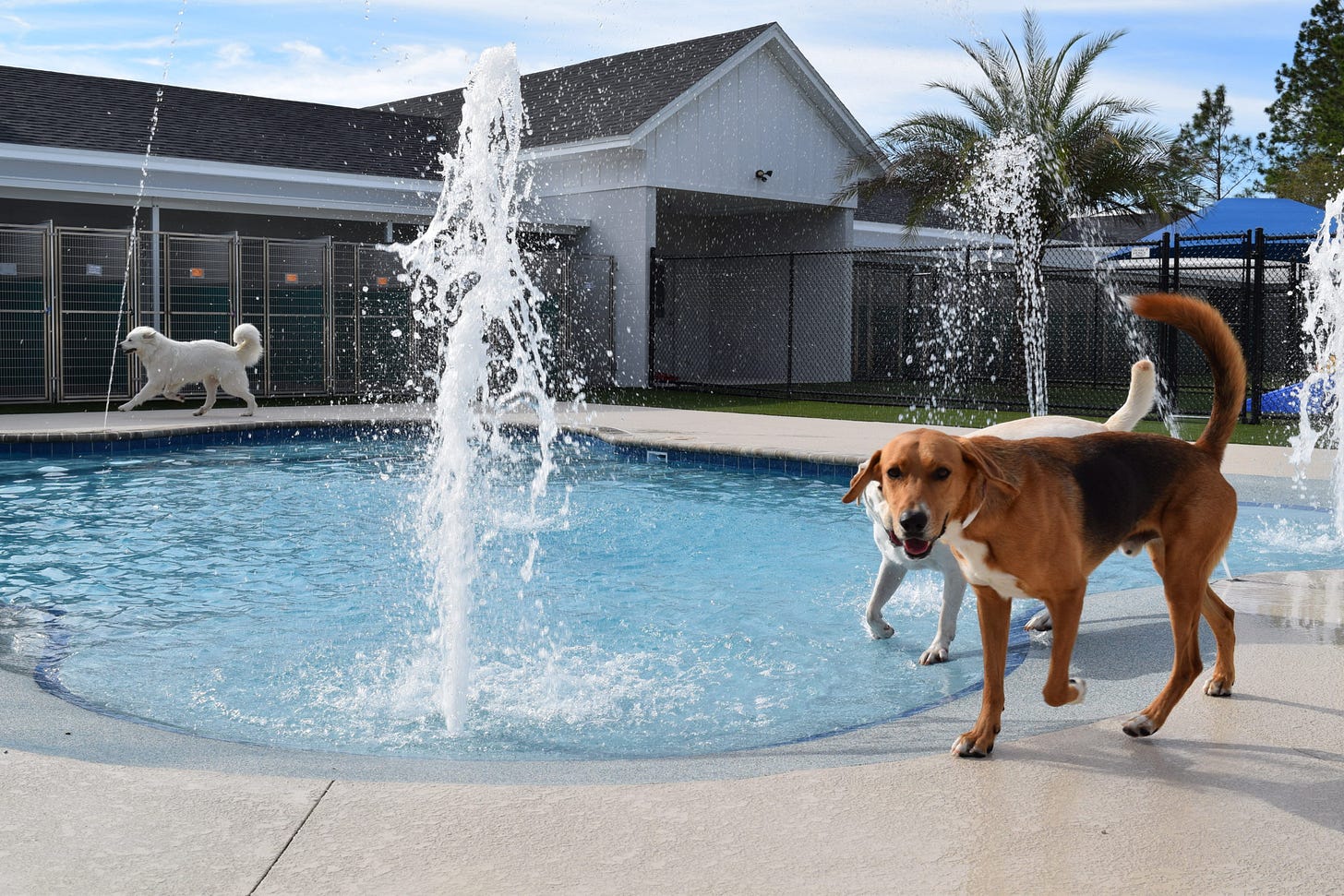 Upscale pet boarding chains have been expanding in Charlotte, including Pet Paradise, which opens its fifth location in the area this week. The Jacksonville, Fla.-based company runs about three dozen boarding centers, mostly in the Southeast. (Photo courtesy of Pet Paradise.)
Pet Paradise CEO Fernando Acosta-Rua told the Ledger that the Charlotte area is one of the company's top markets. The city is growing and affluent and, like elsewhere, has plenty of people who want to ensure their pet is comfortable and engaged.
"It's really the humanization of pets, generally speaking, where they are treated more as a member of the family," he says.
The pet industry is moving to tap into this sentiment. Pet owners today are more likely to spring for expensive veterinary care and gourmet food than in the past. Spending on pets is up about 66% in the last 10 years, according to the American Pet Products Association, an industry group.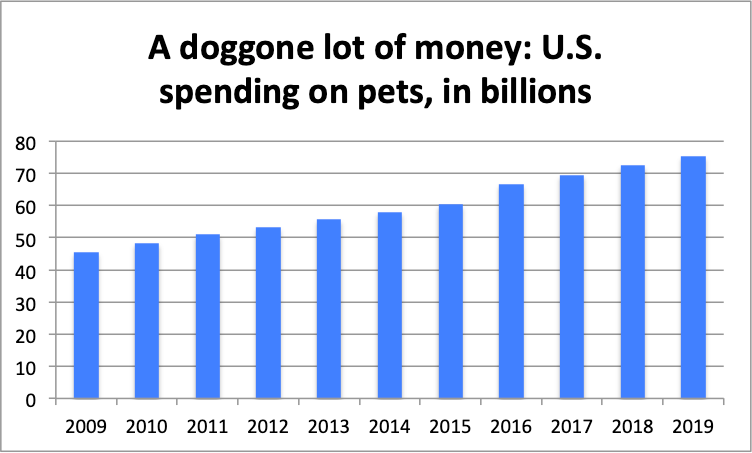 Consumer spending on pets is on the rise, according to data from the American Pet Products Association.
Dental care, wellness plans: When Pet Paradise started in 2004, it thought of itself as a pet-boarding company. Today, Acosta-Rua says, it is more of a pet-care company. Overnight boarding still accounts for about 60% of the business, but pet daycare and on-site veterinary services are the fastest-growing segments. The company opened a veterinary clinic at its Matthews location last week that provides "a full range of medical procedures including surgery, preventive care, dental cleanings and wellness plans to ensure the best care for guests."
The biggest competition, Acosta-Rua says, isn't other boarding facilities but rather pet sitters. Pet hotels are different than paying a neighbor kid to stop by to feed your dog and let it out to pee: "It's more fun and more active than leaving your pet at home for 23 out of the 24 hours."
The PetSuites Charlotte Airport has a similar message: Sure, you could leave your dog somewhere else. But don't you want the best for your pet?
"We've seen this huge shift in the past decade or so," general manager Carter Simpson says. "People are saying, 'Not only do I want a safe environment, but I want a fun one, too. I want my dog to go on vacation when I go on vacation.'"
The "classic" rooms at PetSuites go for $36 a night. But for those who want to splurge, there are "luxury townhouse rooms" that cost $55 a night and include deluxe bedding and a flat-screen TV. It shows Animal Planet or other animal videos at the end of the day, before bedtime.
One industry trend is a move toward more personalized experiences, Simpson says. Owners can add tiers of activity packages for up to $75 a day that can include group play and individual one-on-one time with a human, who can engage the dog in tug-of-war, fetch or "maybe some cuddle time."
The competition with other companies and pet sitters might be hairy. But Simpson says: "Charlotte is growing every day. There is plenty of business to go around."
---
6 questions for Planning Commission chair Sam Spencer
Sam Spencer, 34, is chair of the 14-member Charlotte-Mecklenburg Planning Commission, which recommends to the City Council whether to approve or reject rezoning proposals, among other things. Spencer handles communications and marketing at the tech startup Cloverhound, but he's probably better known for his work as a local Democratic fundraiser and strategist. He was appointed to the planning commission in 2016 and was elected chair in June.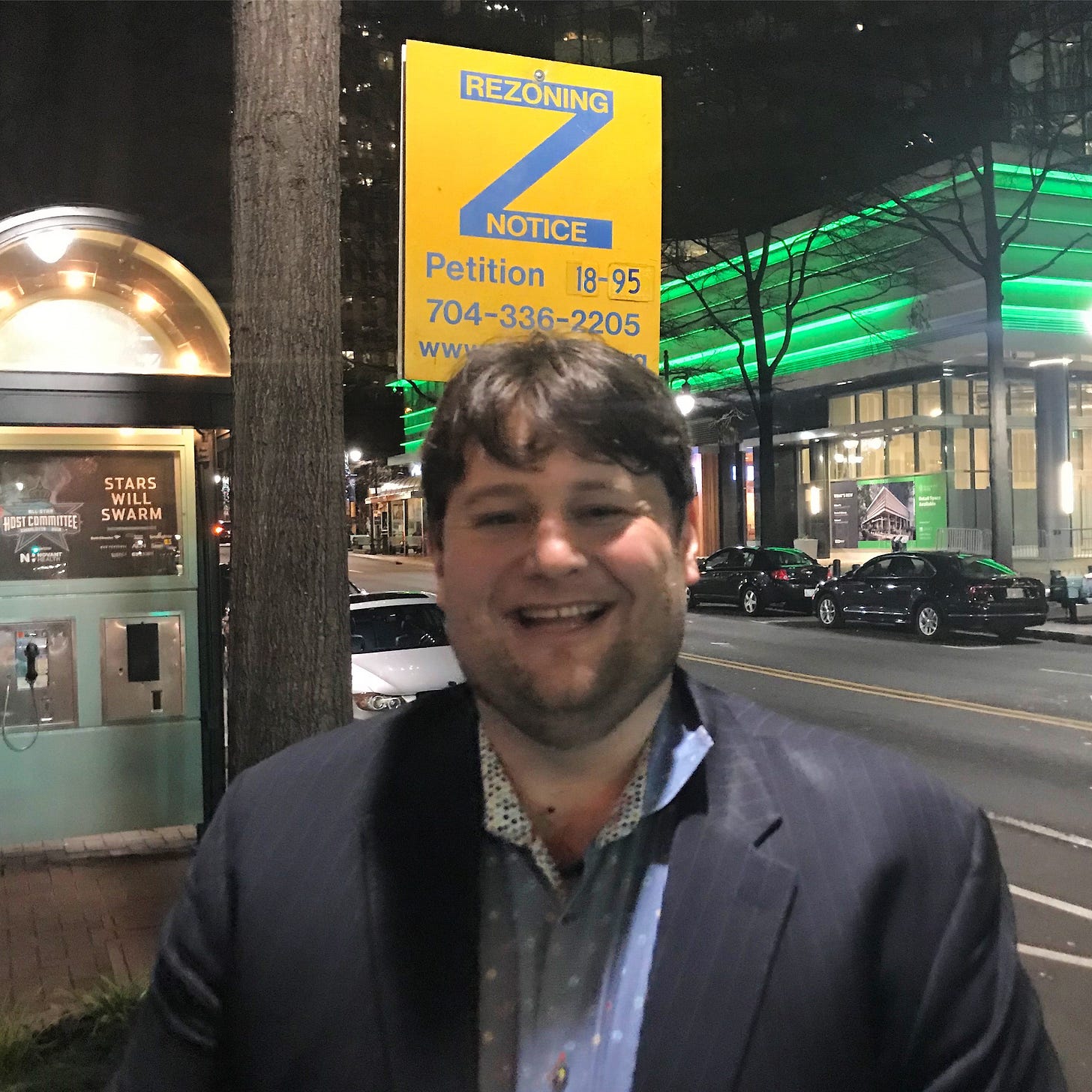 What is the biggest issue facing Mecklenburg when it comes to development?
Affordable housing will be the top issue for the foreseeable future, but right now, traffic is hitting a breaking point. Traffic is getting worse, and people are getting more active and vocal about the traffic that development will bring. I've seen a shift on the council, with a lot of members who really want to address this issue, whether it's on Providence Road, I-485 or I-77.
What is something most people would be surprised to know about the rezoning process?
People don't realize that the No. 1 factor affecting whether a development is supported by city planning staff — and ultimately supported by the planning commission and council — is whether it is compatible with the existing area plan. Residents think they don't have voice in the rezoning process because they oppose a rezoning, and we don't vote the way they wanted us to. But our main guidance comes from those area plans, which are created with input from residents. If you want to have the most input into how your community is going to look, you have to participate in that process and not just react when something comes up for a rezoning.
But aren't some of those area plans outdated?
Yes, that's a major concern, and that's the factor that comes up most when we vote against a project. Obviously, a 20-year-old plan is not as relevant as a plan that was adopted five years ago. So one thing folks should ask is, how old is your area plan? The city is in the process of a developing the 2040 comprehensive plan that will give us a more cohesive and up-to-date plan for the entire city.
Do you have any advice for residents who don't like a proposed project?
You'll be a much more effective advocate if you show respect for both the people and the process. Of course we read everything, but I can tell you, as soon as we see all caps, our skepticism turns on. Also, get involved early. The closer you are to the vote, the less effective your advocacy will be. Finally, learn about the process first and come armed with thoughtful research. Everyone knows this project will generate X number of cars. But we may not know how many car trips have been added to the area in last 10 years.
What would you like to see more of?
I would love to see more density in places besides uptown and South End. Everyone wants ground-floor retail. The economic reality is that we'll never get ground-floor retail that works unless we have the density to support it. That means being able to get to a place where we are comfortable with density, not scared of it.
What is your favorite little-known spot in Charlotte?
I love the city-operated pocket dog park on Shamrock Drive. It's interesting because there has been some pushback in the parks community against small parks, but having this park within a mile of my house has been a lifesaver.
— Interview by Michelle Crouch
---
New record: Hearst Tower expected to sell for $455.5M
Cousins Properties expects to sell the Hearst Tower uptown for $455.5M in March 2020, the company said on a recent conference call. The 46-story tower on North Tryon Street is 970,000 s.f. and will become the HQ to Truist Bank. In its earnings call last month, Cousins' CEO referenced "the likely sale of Hearst Tower in March of next year for $455.5 million," according to a transcript.
That works out to almost $470 per square foot. BB&T, which is merging with SunTrust to form Truist, said earlier this year that it had an option to buy the tower. It's taking a majority of the office space there. The combined bank is expected to employ about 2,000 workers in Charlotte.
A sale would be the second major uptown office tower to sell for big bucks in recent months. Highwoods Properties agreed in August to buy Bank of America Tower at Legacy Union for $436M, or $518 per square foot. That deal closed last week.
At the time, that sale was thought to be the most expensive office building sale in North Carolina history. So … looks like a new record is in the works.
---
Update: Novant Health on proposed Matthews expansion
On Monday, the Ledger ran an article that said that in state filings, Atrium Health argued that Novant Health has a surplus of hospital beds in Mecklenburg County — and that Atrium should be allowed to add all 76 beds the state says are necessary. Novant Health has filed paperwork seeking approval to add 20 beds in Matthews.
Novant released the following statement by Roland Bibeau, president and COO of Novant Health Matthews Medical Center: 
Simply put, Matthews is thriving and in order to better serve our community we have to grow along with it. The certificate of need we filed with the State is to ensure we have greater bed capacity for our patients, who travel from both Mecklenburg and Union counties, for care in their community hospital. At the same time, we know we must grow and expand our surgical services with a new operating room to meet the needs of our community. We look forward to continuing to work with the State to bring our vision of safe, quality, accessible and convenient care to the Matthews community.
---
In brief
---
Cheap getaways from CLT
Charlotte to Philadelphia, $74 round-trip on Frontier (nonstop), Dec. 5-8.

Charlotte to Newark, $62 round-trip on American (nonstop), various dates December-February.

Charlotte to Baltimore, $52 round-trip on Spirit (nonstop), various dates December-January.

Charlotte to Fort Lauderdale, $72 round-trip on American (nonstop), various dates December-February.

NFL playoffs: Charlotte to Las Vegas, $107 round-trip on Frontier (nonstop/one-stop), Jan. 11-14.

Ski trip: Charlotte to Denver, $76 round-trip on Frontier (nonstop), Jan. 23-28.
Source: Google Flights. Fares retrieved Wednesday morning. They might have changed by the time you read this.
---
Programming note: Ledger editor Tony Mecia appears as a guest on 90.7 WFAE at 6:40 a.m. and 8:40 a.m. on Thursdays for a discussion of the week's local business news in the station's "BizWorthy" segment. Audio and transcripts are also available online.
---
This Week in Podcasting will return next week.
---
Need to sign up for this e-newsletter? Here you go:
Got a news tip? Think we missed something? Drop me a line at editor@cltledger.com and let me know.
Like what we are doing? Feel free to forward this along and to tell a friend.
Searchable archives available at https://charlotteledger.substack.com/archive.
On Twitter: @cltledger
The Charlotte Ledger is an e-newsletter and web site publishing timely, informative, and interesting local business news and analysis Mondays, Wednesdays, and Fridays, except holidays and as noted. We strive for fairness and accuracy and will correct all known errors. The content reflects the independent editorial judgment of The Charlotte Ledger. Any advertising, paid marketing, or sponsored content will be clearly labeled.
The Charlotte Ledger is published by Tony Mecia, an award-winning former Charlotte Observer business reporter and editor. He lives in Charlotte with his wife and three children.