With kids 'invisible' during isolation, abuse risks mount
Plus: Publishers of popular coupon book offer window into ailing restaurant industry; Long lines at South End bars; County predicted 29x the actual need for mid-June hospital beds
With schools closed, child abuse reports have dropped dramatically, but experts fear abuse 'didn't take a break'

For weeks, we've been surrounded by coverage of the havoc caused by Covid-19: the deaths, the hospitalizations, the economic catastrophe that's been unfolding around us. In the meantime, major healthcare crises are unfolding, too — ones that are happening quietly, with little public attention, but with very real effects on lives of people across Charlotte. This story is the fourth in a Ledger series exploring the hidden healthcare fallout from the pandemic.
By Cristina Bolling
There are just 10 families on the current caseload of Mecklenburg County child abuse investigator E'Lisa Guarda, and by the numbers, that seems like a good sign.
She usually works 14 or 15 cases at a time — although the number has been as high as 27 — and reports of suspected child abuse have dropped 40% countywide since schools closed to Covid-19. The number of children entering foster care has fallen 25%.
Taken at a glance, those smaller numbers seem like good news. But they're not.
Guarda's load is anything but light these days, and the smaller numbers of suspected child abuse reports are worrisome to those whose jobs are to protect kids in Mecklenburg County.
With schools closed since March and summer break now underway, children are stuck at home, invisible to the teachers and community members who'd be most likely to notice abuse and neglect and report it to authorities.
And just being at home for such a long stretch is dangerous in households where nerves are even more frayed than usual because of the stresses brought on by Covid-19.
Often now, Guarda goes to a home to investigate a report of possible abuse or neglect and finds two or three other pressing issues she needs to help solve: a parent battling untreated mental illness or addiction, a kitchen with no food or a family on the brink of being evicted.
In the past, she might have given parents an address for a food pantry; now, she may have to deliver groceries herself because a family has no car. Or before, she'd give a family a referral for mental health support, but now she's having to drive a parent to a facility for treatment because the need is so desperate.
"The cases are far more complicated," Guarda said. "You're not dealing with one issue, we're adding issues — two, three, four issues at a time."
And to keep herself and the families she investigates safe, she's having to judge when it's enough to meet with parents and children outside or through glass, and when she needs to don a face mask and gloves and go inside to see the surroundings for herself, or ask a parent to put her on FaceTime and walk her through the home.
Sometimes, that home is a battleground where mom and dad were planning to separate but now cannot because of Covid-19. When that happens, the stress spills over to the kids, who often act out as a result.
"This is a very, very stressful time for our community," she says.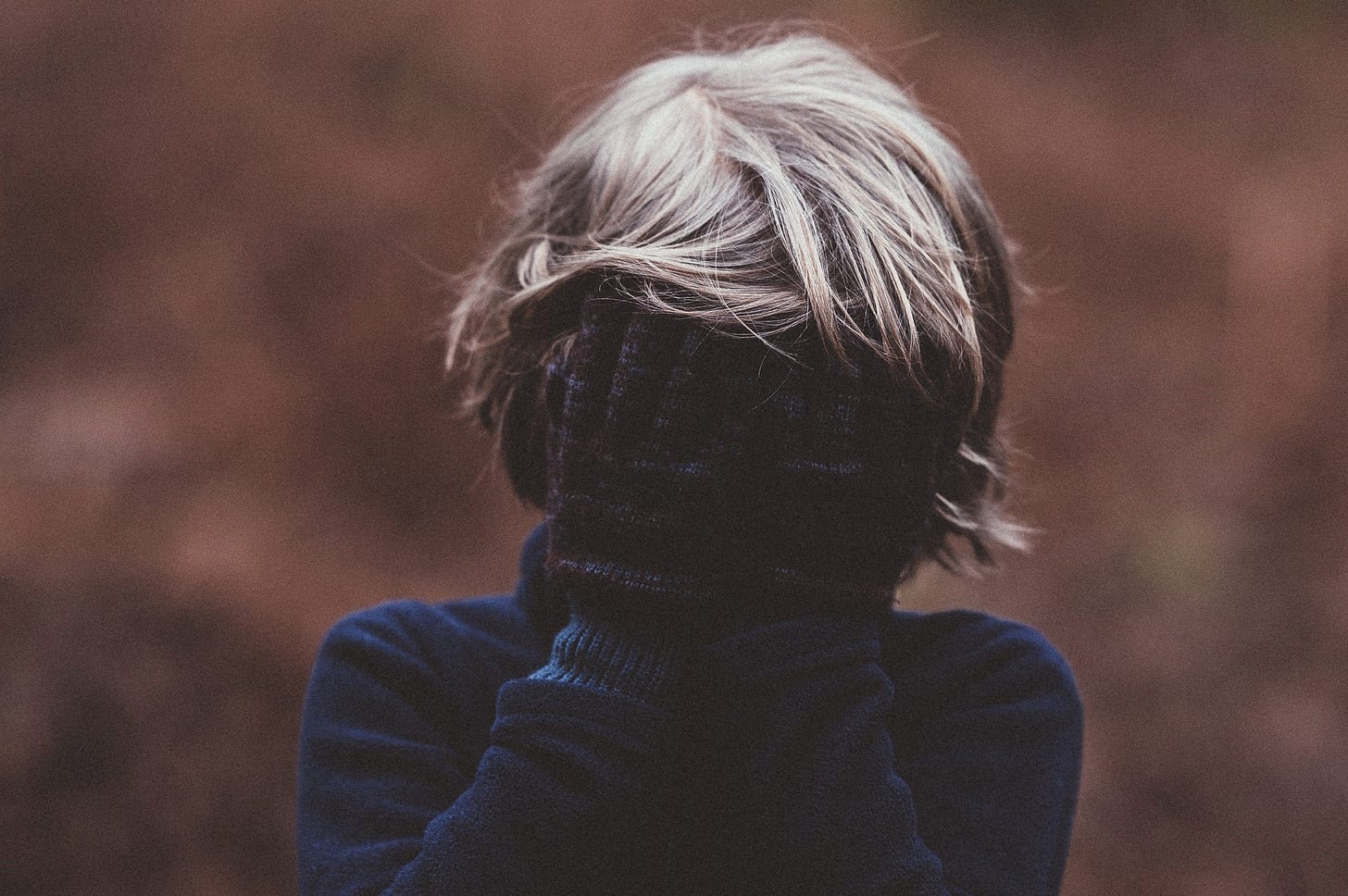 (Photo by Annie Spratt/Unsplash)
More 'big bucket' calls: When Mecklenburg County's Child Protective Services department, a division of the county's department of social services, gets a call about potential abuse or neglect, it must follow up within 24, 48 or 72 hours, depending on the severity of the report.
Most reports come from schools, hospitals, doctors offices and homeless shelters. With schools closed and visits to medical facilities down because of Covid-19, reports have dropped.
"We know child abuse and neglect, similar to crime, didn't take a break during this period of time," says Charles Bradley, who directs the Youth and Family Services Division of Mecklenburg County Department of Social Services. "Child abuse hasn't stopped, it's just that we're not getting children visible to be able to report that."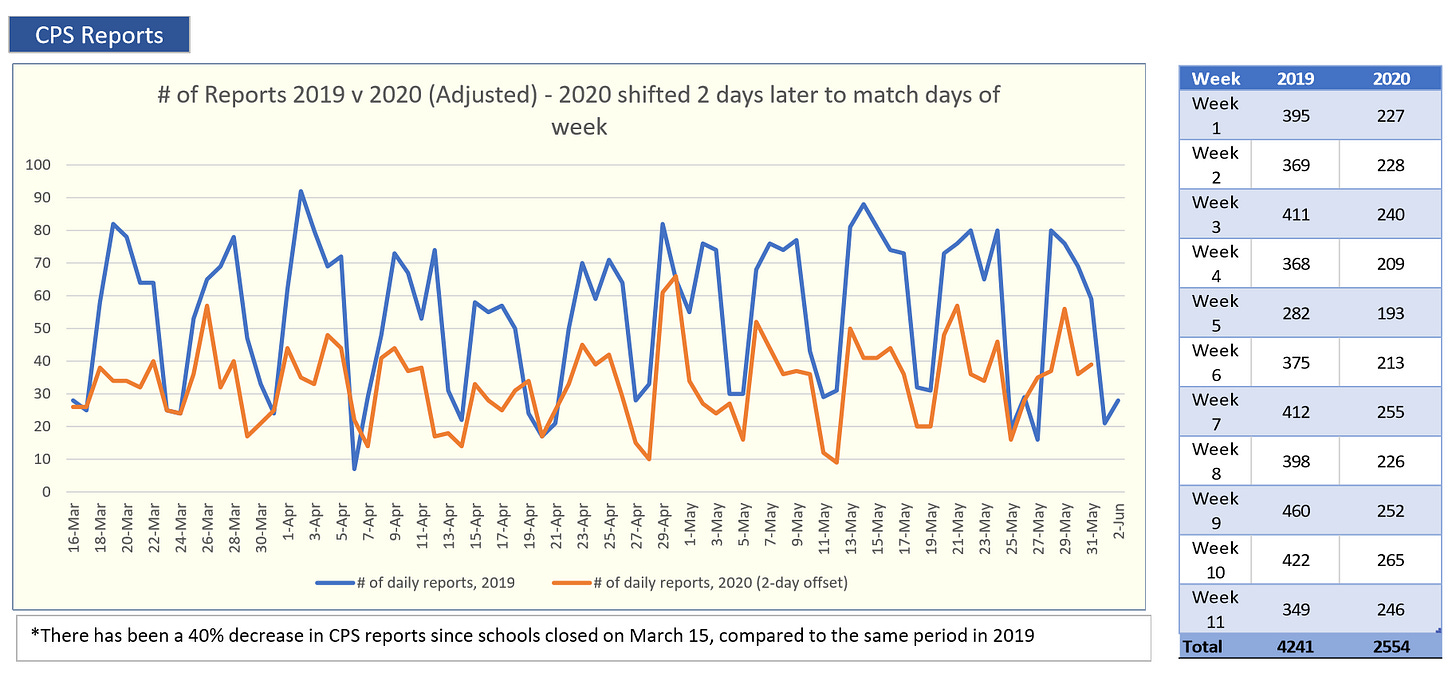 Since mid-March, reports to the county's Child Protective Services (orange line) are down about 40% compared with last year (blue line). Many of the reports typically come from teachers and doctors, but those referrals have fallen with schools closed and medical visits reduced.
The pandemic and all it's brought with it "does cause a number of strains on the family system, from housing instability to food insecurity. We know there's a certain heightened level of stress," he said. "We don't know what is ahead of us in the future. Substance abuse could be heightened during this period of stay at home."
Bradley said he's never seen a drop in calls like this one in his 25-year career in child welfare in North Carolina. But many of the calls his department has had to investigate during the pandemic have been more serious. "Some of them seem to be big-bucket calls related to family violence. Violence within or between youth in our community is concerning."
Schools struggle to stay connected: At Charlotte-Mecklenburg Schools, counselors, social workers and psychologists have worked to keep in touch with students they'd identified as at-risk before Covid-19. Many set up Google Voice accounts so they could stay better connected with families and children.
"One of the things our teachers and counselors have been worried about is that we are not laying eyes on kids anymore. It's only parents who are seeing their children right now," said Cotrane Penn, executive director for student wellness and academic support at CMS.
"That's been a real concern, particularly for our younger children," Penn said. "We were able to provision grades four through 12 with laptops, and their laptops have cameras on them. There's an opportunity for staff, through class Zoom meetings, to lay eyes on older students. We don't necessarily have that opportunity with our younger students."
On one of the first evenings of remote learning in March, a student called one of the school psychologists and said they were thinking of taking their own life. The psychologist took the call via Google Voice and was able to get the student help, Penn said.
As soon as schools closed in March, CMS activated 18 "street teams" of two people per team to physically check on families who weren't interacting with teachers via phone, email, Zoom or in-person.
The teams haven't reported seeing signs of abuse or neglect, Penn said, but they have been finding families with unmet needs, and under stress.
Children who have special needs or are emotionally difficult to raise are at special risk as the months without school drag on, Penn said.
"For parents of kids who have high needs, or are just high-demand children, it's important that they have some respite," she said.
Support systems: Matt Anderson, vice president of the Children's Home Society of North Carolina, a foster care and adoption agency that also provides programs to keep families together, says Covid-19 has highlighted the need for families to have communities supporting them.
"Some families are isolated and don't have a strong support system around them," he said.
The pandemic has shined a spotlight on the need for more affordable quality childcare, access to transportation, healthcare and living wages — all things that help reduce a family's stress and keep children safe and families together, Anderson said.
How to help: Charles Bradley, Mecklenburg County's DSS administrator, urges people to keep checking on friends and neighbors who may need support, and to reach out to authorities if they see signs that a child is being abused or neglected.
The Greater Charlotte Hope Line is a 24/7 hotline for Mecklenburg County residents seeking help for parenting support, domestic violence and sexual assault. This free resource from Mecklenburg County Safe Alliance is confidential, safe, and staffed by highly trained advocates: 980-771-4673
Mecklenburg County's 24-hour Child Protective Services HELP line is a confidential resource to report allegations of child abuse, neglect or human trafficking: 980-314-3577
Reach managing editor Cristina Bolling: cristina@cltledger.com.
---
Previous articles in The Ledger's "Hidden Health Crisis" series:
---
Today's supporting sponsors is T.R. Lawing Realty:

---
An unusual time for publishers of popular GoPlaySave coupon book
Normally by this time in the summer, Brian and Tammra Granger would be putting the finishing touches on their GoPlaySave coupon books that are sold as fundraisers for school and community groups throughout Charlotte.
But March, April and May, typically their big time for popping into restaurants and businesses to sell ads or re-up contracts, were a disaster, because so many were shut due to Covid-19.
By the time some of them re-opened, the general managers the Grangers would normally find behind an office desk were frantically cooking food or serving customers, and some were just too harried trying to stay in business to be able to make decisions about marketing.
"The owner who would normally not be behind the counter is there taking orders, and here we are, asking them to discount their food" by being featured in the coupon book, Tammra Granger said. "It's very uncomfortable."
The Grangers are pushing their printing date a few weeks later in July than normal, to give themselves extra time to appeal to more businesses They're optimistic that they'll have as beefy a book as they normally do. Most years, the book has coupons for 350 to 400 businesses.
Approximately 100 schools and community groups sell the books for 50% profit. In years past, the books sold for $30, but this year the Grangers are lowering the price to $25 — a decision that was made serendipitously pre-Covid-19, they said.
Businesses and restaurants don't pay to be featured in GoPlaySave, but all are required to offer a "buy one get one free" coupon to be included in the book.
That business model — one that doesn't require an outlay of cash for a business to participate — has actually helped this year.
"Right now I would imagine there aren't too many restaurants who are wanting to pay money for advertising, so that's why they're still wanting to talk to us," Brian Granger said.
Every year just before printing, the Grangers sit down and call nearly every phone number that appears in the book to make sure there are no typos. This year, their motivations are different.  
"We have to do it this year," Tammra Granger said, "because we know that some of our friends will not make it to August." —CB
---
What pandemic? It's party time in South End
Long lines were back at popular South End bars on Friday … and masks seem to be in short supply: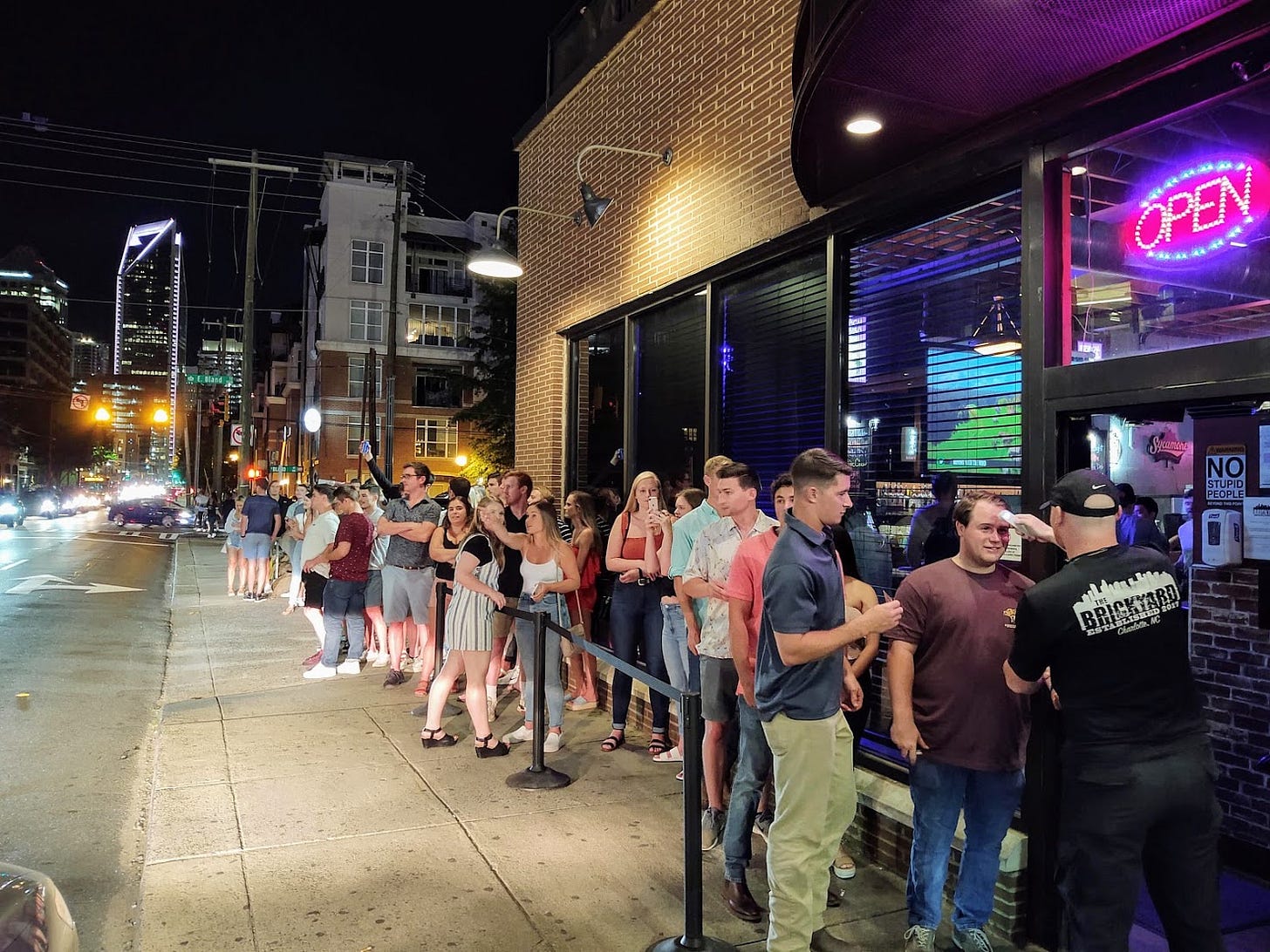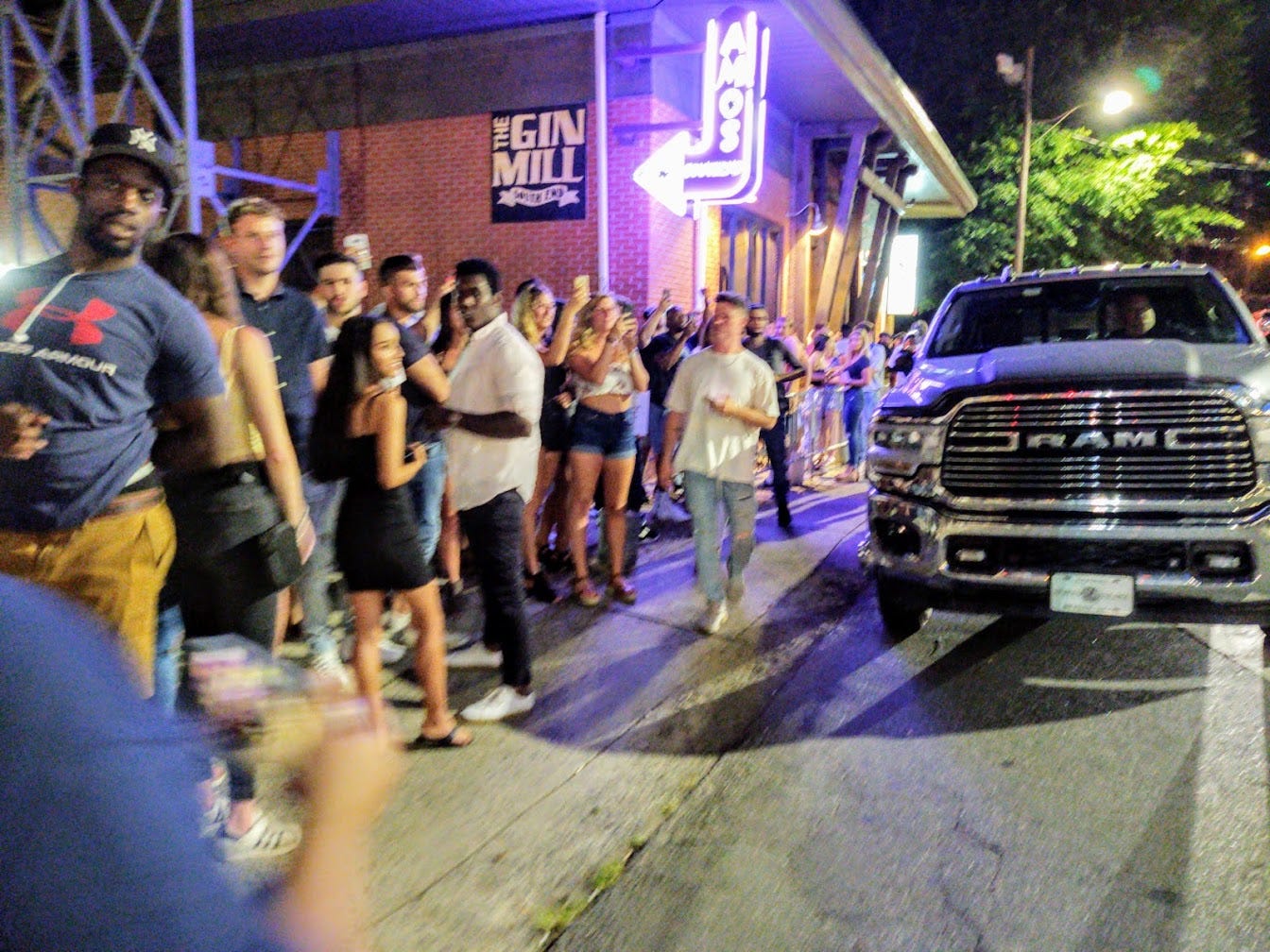 (Photos courtesy of David Boraks/WFAE)
Those in line at the Gin Mill watched as protestors walked by while shouting, "No Trump! No KKK! No racist USA!" according to the online video feed by Queen City Nerve. —TM
---
Good news: County health department overestimated Covid hospitalization numbers by a factor of 29
One of the casualties of today's fast-moving news cycle is the media rarely revisits important topics to see how they turned out. It's just onto the next crisis.
Let's take a stroll through recent history. You might recall that in mid-April, during the lockdown, that Mecklenburg County and the local hospital systems were forecasting a huge surge in demand for hospital beds. Their models kept forecasting later and later peaks.
We now have the data to gauge with specificity the accuracy of some of those estimates. Here's the chart the county released on April 20, showing a peak in mid- to late-June, which is now upon us: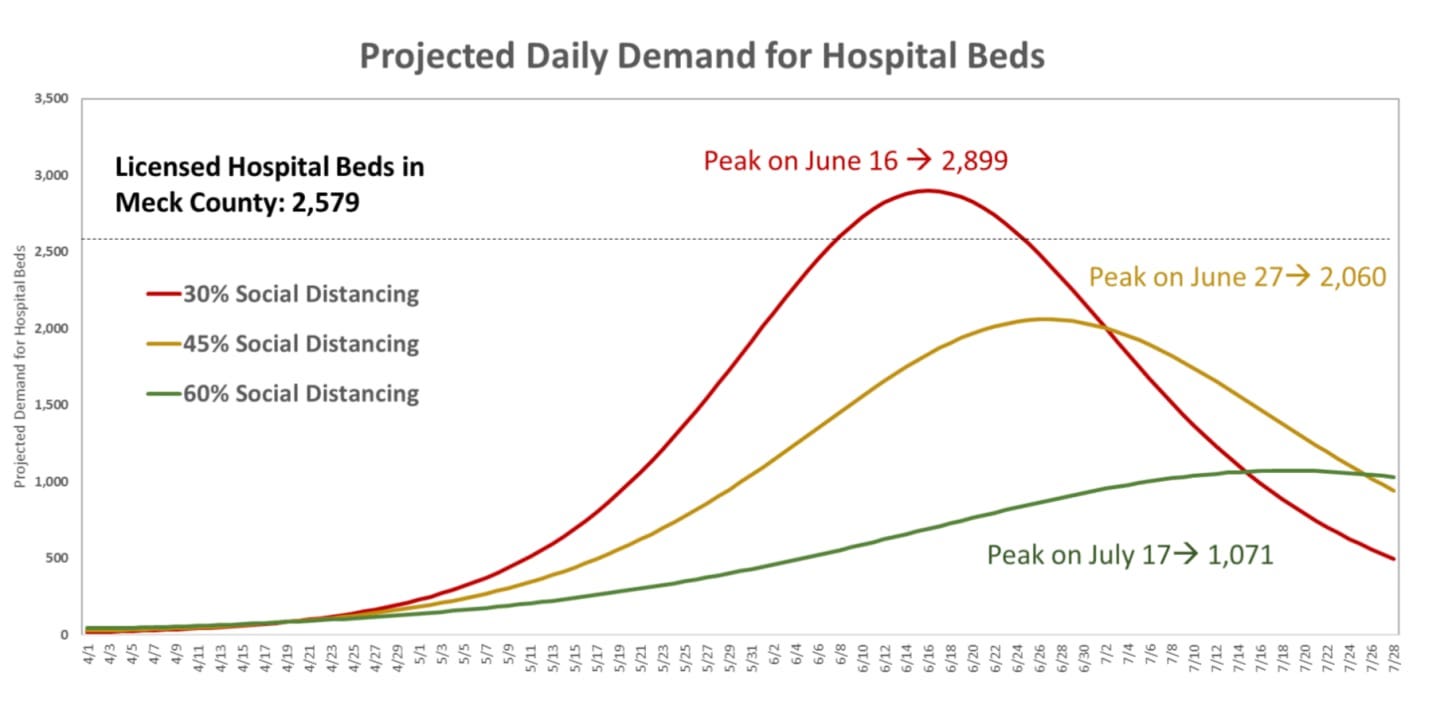 The worst-case scenario shows a peak on June 16 — tomorrow — with a demand for 2,899 hospital beds. A middle-of-the-road scenario shows a June 27 peak, when 2,060 hospital beds were estimated to be needed.
Now, here's the actual chart of how many hospital beds were used each day for Covid patients between April 1 and today, on the same scale, according to county data released Friday: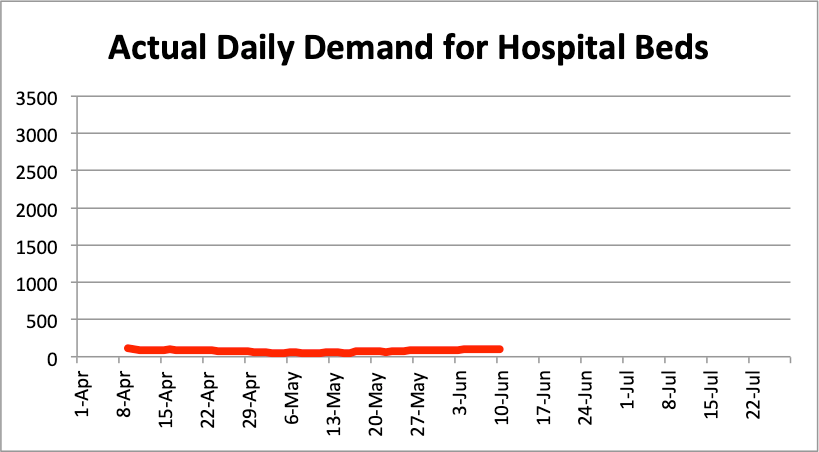 The most recent count shows 97 Covid patients hospitalized in Mecklenburg, which is below the peak from early April. The numbers lately have been rising … but nowhere near any county forecast from less than two months ago.
This doesn't mean that we should stop washing hands and wearing masks. It does mean that even our smartest health officials have been unable to predict with any certainty where the numbers are going. So far, they have seemed to err on the side of overestimating the threat — which you could argue is a prudent posture for health officials to take.
The county stopped releasing projections after the University of Pennsylvania data scientist who developed the model the health department has been using said officials were using it incorrectly.
Still, on Friday, health director Gibbie Harris said internal projections show "pretty significant increases likely in mid- to late-August and into September." —TM
---
In brief:
Uptown block closed to traffic: The city has closed the block of South Tryon Street between Third and Fourth streets to vehicle traffic so that people can see the "Black Lives Matter" street art. There is no reopening date set. (Joe Bruno on Twitter)

Hospital visitors allowed: Atrium Health is relaxing restrictions on visiting hospital patients. Starting today, patients may designate one visitor to accompany them or visit them while hospitalized, the health system said on Sunday.

No 'autonomous zone' in Asheville: Police in Asheville thwarted plans by protestors to block off a road with wooden pallets on Friday night, part of an apparent attempt to establish a police-free "autonomous zone" like one in Seattle. A leader in the city's Black Lives Matter community said on Facebook that the "autonomous zone" was "created by an individual who took it upon themselves without any organization or planning with the black leaders we have here in Asheville." (WLOS)

Retailer challenge issued: Charlotte's planning director is calling for Starbucks, Target, Harris Teeter and other retailers and banks to prove their commitment to racial justice by opening locations in minority neighborhoods. In a late-night post on Twitter on Saturday, Taiwo Jaiyeoba wrote: "To break inequity, I want to see more full service banks/grocery stores … make direct investments in our less affluent communities. If these lives do matter, make no more excuses. I'm waiting for your move...let's partner to make it happen!"

Big rezonings: The City Council is scheduled to vote tonight on several high-profile rezoning cases, each of which has been recommended for approval by city staff and the zoning commission. The projects expected to be approved are:

The city's request to rezone the old Eastland Mall site to make way for a Major League Soccer team headquarters

Atrium Health's request to rezone about 70 acres on its Carolinas Medical Center campus, which would allow it to expand. Some neighbors off East Boulevard oppose the idea.

A request by Dominion Realty Partners to rezone the site of the old Fifth Third Bank across from the Nordstrom entrance to SouthPark mall. The developer plans to build 325 apartments in a 15-story tower that would be one of the tallest in the area.

A gyro worth every pepperball: A quote from Queen City Nerve publisher Justin LaFrancois in an Inside 485 review of Halal Food Cart on Trade and Tryon streets, which continued serving food uptown throughout the protests: "There were a group of about seven people in line as riot police were tossing flashbang grenades and shooting pepperballs at the crowd forming around the Halal Food Cart. The line remained, unwaveringly, as they knew that Halal was worth the bombardment." (Inside 485)
---
Taking stock
Unless you are a day trader, checking your stocks daily is unhealthy. So how about weekly? How local stocks of note fared last week (through Friday's close), and year to date:
---
Need to sign up for this e-newsletter? Here you go:
Got a news tip? Think we missed something? Drop us a line at editor@cltledger.com and let us know.
Like what we are doing? Feel free to forward this along and to tell a friend.
The Charlotte Ledger is an e-newsletter and web site publishing timely, informative, and interesting local business news and analysis Mondays, Wednesdays, Fridays and Saturdays, except holidays and as noted. We strive for fairness and accuracy and will correct all known errors. The content reflects the independent editorial judgment of The Charlotte Ledger. Any advertising, paid marketing, or sponsored content will be clearly labeled.
Executive editor: Tony Mecia; Managing editor: Cristina Bolling; Contributing editor: Tim Whitmire; Reporting intern: David Griffith