It's the right time for a puppy
Plus: Financial rescue plan signed in Washington; State adopts 'stay at home' policy; Virtual doctors' visits explode at Novant; Best quarantine pick-up lines
Today is Saturday, March 28, 2020. You're reading The Charlotte Ledger, an e-newsletter with local business-y news and insights for Charlotte, N.C.
If you like what you see, please forward to a friend.
Need to subscribe? Sign up for free here (charlotteledger.substack.com). A paid subscription, starting at $9/month, gives you access to all articles and helps build smarter original, local news in Charlotte. Details here.
---
Top things you need to know
President Trump signed a $2 trillion financial rescue bill on Friday that should start sending stimulus money of up to $1,200 per person within weeks. It also makes loans/grants available to small businesses and expands unemployment benefits.

Gov. Roy Cooper issued a "stay at home" order for all of North Carolina on Friday. It is almost identical to the order issued by Mecklenburg County this week.
---
The last couple weeks have been rough. One upside: More people are getting adorable puppies. (We have photos.)
Rocksy, a 9-month-old Goldendoodle, joined the Burge family two weeks ago.
by Kerry Hall Singe
As Charlotte-area families self-isolate and hunker down to help flatten the curve, many are deciding now is the right time to add a puppy or dog to their households.
Think about it: It's a lot of time at home. We're isolated from others. It just makes sense. Breeders and shelters say they're seeing huge interest right now in new pets.
"We have seen a massive increase in people wanting to foster because they are home alone all day during quarantine," says Fara Robinson, vice president of the Greater Charlotte SPCA. "Lots of people seem to see the quarantine period at home as a good time to help a new furry family member settle in. And a new pet is a good distraction for children who are stuck at home."
Good time for Rocksy: The Burges got their 9-week-old Goldendoodle puppy, Rocksy, on March 14. The family had been planning to get a dog for several months but kept waiting until they felt ready. Their former pet, a beloved yellow lab, had passed away after 16 years.
"Once we realized we would probably be home for an extended period of time, it seemed like the right time!" Katy Burge said. The super-affectionate Rocksy has adjusted well to her new home, Burge said, adding that the family is looking forward to letting Rocksy play again with the neighbors one day.
'A lot of puppies': Business has been steadily growing at South Park Animal Hospital on Park Road. Customer service representative Erica Brewington says it is hard to quantify how many of the clinic's visits stem from pets being adopted or bought because of the conditions surrounding the coronavirus. However, she said staffers have heard stories about people taking in animals now that they're forced to stay home.
"I will be honest: We have been seeing a lot of puppies recently," she says. "I had a client say she got her elderly mom a puppy for the home quarantine. People have a lot of different reasons for getting puppies, and I think (the changes related to the coronavirus) might be a new reason."
Real estate developer Clay Grubb's family recently adopted Violet, a Rottweiler puppy, after their daughter's college plans were disrupted by the coronavirus.
"My daughter who attends NYU Shanghai, which never opened this semester, transferred to NYU in New York only to have it close on her. So we felt bad for her being home, and she begged for the puppy," Grubb said. (Grubb was diagnosed with COVID-19 and talked with The Ledger about that experience this week.)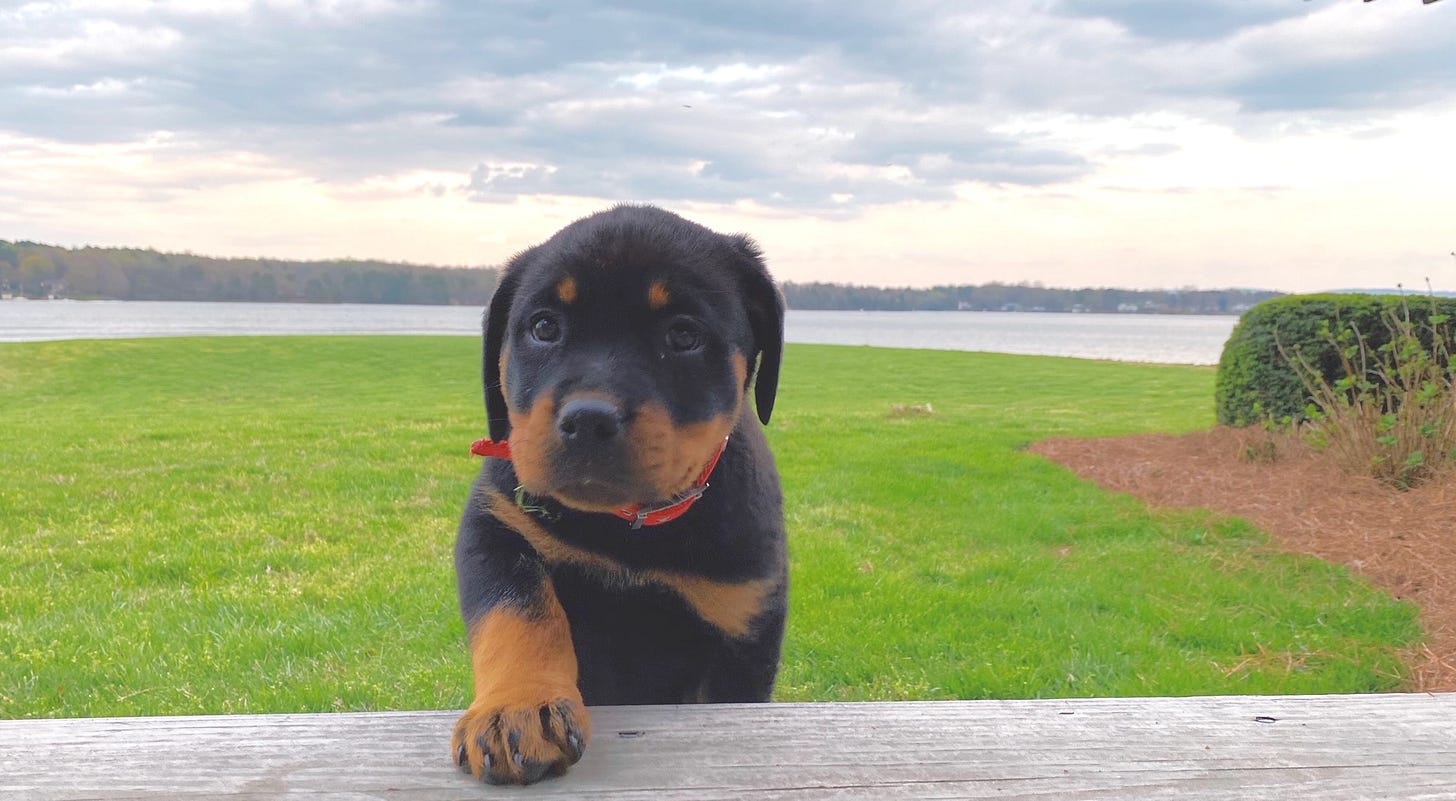 Violet, a Rottweiler puppy, is the newest member of the Grubb family.
It is unclear which breeders are still selling puppies, given Mecklenburg County's "stay at home" order. Happytail Puppies in Oak Ridge has suspended in-person visits because of the coronavirus, according to its website. People can instead visit pups virtually. The breeder says it will deliver the puppies so buyers don't need to leave their homes.
While puppies and dogs offer a cuddly distraction while one is stuck at home, it's important that people think wisely before adopting a new animal. As Brewington with South Park Animal Hospital said: "The quarantine won't last forever, but the puppy will last many years."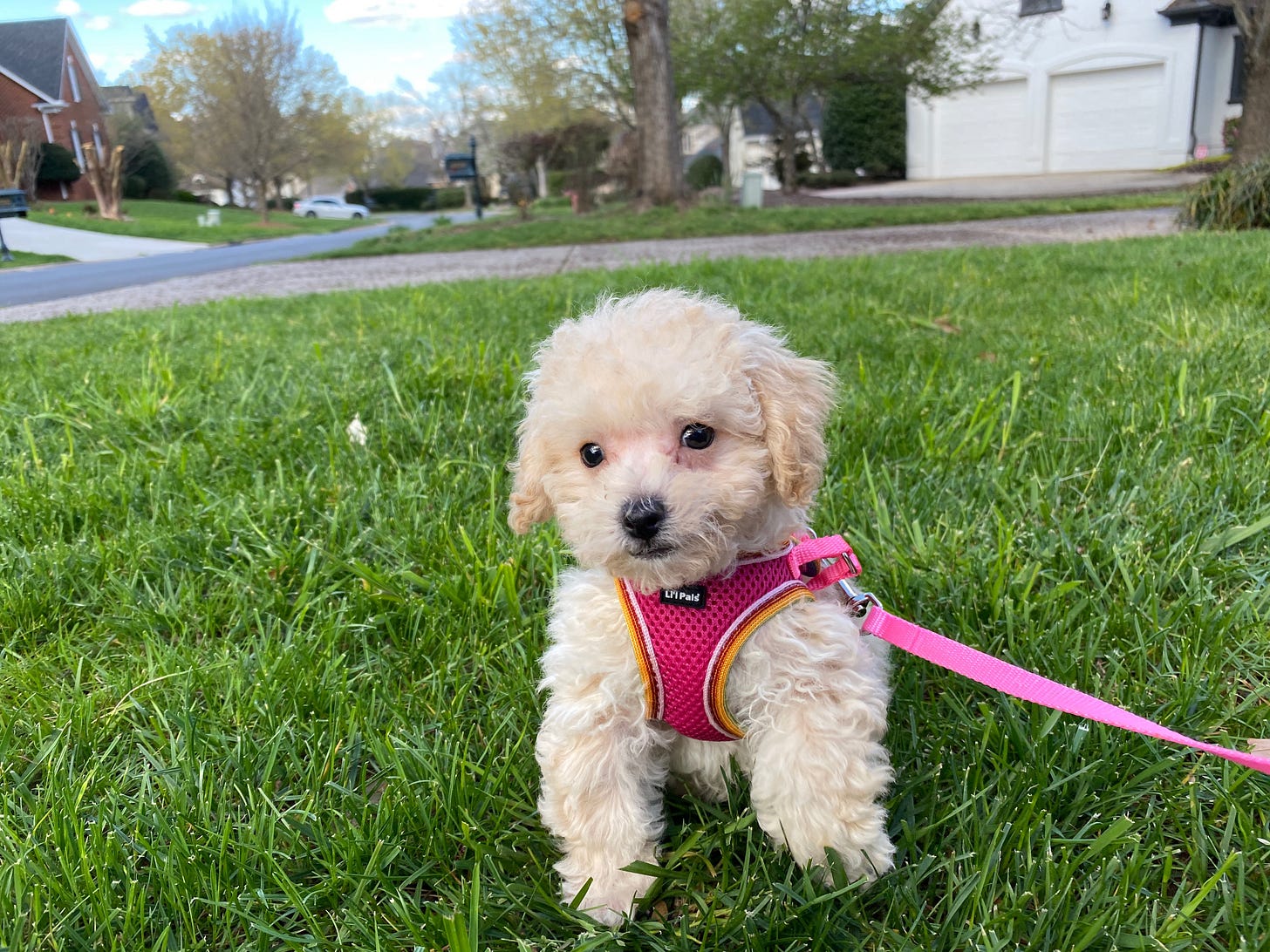 The Bolling family, who lives in Ballantyne, brought home an 8-week-old Bichpoo this week. They named her Risa.
And that brings us to an important question: Are dog trainers considered essential services? It's unclear. Mecklenburg's "stay at home" order allows an exception "to care for a family member, friend or pet in another household" — so the answer could be yes.
Celebrities join in: The surge to get new pets in Charlotte mirrors a similar move around the world. Celebrities are taking in new pets — and posting all sorts of cute photos on social media:
Actress Camila Mendes has been posing with her puppy, Truffle, calling him her "cuddly lil quarantine companion."
my cuddly lil quarantine companion. don't know what i'd do without her. pls consider fostering a furry friend with all this time you're spending at home! i adopted truffle from
@thelabellefoundation
in LA but you can just reach out to your local animal shelters and see how you can help 🧚🏽‍♀️🧚🏽‍♀️🧚🏽‍♀️♥️
Miley Cyrus and Cody Simpson adopted a German Shepherd puppy they named Bo:
Baby boy Bo. Stay safe everyone
Actress Selena Gomez recently fostered and then adopted an adorable pup:
Animal shelters in need
Animal shelters suspended adoption events earlier this month to help prevent the spread of the coronavirus, and shelters were reported to have been receiving fewer visitors before Mecklenburg County's shelter in place order was announced. The result is fewer animals are being adopted while new animals are being brought in.
Under the "stay at home" order, rescues and shelters are considered essential businesses. The Greater Charlotte SCPA is continuing to operate to try to save the lives of as many homeless animals as it can. The group has temporarily changed its application process and screening protocols to minimize in-person contact.
The group says on its website: "We are in an emergency, and the need is urgent. Your help is desperately needed. If you can find a place in your home and heart — even for just a few days, please email foster@charlottespca.org, and we will get you set up."
Charlotte writer Kerry Hall Singe is the new parent of an 11-week-old Zuchon puppy named Conan. Singe promised her children last year they would one day get a dog. Anticipating her family would be together at home for an extended time, Singe made good on that promise on March 19th:
---
Like what you're reading? Share The Ledger with a friend:
---
Today's supporting sponsors are TechnikOne:
… and StretchLab:
Getting tight while working at home? Tune into our daily at-home stretch routine on Facebook live — check online for times. And follow our studios on Instagram and Facebook to learn multiple DIY stretches you and your family can do while in the midst of social distancing: StretchLab SouthPark & StretchLab Dilworth
---
Reader response
Ledger readers sound off on the coronavirus threat and the county's "stay at home" order:
"Among the biggest losers during shutdown: Cintra, who built the I-77 toll lanes."

"We were woken up by landscapers this morning in Dilworth. They seemed to be social distancing, but I fail to see how using a leaf blower is essential."

"Excellent update on the important 'essential' work to update the Leather & Lace facade. Essential stop after a burger and shake at Mr. K's and you're not quite ready to go back to work."

"Mandate isolation for the high-risk elderly and those who are sick. Self-isolate the potentially sick, exposed and those who self-designate themselves as high risk. Let everyone else get back to work while continuing to practice the recommended health advisories."

"I'm glad all construction is 'essential.' A lot of work can get done potentially quicker without all the extra traffic from 'non-essentials.'"

"Reasonable approaches exist, and more are speaking up now. This is complete insanity, and folks won't put up with it. We can't stop this thing now. And it's not as lethal as feared."

"This is a disappointing decision, one based on fear rather than data and analysis. Common sense has been an early casualty of this panic by decision-makers."

"I have tremendous respect for the importance of public health authorities — now more than ever. But they are one among numerous competing interests and have one perspective. The economic health of the community is not their concern or area of expertise, but it is an equally vital factor in what is going on. The success or failure of the public health director is measured by the number of coronavirus cases and deaths. That is not the only important overall measure of this crisis. Where will Gibbie Harris and Dena Diorio be when the suicides happen down the road? When people are devastated by clinical depression as a result of trauma they are imposing on the community?"
---
In brief
No beach or mountain vacation for now: Vacation destinations in the Carolinas are banning short-term rentals to discourage people from visiting during the virus outbreak. Some of the jurisdictions prohibiting rentals include North Myrtle Beach, Surfside Beach, Carolina Beach, Beech Mountain, Blowing Rock and Boone. The measures typically outlaw rentals of less than a month at hotels, motels, Airbnb, cabins and private homes.

'Stay at home' complaints: In the first 24 hours of Mecklenburg's "stay at home" order, local officials received about 1,200 complaints from residents about others violating the rules, police said. Health officials again urged residents to take the threat seriously: "We need everyone to comply with the order, not to attempt to figure out what the loopholes are in the order so they can do what they want to do," health director Gibbie Harris said.

Virtual doctors visits explode: In early March, Novant Health was averaging 20 virtual visits a day. On March 23-24, "providers conducted 3,776 virtual visits over the two-day period." (Novant Health)

Charitable giving: Foundation for the Carolinas and the United Way of Central Carolinas announced grants totaling $3M to 14 local nonprofits to help with coronavirus relief. The nonprofits receiving the biggest grants were Crisis Assistance Ministries, Second Harvest Food Bank and SocialServe. The money is from the COVID-19 Response Fund, which has raised more than $11M from companies, individuals and government sources. (Full announcement here)

Coronavirus relief: President Trump signed a $2 trillion economic stimulus bill on Friday after it passed the House. (Business Insider) More than 80% of adults are expected to receive a payment of up to $1,200. You can use an online calculator to see how much might be coming your way.

'Stay at home' goes statewide:Gov. Roy Cooper announced a "stay at home" order for all of North Carolina on Friday. It is similar to the order Mecklenburg County issued this week that took effect on Thursday, with just about all of the same exceptions for "essential" jobs and activities. (WFAE)

Economic recovery: Wells Fargo's top economist, Jay Bryson, says he could see the economy bouncing back in the second half of the year if the coronavirus disappears by summer, because economic fundamentals are strong. He was interviewed on Facebook Live on Friday by Carolina Business Review host Chris William. (Carolina Business Review Facebook page)

More flight cutbacks: American Airlines plans to cut flights by 70% in April and 80% in May, compared with a year earlier. Planes with 175 seats typically have 120-130 empty seats. (WFAE)

Bank hiring: Truist tells The Ledger it's hiring "for a number of roles, including in mortgage, technology and many client-facing positions." The bank is doing more virtual interviews and onboarding than in the past, a spokesman said.

BofA job security: CEO Brian Moynihan says Bank of America employees shouldn't worry their jobs will be cut: "We told them all, there's no issue, you're all going to be working now through year-end. No layoffs, no nothing." (CNBC)

Take out: Charlotte Agenda has a list of 200+ Charlotte restaurants offering curbside pickup and delivery. (Agenda)
---
Loves me some internet: Best pick-up lines
From Reddit, where readers answered the question: "What are your best quarantine pick-up lines?"
Here are some of the best responses (that are family-friendly):
Even during the coronavirus pandemic, the most contagious thing is still your smile.

You can't spell "quarantine" without "U-R-A-Q-T."

Girl, are you called Covid-19? Because you put the "cute" in "acute respiratory failure."

If Covid-19 doesn't take you out, can I?

Since all the public libraries are closed, I'm checking you out instead.

Do you need toilet paper? Because I will be your Prince Charmin.
---
Catching up on your reading
The Ledger published a number of original articles this week on the local effect of the coronavirus, including …
---
Need to sign up for this e-newsletter? Here you go:
Got a news tip? Think we missed something? Drop me a line at editor@cltledger.com and let me know.
Like what we are doing? Feel free to forward this along and to tell a friend.
Archives available at https://charlotteledger.substack.com/archive.
On Twitter: @cltledger
Sponsorship information: email editor@cltledger.com.
The Charlotte Ledger is an e-newsletter and web site publishing timely, informative, and interesting local business news and analysis Mondays, Wednesdays, Fridays and Saturdays, except holidays and as noted. We strive for fairness and accuracy and will correct all known errors. The content reflects the independent editorial judgment of The Charlotte Ledger. Any advertising, paid marketing, or sponsored content will be clearly labeled.
Editor: Tony Mecia; Contributing editor: Tim Whitmire