Discover more from The Charlotte Ledger
Delivering smart and essential news to Charlotte, one email at a time.
Over 20,000 subscribers
SouthPark would happily take Myers Park's Nature Museum
Plus: 15-story apartment tower planned across from SouthPark mall; New Inner Peaks in Matthews will relieve rock-climbing jams; Which City Council member does new Panthers coach resemble?
Good morning! Today is Wednesday, January 8, 2020. Need to subscribe? Sign up for free here (charlotteledger.substack.com). Send to a friend.
---
Today's Ledger is sponsored by StretchLab, now open in SouthPark (704.585.8941) and Dilworth (704.703.1480). Call to see how they can help relieve tension and bring more flexibility and mobility into your life.

---
Could the Nature Museum thrive at Park Road Park instead of Freedom? It's a long shot, but many SouthPark residents say yes
Residents in the SouthPark area say they would be more than happy for the Nature Museum to move to Park Road Park if residents near its existing home at Freedom Park raise too much of a stink about the museum's planned expansion.
The prospect sounds like a long shot. The county and Discovery Place, which runs the museum, have invested a lot of time and money into planning to modernize it at Freedom Park. But the idea of moving the whole project to Park Road Park isn't being rejected outright.
At a meeting last month, some residents near the Nature Museum's entrance on Sterling Road told officials with the county that they're worried about the increased traffic and loss of trees that would result from plans to double the museum's size. County Manager Dena Diorio said the county would "press pause" on the development until it can address residents' concerns. (Ledger archives: "Nature Museum plans hit buzzsaw of Myers Park opposition.")
County commissioner Susan Harden told the Ledger last week that moving the Nature Museum to Park Road Park is "being looked at" and that "since the word has gotten out to SouthPark neighbors that it's a possibility, I've only heard positive feedback."
Still, she says, it's tough to quickly change plans after all the work that has been poured into the Freedom Park site: "When you've been planning for three years to marry somebody, and suddenly someone stands up and says, 'Have you considered this other groom?' after you've bought the flowers and lined up the places, you're asking a lot for an organization to rethink."
Harden also shared new renderings of what an expanded Nature Museum at Freedom Park might look like (the museum is officially called "Discovery Place Nature"):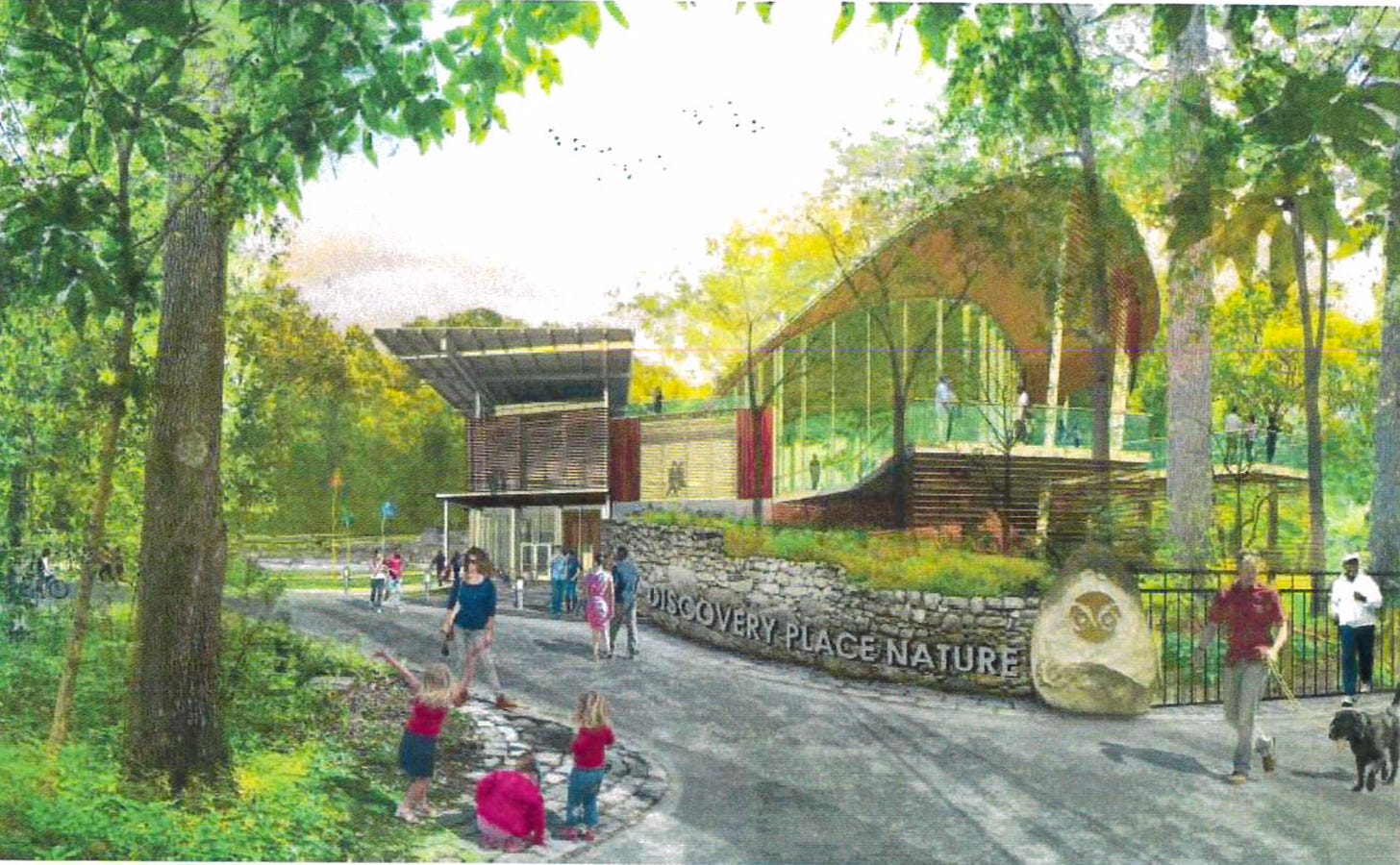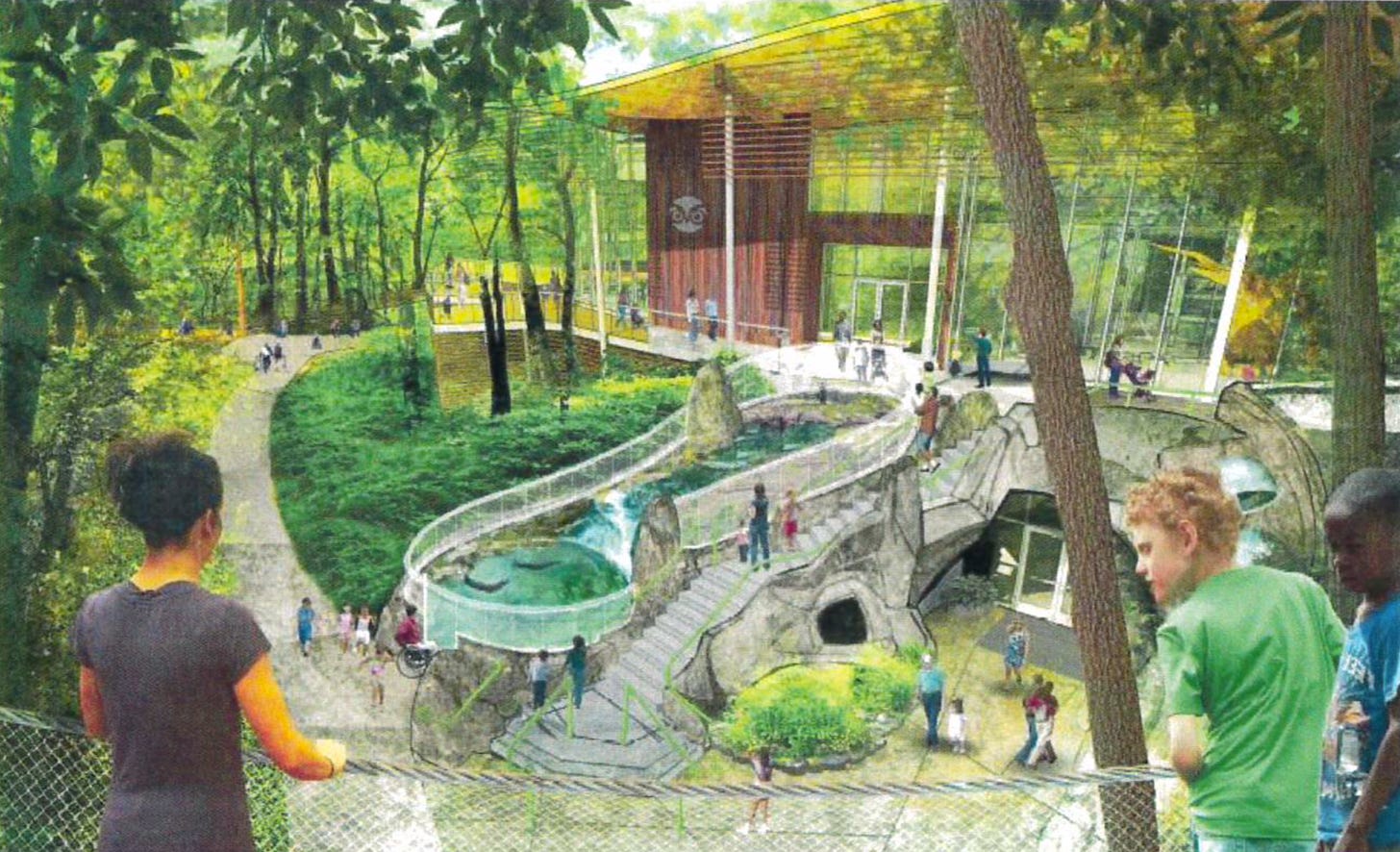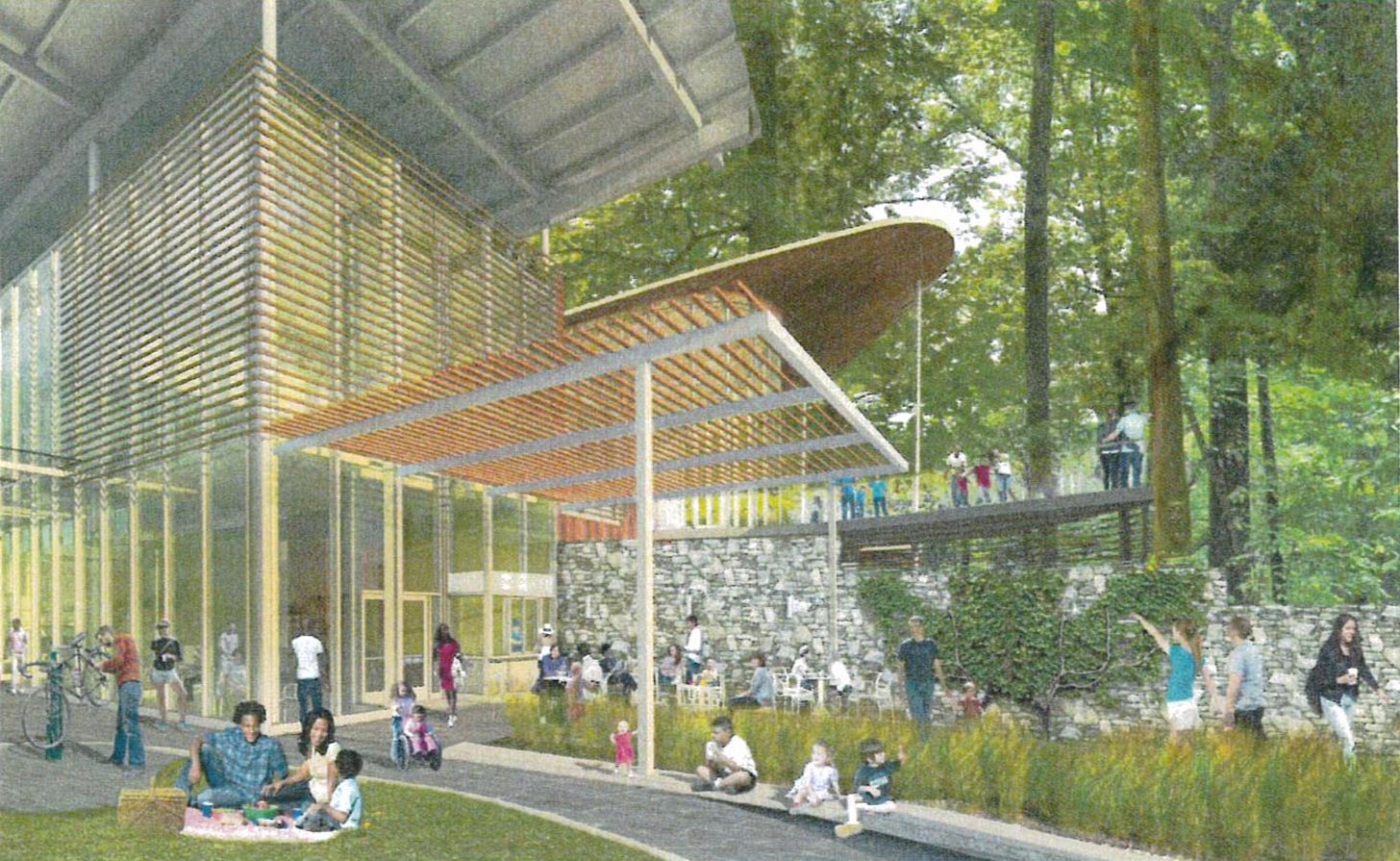 Bert Lynn, director of the Park and Recreation Department's capital planning division, said he considers the idea of moving the Nature Museum to Park Road Park to be "a very low possibility." He said the county is focused on addressing the Myers Park residents' concerns and is considering new designs that they might find amenable.
But putting the Nature Museum at Park Road Park could make sense:
It would give SouthPark a needed cultural facility. Many are now close to uptown

Park Road Park's location on the Cross Charlotte Trail makes it easily accessible to walkers and bike riders

At 71 acres, there is plenty of room for bus parking for field trips

Visitors would have plenty of nearby dining and shopping options

It's easier to get to from the interstate, just a straight shot down Tyvola Road from I-77

It would bring more life to a park that is underused, especially during weekdays when its many ball fields are vacant
At Park Road Park on Tuesday afternoon, nearby residents all said they favor the idea of a Nature Museum on the site:
Jake Kahn, 27, visiting with his 12-month-old son: "It would be cool, because I live close by. Nature stuff is mostly a 20- or 30-minute drive."

Jamila Prioleau, 44, watching her 8-year-old daughter on the playground: "I think that might be nice, especially for the kids."

Havalah Edwards, 23, watching three boys who she nannies: "That would be awesome. That's right by where they go to school. They would have more things to do."
Of course, if the Nature Museum is a no-go at Freedom Park because of neighborhood opposition, there are other places in the county besides Park Road Park that might make sense. For example, the county has about two dozen nature preserves that could be a sensible home for a nature museum, such as the RibbonWalk Nature Preserve by Nevin Community Park in Derita, north of where I-77 and I-85 cross.
The county and Discovery Place are expected to meet again with Myers Park neighbors later this month.
---
15-story apartment tower planned across from SouthPark mall
More big development news — this time out of SouthPark.
Raleigh-based developer Dominion Realty Partners says it has a prime piece of real estate on Fairview Road under contract and has submitted plans to the city to build an apartment tower that would be the tallest residential building in SouthPark.
The location is across from the Nordstrom entrance to SouthPark mall on the site of the old Fifth Third Bank building, said Andy Andrews, Dominion Realty's CEO, in an interview with The Ledger. The company is planning a building that is about 15 stories high with 365 apartments — although those numbers could change based on conversations with city planners, Andrews said. Property records show the site is about 1.8 acres.
The apartment tower would be on a stretch of Fairview composed mostly of stately office towers, including the nearby SouthPark Towers — which, at 14 and 15 stories, are the tallest structures in SouthPark. Sharon Corners, the shopping center with Original Pancake House, is a block away.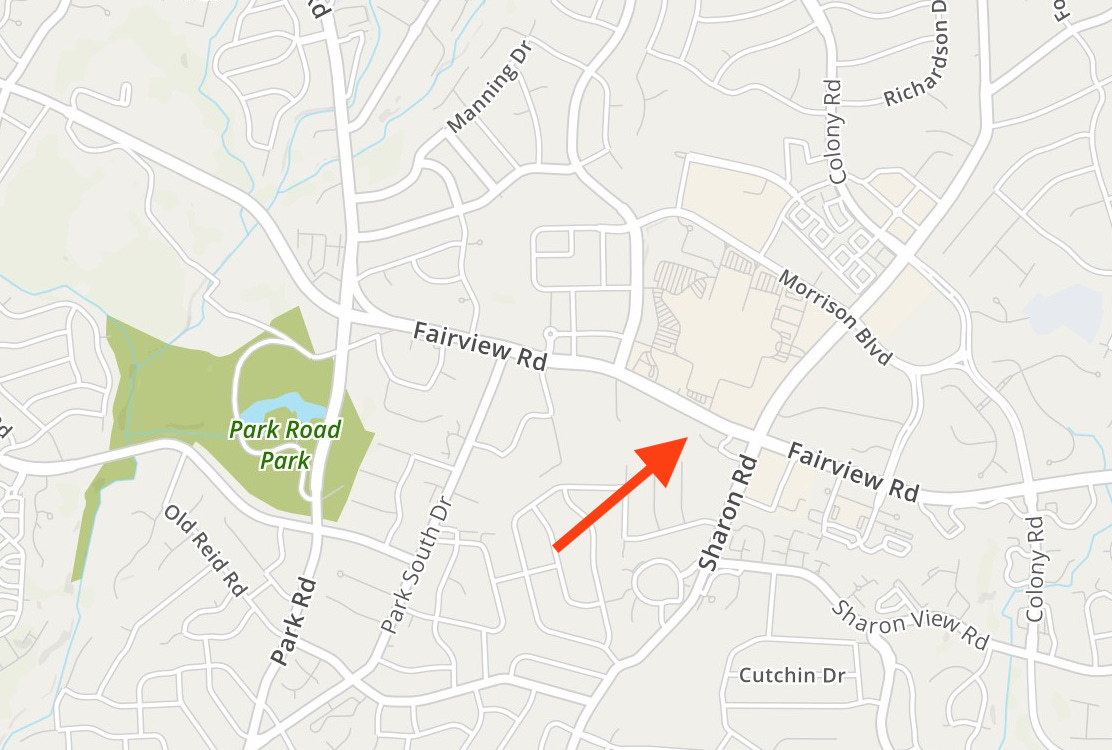 Andrews said the site is an ideal location for apartments because it is close to the mall and to other retail shops and restaurants. "If you don't go up, then what you're doing is you're tearing down existing houses and you're tearing down trees," he said. "We see it all the time. That's why we're focusing on some of these infill locations."
Fifth Third closed the branch about a year ago and opened a new one down the street by the Whole Foods.
The bigger picture: Plans for a tall apartment tower in SouthPark are part of one of the biggest development storylines in Charlotte — the urbanization of formerly suburban areas. As more people move to town and undeveloped land becomes scarce, developers are planning more high-rises. That's happening not just in South End, but in SouthPark, Ballantyne and elsewhere.
Dominion Realty is building a 30-story office/residential tower on South Graham Street uptown next to BB&T Ballpark. It's also working on two apartment complexes in Charlotte, Andrews said.
---
Inner Peaks to open in Matthews, relieving climber crowding in South End
After a month-long permitting delay that left local climbers scrambling, Inner Peaks Climbing Center is planning to open its new Matthews location on Thursday.
The new gym is at 10715 Independence Pointe Parkway, in the former Grand Slam building behind the Target store on N.C. 51. It replaces the Crown Point location on Monroe Road, which closed Dec. 1 when its lease expired.
Crown Point climbers were invited to use Inner Peaks' other location in South End during the interim, creating parking problems and crowding there in December. 
Inner Peaks owner Doug Cosby said the delay was partly because it was tricky to fit the gym's unique use into new building code rules. But he also blamed Charlotte's construction boom, which made it harder to find sub-contractors to do the work required by code inspectors. 
"All the subs are absolutely maxed out," Cosby said. "It's just impossible to get people to do work right now. Things that should have taken a day took a week."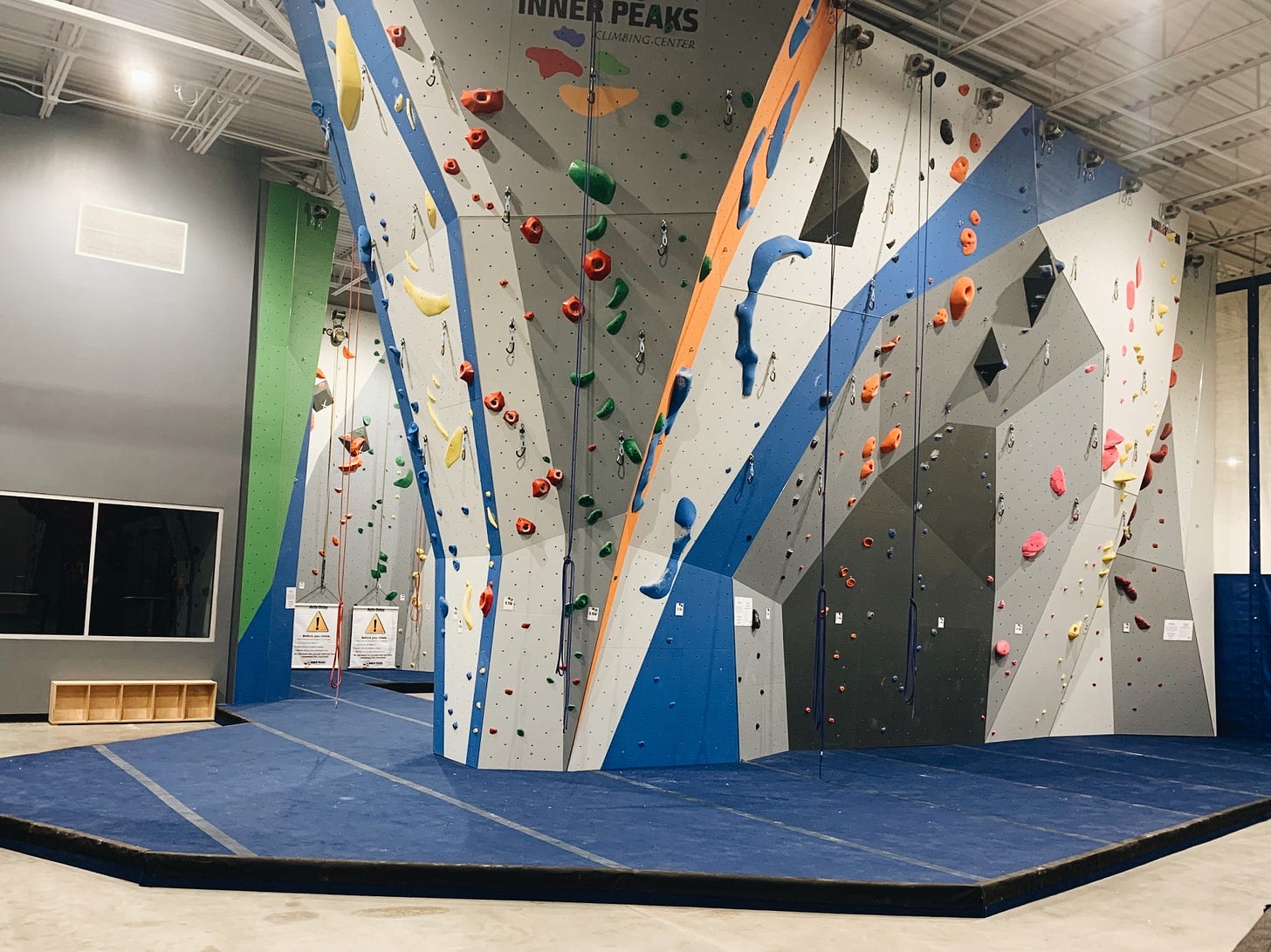 Belays worth the delays: The new Matthews location has 4,000 s.f. of climbing space with roped climbing walls, 10 auto-belays and a large bouldering area where you can climb without ropes. The space also has a fitness center, a yoga room and enclosed party space. 
For now, the highest walls are 25 feet. But a second phase of construction to be completed next year will add 50-foot climbing walls in the back section of the gym. — Michelle Crouch
---
Loves me some internet
Separated at birth? New Panthers coach Matt Rhule and Charlotte City Council member Larken Egleston:
---
In brief
$237,500 for abandoned CMS website: For those who were wondering, Charlotte-Mecklenburg Schools paid $237,500 to the California firm that designed the new website it ditched — and it appears it was all for nothing. CMS restored its original site last week after months of parent complaints. Asked if CMS kept any features from the redesign, CMS spokeswoman Renee McCoy wrote in an email to The Ledger: "There is virtually no design changes at all, the current site has the exact same design as the former website." Asked whether CMS tried to get some of its money back, McCoy responded, "no refund due — paid to termination date." She did not respond to a follow-up email asking for more information. The Ledger first reported complaints about the site in November.

Wells Fargo indictment watch: "Multiple former high-level Wells Fargo executives are under criminal investigation in connection with the bank's fake-accounts scandal and could be indicted as soon as this month," American Banker reported, citing unnamed sources. The probe is being conducted by federal prosecutors in California and North Carolina, a source told the trade publication. (American Banker)

Construction death ruling: The N.C. Court of Appeals has overturned a lower court ruling and allowed a lawsuit against Crescent Communities related to the construction death of a 5-year-old to continue. A lower court in Orange County had ruled that Crescent could not be held legally responsible for a 2016 incident in a Crescent subdivision in Hillsborough, north of Chapel Hill, in which an overloaded and unattended dump truck with no wheel chocks rolled down the hill and killed a boy as he played near his home. Although Crescent didn't operate the dump truck, wasn't the general contractor and sold lots to builders, the appeals court accepted the legal theory that "developers of large projects on hilly terrain have a duty to sequence and manage construction to limit the risk that bystanders downhill might be harmed by foreseeable roll-away accidents." It sent the case back to a lower court for more hearings.

Something brewing in Brookhill? Four companies with ownership interests in Charlotte's Brookhill Village neighborhood filed a total of 18 documents with the register of deeds on Dec. 31 — a complex combination of deeds, leases and lease assignments. Brookhill is a dilapidated, low-density development west of South Tryon Street between Remount Road and Tremont Avenue. But that's now prime real estate on nearly 40 acres near South End.

E-scooter parking: The city of Charlotte is painting green markers on the ground in areas close to uptown to encourage e-scooter riders to drop their scooters off in places that don't block sidewalks. The markers will be in "scooter-popular areas, including South End, Uptown, Plaza Midwood, and NoDa." (Agenda)
---
Today's supporting sponsor is The Charlotte Ledger's 40 Over 40 awards: A second chance in your second half of life. Don't hesitate. Nominate.

---
Cheap getaways from CLT
Charlotte to San Francisco, $176 round-trip on Frontier (one-stop), Jan. 25-28.

Charlotte to Las Vegas, $95 round-trip on American/Frontier (nonstop), Jan. 25-28.

Charlotte to Fort Lauderdale, $64 round-trip on Spirit (nonstop), Jan. 25-28.

Charlotte to Baltimore, $52 round-trip on Spirit (nonstop), various dates in January-February.

Charlotte to Newark, $52 round-trip on Spirit (nonstop), Feb. 6-10.

Disney getaway? Charlotte to Orlando, $52 round-trip on Spirit and Frontier (nonstop), Feb. 8-11.

Ski trip? Charlotte to Denver, $105 round-trip on Frontier/Spirit (nonstop/one-stop), Feb. 8-11.

Charlotte to Guayaquil, Ecuador, $433 round-trip on Spirit (one-stop), May 1-9.
Source: Google Flights. Fares retrieved Wednesday morning. They might have changed by the time you read this.
---
Programming note: Ledger editor Tony Mecia appears as a guest on 90.7 WFAE at 6:40 a.m. and 8:40 a.m. on Thursdays for a discussion of the week's local business news in the station's "BizWorthy" segment. Audio and transcripts are also available online.
---
Need to sign up for this e-newsletter? Here you go:
Got a news tip? Think we missed something? Drop me a line at editor@cltledger.com and let me know.
Like what we are doing? Feel free to forward this along and to tell a friend.
Searchable archives available at https://charlotteledger.substack.com/archive.
On Twitter: @cltledger
The Charlotte Ledger is an e-newsletter and web site publishing timely, informative, and interesting local business news and analysis Mondays, Wednesdays, and Fridays, except holidays and as noted. We strive for fairness and accuracy and will correct all known errors. The content reflects the independent editorial judgment of The Charlotte Ledger. Any advertising, paid marketing, or sponsored content will be clearly labeled.
The Charlotte Ledger is published by Tony Mecia, an award-winning former Charlotte Observer business reporter and editor. He lives in Charlotte with his wife and three children.